10 IMPRESSIVE INTERIOR DÉCOR IDEAS TO TRY NOW
Posted on October 26, 2016 by Christine in
Home Decorating
.
We are all looking for impressive interior decor ideas that capture the essence of your home; something eye catching, clever but doesn't go overboard or cost the earth.
Here are 10 interior decor ideas that hit the exact spot from guest post blogger Jessica Haberer. You may know Jessica from Gardenology, so this is a real treat.

10 Impressive Interior Decor Ideas to Try Now
Your interior, your space, your peace of mind. The home is where the heart is – so don't neglect it. It's easy to get caught up in work, activities and travel, but at the end of the day- your home is your sanctuary, the place where you retire and relax. Interior design is as important as the real estate you choose. So when you notice that you have started to let the interior fall by the wayside, take a moment, and consider these small but impressive home interior ideas you can do to instantly update your space.
1 – Create Interior Decor Vignettes
A vignette is an interior decor idea to setup a  picturesque area to look like a sophisticated photo shoot in a magazine. A wall vignette would be a shelf with your favorite things- mix and match, like books with plants and something sentimental from your last trip. Use a tray or a marble board on the coffee table to group together some random items and it looks tight and intentional.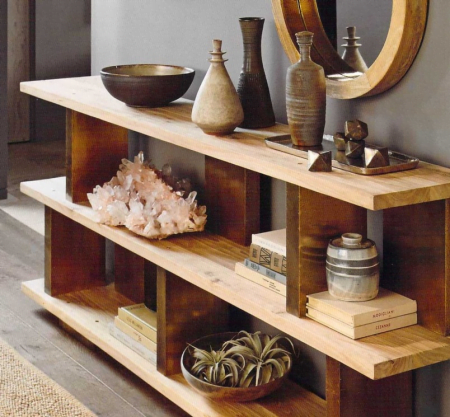 2 – Low Shelves
Perhaps you have an entryway posing a design challenge. Instead of the expected console with a lamp and some books, add a wide shelf at a lower height. Get creative with the accessories on it. Since the shelf is hanging below eye level, you can experiment with taller accessories like oversized pots and artwork. It's one of my favorite new looks on Pinterest.
3 – Add Natural Elements
Stick a cluster of birch branches in an oversized pot, or hang a piece of driftwood on the wall for an organic looking shelf. Oversized shells are perfect for the coastal look- or the simplest option- adding indoor trees, wall-mounted plants, simple succulents or unique air plants. Whatever look or theme your home has, there are a number of natural elements to suit your style.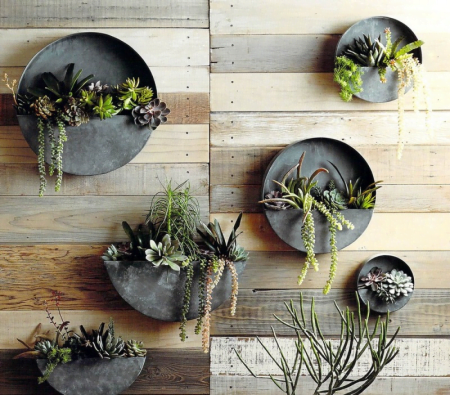 4 – Add Interesting Texture
It's easy to add a knitted blanket and some baskets to a space- additional textures give you additional dimension. But to make a bold statement, get even more creative. Use cowhide as a table runner or a sheepskin throw at the end of the bed.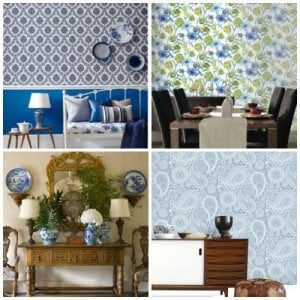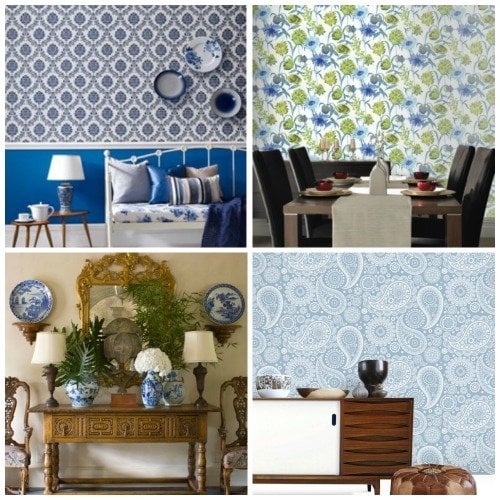 Hang a gorgeous ethnic rug at the head of the bed, or consider textured wallpaper on one accent wall in a small room. Different textures will have different effects on the space.
5 – Layer Rugs
If texture is your thing and you want to take it a step further, then consider this option –layering rugs. Rugs give you the advantage of sectioning off different spaces within an open floor plan, but also create movement if your floorplan is less flexible. You can layer rugs over a larger one to separate multiple areas in one room or if you want to just add some personality with a cozy look, mix and match rugs in any room with different patterns and textures- think bold geometric prints and various sized stripes, or keep it simple with jute and cloth.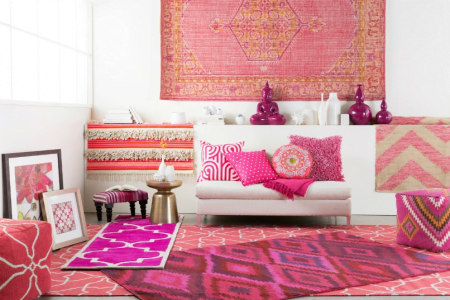 6 – Group Lights
Instead of the traditional chandelier, think about grouping together hanging pendant lamps over the dining room or kitchen table. Stagger the length if you choose to cluster them together or space them out if you have a longer table. While this interior decor idea can be used in other rooms, it can get pricey and works best when hanging over large furnishings.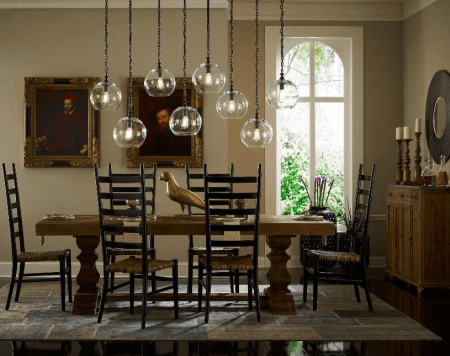 7 – Stacked Artwork
Update your gallery walls– if you're looking for a new way to display your art consider using oversized frames in assorted sizes and textures and stacking them up against the wall, layering them over one another in a casual but intentional way.This interior decor idea creates features and focal points where none existed architecturally.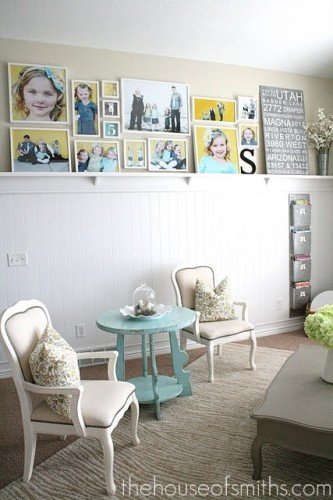 This works well in large open spaces to give them an artsy, gallery feel. For smaller frames or spaces, use ledge shelves to stack the photos on.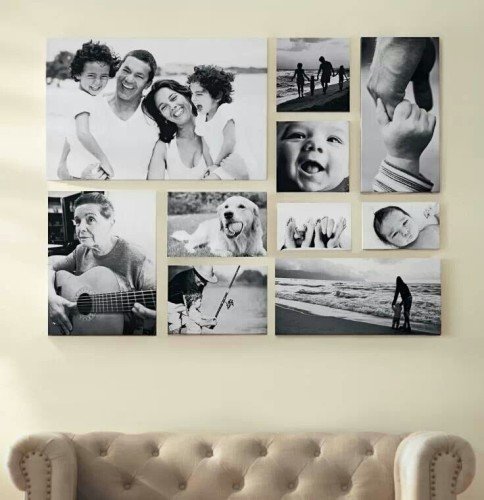 8 – Mirrors
Using mirrors in a strategic way will allow you to visually increase the depth of a room and also make it look lighter and brighter. Position a mirror opposite a window to maximize the light and feel of the space. Hang several mirrors on a wall to create different reflections of light for a magical space.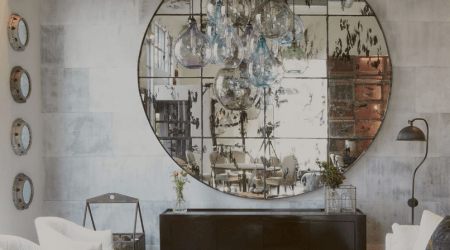 9 – Create a Personal Nook
Whether you want to use it for reading, a place to nap, or your daily meditation practice, creating a cozy area that suits you is the perfect way to remind yourself that home is the place to unwind. We love the idea of using a sun filled window space- perhaps with a built in seat or you can scour the flea market for a vintage folding cot. Add a layers of oversize pillows on top of throw beds for the ultimate cozy space. You can add curtains if the architecture of your space doesn't offer a built in area that feels sectioned off.
10- Outdoor Rooms
Thanks to advances in all-weather materials, furnishings and accessories, it's easy to extend your interior to your exterior with style and comfort. Select outdoor furnishings that look like they belong indoors, and make it feel even 'homier' with outdoor pillows, curtains and rugs.  If year round weather allows, invest in outdoor fireplaces for the perfect touch of warmth or even outdoor kitchens for entertaining.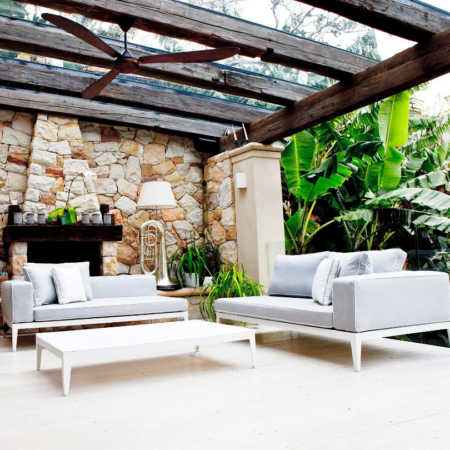 I hope these creative ideas help refresh your home -Just introducing one can create a chain reaction of other home interior ideas and you've got a list of fun projects for months ahead. What are some of your favorite interior design methods to incorporate?
About the author
This post was provided by Guest writer Jessica Haberer an active blogger and part of the Gardenology team in San Diego. Gardenology is a retail home decor and custom furniture store with two brick and mortar establishments in Southern California. Gardenology is a forerunner in the upscale outdoor market and has proven to be a forward-thinking leader in the home design arena.
Save
Save
Save
Save
Save
Save
Save
Save