19 Trending Retro Furniture Makeovers
Posted on April 15, 2016 by Christine in
Home Decorating
.
19 Amazingly Retro Furniture Makeovers
Guest Post by Jamie Dalzell
There's no style that fits the upcycling and painted furniture craze better than Retro Furniture; it's the very definition of taking something old and giving it a new, modern lease on life! And if these amazing retro furniture makeovers are anything to go by? There's just no limit to the ways you can give retro furniture a modern twist.
So whether you're looking to paint an old piece or upcycle a bargain, our list of 19 amazing retro furniture makeovers should provide you with all the inspiration you need!
1. White & Wood Dresser With Herringbone Pattern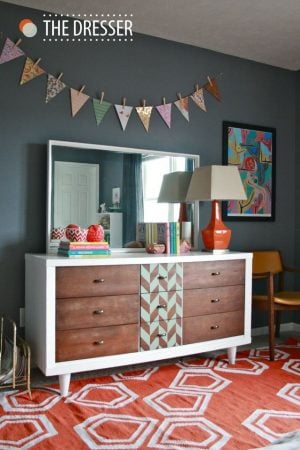 This retro inspired dresser from Dream Green DiY makes an impression that truly lasts. The gloss white exterior providing a stunning contrast to the dark, wood stained drawers.
Still, there's no denying the hero of this piece: the grey-blue herringbone pattern that's featured down the three center drawers that truly makes this piece pop.
2. Veneer Chest Of Drawers With A Teardrop Pattern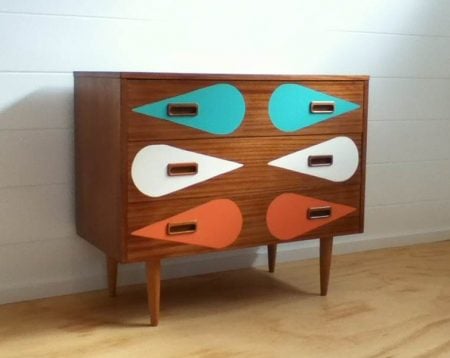 There's nothing more retro than veneer: a thin, stylish wood covering that often covered coarser woods underneath. As a cheaper alternative to more expensive solid woods, it truly found its place in the homes of the 70's, 80's and 90's.
This chest of drawers from Best of Times, though, shows that veneer doesn't have to be a dirty word. Featuring those iconic retro legs and a gorgeous teardrop pattern in decidedly retro shades of blue, white and orange.
3. Vintage Cabinet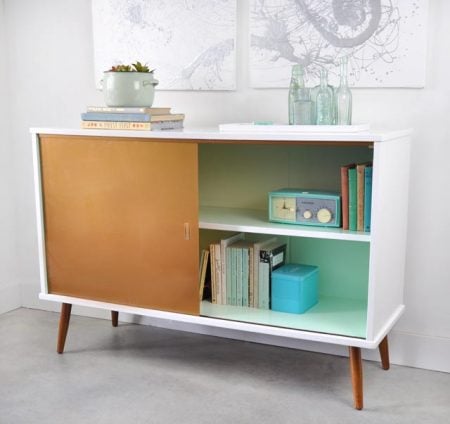 At home in the hall as much as the living or bedroom, this gorgeous vintage cabinet from Visual Heart is a prime example of that old saying: 'Less Is More'.
This design philosophy allows the copper vinyl covered glass door to truly steal the show here. Complimenting perfectly with the white exterior, wooden feet and Mantis Green interior.
4. Ultra Retro Furniture Sideboard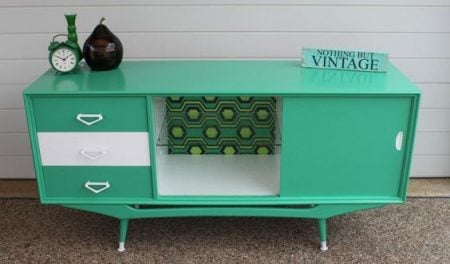 If you were looking for a piece that typifies retro, this sideboard from Nothing But Vintage may well be it.
The gloss finish of the aqua blue and crisp white truly make this piece pop, while the wallpaper pattern that adorns the interior of the piece ramps the retro factor up to eleven.
5. Retro Drawers With A Modern Twist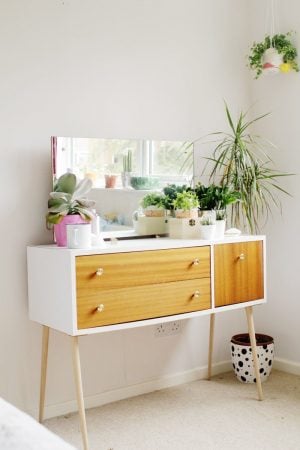 Another piece from the ever-talented Visual Heart, this combination chest of drawers and shelf unit continues their love of the simple yet effective use of colour. Adorned with those unmistakable retro feet and chunky metallic handles for that decidedly modern twist.
6. Retro Vintage Table, With A Twist!
Mixing retro stylings with a little upcycling ingenuity, WoonBlog have created this stunning retro vintage table from nothing more than a suitcase and some legs. How's that for smarts!
7. Retro Coffee Table With A Glass Feature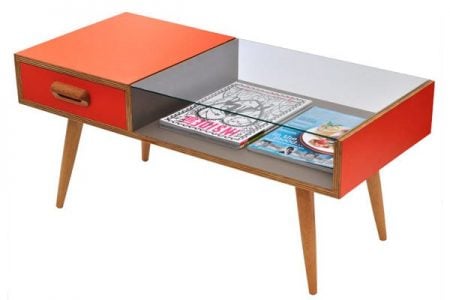 Retro Modern are known for restoring older furniture into stunning feature pieces, and their retro coffee table is no different.
With a burst of orange and an adorably quaint drawer, the top of this piece has been replaced with glass, ensuring it ticks every box on our retro furniture checklist!
8. Retro Bedside Tables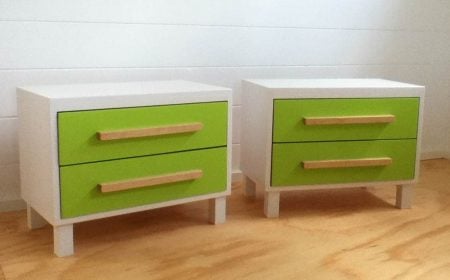 Another retro furniture highlight from Best of Times, these retro bedside tables truly highlight what can be done with the right colour choice and a bit of hard work.
Painted in contrasting lime green and crisp white, these bedside tables feature new, hand-made wooden handles that give these a modern twist while remaining decidedly retro.
9. Retro Dresser With A Modern Facelift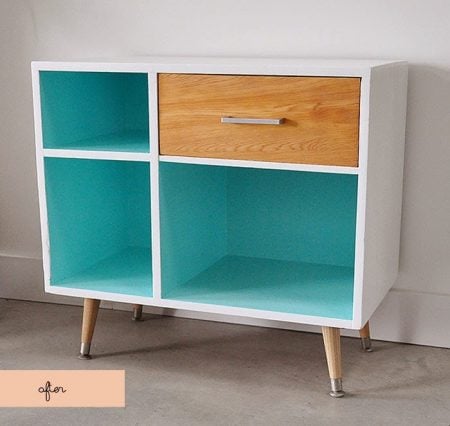 Coming to us from Fall For DiY, this white and wood dresser really does take your breath away. And as you can see from the before and after shots, a lot of work and hours have been put into this to make it so!
10. Refinished & Refurbished Chest of Drawers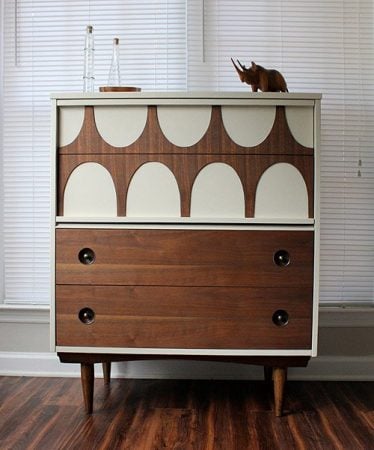 With modern and custom designed furniture aplenty, it's Revitalized Artistry's refinished and refurbished pieces that really caught our eye. More specifically? This stunningly retro chest of drawers, featuring a gorgeous combination of white, wood, and crisp clean lines.
11. Retro Orange & White Sideboard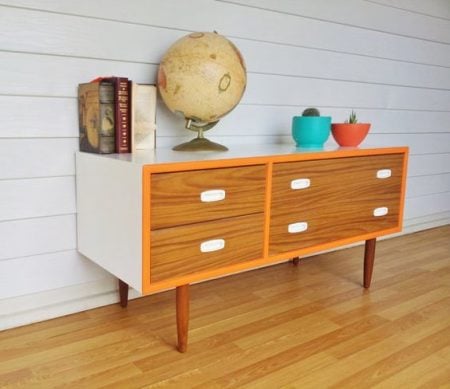 This piece from Pinterest just shouts retro. From the stout retro feet to the orange and white colour scheme. All the way through to the old retro handles.
12. Retro Sideboard With Painted Drawers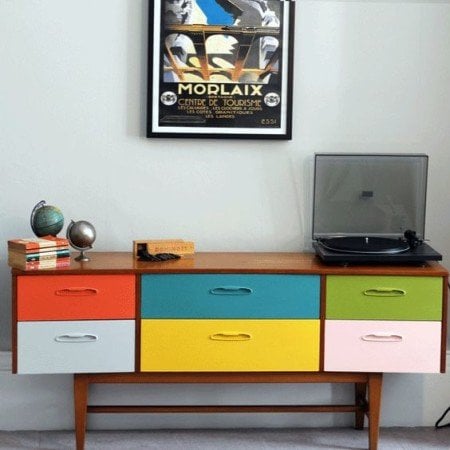 Can't decide on which retro colour suits you best? Well this retro sideboard shows that 'All of the above' might just be the best option!
13. Retro Hall Bench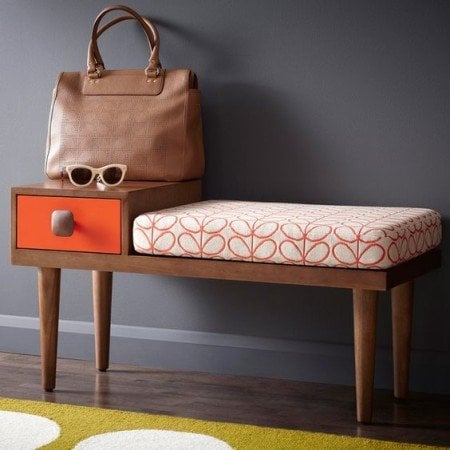 Fab feature a range of stylish designs, but it's this retro bench that stands out. A revised and refinished telephone table – if you can believe it! – the rich wood and use of orange throughout make this quite the piece.
14. Retro Orange Sideboard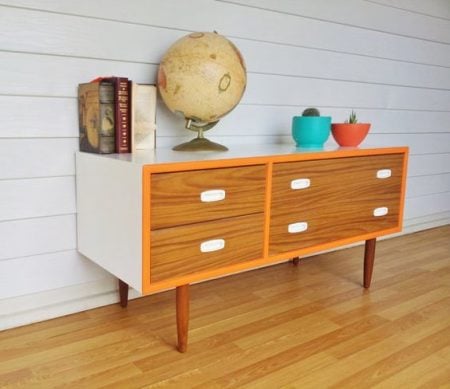 This once drab, dreary, sad looking sideboard has been given a new lease on life thanks to Hometalk. Once again putting those shades of retro orange to good use.
15. Patterned Veneer Storage Unit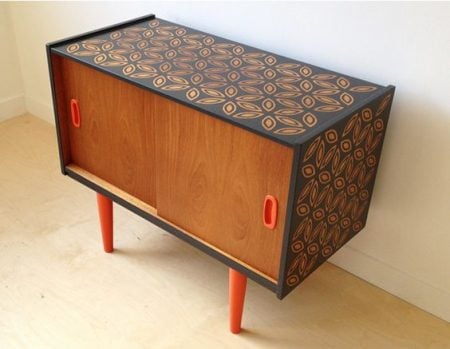 This gorgeous storage unit shows that retro furniture isn't always about the bold use of colour. Here? We see a more muted colour scheme being used to great effect, highlighted by the gorgeous leaf pattern that adorns the exterior of this unit and truly makes it one of a kind.
16. Vintage Metal Cart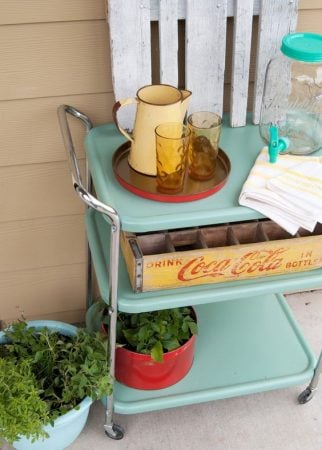 It's not all dressers and drawers in the retro furniture world, as this piece from Averie Lane goes to show. Beautifully upcycled and with a colour scheme that will give any outdoor entertaining a distinctly retro feel.
17. 1970's Veneer Sideboard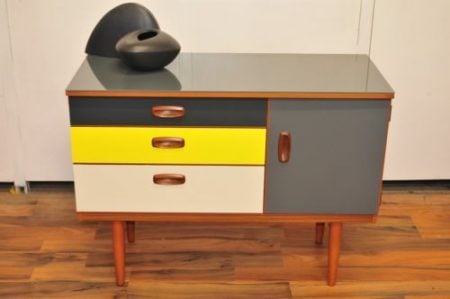 Without a drop of lime green or tangerine in sight, this 70's sideboard is still retro from tip to toe. With a grey, white and yellow colour scheme that gives this retro piece more than a touch of sophisticated flair.
18. Retro Dresser With Geometric Patterns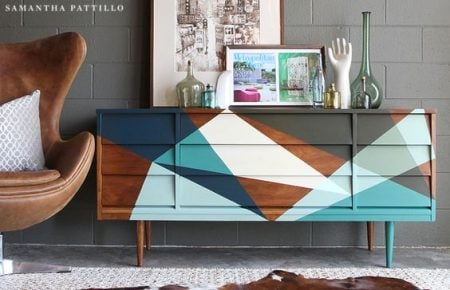 Another retro piece with a modern twist, this dresser comes to us from Samantha Pattillo. And what a dresser it is!
Featuring all the hallmarks of a vintage piece – from the stained and varnished wood to the turned feet – it's the geometric pattern in shades of blue and grey that make this stunning piece what it is.
19. Wallpaper Chest Of Drawers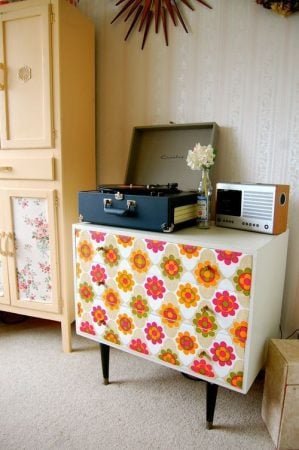 Have we saved the best for last? You'll have to be the judge of that! This beautifully set-dressed chest of drawers is stunning in a white and floral pattern. The twist here? That pattern is actually wallpaper ; if there's anything more retro than that, we haven't seen it!
So there you have it! 19 stunning retro furniture makeovers that show just what you can do with the right piece of furniture, a little TLC and a lick of paint. Did you have any personal favourites from our list? Love a piece we didn't feature here? Let us know in the comments below!