2017 Paint Color Trends: Colors You Will Love!
Posted on November 8, 2016 by Christine in
Home Decorating
.
 If you are already craving to know what to expect in 2017 paint color trends; look no further.
Guest Lifestyle Blogger Marie Nieves has put together a list of the 5 tops Color Trends for 2017 that you will love. Make a feature wall, paint a piece of furniture green, just freshen up your hallway or entry.

2017 Paint Trends: Colors We'll Crave in the New Year
Guest Post Marie Nieves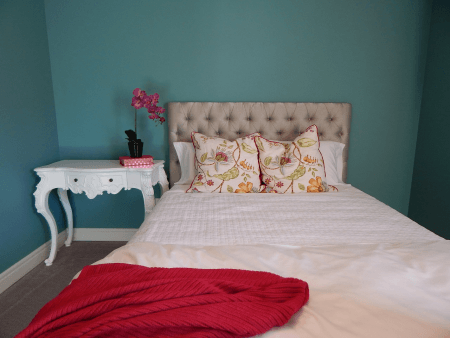 The year 2016 will soon end soon; but 2017 promises the gift of new and interesting colors that will be an inspiration in any home. Its all about deep and gentle colors, soothing and appealing, with tones that can easily blend with most interiors; highlighting and complimenting your furniture and home accessories.
Blue Shades
Blue remains dominant; this deep tone is a perfect fit even for colder weather. The richness, creates a feeling of luxury and creates a warmth in your home.
Lost Lake above (Dulux) and Marea Baja blue (below) are deep and elegant and restore any interior; making even smaller rooms feel rich and cozy.
Offset with lighter colored furniture such as soft light whites, grays or browns or add bold vivid colors for drama.
With big bold personalities, these blue walls work well with larger pieces of furniture, strong layered textures and a mix of sea green, red, yellow or green accessories.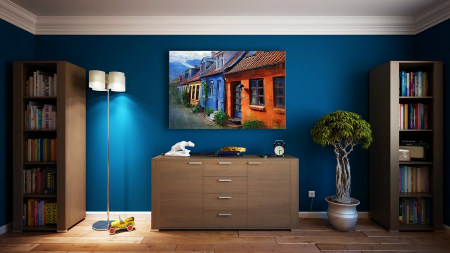 Beige and Cream Shades
Beige and cream shades have been avoided the last few years, but next year's paint color trends will make you reconsider. The 2017's trend includes beige and cream colors with light pink undertones and smoky accents that are neutral and a perfect backdrop for your furniture to pop, while creating a calm gentle atmosphere.
The three best choices for your home are Parchment Paper above, Vintage Chandelier (Dulux) and Wevet which can be easily contrasted with shades of green, yellow and blue.
These particular paint color trends work well with furniture in subtle shades of gray/green. Consider adding a stylish shaggy rug in light gray shades. Adding these pink toned beiges and creams to earthy soft browns or shades of gray will quickly change the mood of a room.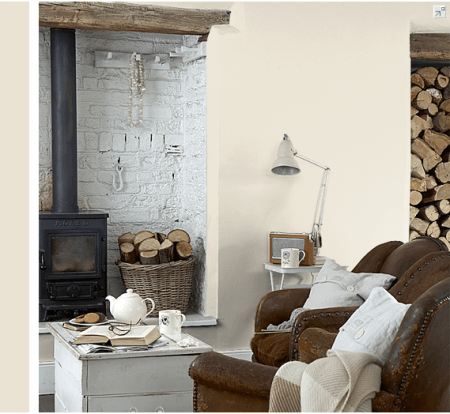 Shades of Gray
While 2016 was all about darker shades of gray, 2017 paint color trends are pointing towards lighter gray tones with added lilac, lavender and blue.

Mole's Breath below (Farrow & Ball) and Cloudberry's soft violet above (Behr) are gentle and neutral and a perfect colors to relax. To keep the monochromatic look add bedding, furniture and accessories in light shades of gray. Stone grays are the perfect monochromatic; add pops of color or metallics for contrast.
Bronze, silver or copper accessories are a great contrast.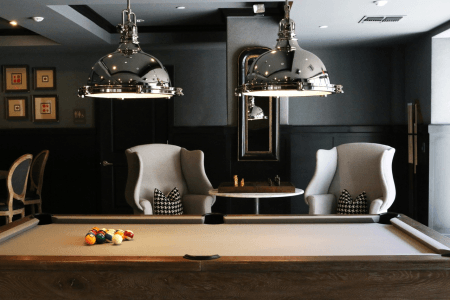 Shades of Green
Greens are also making a big splash this year with paint color trends moving towards emerald green, Earthy green, Dark Teal and Cascades (Sherwin Williams below) as back drops for yellow, pink, beige and cream furniture and accessories to soften and contrast your wall color.
Vivid pink floral decoration goes hand in hand with this natural color and your home will always feel fresh and elegant.
Pink Shades
Moving away from classic pink shades, muddied peachy pastel hues are strong for next year.
Roycroft Rose (Sherwin Williams above), Light Salmon and Petal Bloom are perfect if you want to introduce pink into your home. These colors go well with muted shades of red, brown and bronze for a more modern take on pink.

2017 is a wonderful twist on elegance and subtlety. Don't be afraid to try out these new paint color trends if not on your walls on some pieces of painted furniture.

About the author
Marie Nieves is a student and a lifestyle blogger who loves unusual trips, gadgets and creative ideas. She is an avid lover of photography interested in interior and exterior design and regular author on several blogs. For her articles, she often consults décor specialists, home organization experts and experienced blogger experts. You can find Marie on Facebook or follow her on Twitter, G+ and Pinterest.
Save
Save
Save
Save