5 Home Decorating Ideas to Ditch - Part 2
5 More Decorating Ideas to Ditch
From your coffee table to dining room chairs. Here are 5 More Decorating Ideas you can ditch. I've made these mistakes in the past but these new rules will make your rooms look fresh and interesting - and that's what we all want.
1. Where to Put the Coffee Table Rule?
The Old Rule was easy to follow -  The coffee table goes in front of the sofa. Always.
Source - Design Sponge
But now that we've done away with having to keep the sofa smack bang in the center of the living room, do we really need a coffee table? Maybe we can use something else. Or maybe the coffee table would be more useful somewhere else - like a bedroom as a side table or at the end of the bed.
Source - Generos Protaonistas

The New Rule releases you from the coffee table trap and opens you up to the Ottoman. The Ottoman is an old idea but has been modified to work as extra seating and storage and topped with a tray, the Ottoman becomes a coffee table.
You can make your own Ottoman using everything from an old coffee table to a crate. Just follow the link to Ottoman tutorials and videos here.
Source - InMyOwnStyle
As long as you have something flat to rest a few things on, you can use anything from a distressed crate, a tree stump, small painted furniture like a bookcase or even a large stack of books. Be creative!

2. Vintage Furniture Rule
The Old Rule is that Vintage furniture pieces are best left as they are. To keep the integrity of the piece, the color, the wood, the style.
Well, we know that's a lie! Look at all the amazing pieces of painted furniture, from distressed chalk paint to glossy painted finishes and even stencils.
Source - Pinterest
Never be afraid to paint a vintage piece unless its a classic and valuable as it is. The idea is to enhance the piece not devalue it. Painted furniture looks great. Change and match the fabric so it blends in with your other pieces, curtains or rug. Tie them together while keep it interesting.
3.Small Bedroom, Small Furniture Rule
The Old Rule about small bedrooms is to use small furniture. It's meant to help with proportion and style. It rarely works.
In the previous blog post 5 Home Decorating Ideas to Ditch, I talked about small rooms are often painted white in an attempt to make them feel larger. The effect of course, is they often feel bland and cold, lacking in personality and features. If you remember, the trick is to go bold. Bold walls, or bold print, over sized patterns, painted furniture and interesting fabrics.
Source - Pinterest
This is the same for bedrooms. Small furniture might be scaled perfectly for small bedrooms but the effect is that they make your bedroom feel even smaller.
The New Rule is use a high bed or a tall head board to take the focus from the smallness of the room to an interesting bed instead. You want the bed or a great chest of drawers,  desk 0r color to become your focal point. Create mood, interest and intimacy and a small bedroom is the perfect place to achieve it!
4.Dining Chair Rule
The Old Rule about dining room furniture emphasizes everything matching. And your dining room chairs should be part of a matching set. And the person with the greatest number of matching chairs WINS! But things have changed. Yes, 12 chairs in the same style, fabric and age can look more like a restaurant than a home. 
Source - Pinterest
The New Rule is to mix up your seating so that your dining room looks interesting. After all, the dining room is all about drama and theater so creating a visual feast is in keeping. Just like you wouldn't have eight exact armchairs in your living room, give up the perfect dining suite.
You might decide that all your fabrics match, whether in design, tone, style or pattern while the dining chairs are different.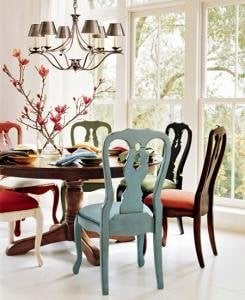 Source - Pinterest
Or maybe all the chairs are the same and the fabrics are different. You could keep the dining room chairs the same but paint them a different color... so many choices to make your dining room look uniquely spectacular. Again, painted furniture can tie your pieces together.

5. Children's Art Rule
Like children that should be seen and not heard, the Old Rule left children's art in a box, album or on the fridge, to be seen only by doting parents or grandparents.
Source  - Pinterest
The New Rules uses Children's paintings and drawings to add color and interest to those less interesting spaces like hallways, entries, bedroom walls and staircases. Use a colorful frame, or in a classic white frame with colored mat.
Source - Pinterest
It's true that the frame may cost you more than the cost of the original painting, but keeping them in tact and somewhere you can see them often, will not only bring a smile to your face but maybe encourage more great art.
Want more home decorating ideas? Then sign up for free copies of DL Life DIY Cheat Sheet and 42 Interior Decorating Secrets. You receive Decorated Life DIY Cheat Sheet immediately and 42 Interior Decorating Secrets is delivered to your email over 6 weeks.