5 Master Bedroom Decorating Ideas
Posted on November 4, 2015 by Christine in
Bedroom Themes and Design
.
Master Bedroom Decorating Practical Wow!
Rethink your master bedroom with a few decorating ideas; add a little color, some sensible storage, a reading nook for time out and some cheeky glam with light fittings, lamps and mirrors. Update your bedroom with panels of color, layer textures and make sure its feels relaxing and comfortable.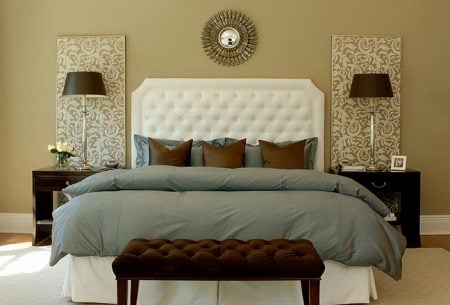 Source: Kate Singer
Whether you are looking for romantic bedroom decorating ideas, or if you have a small bedroom, the trend is luxurious, few but larger pieces, and a kick of texture and warmth for coziness.
Think texture, think seating, think storage to get the most out of your bedroom style with a few pieces that can change the look and feel of your bedroom and how you use it.
It doesn't have to be all lace; especially if you have a man around.  Use 'Cant Miss This' pieces of furniture that is practical and has a 'WOW' factor built in. You can easily paint an existing piece using these steps or buy one like the one below.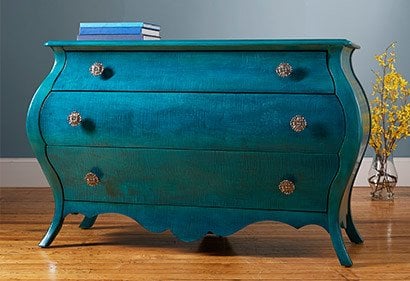 Can't Miss This Furniture
And if you are sharing your bedroom then, this mid century style chair would look great in any corner. It's classic.

Here are 5 master bedroom decorating ideas from guest blogger, Sofia Lewis to inspire you to take a few risks, make your bedroom a feature; somewhere to escape and relax from your busy day.

5 Bedroom Decoration Tips
Guest Post by Sofia Lewis
If you're reading this, you are probably looking to change your bedroom decor into something completely different. The simple tips ahead can help you build on what you have and get more out of your bedroom space.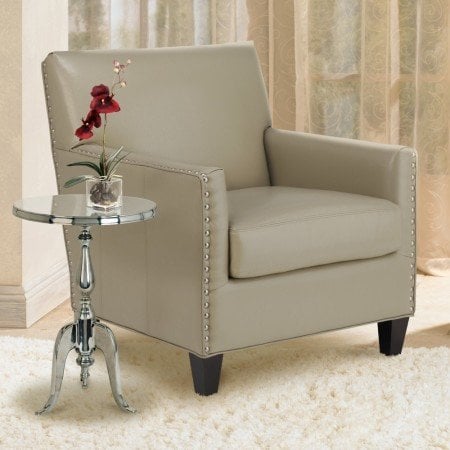 •Since you probably do more than sleep in your bedroom, its a good idea to create a reading nook with some reading space for those days you just want to read or relax.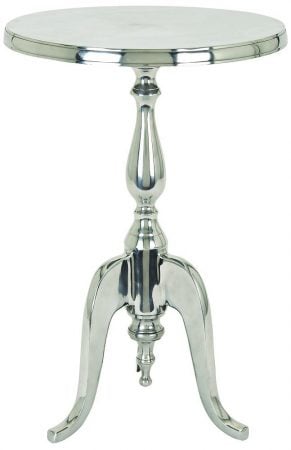 To avoid using your chair as somewhere to throw clothes; get some smart storage for your clothes and books, keeping the area uncluttered and clear all the times.
Want it? Felt Basket
.

A small bookcase, or desk, works well to keep things off the floor or your reading chair. Bedroom side tables can come in all shapes and sizes from the traditional to the very practical.

Joss and Main Mirrored Table        Joss and Main breakfast table

Find a chair that is practical seating and good-looking. Maybe a bench at the end of your bed, or under a window, might be perfect.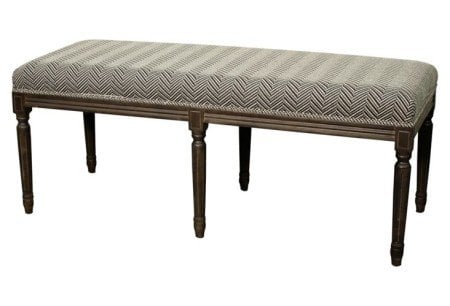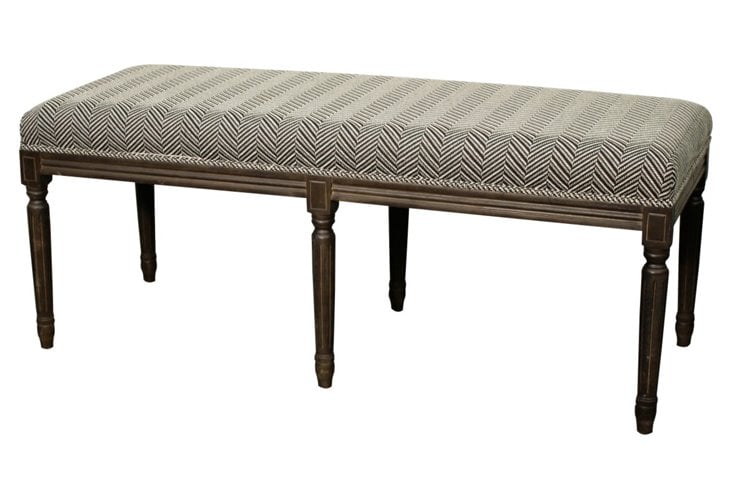 •Your combination of colors, for balance and contrast, are important in your bedroom. Picking the right shades impact how you sleep and relax. Pillows, wall decor and accents can instantly change the look of your room. Look for a color scheme that creates and inspires a specific mood; giving your room personality.
Do you want a romantic bedroom – then go with red, black or other warm colors. On the other hand, if you're looking for simple relaxation, use green, blue and brown as your main focus and paint the ceiling a light color, to keep it looking natural. This canopy is made using two rods and a piece of reversible fabric.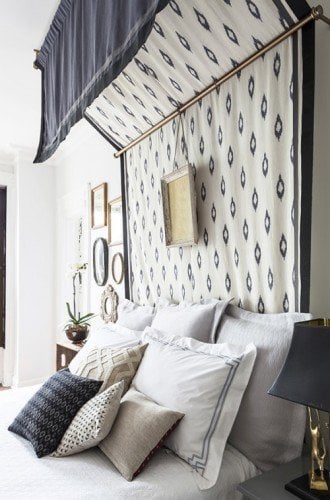 •A blank wall is the perfect opportunity add personality and create a look that is completely different. Here's how you can create a wall gallery including art, photographs or paintings to ground the room and create a feature. You can find wall gallery frame sets here, so you can forget about measuring and fitting frames together. There's a huge variety of shapes, sizes colors and styles.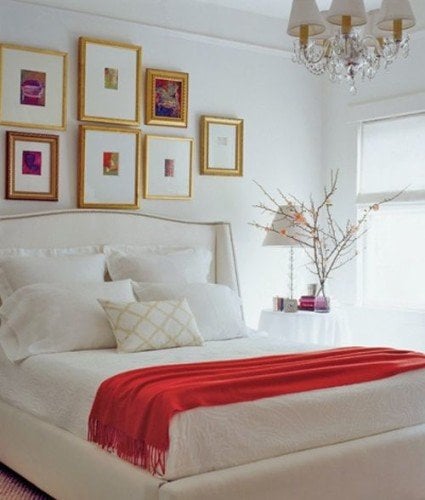 Source: Pinterest
If you are looking to create something more romantic or a softer look, then creating a bed canopy is easy to install and a glamorous feature, with added layers of textured, sheer or romantic fabrics. Make certain your bed linen is in keeping with your canopy fabric in color and tone… no flannelette with rich taffeta or silks! (if you are crazy about flannelette, try linens or cotton on your canopy!)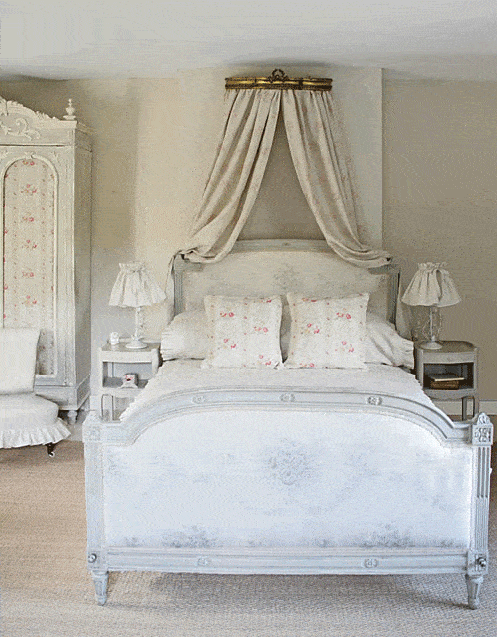 Source: ThePaperMulberry
[FreshBundle bundle_id="corona_bed_canopy_001″ layout="grid" columns="3″ custom_title="Which is your canopy style?" custom_buy_button="Make your selection Here" custom_rrp="" custom_cta="Want it all?" custom_saving="" custom_last_update="" custom_variations_title="" ]
A television is not exactly art, so find a way of making it look like its part of the furniture or hide it in a cabinet. You can place photos or art around it so it doesn't sit alone on a wall, or place it in a cabinet that is keeping with your other furniture.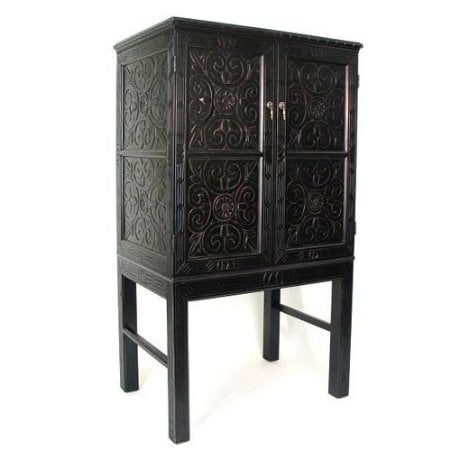 • Good lighting is vital in a bedroom. Lamps, chandeliers and wall sconces add decoration as well as mood lighting to your natural lighting.There are so many different styles to choose from!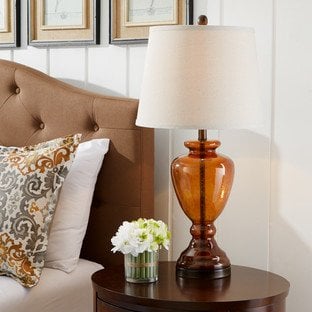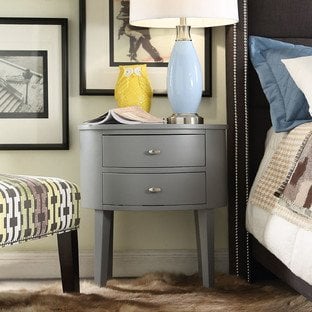 Sheer curtains and mirrors help to add more light to your bedroom. Placing a large mirror near a large window, will make the room feel larger and reflect more light int the darker corners of your bedroom.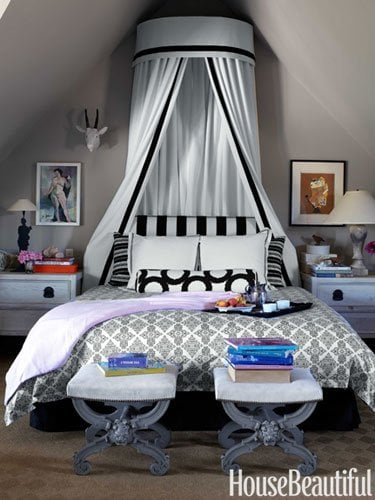 There are attic bedroom decor ideas here. Have you signed up for our Newsletter yet?