5 Small Room Ideas – Paint Ideas, Storage, and Design Ideas
Posted on February 12, 2014 by Christine in
Home Decorating
.
You can never collect too many small room ideas, because no matter what size your home is, there is always one room that leans on the smaller side, like a small attic bedroom, that needs help.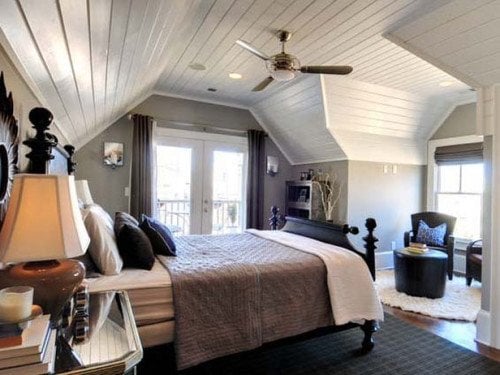 Source: Pinterest

From small room decorating and layout ideas, there are lots of solutions, ideas and inspiration to small room problems.
Armed with great small room storage solutions, paint ideas and small room design ideas, it is definitely possible to create rooms that feel larger without sacrificing style or function.
With some clever small space savings like storage solutions, furniture ideas, paint ideas, great color ideas and design ideas you can make your room look and feel comfortable.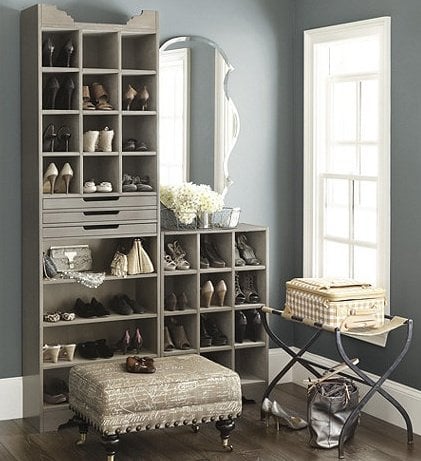 Source: Pinterest
Here is a great guest post by Amanda Symes who comes across this problem all the time.
Amanda has small room ideas and techniques that can be completed over a few hours and work well in homes and apartments.
From flooring to storage, there are some easy small room ideas here that will help you make your small rooms more liveable.
Five Tips to Turn a Small, Dull Room into a Bright and Spacious Room
Guest Post by Amanda Symes 
Small bedrooms can appear spacious if some simple techniques are applied. If you like weekend projects, you can probably complete them in a short period of time. With these tips, you'll discover what professional designers already know.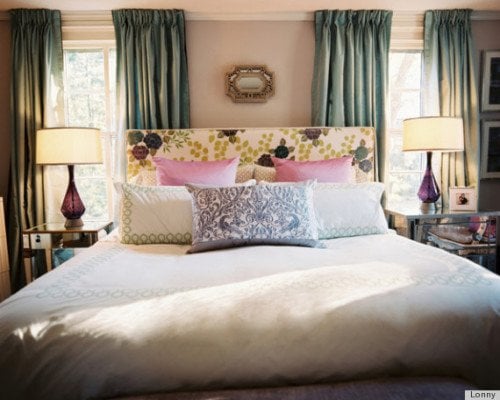 Source: Huffington Post
Here are a few great ideas to help you get started:
1. Small Room Design Ideas – Maximize the Amount of Floor Space Shown
The more floor space shown, the larger the room will appear.
Source: Kathy Kuo Home
Experts suggest removing area rugs because uninterrupted spaces appear larger than they actually are in reality.

Wood or laminate flooring will help you meet this goal faster than carpeting. These types of floors will reflect light and space more than other flooring types.

A room that is free from clutter will make the area feel bigger so create storage space under your bed or in cupboards to avoid clutter piling up.

Purchase furniture with clean, lines and intriguing legs to more of the floor beneath and to create space and depth in the room.
Source: Thos. Baker
2. Small Room Lighting Solutions – Mirrors + Natural and Artificial Lighting
Mirrors reflect light and space and are recommended for small spaces and works exceptionally well in small bathrooms.
Source: Thos. Baker
Try to incorporate lots of natural lighting with a good balance of artificial lighting.

A framed mirror propped against a wall or hung on a closet door can provide the reflective properties necessary to give the illusion the room is larger than it is.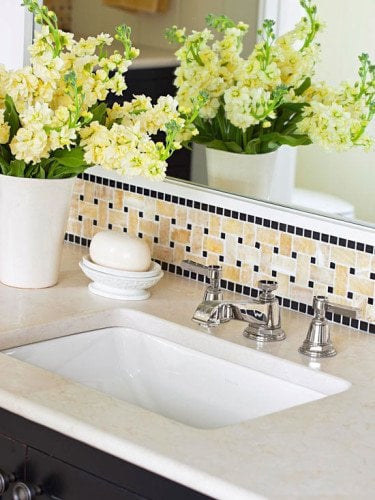 Source: Better Homes and Gardens
3. Light fixtures, lamps, and sconces are an excellent way to include natural lighting if your windows are also small, and will help brighten the room and make it feel more spacious.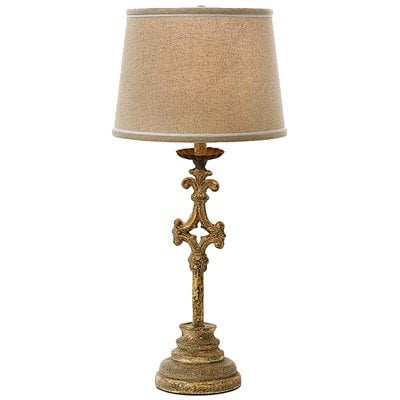 Source: Layla Grayce
2. Think thin in small rooms.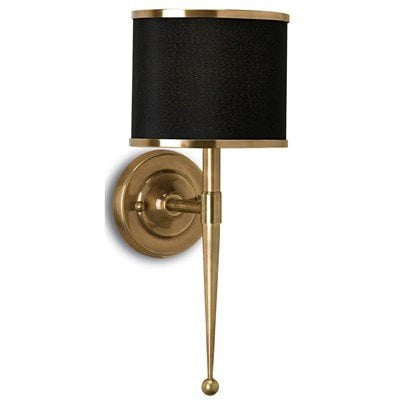 Source: layla grayce
4. Heavy window treatments can make the room look smaller because they block out natural light, so opt for something lighter, or blinds, that can give you the freedom to control light.
5. Shades that can be retracted from the top will also be recommended for people who want their room to appear larger or if you want to hang curtains, installing them closer to the roof will make the rooms height appear taller.
3. Create an Attention Grabber

Instead of using a waist-high desk, try to incorporate a tall desk with a stool in a corner. A tall desks draws the eye to the back of the room, and the room will appear bigger. Tall desks are also ergonomically friendly than waist-high desks because standing allows blood to circulate through the legs.

Attention grabbers are necessary to make small rooms appear larger. This can be done by painting a light-colored room or a unique focal point or a wall mural to draw the eye to back of the room.

Cool colors on walls help significantly to make small rooms feel bigger.  Select a monochromatic color scheme and add a light or pastel color for an accent wall. This creates the feeling of extra depth to the room, making it appear larger.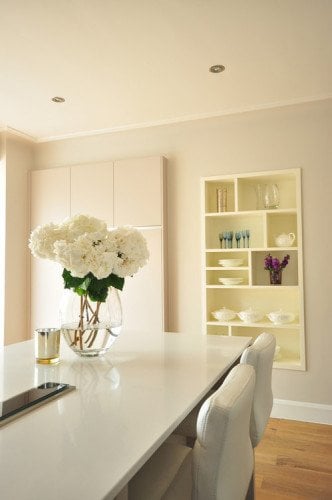 Source: Georgiana
4. Multi-Functional Small Room Furniture and Scale Furniture

You should use multifunction furniture that can be converted to other types of furniture.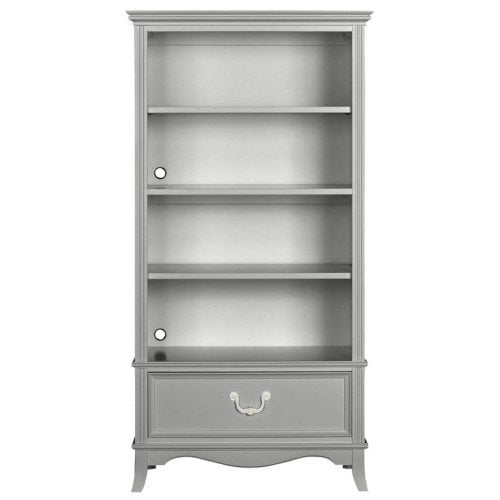 Source: Laya Grayce
This saves space and helps the room to appear larger.
A chest can be used as a coffee table and a place to store throw blankets.

An expandable dining table can be expanded when necessary and contracted when necessary.

Nesting tables are perfect for small spaces.

Place large pieces of furniture against walls to open space in the middle of the room.

Remove furniture from walkways to make them feel larger.

Over sized furniture will make the living room or bedroom appear smaller.

If the furniture pieces are the same color as on the walls, the room will appear bigger.

Armoires and chests blend into a room, making it appear larger.
5. Pay Attention to the Placement of Furniture
Pay attention to how you arrange the furniture in the room.
Your room will appear longer when you place your furniture at an angle. This will lead the eye along the longest distance and elongate the room.

You can use a triangle behind the couch for a large vertical lamp or plant to make the room look even larger.

Always be cognizant of the furniture. If the furniture in the room is too tall it will make the ceiling appear lower, and the room will look smaller than it actually is in reality.

Furniture with exposed legs, open arms, and glass features will always make the room appear more open and spacious.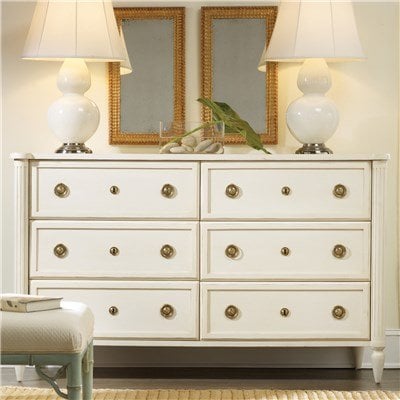 Source: Layla Grayce
Author Bio
Amanda Symes is Sales Manager at Curtain World, a leading provider of Curtains, Blinds and Shutters in Perth, Western Australia. Connect with Amanda on Google+.  Photo Credits: Houzz – Amy Lou Design


If you have small rooms, these small room furniture and paint ideas can help make your proportions work in your favor.  Small room storage solutions are  definitely something you must consider, whether you use pieces of furniture to help you, storage containers under your bed or built-in storage under your stairs.