6 Small Space Living Ideas to Create More Space
Posted on May 21, 2014 by Christine in
Small Houses
.
Small Space Living – Ideas, Tips and Solutions
The problem of dealing with small space living areas is something most people have to deal with at one time or another – especially if you live in an apartment.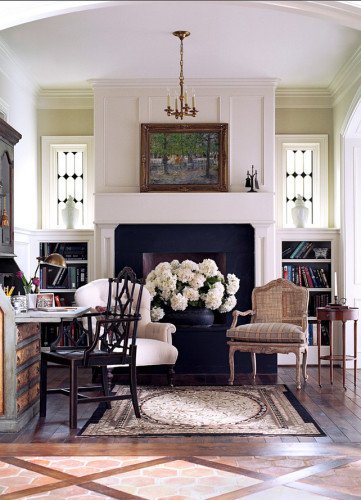 Even in a generous and spacious home, there is always a room you need, or want, to squeeze more into and you need bathroom ideas for small spaces, storage ideas for small bedrooms or small living room design ideas.
Your ideal may be for a room to function as two distinct spaces.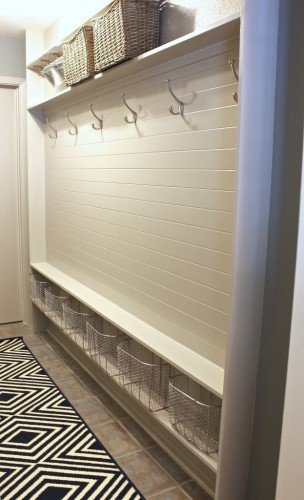 Source: The Creativity Exchange
It could be:
creating an office in your bedroom or within your kitchen,

finding storage in the hallway, basement, stairs, under the bed or in the garage,

converting hallway closet into a mudroom, laundry station, pantry, or library or

sharing a scrapbooking room with a guest room

.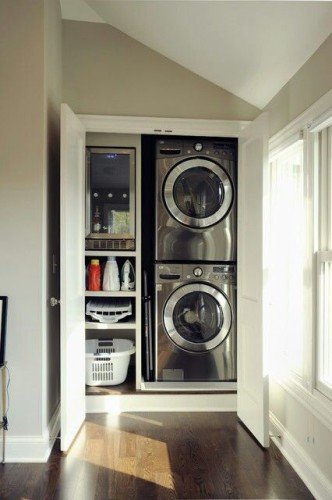 Source: Pinterest
The answer is often a combination of lots of little space saving ideas. Together these ideas make all the difference – without the need to re-model!
It might mean using choosing paint colors that are perfect for small rooms, adding bookcases to creating a mud room or bed head, selecting furniture for small bedrooms or living rooms or creating storage where none exist like this DecoBros K-cup Storage Drawer Holder for Keurig K-cup Coffee Pods
.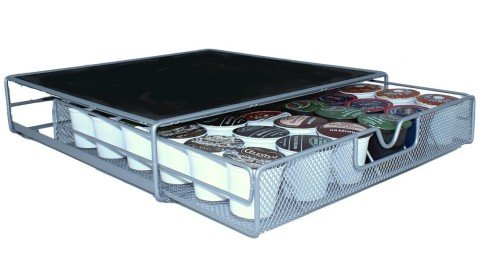 Source: Storage from Amazon.
Do it well and your rooms look more open, less cluttered and create flow because you have space between your furniture and work spaces. This expandable bamboo drawer can neatly shrink or expand as your needs change. Its the small changes that will give you more space.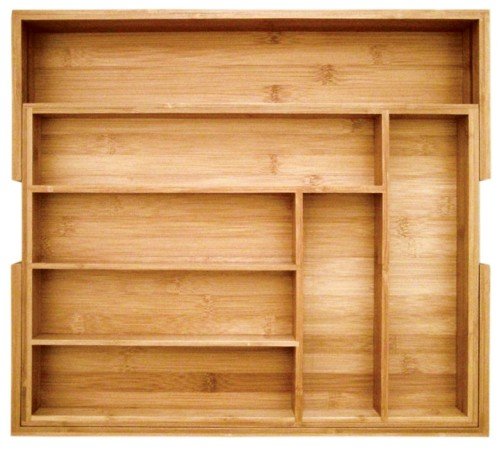 Source: Totally Bamboo Expandable Utility Drawer Organizer
This is a great time to Spring clean, re-arrange, remove and re-think your room layouts and how your uses these spaces. This is not only for  indoors but small outdoor areas too. It's easy to make them fun, festive and cozy.
If you are on our list, its time to pull out the Declutter List and move room to room to see what you can do to declutter and create space. If you're not on the list – you can join here.
This weeks guest writer, Jessica Socheski, has come up with 6 small ideas to help open your spaces and think differently about your small rooms.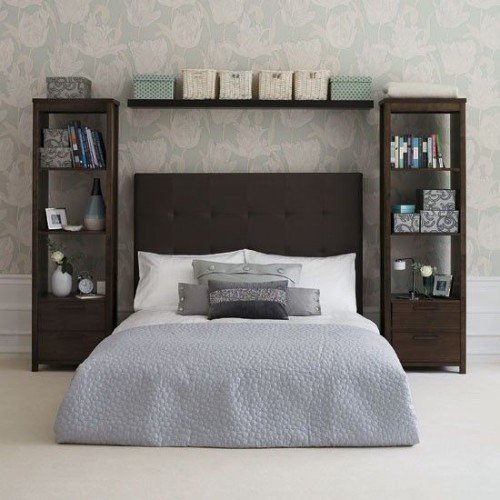 Source: House to Home UK
6 Small Ideas To Open Your Space In Big Ways
by Guest Writer Jessica Socheski
Now that spring has officially arrived, it's time to bring out the dust brooms and donation boxes in order to transform the often cluttered space in your house.
Opening up new home space does not have to involve an entire remodel. Instead, simply utilizing your home's existing square footage in creative ways can dramatically turn an enclosed area into a wide-open space.
Here are six wonderful ways to open your home in big ways.
1. Staircase
Two-story homes usually have bulky staircases that commandeer plenty of otherwise usable room. Homeowner's can either suffer the loss of square footage, or they can outfit the area to meet their home storage needs.
An excellent way to achieve more square footage is to remove the existing staircase and replace it with circular stairs. Measuring your space for a circular staircase is not as hard as you think – here's a spiral staircase guide. Spiral staircases are chic, modern, and elegant while maintaining a slim appearance. All the area which a traditional bulky staircases would use a spiral staircases leave open, thus expanding the living space.
Homeowners can also consider transforming the area underneath the stairs by creating built-in bookshelves, a secret desk area, storage for bikes, or an extra closet space. This provides concealed storage to free up the living room.
2. Multipurpose Furniture
A clever way to open up space is to invest in multipurpose furniture. An ottoman with built-in storage allows a person to hide blankets or books while serving as a footrest, coffee table, or extra seating when company arrives.
Building a window seat streamlines a room because it adds seating to an otherwise unusable area, and it can be fitted to have storage underneath the seat bench.
3. Paint With Soothing Colors
Although dark colors may seem design-friendly by capturing an apparent mood within a room, they also manage to make a room appear much smaller. Lighter shades, like soft blues, open the space up because the less saturated colors make the walls seem larger than they actually are.
4. Mirrors
Although wall-to-wall mirrors seem like a page out of a '70s design book, do not be afraid to add some reflection into the space. A nice bordered mirror on the wall reflects light and creates an airy, open feeling in a smaller, more enclosed space.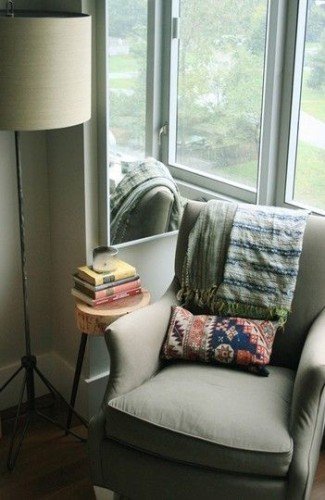 Source: Apartment Therapy
5. Space Things Out
Most people assume that placing a piece of furniture against a wall will make a room feel larger. However, furniture pieces often look better with free area around them because the additional space makes the room look and feel bigger.
Instead of having a large amount of space in the center of the room, placing the furniture at different angles actually utilizes space better, and to the naked eye the space surrounding the furniture can give the appearance of a bigger room.
6. Less Is More
Homes streamlined with simple accents yield a larger looking space than overcrowded walls and rooms. Pair down the amount of furniture and allow for open wall space. While the space shouldn't look bare, it also shouldn't feel like a furniture store.
Since many homeowners are already giving their houses a good spring clean, now might be the perfect time to add a few space creating projects to the list by opening the home to give it a warm, airy feeling.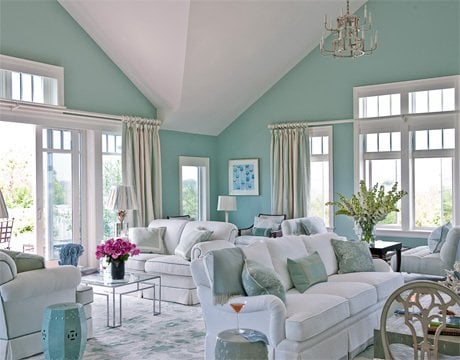 Image Source: www.housebeautiful.com
Aren't these great ideas from Jessica?
Often its the small things that make all the difference. If it all seems too much, a good place to start is by tidying your counter tops and your drawers.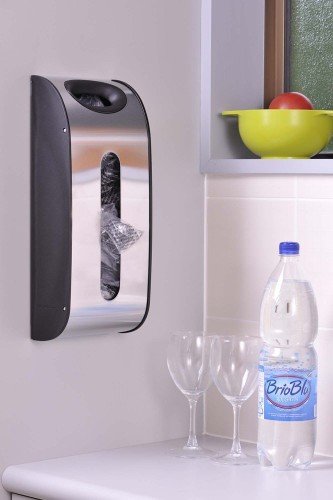 Wall Mount Grocery Bag Dispenser, Brushed Stainless Steel
These are just a few ways you can get the most out of your small rooms.  Get more ideas when you join our list or keep reading below.