7 Exciting Spring Trends – Brass Chandelier, Floral Prints, Vintage Twists and Blue Accents in 2014
Posted on March 26, 2016 by Christine in
Home Decorating
.
This Spring is all about glamor accents and its not hard to get a really great look. By using a few brass fittings, add a brass chandelier, some flora prints or floral paintings and blue accents, you can totally update your Spring home decor.
Source: Sroka Design
A very large mirror, a blue bedhead, lots of blue cushions and a floral print over the bed and this bedroom is transformed.  The mirror is the wall feature in this simple bedroom. Its not a major overhaul, but it has completely changed the look of this bedroom.
Spring always brings with the fresh new colors, new twists and tweaks and this year is no different. There are lots of ways you can get 'the look' without overhauling your decor completely. Repainting your kitchen walls may not be on your to do list. But what about a change of hardware to change your look?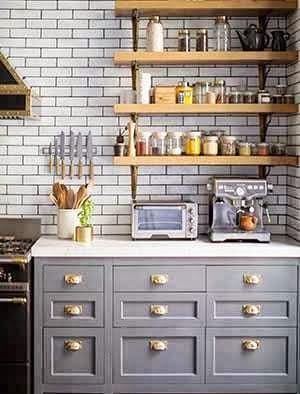 Source: cococozy.com
Since everything brass is in, duplicate this look in your kitchen by replacing your hardware with these brass pulls at a fraction of the price. The look is updated, fresh and inexpensive.. and looks great.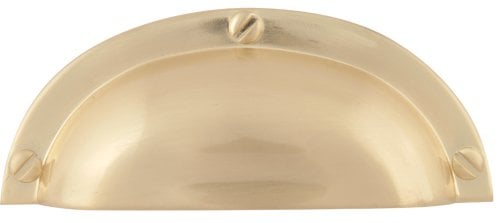 Source: Amazon – $8.10 Atlas Homewares A818-SB 3-3/4-Inch Euro-Tech Collection Bin Cup Pull
Mixing metals is also big this year. A cute metal side table like these are a great size for living room and bedroom use. The slimline look will go with almost any other decorating theme.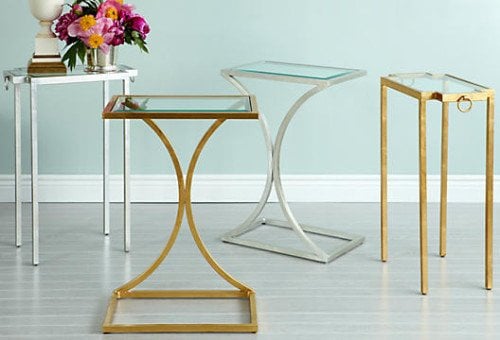 Source: Pinterest
Adding just a few accents like blue cushions, antique brass pulls and a very sexy lamp and you have just some of the ingredients for this spring's new look.
If you're updating cushions, and mixing patterns, its a good idea to watch this quick video and see how to mix your fabric patterns without mixing too many colors or patterns and scaling your pattern sizes to get a really chic look.
Four tips in four minutes. Enjoy.
Brass Chandelier Ceiling, Table or Floor Lamp – Which One Works For You?
A new brass chandelier over the dining table may not be a priority, but how about a brass floor lamp to add to your look? And it's not a major job requiring an electrician…  but it looks stunning.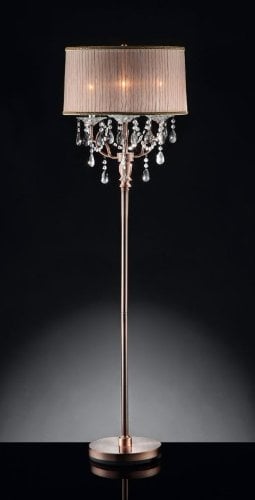 Source 62" H Rosie Crystal Floor Lamp
Amazon $172
That's enough from me. Discussing more of these trends is guest writer Jessica Socheski who wrote about under stairs storage in Stairs – Staircase Double Act – Are You Using Your Stair Potential?
7 Exciting Trends to Watch Out for This Spring
by Jessica Socheski
Exciting trends are growing in the interior design world. From bright colors to glamorous accents and striking contrasts, here's a list of seven of the top styles taking over.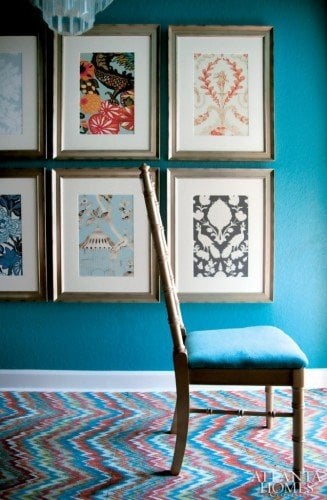 Image from www.tateinteriors.com
1. Bye, Bye Beige
A staple in many homes over the past decade, beige is celebrated as a safe timeless color. Though it still works well as a base, the reign of beige interiors is coming to an end this year in favor of clean bright colors, ethnic prints and fun textures like corduroy and fur.
 2. Popping Color

Bright colors have been hip for a while, but 2014 marks the year than many designers are hopeful for the death of the "beige box" as homeowners embrace interchangeable accents.
Small accents like pillows and rugs can have a big impact on a room, explains Arianna Vargas for housebeautiful.com. She predicts a "trend towards chameleon décor" where interchangeable pieces are matched with a "versatile neutral base" to mix things up every once in a while.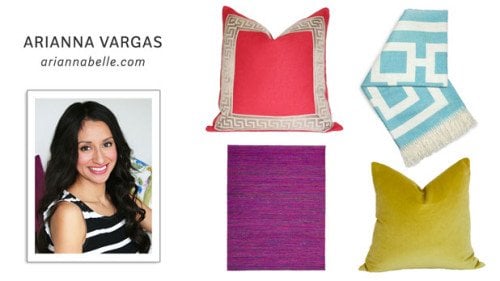 3. Blues!
From navy to turquoise to sea foam, blues are back this year. Bold and beautiful, blues of every kind are available:
Azure

Beryl

Teal

Cobalt

Saphire

Cerulean
And turquoise is so big this year that it should have its own category. Navy is also gaining steam in "calming shades which command authority" and are "easy and pleasant" to look at because navy is totally in vogue.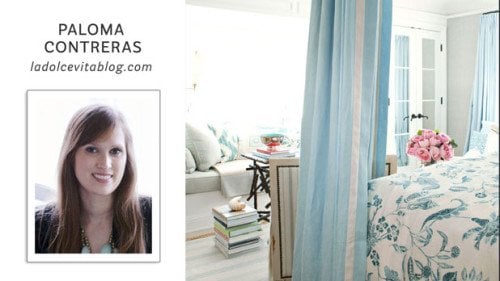 Source: Freshome – blue floral prints

4. Vintage Is Hot
From clothing to furniture, vintage is a major trend to watch out for in 2014. A fascination with antiques has slowly been growing and this could be the year that things really break out.
From flea markets to antique shops and estate sales, keep your eye on classic pieces that can add that touch of elegance and class to your décor. Even reproductions can work as well as classic architectural features like a metal spiral staircase.
 5. Glamour
Goodbye plain white walls, glamorous patterns and venires are adding drama to rooms.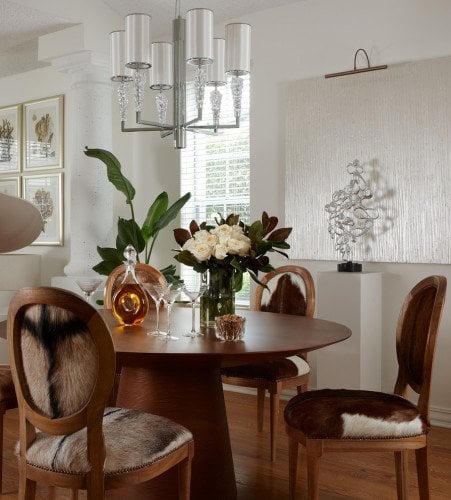 Source: Freshome
Metallic shards of brass and gold with printed walls bring interest and mood. Ornate fixtures like a fun black crystal chandelier can add a lot of intrigue to a home.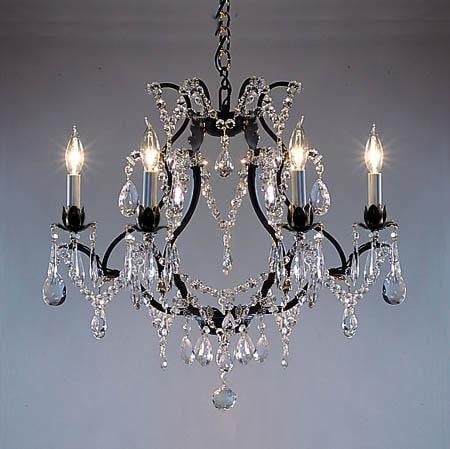 Source:  Wrought Iron Crystal Chandelier Chandeliers H19″ x W20″
$149
6. Floral Accents
Flowers are making a comeback with beautiful floral fabrics, wall paintings and prints. With spring almost here, floral accents are making an impact on everything from hair accessories and shoes to duvet covers and framed art. An important note about floral is to implement it delicately without overdoing it.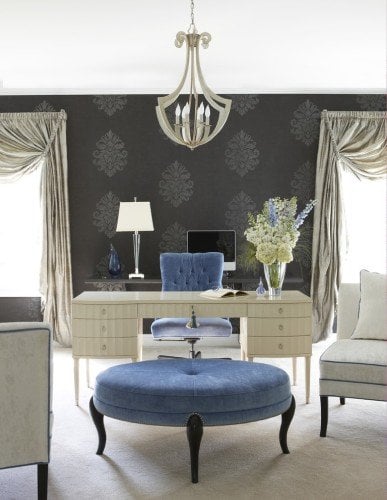 Source: Freshome
7. The Softer Black and White
Perhaps the rage over gray from last year is responsible for this new trend of black and white shades. Gentle tones of white and black—without the typically harsh contrast of the usual stark opposites—make an inviting and relaxing combination.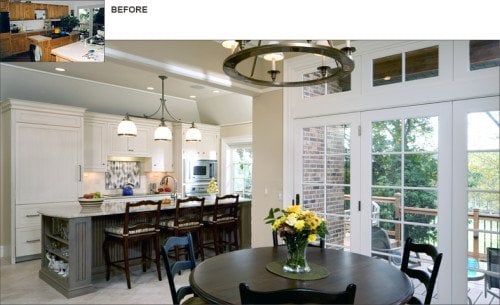 Source: Sroka Design
With these fabulous colors and design ideas, there is bound to be inspiration for your home.
Jessica Socheski is a freelance writer who enjoys finding creative ways to approach design. 
If you enjoyed this article by Jessica, please let her know in the comments below… and don't forget to join our email list if you would like to regular updates.