7 Inspirational Shed Plans to Transform Your Old Shed
Posted on February 28, 2017 by Christine in
Home Decorating
.
7 Inspirations for Transforming an Old Shed to a Dreamy Outdoor Living Space
Guest Post by Zac Spade
Lots of folks have an old shed hanging out in their backyard. And if it is one of those 'was there' when you bought it type sheds, then you're most likely to find yourself frustrated by the unorganized mess, random tools and pieces of equipment.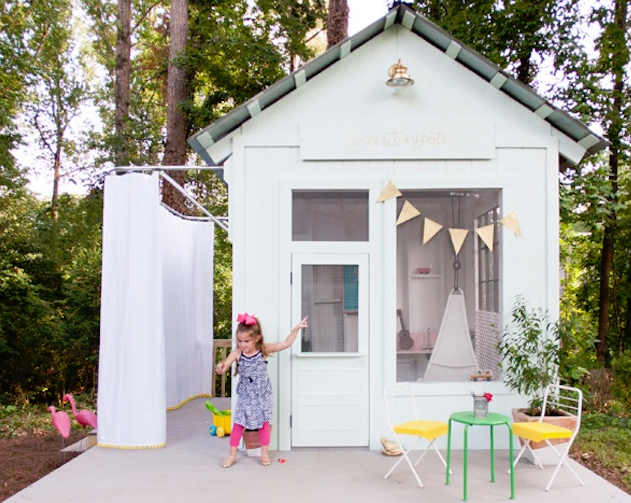 Source: www.brit.co
The thick layer of dust over each item reminds you that this stuff hasn't been touched in years!
It's a shame too because this old shed is actually prime real estate. Today, there are so many awesome ways to convert your old, unused shed into a relaxing oasis of outdoor living space.
Let's take a look at seven different ways you can create an awesome, eye-pleasing space in your backyard.
She Sheds – The Modern Mommy Escape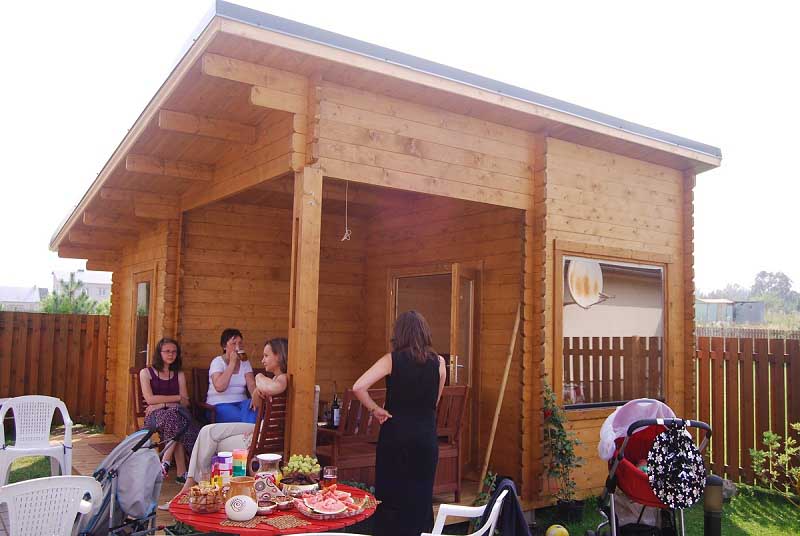 Source: SolidBuildWood.com
We are all very familiar with the classic man cave that is so often included in modern homes today. If you ask me, momma's need a little escape every now and then too! Why not turn your old shed into the perfect, relaxing space for you and your gal pals?
Source: BobVila
Invest in some lovely patio furniture and pleasing plant foliage and invite your girlfriends over for a light lunch and a play date.
You'll be free to chat and relax while your kids enjoy the great outdoors. Or better yet, leave the kids at home and truly unwind with a glass of wine in hand.
Kid Friendly Fun Zone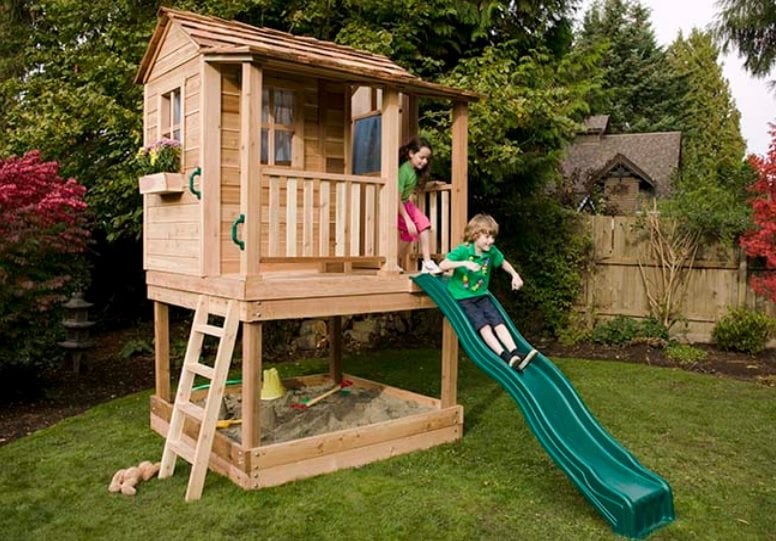 Source: OutdoorLivingToday.com
Here's a great option for the super sacrificial parent. Instead of converting your old shed into an adult area, why not surprise your little ones with a totally awesome clubhouse and playground?
Source: Inhabitots.com
Your kids will get endless hours of fun out of this awesome backyard transformation. And parents, there is still something in it for you.
You'll be able to sit back, breathe in the fresh air and watch your kiddos enjoy their awesome new play zone.
The Tranquil Home Office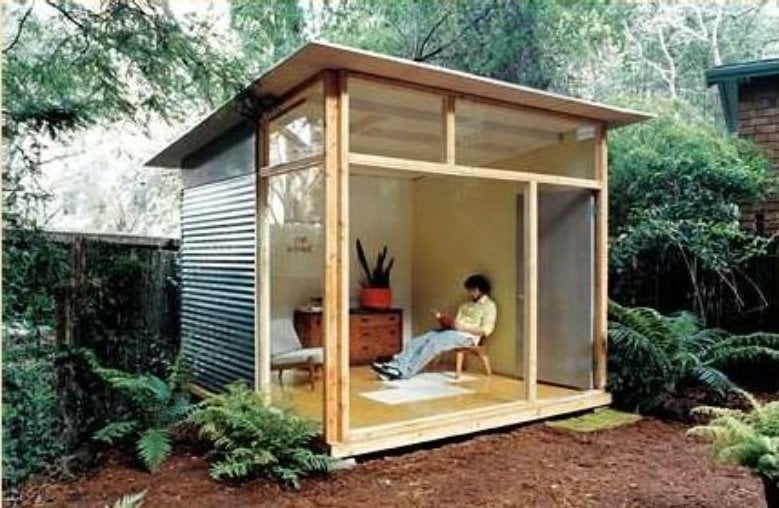 Source: TreeHugger.com
While the office is not always the most enjoyable place to spend your time, work is a fact of life. Here's an easy way to create a Zen work environment.
Turn your old shed into a serene home office. Make sure to utilize lots of windows for a light, airy and natural setting. Chances are, you'll be more eager to get to work in this setting!
Additionally, this space could double as a relaxing exercise/yoga studio or cozy reading nook. We also love the idea of adding a sofa bed to offer house guests a private and relaxing space during their stay.
Lodge Retreat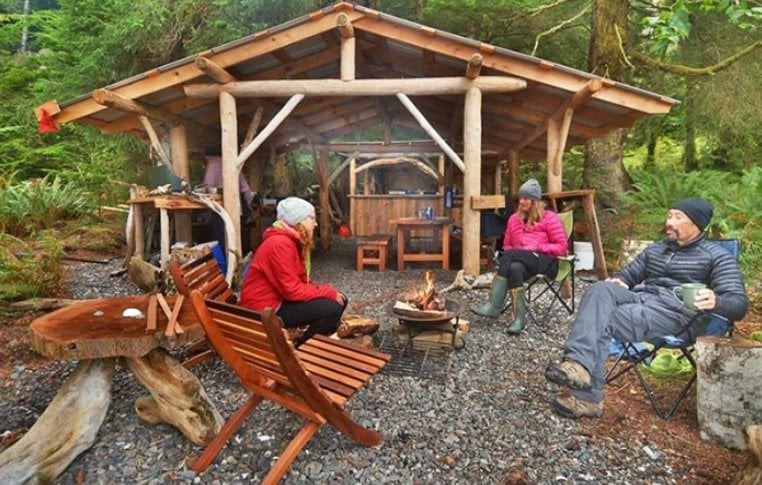 Source: BritishColumbia.com
How fun is this idea? Turn your unused shed into a backyard lodge retreat. Invite friends over for a relaxing evening around the fire. Pull out the s'mores fixings, pour some cider and laughter and memories are certain to ensue.
We love the use of natural elements like tree stumps and branches to create tables. Make sure to have cozy blankets on hand to keep the night going in spite of the evening chill.
Backyard Bar Shed Plan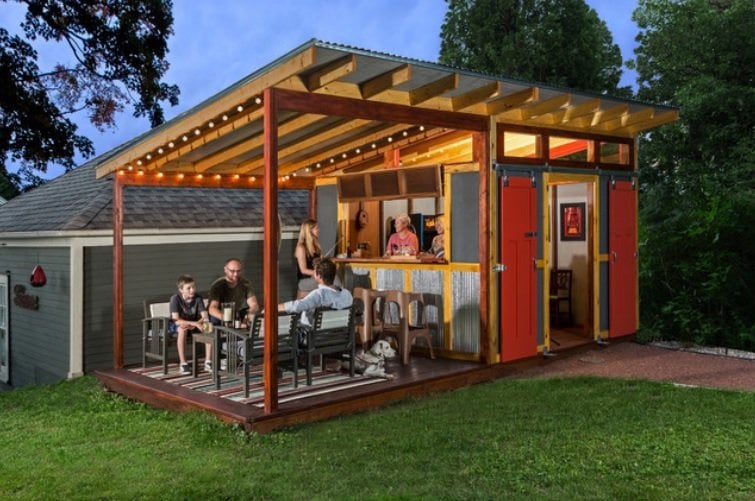 Source: Houzz.com
Here's some fabulous inspiration for turning your old shed into a space the whole family can use. We love how this backyard bar has both indoor and outdoor space mixed together.
Adults can sip drinks at the bar and prepare food in the built in kitchenette while kids play games and chow down on delicious snacks in the outdoor seating area.
Source: Littlethings.com
Bonus points for the lovely patio furniture, string lights and outdoor rug. These finishing touches elevate this backyard bar to a positively luxurious level.

Romantic Gazebo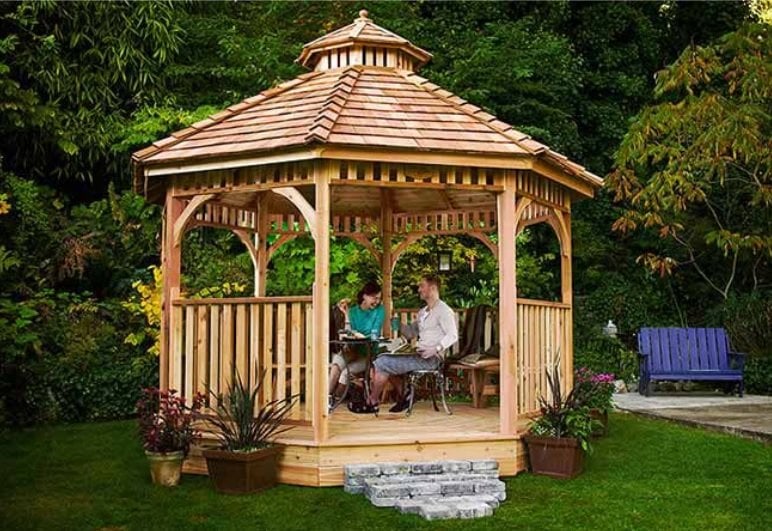 Source: OutdoorLivingToday.com
Another fantastic way to update your old shed is to turn it into a breezy, romantic gazebo.
This is the perfect setting to enjoy relaxing outdoor meals with your loved one or a group of good friends. You're sure to make lasting memories in your backyard with a lovely gazebo like this one.
Source: Fleamarketgardening.org
Greenhouse Garden Shed Space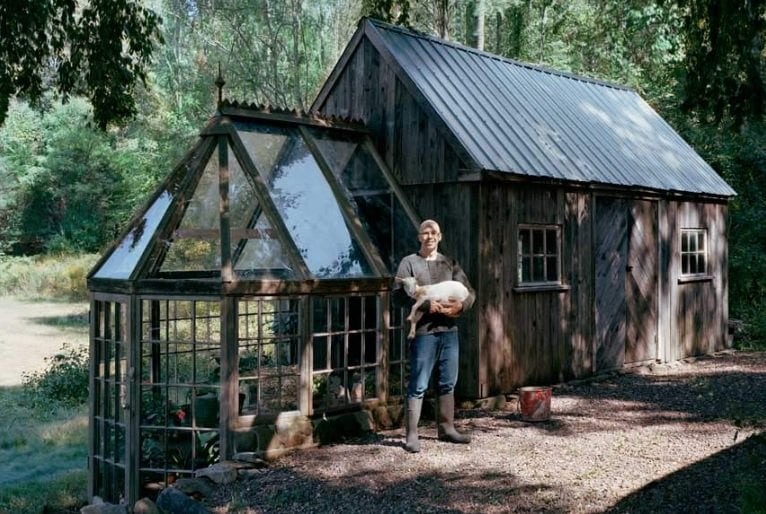 Source:PopularMechanics.com

This final source of inspiration for an old shed transformation is perfect for animal lovers and those with a green thumb. Why not turn your old shed into a greenhouse where you can lovingly tend to your plants?
Have you always dreamt of living a quiet, pastoral farm life? Why not try your hand at raising chickens by converting some of the old shed space into a chicken coop?
Source: shedcorral.com
The fresh eggs you can collect each day can't be beat! We love the rustic and romantic feel of this shed transformation and if you're a lover of nature, we think you will too.
In summary…
Whether you choose to transform your old shed into a space for dining, playing, working or relaxing, you won't be disappointed.
Source: webecoist.momtastic.com
Turning idle space into something useful and aesthetically pleasing is satisfying on a personal level. Additionally, this type of transformation will allow you to better utilize your outdoor space which will absolutely improve your quality of life. We all need more sunshine and fresh air! So get outside and start updating your old shed into a dreamy outdoor living space.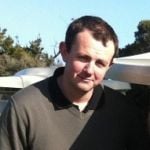 Hi, I'm Zac Spade.
When my wife told me I needed a better shed it started an obsession with everything in my yard. You can read more about me here.
Great advice from Zac, from plans to permits and more. Get more information on his site.