8 Stylish Decorating Ideas for Rented Homes
Posted on April 15, 2018 by Christine in
Home Decorating
.
8 Stylish Decorating Ideas for Rented Homes
People are moving more than ever! Here are a few decorating ideas for rented homes to feel right at home when you're not at home. Renting has a lot of benefits but it also has one enormous flaw: you have to decorate the space within your landlord's boundaries!
So, how do you make a space feel like your own home when even small changes might be forbidden? Some real estate listing websites allow you to filter properties, listing properties that allow changes. Do your homework before you move in or ask the landlord. 
Here are 8 ways you can introduce color, texture and style without losing your deposit. If you love the idea of a Faux Roman Blind above (no sew) its from TheDiyPlayBook.
Introduce Removable Wallpaper
A great way to change the entire look of your new rental is to add wallpaper. But, like most things, there is a trick and the trick is to use a good quality lining paper as you base. This does two things, it evens out surfaces for a better finish and you can strip it, which is perfect when your are moving out.
Creating an accent wall in a bedroom or entry can make a big difference to making the space feel like your own. Its particularly useful if you don't like the colors used in your rental and change them to go with your furniture and style.
Make a Statement with Lighting
Most rental light fixtures can be old. There is rarely enough lighting, making your new home feel smaller and gloomy. The arms of this modern chandelier can be moved so you get more light where you want it. Using small decorating ideas for rented homes like new light fixtures can make all the difference.
You may not be allowed to change the position of your ceiling lights but you can replace them. Your landlord might even pay or contribute towards the cost of your new fixtures. 
Its a good idea to store the old fixtures and return them to their old positions when you leave. The wall light fixtures below are wall lamps, so no hard wiring required. It gives rooms a modern look that most rental properties lack. 
Pendants, copper fittings, industrial lights or chandeliers, the range of light fittings is enormous. From Ikea, Amazon and even Craigs list you can find lighting fixtures that are inexpensive, striking and easy to install.
If your living spaces are small, consider adding mirrors for more reflective light and a sense of style.
Upgrade Storage Capacity
Source: thouswell.co
Some rentals come with furniture but its rarely enough storage for the average household. Think outside the box; use wicker baskets in your entry, bathroom or in bookcases for extra functional storage and decorating. You may not want to invest in an entertainment cabinet but you can create the optical illusion of one. 
Source: Pinterest.com
Although Ikea bookcases are affordable and practical, you can become even more creative with cheaper solutions, like a bookcase made from vintage wine or fruit crates. 
Storage includes kitchens, which are often in most need of decorating. What about upgrading appliances so they look like copper, rose gold, charcoal or stainless steel? 
Source: amazon
Upgrade your kitchen cabinets simply by adding new pulls. A set Vintage Brass Kitchen Cupboard Door Cabinet Drawer Shell Pulls will set you back $11.99 from Amazon. Not too bad for a brand new look.
Upcycle or Add Furniture Accessories
Vertical blinds in most rental homes can be outdated, dirty and even broken! Keep them aside for the landlord who remembers exactly how much they cost when they were installed and look for something clean, fresh and contemporary. There are lots of easy and even no-sew curtain solutions or maybe shutters are a better solution for you.
This device keeps curtains in place without drilling holes into the walls or frames. Your rods clip in and, when you move, they clip out, leaving everything as it was originally. 
A single piece of odd furniture can instantly add style to your space. Painting an old piece of furniture with metallic paint can instantly give your room glamour.
Stump side tables will definitely draw anyone's eyes, but you can also use low level book cases to frame your and create a room divider.
Some other unconventional choices would be storage ladder, palette coffee table, reclaimed roots as coffee tables, etc.
Introduce Patterns
Source: Amazon
A great way to lift a space it to add patterns. Use removable wallpaper or contact paper to introduce patterns and color to your room. Use wall paper inside bookshelves or frame them as art.
Tile tattoos are a quick and easy fix to add interest to your rented home. You can add them to your floor or walls. For less than $25 you can get a great new look. 
Speaking of Artwork…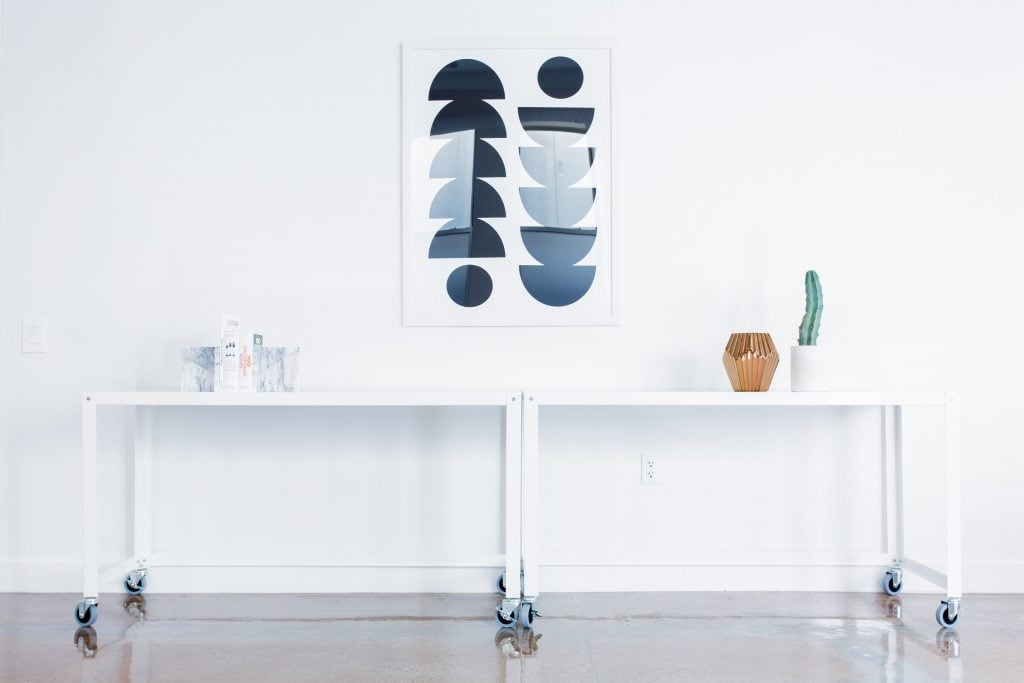 Source: unsplash.com
Artwork is always a great way to add color, texture and character to a room. You can display artwork on shelves, hang it on a rope with clothespins, line them on the floor or create a wall gallery.
Add New Life to Your Appliances
Appliances in rentals are often outdated. A quick fix is using faux stainless steel. At less than $13 a roll you can go a little crazy and use it as a back splash, on your cabinets or appliances.
It looks quite amazing. Here's a tutorial from Julie Blanner to place it on appliances like the dishwasher below.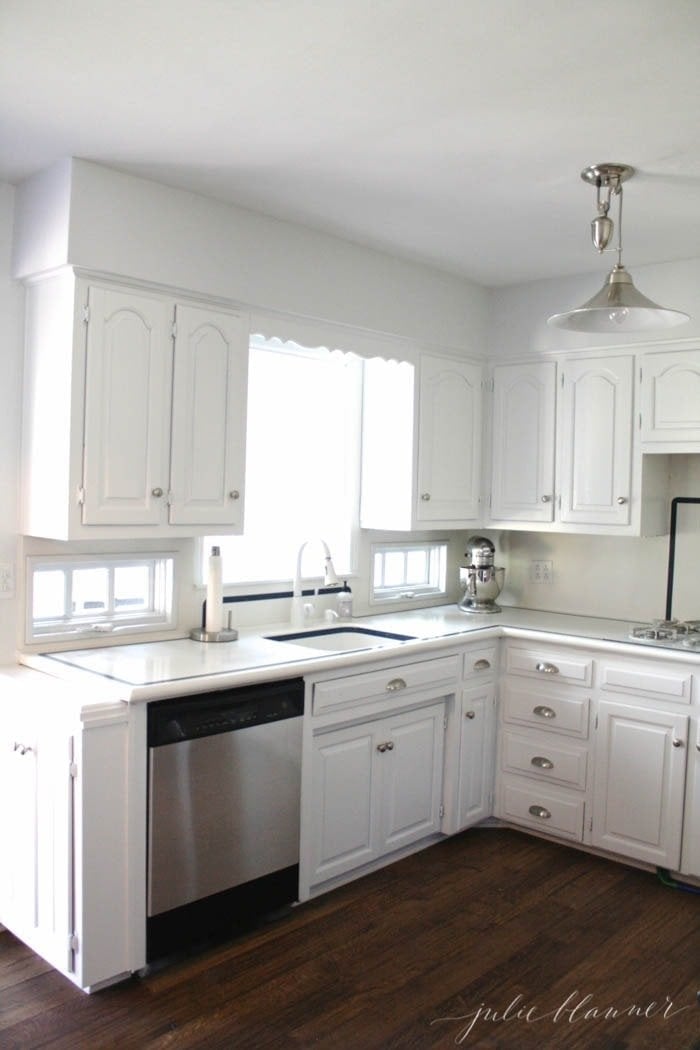 You can swap out old hardware while you are at it or just remove the cabinet doors for a fresh new look.
Green Up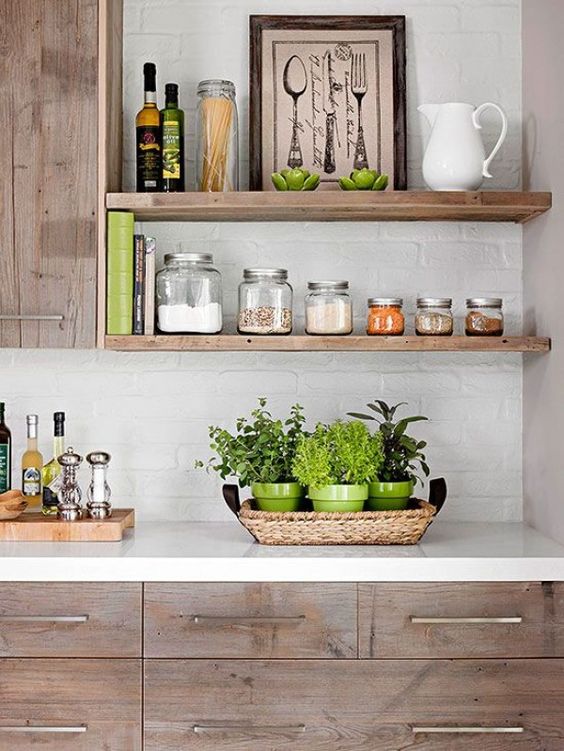 Besides purifying the air and lowering the stress levels, plants can contribute to your décor efforts and make a rented place feel more like home. Easy decorating ideas for rented homes can be simple too.
The best thing about plants is you can take them with you! The garden is another matter. Create a low-maintenance garden using Aloe, Snake plant, Jade, Rabbit's Ear and Spider plant.
No matter where you live; create a home worth living in, and that you enjoy coming home to and investigate discount vouchers from highly regarded companies like MarksandSpencer.com before investing in home interiors or bathroom accessories for online specials.
These tiny tips of inspiration should give you decorating ideas for rented homes so you can create a home without losing your deposit or getting into trouble with your landlord.