Beautiful Homes – Home and Jewelry 'Blessings in Disguise'
Posted on June 25, 2014 by Christine in
Guest Posts
.
Beautiful homes are just some of the wonderful things Cheryl Maeder and Jane Dagmi, previous guest bloggers for Decorated Life, discovered and written about on their whirlwind road trip along 30A! Cheryl and Jane have taken the most wonderful photographs of beach, jewelry and beautiful homes. Looks like they had fun!!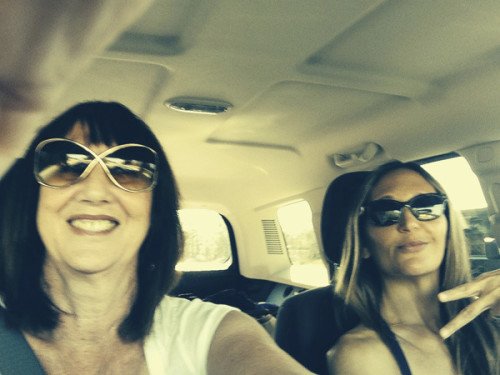 Cheryl Maeder and Jane Dagmi

Cheryl and Jane's Excellent 30A Adventure
Melissa Rovner: Making Home and Jewelry
A story in 3 parts
Co-written and Co-photographed by
Jane Dagmi and Cheryl Maeder

Part 1 is about a beautiful home, a very cool jewelry studio, and a growing friendship between Melissa Rovner, owner and designer at Blessings in Disguise, Cheryl Maeder, a fine art photographer and designer at Gardenhouse, and me, a writer with a penchant for decorating, teaching and occasional blogging.
First a small introduction by Cheryl….
30A. I love this 28.5 mile coastal corridor that hugs the Gulf of Mexico in Northwest Florida. Dotted with charming towns and rich in architecture and design, I had written about 30A once before after coming here with my husband, Gary. "Passage to Beauty: Alys Beach",  Designer Cheryl Maeder Discover Architectural Gem Alys Beach on Decorated Life last fall. This time around I asked my writer friend Jane Dagmi to come on out and play on 30A!
Jane and I always wanted to road trip together. We view the world in some ways very similarly and yet we are uniquely so different. We have worked together before and viewed the trip as an opportunity for new collaboration. We packed our bags, our cameras, and Jane packed an edible buffet and off we drove for 9 hours to 30A. Destination our friend Melissa Rovner's beautiful home & studio at WaterSound Beach.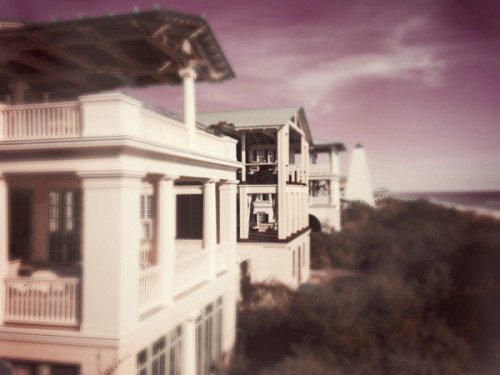 Melissa is the most amazing, talented jewelry designer and owner of Blessings in Disguise Jewelry, Blessings In Disguise. I knew Melissa first and then introduced her to Jane. The three of us, all creative and independent women, have become fast friends and soul sisters. So…let the fun begin!
We have written about our trip in three parts. Our story begins at our host Melissa Rovner's simple and stylish home and jewelry studio. Then we meet another Melissa — Melissa Skowlund, who is an interior designer and retailer at SummerHouse Lifestyle in Grayton Beach. She did the interior in a beautiful coastal condo and used one of my Dreamscapes photographs in the dining area. The last part of our story covers some of the scenes and stores we loved best.

Part 1 – Meeting Melissa
Watersound sunset; Usonbeach, Prosecco
Awe-inspiring natural surroundings set the stage for beautiful living.
The beach is a short walk from Melissa Rovner's Watersound home and studio. As dusk approaches and the sun's rays pierce mauve-colored clouds, it looks spectacular, especially when viewed through a glass of prosecco. It is here among the bleached dunes, looking out upon the glistening water that goes from aquamarine to saphhire, that Melissa, Cheryl, and I bury our polished toes in the cool gray sand, and toast to our 30A vaca chez Rovner. We are lucky to be here.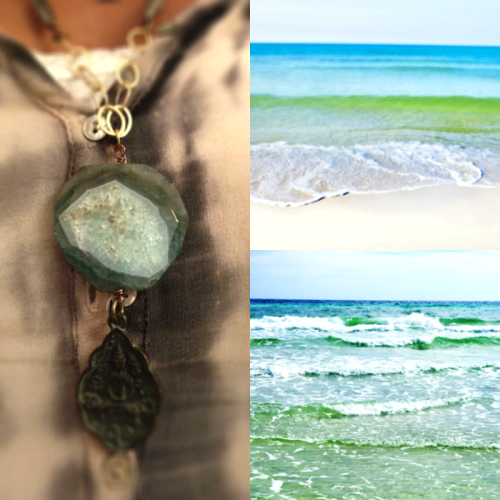 (pendant, Watersound Dunes, Watersound Beach)
Cheryl: I can understand what gives Melissa the inspiration for her jewelry.All she has to do is just look out.
Cheryl had been to Melissa's before. She and her husband Gary Antonio met Melissa quite serendipitously when a chance encounter with a stranger in Palm Beach eventually led to everyone, including Melissa, enjoying cocktails together a few days later. The women became fast friends finding commonality in art and heart.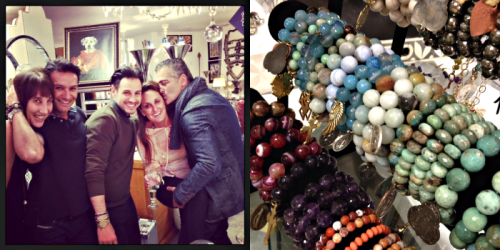 Melissa brings her Blessings in Designs to Kakar House of Design in Miami
For months after that, I kept hearing about Melissa and her amazing jewelry biz. Cheryl was having a bit of a girl crush and wanted to share the love. At Chery's behest, I finally met Melissa when she and her daughter Emily were visiting Cheryl. It was a quick visit since I had my impatient daughters in tow, but in those 7 minutes in Cheryl's kitchen speed-meeting Melissa, I could tell I wanted to be her friend too. We spoke over the phone,and she sent me some beautiful bracelets to wear on my 50th birthday road trip, and then we all met up again in Miami at a Blessings in Disguise trunk show. There, Melissa suggested a visit and thus Cheryl and I planned our first road trip.
Melissa: Moving here allows my family to take deep breaths. (Daughter Emily below)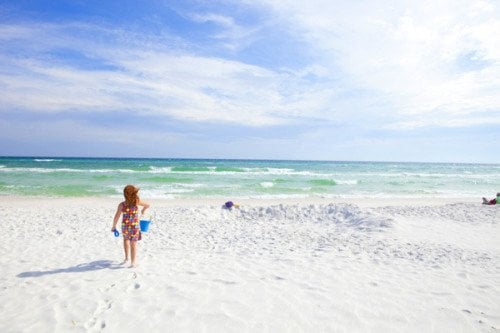 Before relocating the family to Watersound, one of the architecturally superlative developments along Rt. 30 A on Florida's Emerald Coast, the Rovners lived in Atlanta. While the city definitely had its pluses, the move Melissa says, "allows my family to take deep breaths, play in the sand, and live amongst nature." The change also enabled them to be part of a close-knit thriving community, with the added benefit of, as Melissa puts it, "a serenity and beauty that I have yet to find anywhere in the world."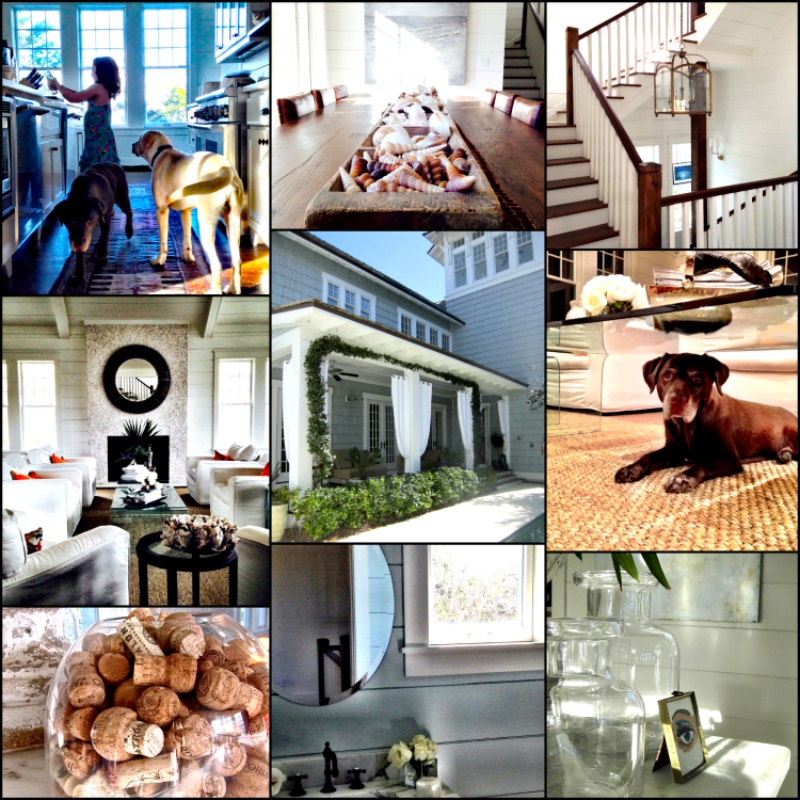 Melissa: The vibe I wanted in our home was one of classic casual.
We spent 4 nights in Watersound. Her home beats any hotel. Besides the kids, dogs and Keurig coffee bar, this light-filled mecca, with white slipcovered furniture and shiplapped walls, a shell-encrusted overmantle, dramatically dark floors, and signs of happy beach living, is simply beautiful and mega-comfy. Melissa calls her home "an easy canvas for art and a blend of antique and modern furniture." The big open everything room would become our morning and evening hangout.
Caption: Whether jewelry or furniture, Melissa loves mixing old and new.
When Melissa first started Blessings in Disguise, her studio was on the 3rd floor of the house in a sunlit tower. Within six months, showing signs of serious growth, she moved the business out to the guest house. This roomier atelier, which sits atop the garage, can accommodate apprentices as needed, both kids doing homework and various projects, and a sleeping dog or two.
In keeping with the main house, it has dark floors and planked walls, and is furnished with the same unfussy sensibility. Furnishings include an antique round pedestal table, old Turkish kilim, and 6 denim slipcovered Parsons chairs. Melissa keeps the basic decoration simple, and lets the jewelry be the eye candy and art. Windows are left bare to invite as much natural light in as possible and there is space to play and create.

Crosses, charms, coins and hearts
The studio is well-organized. The large antique oak lateral file, with it's twenty flat drawers, is Melissa's lifesaver. "My studio would be mayhem without this organizational wonder," she says of the U.S. government file cabinet. Each shallow drawer is perfect for housing findings such as hearts, crosses, coins, keys, and medals, which are all arranged by color and then subcategorized by type. From bullets and skulls to buddhas and angel wings, Melissa can access her abundant stash with relative ease.

Out in the open, beads and findings are arranged by color.
Other elements are stored on color-blocked shelves, each part of the spectrum allotted its own space. Blue baubles are lined up together, yellow beads are close to gold and amber colored trinkets. Links and chains are arranged by the color of their metal too.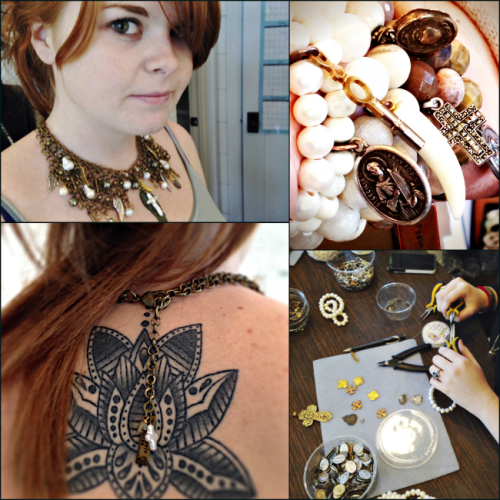 Kayla, Kayla's neck, Melissa's wrist and working
Apprentice and jewelry modeler, Kayla has been working at Blessings for about a year.
Even though Blessings in Disguise is probably at its most busy phase thus far, it's beachside world headquarters feels very zen. Surely the natural climate and disposition of those involved has something to do with it, but there is also a unique peace. Melissa believes in the power of talismans. "I am humbled by every medal, cross, coin, amulet, or ancient symbol that 'comes alive' through my work. Because of their fascinating stories, I am inspired and blessed." Melissa never leaves the house without her personal stack of neutral colored bracelets, each elasticized strand decorated with a medal or symbol that she has taken to heart. "Every human being needs hope," she says, "and there is power in an object that can deliver that."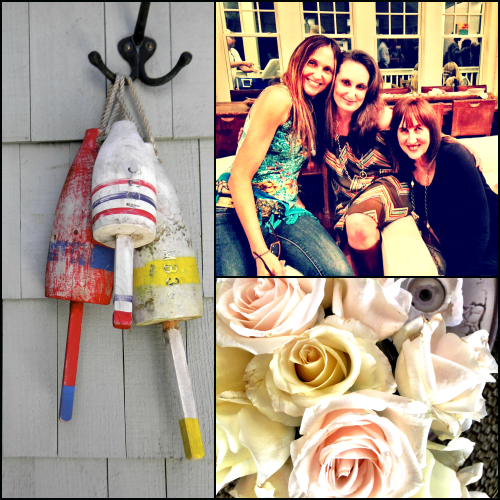 Buoys, Threesome – Jane, Melissa and Cheryl, Roses
Coming up: Part 2: Meet another Melissa and see how awesome Maeder's photo looks in a beach condo
Jane Dagmi is a freelance lifestyle writer and blogs at http://missblogworthy.blogspot.com. Cheryl Maeder is a fine art photographer & designer at Gardenhouse, www.gardenhousedecor.net.

Looking forward to Part 2? Don't forget to join our list to get it. If you're looking for beautiful things to decorate your home, try the new Luxury Gallery Wall.