Bedroom Design – Quintessential Guide to Designing a Bedroom
Posted on October 27, 2018 by Christine in
Home Decorating
.
Guide to the Perfect Bedroom Design
Guest post by Stephen Flower , Managing Director at Ashford Kitchens & Interiors
Bedrooms are often a personal place of refuge. It is the room we go to to switch off after a long day, as we snuggle under a warm duvet to get some shut-eye and let our worries drift away. It's in our bedrooms where we relax and recharge. Therefore your bedroom must provide the optimum comfort.
Here is a short guide to bedroom design to create the ideal bedroom. It includes the dos and don'ts, the necessities and those little extras that make it the serenest of sanctuaries, which is what you need at the end of the day.
Choosing Bedroom Colors
Let's start with the color scheme. This is an area often disputed when discussing designer bedrooms. Interior designers often say you can afford to be braver with your bedroom color and furniture as this is your private space. "It's not a room family and friends will necessarily see, so be brave; go bold!"
'Brave and bold', doesn't always match your mood. A cleaner, more neutral color palette is the more sensible choice. Bright, loud colors aren't cozy or relaxing. Reds, for example, are a big 'No', but colors that belong to the blue family are said to be the most calming.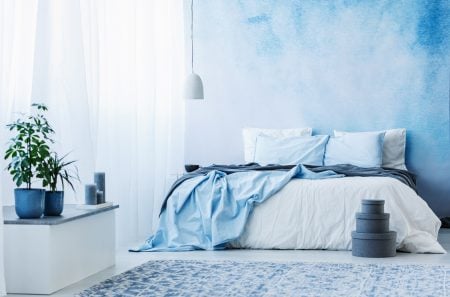 Color choices will largely depend on who the bedroom is for, but pale, dusty and neutral colors are always a winner. These keep the room simple and the mind calm. Let interchangeable accessories showcase character, rather than the room's entire color scheme. One color is far better. A single color tone creates the illusion of an endless bedroom, blurring the edges, making the room feel big and less claustrophobic.   
Customizing the All-Star Bed
Now, let's get stuck into the anatomy of your bedroom design. The defining character of the bedroom is, you guessed it, the almighty bed which, 99.9% of the time, is the room's centerpiece with everything else revolving around the style of the bed.
A quality mattress is, for obvious reasons, essential, but that doesn't come into an aesthetic assessment, so we can leave you to your own measures there. Now you know your color scheme, you can start designing the bed itself. This begins with choosing a bed with a clean and comfortable headboard.
The headboard is visible most of the time, so make sure you choose it carefully. Decide whether the headboard is the focal point of your décor or a quality backdrop. If you like to accessorize with decorative lamps, pictures and cushions, a decorative headboard is best avoided to prevent your room from looking too busy. Instead, pick a neutral color that complements your walls.
Apply the same rule to you bed covers and cushions. While a duvet can be changed with ease, a comfortable and top-draw duvet can be costly, so it is advisable to splash the cash on a calm-colored, cozy cotton duvet. Pinstripes in whites, blues and grays are popular for good reason and the more neutral and simple, the better you can accentuate the bed with lavish cushions of different designs.
It is here you can truly express yourself. If the colors of the bed are light, you can accentuate them with some beautiful dark cushions, or vice versa. Consider cushions of different styles from different countries or cultures and you can always change them down the line.
Accessorizing around the Centerpiece
The centerpiece is where you can truly express your personality. You bedroom design must include nightstands or wall sconces. Sometimes, people decide on center lighting fixtures that can be switched on and off with bedside switches to keep things simple, but this is never as effective as it seems. You want soft but adequate lighting near the bed when you climb into bed and before you fall asleep. If you want to read or set the mood, layered relaxing lighting is essential.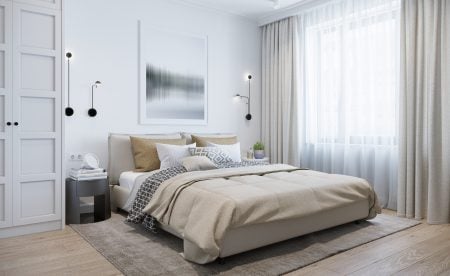 It goes without saying that bedside tables are another necessity. You want somewhere to place books, your phone, a cup of tea or a glass of water. A bedside table with a shelf or drawer for other items can create a useful storage space. If your bedroom design doesn't have a decorative headboard, add a large picture or mirror above the bed. A mirror will make the room feel larger and reflect light, but its not always in the most useful position to function as a mirror. Instead, add a large piece of art or a framed photo of something soothing and peaceful, like a relaxing sunset, a sun-drenched forest or a secluded beach.
Finally, some well-kept greenery surrounding the bed looks great and can promote peacefulness. Plants are proven to be good for you. It's well-documented that natural greenery freshens the air, eases stress levels and boosts positive emotions.
War Against the Floor
There is nothing worse than getting out of bed at night to tiptoe across a frighteningly cold floor to the bathroom like a scene out of Mission Impossible.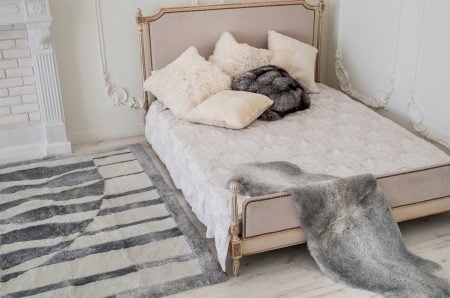 No, wait! Actually, there is… getting out of bed in the morning, only for the icy floor to stun your body. Why suffer? Using soft, warm bedroom rugs beside your bed will put a stop to stepping onto a freezing cold floor in the morning and at night. Sheepskin or thick pile rugs are both fantastic. A solid color like deep grays, blacks or browns are perfect.
Tidy Room, Tidy Mind
Last, but not least, is the way you organize your room. The bed is far from the only piece of furniture necessary in bedrooms. You have clothes, shoes, extra blankets and whatever else you may have lying around. Without the necessary bedroom furniture for storage, a calming bedroom can quickly turn into a chaos of clutter. Disorganization is the enemy of relaxation. You will not get a restful night's sleep when waking to a mess each morning. 
The first thing that should be on your bedroom design list is a quality, fitted bedroom wardrobe. With a quality wardrobe, you can have everything perfectly organized. You can start each day efficiently and leave for work in the right mindset. Wardrobe designs vary, and that means there's something perfect out there for you, regardless of your personal tastes. Choose from pull-out shoe racks, open rails, or separate Mr and Mrs sections.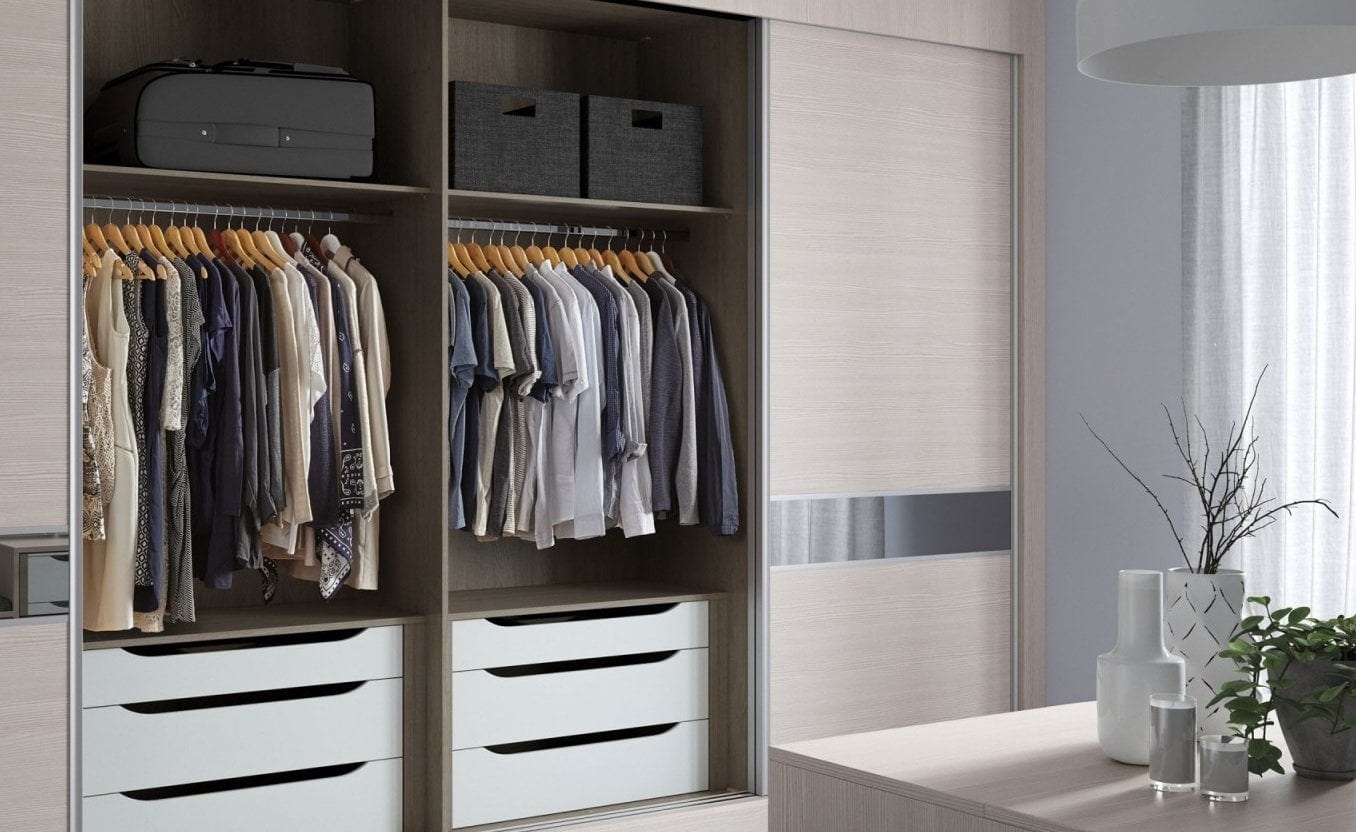 Another spot for you to consider is the space underneath your bed. This is a key element of good bedroom design and one you are going to want to address. Underneath your bed sits several square meters of valuable space where you can store sportswear, seasonal clothing or whatever else you don't need regularly. Under-bed storage boxes on wheels with handles allow for easy access, while boxes with lids help keep dust and dirt out. However, if everything is perfectly organized within your fitted wardrobe, you can leave this space unoccupied making it is easier to clean.
Stephen Flower is managing director at Ashford Kitchens & Interiors, a quality provider of bespoke luxury kitchens, bedrooms and home offices in and around Middlesex, United Kingdom, since 1984.