We independently select these products — if you buy from one of our links, we may earn a commission.
Best Deck Stain and Sealer in 2021
If you own a deck, then you understand the importance of maintenance.
If you're installing your deck, then you need to treat the wood to extend its longevity.
It's for this reason that sealing and protecting your deck against the sun's UV rays, rain, and changes in temperature is so important.
The Best Deck Stain and Sealer Reviews
Here are our top choices for the best stain and sealer for your deck.
Each of the products has unique features to suit different wood types and applications.
Choose the product that's the right solution for your environmental conditions and wood.
Ready Seal Natural Cedar Exterior Wood Stain and Sealer — Best Natural Finish
If you're dealing with cedar, then you need specialist products designed to work with this material. If you maintain your cedar deck, it can give you joy for decades. However, cedar is a softer wood, and it requires weather treatment if outdoors in coastal areas and in regions of the United States where temperatures fluctuate widely between seasons.
Cedar is reasonably weather-resistant if you seal it with the right formula. Ready Seal natural exterior wood stain and sealer is an example of a specialist treatment product that's suits any cedar deck or furniture. This formula enhances the natural color and beauty of the wood, highlighting the grain and texture of the cedar.
The oil-based stain has a semi-transparent finish, acting as a stain and sealer in one. It's suitable to use Ready Seal on all types of woods, but it's specially formulated to enhance the beauty of cedar. The stain and sealer penetrate deep into the cedar, protecting the wood from mold and fungus, as well as the sun's harsh UV rays, rain, and snow.
You don't need any primer when using Ready Seal. When applying, make sure you wait around 14-days between coats to let the color settle. Ready Seal is darkest when you first apply it to the deck. However, the color will lighten over the coming weeks.
Pros
No back-brushing needed.
Doesn't lap, run, or streak.
No need for wet-line application.
Apply in any temperature range.
User-friendly application.
Cons
Not suitable for interior use.
---
Thompsons WaterSeal Advanced Natural Wood Protector — Best UV Resistance
Natural woods make the best decks. There's nothing like the warm and natural feel that a wooden deck brings to your back yard. Regardless of the wood you use for your deck, it adds authenticity to your home, which increases the visual appeal of your yard and your home.
If you want to build or install a wooden deck in your home, you're going to need to ensure that the vendor treats the deck before they deliver it or after installation. Make sure that you check on the craft of the contractor, as some like to cut corners in areas you can't see, like the corners on the underside of your deck.
Exposing your natural wood deck to the weather can result in the growth of mold and other fungi that spread wood rot. As a result, your deck won't last more than 5 to 10-years at most. Rot spreads quickly, and it can cost you a fortune in replacement and maintenance fees to save the deck.
Using Thompsons WaterSeal Advanced Natural Wood Protector is a fantastic option for resealing your deck every few years and keeping rot at bay. This unique formulation also features high UV-resistance, preventing your natural deck from warping under extreme heat conditions.
You can apply this product onto dry or damp wood, and still achieve a long-lasting finish that provides your deck with years of protection. This formula also suits other wooden furniture and garden structures. Use Thompsons WaterSeal Advanced Natural Wood Protector to protect your shed, and furniture as well.
Pros
Long-lasting formula.
Advanced waterproofing protection.
multi-use product for decks, furniture, and fencing.
Resistant to mold and mildew.
Cons
---
Rust-Oleum Coppercoat Wood Preservative — Best Anti-Fungal Sealer
If you live in a region of the United States that gets warm weather and rain most of the year, you probably battle with mold in and around your home. Mold loves the warm and wet weather. If you have a natural wood deck outside, then it's at risk of getting infected with fungus, especially during the rainy season.
Mold spreads reasonably quickly, and any untreated wood will have exposure to developing rot. The last thing you need with your deck is to have to start ripping it up to replace rotting beams or floorboards. If you live in a hot and humid region of the United States, and you own a deck, you need to ensure you have the wood sealed every few years.
Rust-Oleum Coppercoat wood preservative is our top choice for homeowners that need to stain and seal their deck in hot and humid environments. This wood preserver is resistant to all forms of mold and fungi, making it the ideal treatment for decks in tropical climates, such as around the Gulf of Mexico and the Florida Keys.
This product features EPA registration, and it also contains an insecticidal preservative that's toxic to termites. With this Coppercoat, you get ultimate protection against both mold and insects. The final color of the Coppercoat turns most woods a transparent green-hue after application, but this coloring fades over time.
Pros
Fill in minor scratches with the wax-free formula.
Suitable for high-traffic areas.
Quick drying.
Cons
Not suitable for indoor use.
---
Defy Extreme Wood Stain Light Walnut — Best Sealer for Easy Application
Staining wood brings out the characteristics of the material. The grains and notches in the wood become more apparent, enhancing the beauty of oak, cedar, and many other soft and hardwoods. If your deck is looking a bit worse-for-weather, then it might be time to spruce it up with a new coat of stain and seal. As a homeowner, it's essential to keep up with the basic maintenance of your deck every few years.
Resealing the deck is imperative if you want to avoid rot and warping of the material. By sealing every other year, you ensure that your deck remains in tip-top condition for years to come. If you own a natural wooden deck, and you need a stain and seal product that's both affordable and effective, we recommend you take a look at Defy Extreme Wood Stain. We like the light walnut color in the finish of this stain, and it enhances the features of the wood beautifully while providing a protective layer against the elements and mold.
The water-based semi-transparent finish does not overpower the natural color of the wood but instead works with it to provide a beautiful finish to your deck. The formula features zinc nano-particle technology, which acts as a sunscreen for your wood, preventing warping. The natural matte finish is also pleasing, and you can use this product on your furniture, fence, and siding as well.
Defy use high-quality resins when formulating this stain and seal. As a result, you get better resistance to fading and flaking, with extended protection that lasts longer than most other brands of stain and seal. The zinc nano-particle technology also helps to deter mold growth in the wood, reducing the chances of rot setting into your deck.
Pros
Semi-transparent wood stain.
Durable formulation for longevity.
Resistant to fading.
Cons
Not suitable for indoor use.
---
Cabot Australian Timber Oil Stain — Best Temperature-Resistant Oil Stain
If you live in a region of the United States that experiences hot, dry weather, such as Arizona or Texas, then Cabot Australian Timber Oil Stain offers you deck all the protection it needs. Cabot manufactured this product to withstand the torrid temperatures of the Australian Outback.
The formula is best for use with authentic Australian woods, such as cambara, merbau, and tallowwood. If you built your deck with these premium materials, then this oil is a must for your maintenance needs. However, this oil also works to protect most other natural woods, as well. It's great with cedar and provides excellent protection against hot weather.
The timber oil penetrates deep into the pores of your wood, nourishing and revitalizing the timber while it restores and protects. The oil accentuates the natural colors and characteristics of the wood, providing a deeper color tone with every application.
Cabot Australian timber oil stain has a high-quality blend of linseed oil and long-oil alkyds for enhanced durability, and South American tung oil for added depth to the woods color. As a result, you get a water-resistant formulation, and a hardwood stain, that's suitable for use on decks, furniture, and fences.
This product also contains translucent iron oxide pigmentation, providing longevity to your deck with a UV-resistant surface. We recommend this timber oil stain for any exotic woods, such as teak and mahogany. Each gallon covers around 400 to 600-square feet, but you'll need more for porous woods or rough surfaces.
Pros
Gives wood a deep, rich color.
Best choice for exotic wood decks.
Acts as a sealer as well.
Suitable for indoor use.
Cons
---
Thompsons Waterseal Transparent Waterproofing Stain — The Most Affordable Option
Thompsons make it back onto our list with another top-quality product for staining and sealing your deck. Thompson's Water Seal waterproofing stain is an excellent choice for people that want a stain included with their sealant. The Advanced WwaterSeal formulas previously mentioned lacks a staining formula, but this product has everything you need.
Thompson's are one of the most reputable and affordable brands around. Professionals trust Thompson's to deliver to their expectations everything they stain and seal a surface. It's for this reason that you'll see bottles of Thompson's in the back of contractor's trucks as they make their way to a job site.
With this formulations form Thompsons, you get the same excellent water-resistance as the Advanced formula. However, Thompsons include beading technology in this waterproof sealer, and the waterproofing effect provides an impermeable barrier that prevents water from getting to the wood.
The maximum-strength formulation of this product means that you only have to seal your deck every two to three years, depending on your climate and environmental conditions. The best part about this product is that it only requires one coat to seal your deck.
Other products might require multiple coats, but with Thompson's Advanced WaterSeal formulation, you get excellent protection from a single layer of stain and seal. This product also provides your deck with resistance to the sun's harmful UV rays, as well as decent mold protection.
Pros
Good waterproofing.
Resists mildew, mold, and UV damage.
Affordable
Cons
Not suitable for interior use.
---
Bonds One-Time Natural Wood Finish Preservative — Best Restoration Sealer
Bonds One-Time Natural Wood Finish is another excellent choice for your deck. This product features specialized formulations for restoring weathered decks that are a season or two behind on its maintenance schedule. After applying this product, your deck will look as good as the day you had it installed.
The no-drip formulation of One-Time doesn't overlap, crack, chip, or flake, and it lasts for around 2-years before you need to retreat your deck.
Pros
Gallon-size available.
Works with any type of wood.
A good choice for homeowners and professionals.
No overlapping or cracking.
Cons
Not suitable for interior use.
---
Seal Once Marine Deck Sealer — Best Marine Option
If you own a home along the coastlines of the United States, then you need a marine sealant and stain for your deck. Marine sealers have more durable formulations to withstand the humidity and salt air, as well as the hot temperatures around the Gulf of Mexico and Florida.
Seal-Once Marine Deck Sealer is the best choice for anyone that's lives near the beach or needs to protect wood around a harbor. Seal-Once features leading nano-particle technology that allows the wood to breathe while preventing water from penetrating past the sealant. The result is that the wood can expand without cracking or splitting.
Pros
Best choice for decks on the beach.
Low-VOC and environmentally safe.
Performs like an oil-based formula.
Creates a breathable and flexible barrier.
Cons
---
Waterlox Original Sealer/ Finish — Best Classic Finish
This product works with Waterlox Original High Gloss Finish or Waterlox Original Satin Finish for the best results. However, it's also a high-quality finishing formula for your deck on its own, as well. After drying, this sealant produces a beautiful medium-sheen with a 70-gloss, that fades over a few months to a 55-gloss finish.
The sealant provides you deck with a waterproof barrier that's resistant to spills, rain, and foot traffic. This formula has excellent versatility, and you can use it on furniture and fencing, as well. This product works well when sealing dense, oily, exotics like rosewood and teak.
Pros
Penetrates wood and waterproofs.
Medium-sheen appearance.
Good resistance to foot traffic.
Cons
---
A Quick Guide to Staining and Sealing a Deck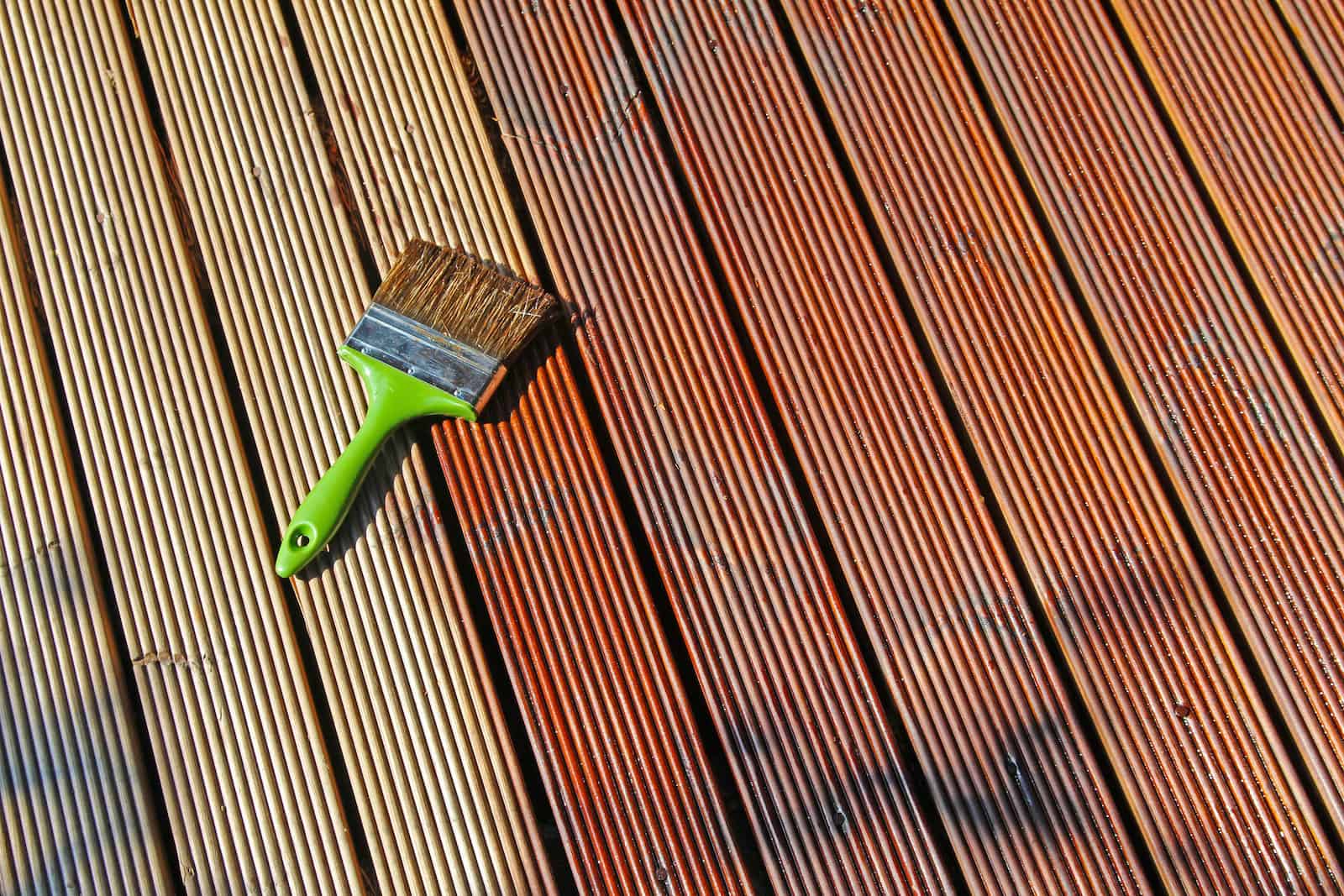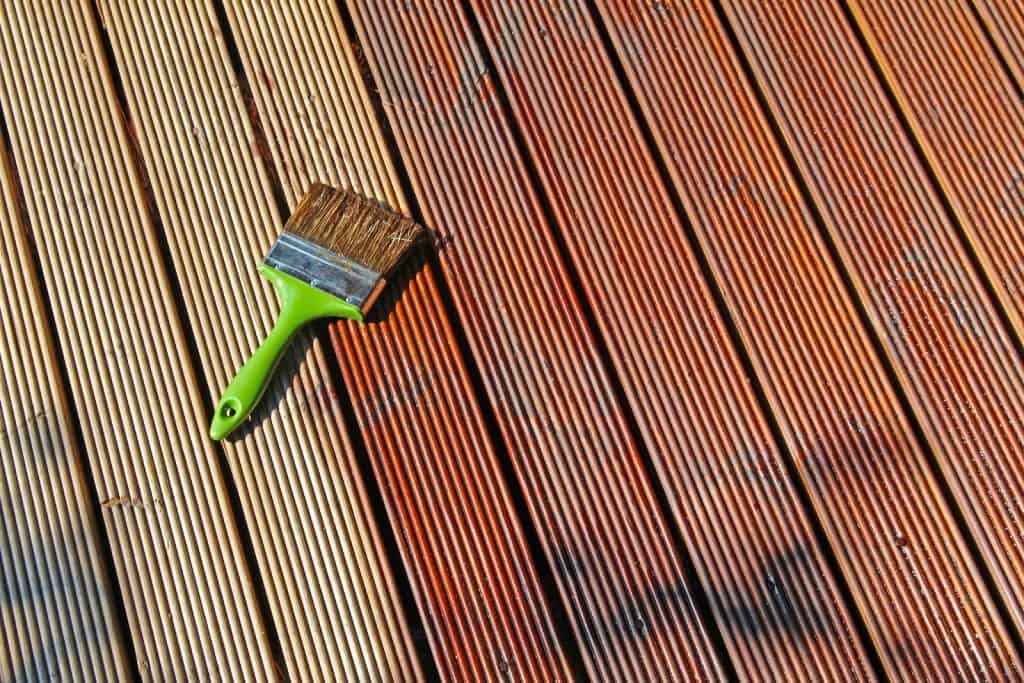 When staining and sealing you deck, the biggest task is preparing the wood. If you're dealing with old paint, then we recommend using a pressure washer to strip the paint, and then inspect the wood. Identify any rot and strip it out before it has the chance to spread.
Once your inspection is complete, and you're sure there's no rot on your wood, let it dry before moving onto the next step. If your deck requires sanding, then use an orbital sander to bring down any rough edges or burrs in the wood.
After sanding, it's time to apply the first coat of stain. We always recommend using a paint sprayer wherever possible. You can rent a sprayer and air compressor, or purchase on online. (Compressors and spray guns come in handy around the yard and garage.)
Using a spray gun gives you a uniform application, with less chance of waste, dripping, streaking, or overlapping. The best part about using a spray gun to stain and seal your deck, is how much time it saves on the job.
However, if you do have to use a brush, then we recommend selecting a non-back brushing formula for easier application. Remember to push the stain and sealer into the corners and grooves for maximum protection of the wood.
Some stain and seal formulas may require several coats to achieve the look and finish your desire. However, it's a personal choice, and only you can decide on the final coat.
Conclusion
Staining and sealing your deck every other year ensures that the wood remains vibrant and healthy. Choose your stain and seal product to match your application and your budget.
Before you settle on your ideal product, ask yourself these questions to find the right stain and seal for your application.
Do you need to seal any other surfaces in or around your home?
What kind of finish are you looking for in your stain and sealer?
Do you need extra mold protection?
Is your deck near the ocean or the beach?
These questions will help you find the right product in our review that suits your deck and your environment.