Decorated Life is reader-supported. When you buy through links on our site, we may earn an affiliate commission. Learn More
Best 15 Floating Shelves for Your Home in 2022
Floating shelves are becoming more and more popular lately, for many reasons. They add sleekness and elegance to a room, reduce clutter, and they can hold virtually anything if installed properly, from heavy books to lighter decor pieces.
No matter what room you're looking to add shelving in, you should consider floating shelves as your go-to option since they can fit in any style. Read on for some of the best types of floating shelves out there.
Line Up Two Simple and Sturdy Floating Shelves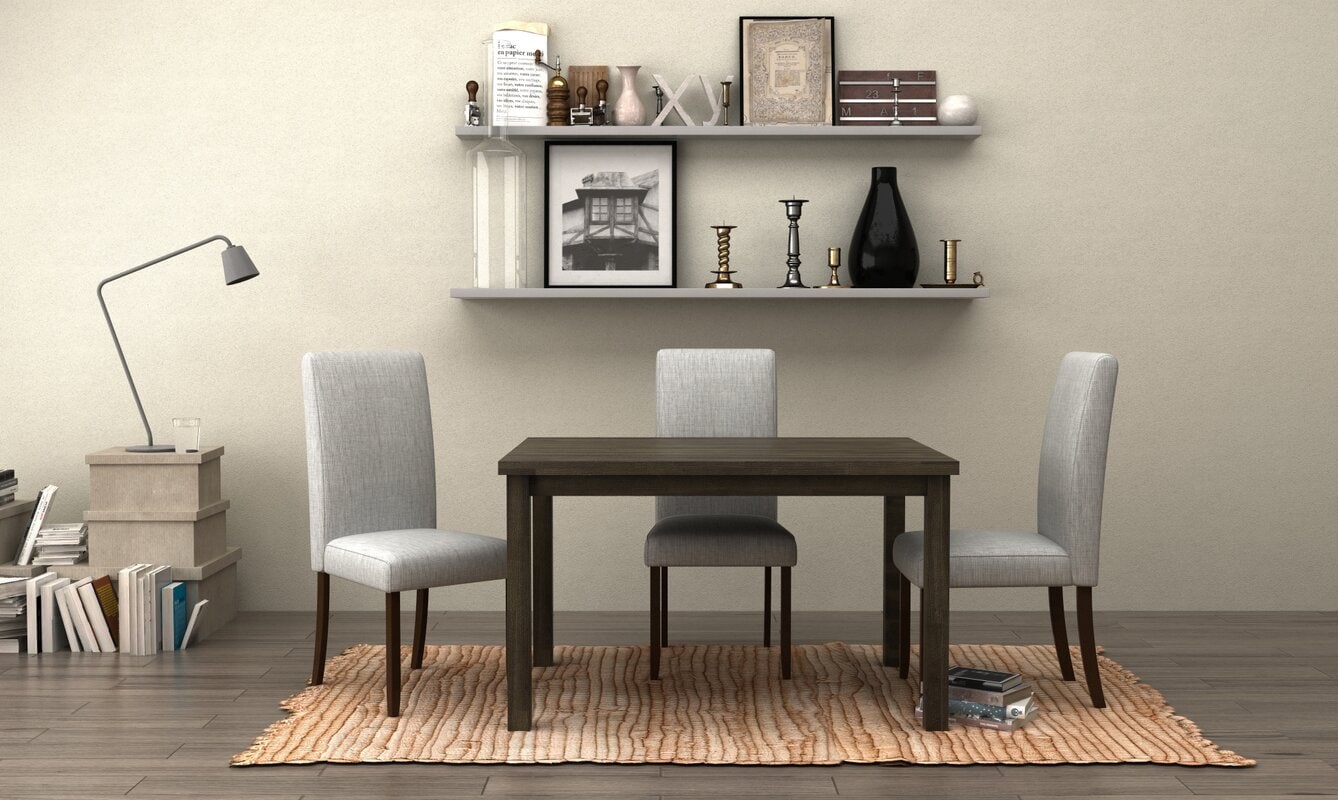 These are some of the best floating shelves out there for their sheer simplicity. They don't draw too much attention to themselves but they blend in to the wall and the rest of the decor. The two shelves are identical and have been spaced apart at the exact right height for the decor.
Although these floating shelves are thin, they can be quite sturdy if affixed to the right part of the wall.
Get a Heavy Duty Shelf That Doubles as Storage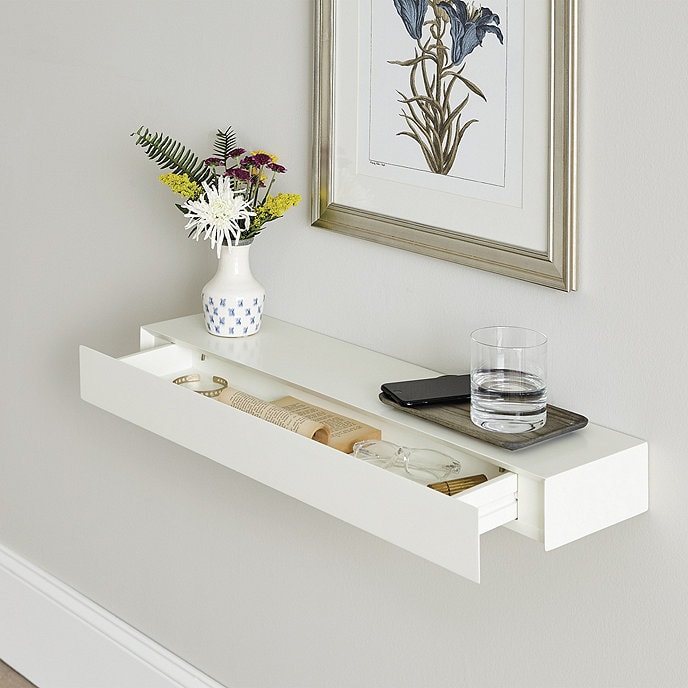 This is a strong floating shelf that's thick enough to double as storage thanks to a handy pull out drawer. This sturdy wall shelf proves that you can have a floating shelf that supports a lot of weight on its surface and in the drawer.
It's also a great choice for the hallway since it reduces clutter in an already narrow space, but handles everything you need close by.
Look for a Floating Shelf With a Lip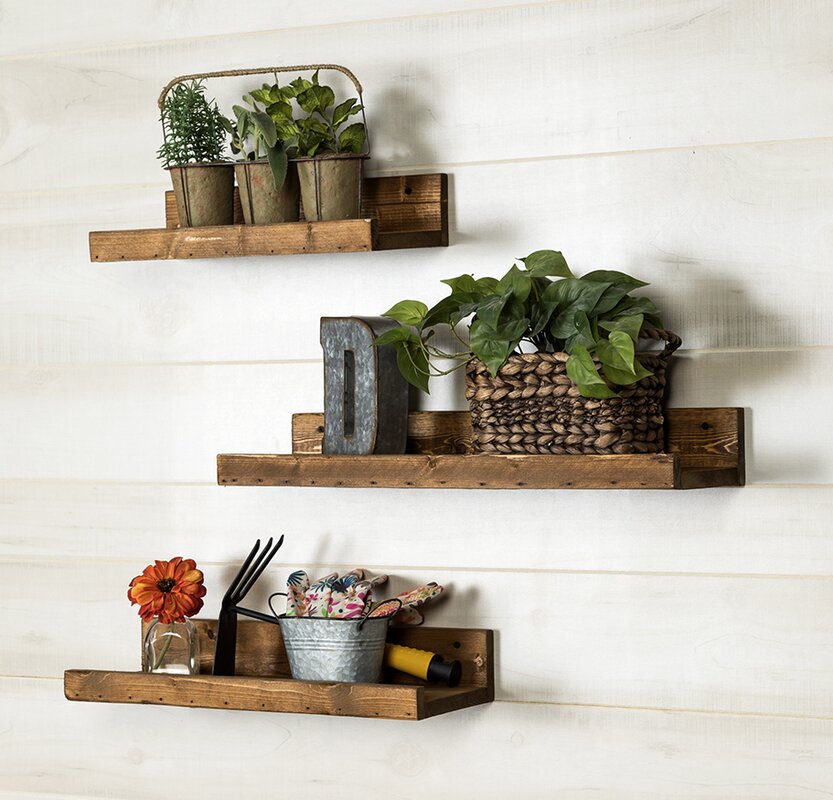 Another great choice for shelving is to look for a floating shelf with a lip, like these gorgeous wooden shelves from Wayfair. These can be esthetically pleasing but also have a secondary function of being handy and protecting your items on shelves.
As you can see, the plants are safe from being knocked over and off the shelf thanks to the small lip at the front of the shelf.
Get Solid Wood Pine for Strong Floating Shelves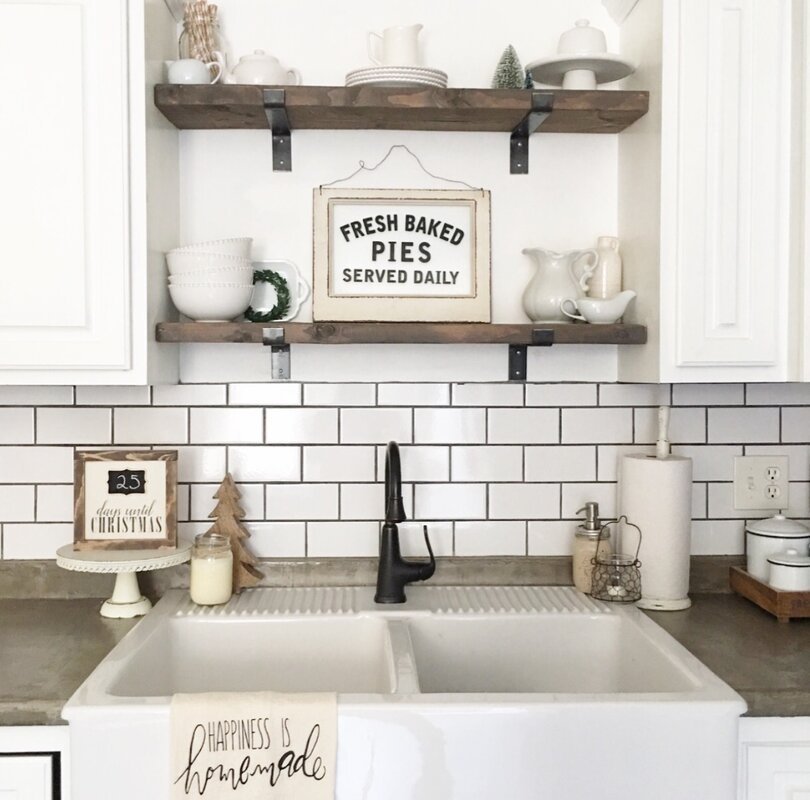 These are great floating shelves for the kitchen because the wood pine is sturdy and channels the farmhouse style of the kitchen. The black brackets add a nice contrast as well.
There are a lot of reasons to get floating shelves and many different styles to suit your room's needs. I love this full guide by Architecture Restoration that breaks down everything you need to know about floating shelves.
Install Wire Floating Shelves for the Kitchen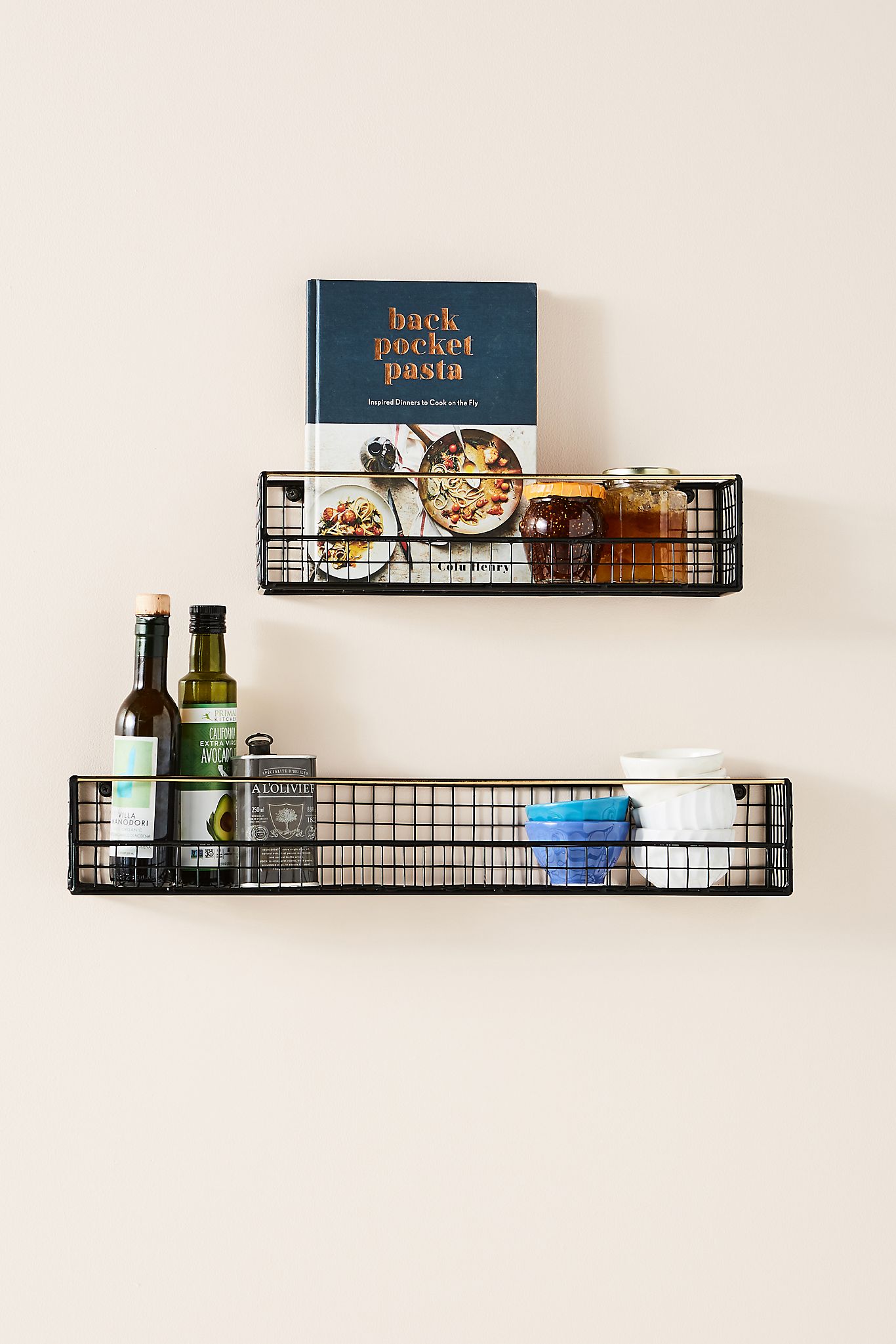 Another excellent option for floating shelves for the kitchen is these black wire shelves that are handy for storing jars and spices because of their basket shape. They're shallow enough that they can be considered shelves but have some elements of hanging baskets.
The black wire shelving is excellent to see through and display your wares as a type of decor instead of just a functional look.
Get Glass for Floating Bathroom Shelves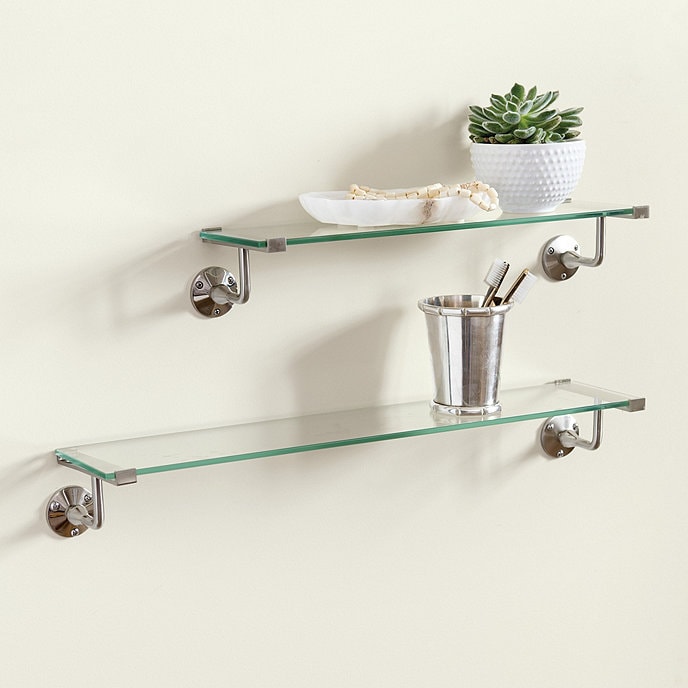 These are some lovely glass bathroom floating shelves, which are excellent in smaller rooms like bathrooms because they keep the room looking light and bright. Glass floating shelves are also great for bathrooms due to the moisture in the air and the ease of cleaning them.
These are also quite strong floating shelves thanks to the sturdy metal brackets holding up the thick glass panes.
Stagger Some Cool White Floating Shelves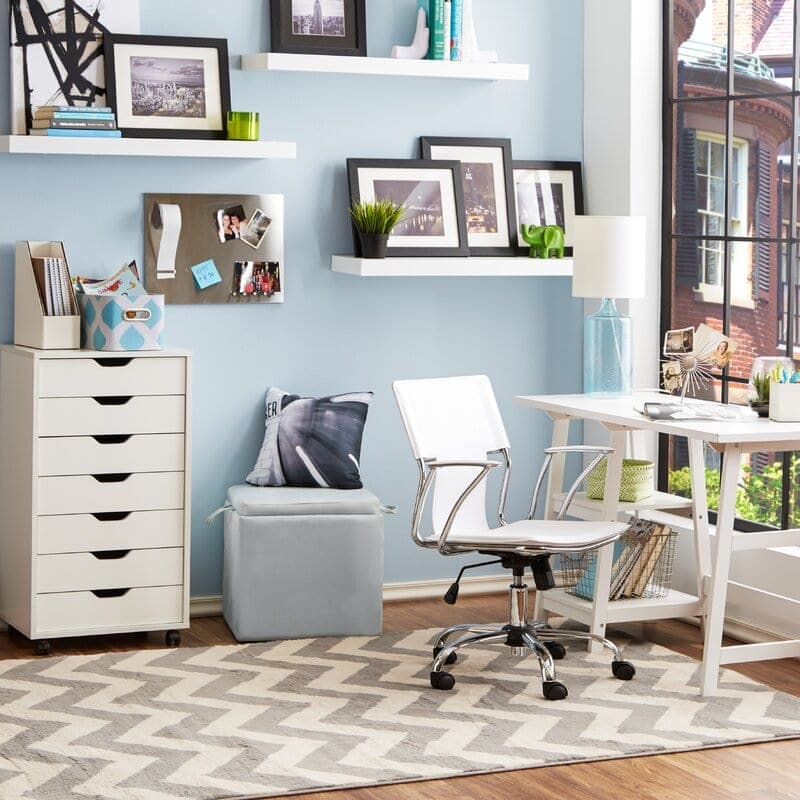 These cool floating shelves truly give an impression of weightlessness due to their lack of supporting brackets while still giving off the impression of sturdiness. The solid white matches with a lot of furniture really easily, making this an excellent candidate for the best floating shelf.
An Adhesive Floating Shelf Is Perfect for the Bathroom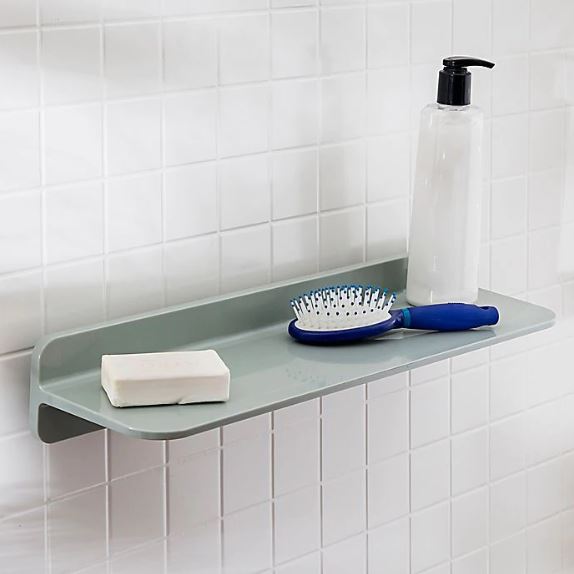 Many of these shelves involve drilling holes into the wall and finding the best anchor points. However, it's also possible to get adhesive shelves even as sturdy floating shelves.
This example from Bed, Bath & Beyond showcases the benefits of having an adhesive floating shelf in the bathroom, due to the type of material used for the wall and the elements the shelf is exposed to.
Get a Floating Shelf System for the Living Room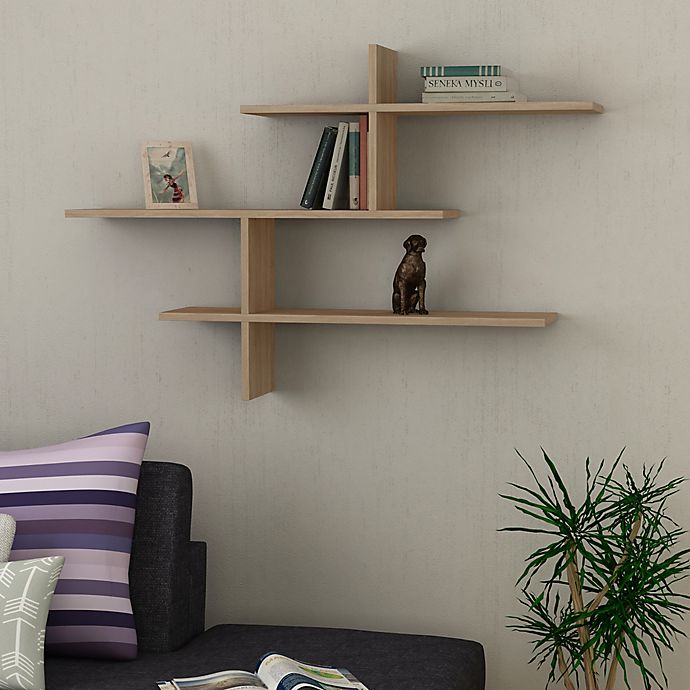 This floating shelf system involves multiple shelves all in one unit, and it's a great option to choose for the living room. That room often has a lot of potential for displaying decorative items and books, so it's a great choice for a shelving system.
With the weight being distributed over the shelves, it's important to find the right spots on the wall to install the shelves.
Look for High End Floating Shelves With Molding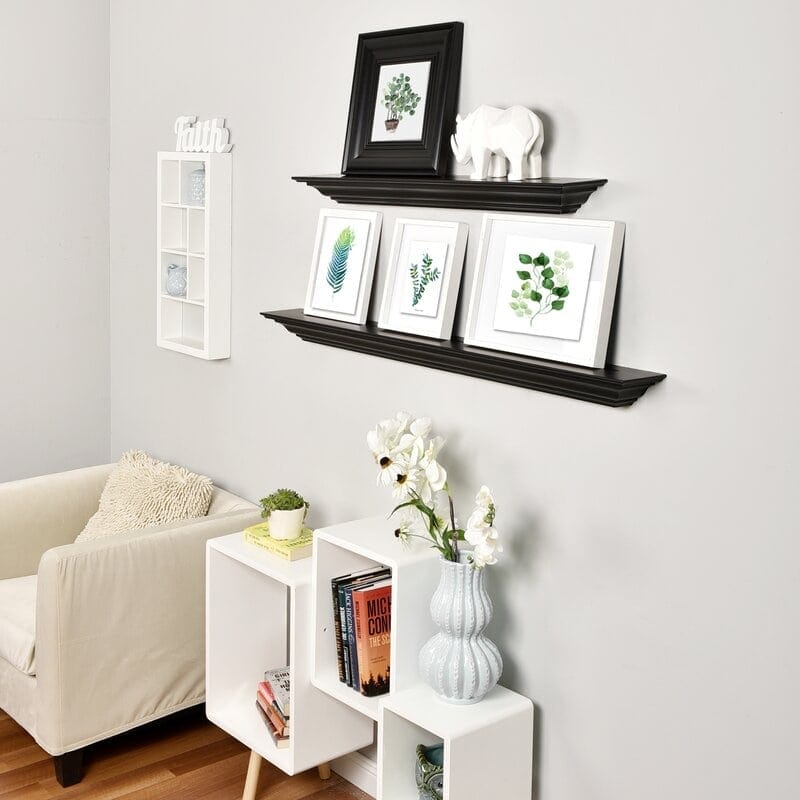 Floating shelves aren't necessarily a single piece of material but it's also possible to get more high end floating shelves like these black ones with molding that add some elegance and flair to the room.
Luckily, it's quite easy to install floating shelves in your home by yourself and there are a lot of helpful guides out there to make the process even easier. This Bob Vila guide is a straightforward and clear example.
Add a Cool Floating Wine Shelf to the Kitchen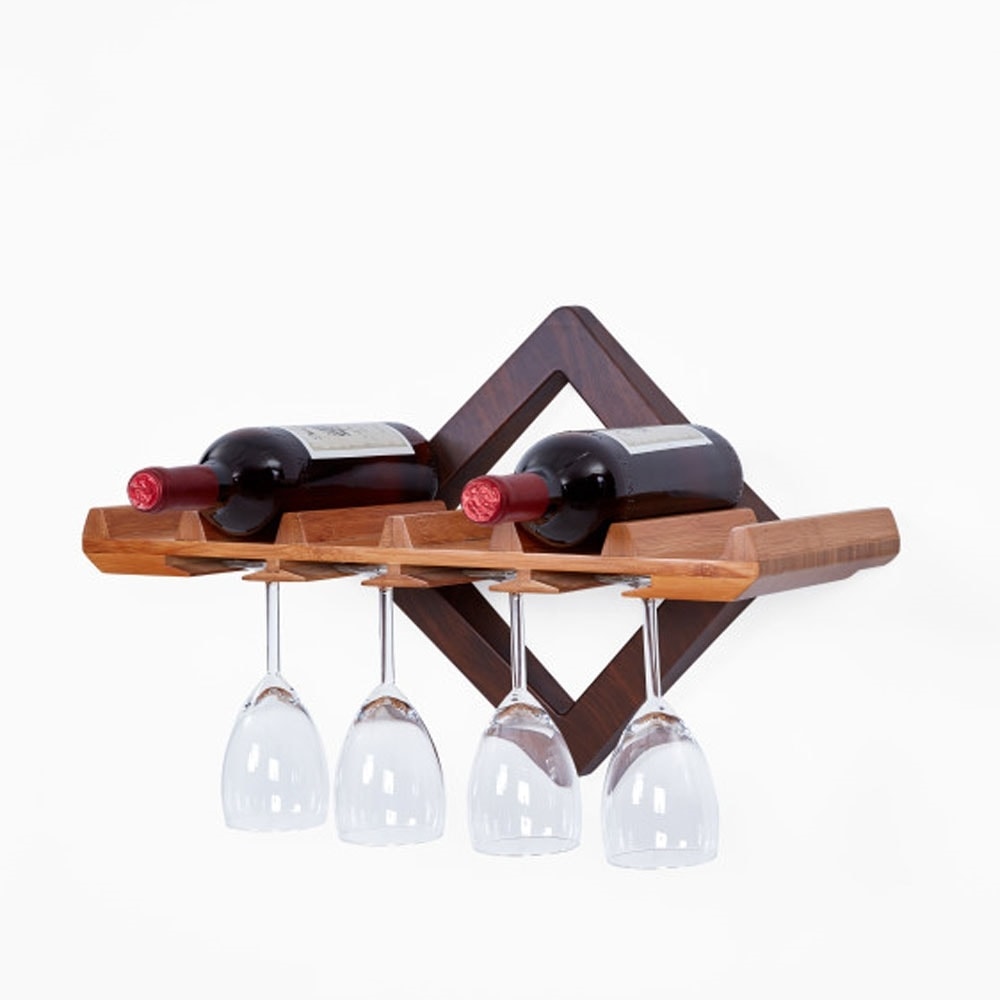 This is an excellent floating shelf for the kitchen because it's a tailored shelf system for wine bottles and glasses. It's a sturdy floating shelf that can support a few wine bottles and glasses but still in a trendy way to display on a wall in the kitchen or dining room.
Install a Trendy Corner Shelf Set Decor
These are some of the best wall shelves for a smaller room or an empty corner because they can fill up the space in a trendy way, especially these lovely black shelves contrasting with the white walls and decor.
These corner shelves are more elaborate than standard straight shelves with a slanted face and bottom lip. The result adds a nice angle to the corner of the room.
Get a Floating Shelf for the Bathroom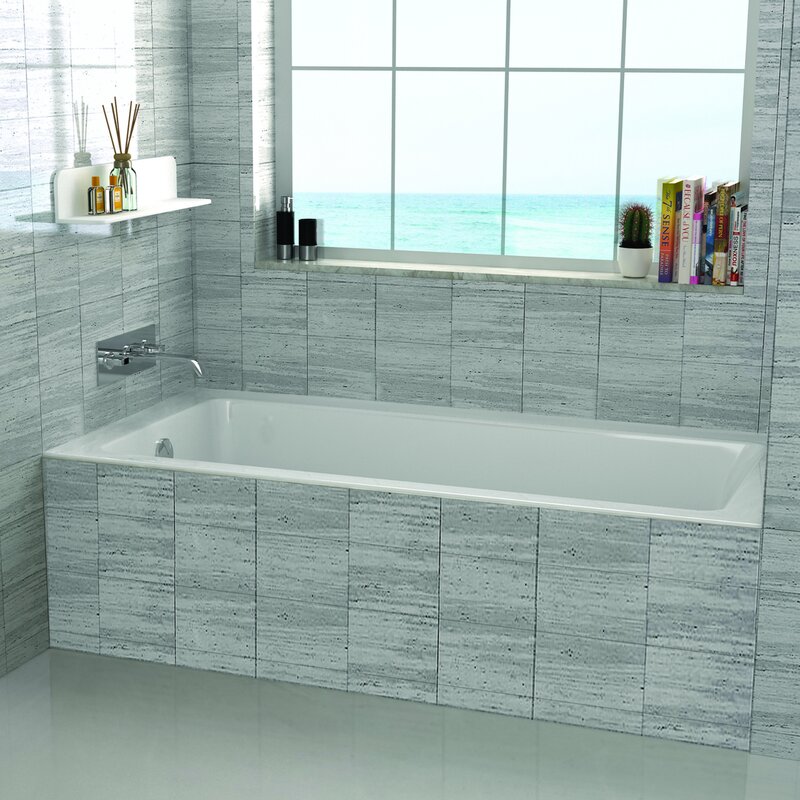 A floating shelf is a perfect addition to the bathroom because it can sit above a bathtub, like this one, where a standard shelving unit is not possible. This is an adhesive shelf that doesn't require a complex installation.
It's a sturdy floating shelf with a back panel and surface and it can hold relatively heavy weights without collapsing.
Use a Narrow Shelf With Lip for a Photo Display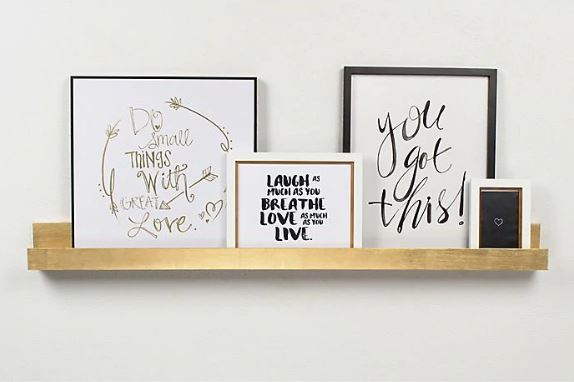 There are different variations of floating shelves with a lip, including this ultra-narrow floating shelf that's perfect for a photo display. The narrow shelf is great for leaning photos without having to hang them, and they won't be leaning too far back.
Create a gallery wall like in this example, which contrasts really nicely with the simple wood of the floating shelf.
Buy One Simple and Sturdy Wooden Floating Shelf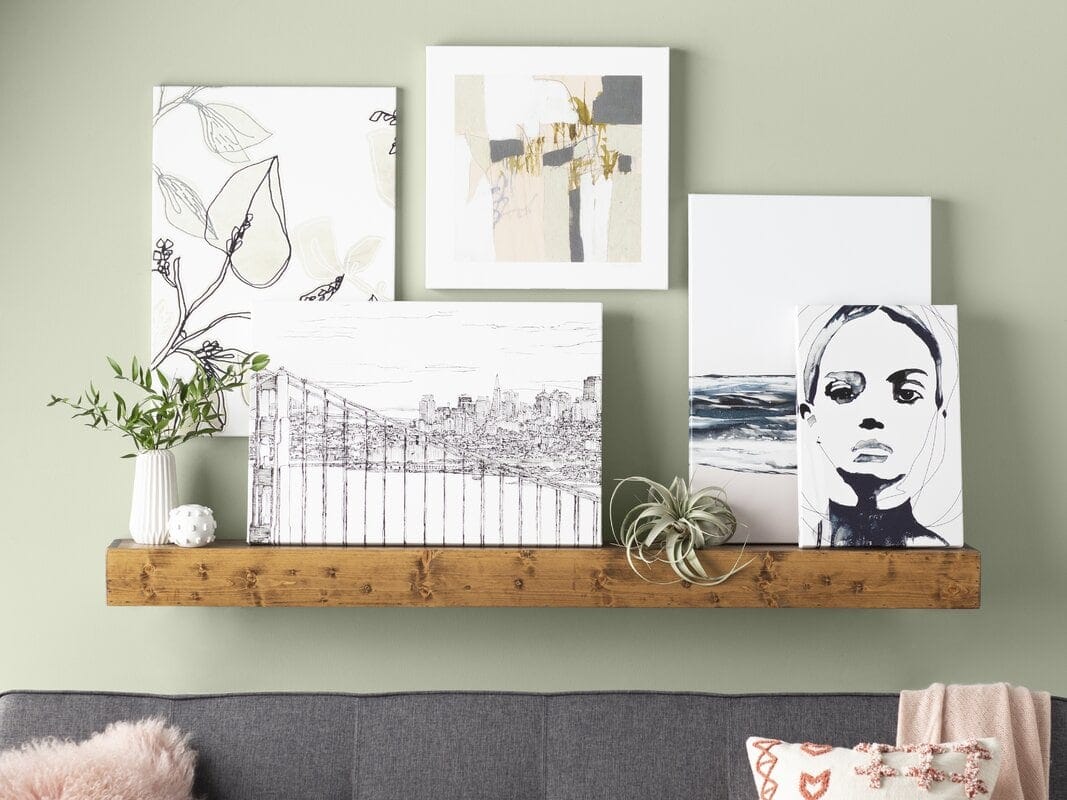 It's possible to make a statement if you pick the best floating shelf for it, like this very thick wooden slab. It's a heavy duty floating shelf thanks to the width and sturdiness of it but it can still pass as a cool floating shelf because of the farmhouse or rustic aspect of the wood.
Make sure that you choose the right spot on the wall as you need to ensure something this heavy will be fixed securely.
Final Thoughts
Floating shelves can be quite glamorous and trendy and they can really enhance the appearance of a room by reducing the clutter that comes with traditional shelving. Whether you go for a high end floating shelf with molding or a simple heavy duty shelf, the options are there.
It's also a style of product that's versatile in terms of the room you can place it in, as we've seen multiple examples of bathroom floating shelves, kitchen floating shelves, or living rooms. The important thing to note is choosing the right spot on the wall to install it so it's well supported.