We independently select these products — if you buy from one of our links, we may earn a commission.
Best Paint Stripper for Wood and Metal in 2022
The secret of success in any DIY job is preparation. If you're painting any surface, then preparing the material for paint is vital if you want the best results.
Preparing and priming your surface before painting ensures that the paint sticks to the material with a strong bond.
If you fail to prepare your surface, it results in all sorts of problems.
You can expect your new paint job to start bubbling, lifting, and cracking a few weeks or months after you finish with the job.
Preparing the surface by removing all the old paint from the metal, wood, or plastic, and painting a fresh surface provides the best results.
Paint Strippers for Wood and Metal Reviews
Here are our top choices for the best paint strippers available. Choose a product that meets your needs and application. Read through our buyer's guide section for more information on the types of paint strippers and how they can work with your task.
The Porter-Cable PC1500HG Heat Gun — Best Overall
Heat guns are an efficient and effective means of stripping paint from a variety of surfaces. The Porter-Cable heat gun comes with multiple fan settings to let you adjust the heat flow to the material you're working with on your project.
We don't recommend you use a heat gun on your first paint stripping project, especially if you're working with materials like wood and plastic. If you get the setting wrong, you could ruin the materials. However, once you learn how to use the gun, it's a useful tool.
The Porter-Cable heat gun comes with a variable temperature dial for easy adjustment during use. We like the integrated support stand that gives you hands-free use of the tool. Adjust the heat and work on your project in a hands-free environment.
The powerful 1,5000-wat motor makes short work of the toughest paint stripping jobs on metal, lifting the paint in seconds. This lightweight machine is compact and easy to store, weighing only 2-pounds. The body of the heat gun features an integrated loop handle for easy hanging.
The Porter-Cable heat gun has a 6-foot power cord, and it's the ideal tool for paint removal. You can use the heat gun for other handyman tasks, like bending plastic piping, plastic welding, and removing adhesive tiles from the bathroom.
Pros
Powerful 1,500-Watt electric motor.
3-year manufacturer's warranty.
Dual fan-speeds.
Variable-temperature control.
Integrated support stand for hands-free operation.
6-Foot power cable cord.
Cons
Runs hot with extended use.
---
Wagner Spray Tech PaintEater — Best Palm Paint Stripper
For those people needing to strip paint on woodworking projects, like doors and cabinets, we recommend you look at the Wagner PaintEater. This compact tool has plenty of power on offer to strip away paint in seconds.
The spun-fiber disc spins at 2,000-rpm, ripping the paint off of any surface with ease. You can use this tool to smooth out inconsistencies and chips in the paint or material and prep it for painting in no time at all.
The PaintEater is aggressive on removing old paint, but it's kind on the underlying material. The spun-fiber disc moves with contours in your material, helping you reach tight spaces and sand paint out of corners with ease.
We like the ergonomic design of the PaintEaters handle as well. It provides users with multiple hand positions, reducing operator fatigue on more significant tasks. If you want to get into tougher jobs, pull out the retractable handle, and the soft-grip cover, for two-handed operation. Never drop the tool thanks to the loop-and-hook strap.
Overall, the Wagner PaintEater is the ideal handyman DIY tool for use around the workshop or garage at home. Don't expect it to match up to tougher tasks, as the motor won't handle an industrial application.
Pros
Powerful 3.2-amp motor
Minimal buildup of paint and dust from the open-web design.
Lightweight and easy to handle.
Good for use on wood, metal, and masonry.
Cons
---
Citristrip Paint and Varnish Stripping Gel — Best Biochemical Paint Stripper
Instead of risking your health on a solvent-based paint stripper, we recommend you use a natural alternative instead.
The changes in paint stripping and degreasing technology have come a long way in the last 20-years. Now there are eco-friendly alternatives to toxic products that are harmful to both you and the environment. Citristrip is an example of these new generation paint strippers.
This formula is potent, and lifts paint from wood, metal, masonry, and plastics effortlessly. We think that it's on par, if not better, in terms of performance when we compare it with solvent-based products.
When you're using the product, there are no nasty odors of dangerous chemicals. This formula gives off a cheerful orange citrus scent while it works.
Citristrip stays active for as long as it remains wet, but we found that it tends to dry faster than the suggested 24-hour period set by the manufacturer. Still, it's an effective paint stripper with ecological benefits.
We prefer using Citristrip as our preferred liquid-based paint stripper. The water-based formula is non-toxic and won't damage your skin or respiratory system.
Pros
Environmentally friendly.
Smells nice.
Effective for lifting all types of paint.
Suitable for industrial use.
No harmful chemicals.
Cons
Dries quickly requiring multiple applications.
---
Smart Strip™ Advanced Paint Remover — Best Eco-Friendly Paint Stripper
Caustic and solvent-based paint strippers are toxic for both you and the environment. Fortunately, over recent years, biodegradable, eco-friendly options are becoming more accessible to the public. These environmentally-friendly paint strippers contain no toxic ingredients, and you can use them on a variety of surfaces.
The Smart Strip Advanced Paint Remover is an excellent example of these new-age technology products. This degreaser is both practical and safe to use. Use this stripper on a variety of industrial and architectural substances to lift it from the material underneath, without damaging the wood, plastic, or metal.
Smart Strip features formulation that free from caustic or methylene chloride or caustic. This water-based remover offers performance that's on par, or better than most caustic or solvent products. We like the fact that this stripper is biodegradable.
It's a sad fact, but people that use paint strippers often spill it on the ground or the surrounding environment, poisoning the ground. With this formula, the paint stripper eats itself away into oblivion, without harming the environment.
Apply this paste with a knife, brush, roller, or a paint sprayer. Wait for the paint to lift, and then scrape it away effortlessly with a paint scraper.
Pros
Eco-friendly.
Water-based and safe for skin contact.
Interior and exterior use.
Cons
Expensive compared to solvent solutions or biochemical options.
---
DEWALT Rotary Sander — Best Semi-Industrial Paint Stripper Machine
If you're looking for the best semi-industrial paint stripper available, then you can't beat the DEWALT DWE6401DS Rotary sander. This 5-inch variable rotary disc sander comes with a powerful 6-amp motor that delivers the superior operator performance when stripping paint from a variety of surfaces.
Use the DEWALT to strip paint from metal, wood, plastic, or masonry. The DEWALT features a VSR trigger that allows you to control the power and speed to match your sanding application. We like the adjustable dust shroud that comes with this stripper can connect to a shop vacuum to keep things tidy around the workplace.
The ergonomic mid-handle design of the DEWALT features a soft grip while improving balance in your hands. As a result, you get less operator fatigue during use. The DEWALT paint stripper accepts a 5-inch hole-hook and loop paper, with all accessories readily available from DEWALT retail partners.
The DEWALT paint stripper comes with a 3-year limited warranty. We recommend this paint stripper for anyone that's looking for a semi-industrial machine.
Pros
Powerful 6-amp motor.
Suits semi-industrial use.
3-year limited warranty.
Ergonomic handle design for user comfort.
Cons
Expensive if you need a DIY machine.
---
3M Paint and Rust Stripper Brush — Best Drill Stripper Brush
If you're on a budget, and you only need a paint stripper for one project, then try the 3M paint stripper brush. This brush attaches to your power drill like a drill bit, allowing you to use your drill to strip the paint off any surface.
Since you're relying on the drill to do the work, the 3M brush operates at high speed, stripping away paint from metal, wood, and plastic in seconds. The disc has plenty of flexibility, allowing you to get into contoured surfaces, without damaging the underlying material.
The 3M disc features a durable non-woven design with synthetic materials for best results. The discs come in heavy and light duty variations and offer superior performance that's on par with any other sander or paint stripper in this review.
It's an excellent choice if you only have one stripping job, and don't want to go to the expense of purchasing a tool for the job.
Pros
Affordable solution for DIY use.
Multi-use abrasive disc works on wood, metal, wood, plastics and fiberboard.
Nylon fiber disc doesn't splinter or rust.
Attaches to your ¼-inch electric drill.
Cons
Not suitable for heavy use.
---
Super Remover New Generation Paint Stripper — Best Solvent Paint Stripper
We highly recommend you avoid using solvent-based paint stripper products. These paint strippers contain toxic chemicals that are terrible for your health. Carcinogens like benzene and toluene are common in these products, as well as chemicals like methylene chloride or NMP.
Super Remover was one of the only brands we could find that does not feature the use of methylene chloride or NMP listed in the ingredients. Super Remover Paint Stripper is suitable for use on wood, metal, or masonry. It lifts paint in minutes, allowing you to scrape it away with ease, without damaging the underlying material.
Super Remover is the most affordable paint stripper in this review, but we still would not trust it. There's no way we would choose a product like this over something like Citristrip or Smart Strip. However, if you're tight on your budget, then this might be one of the most affordable solutions available.
This formula gets to work on lifting the paint within 15-minutes. Wipe it on, and come back later to scrape away the paint. You might have to apply one or two coats of the paint stripper on tougher paints like acrylic.
Make sure you always use this product in a well-ventilated or outdoor area. Always use respiratory protection and gloves to avoid breathing fumes or getting the stripper on your skin.
Pros
Cons
Chemical formulation hazardous, keep away from children.
Toxic fumes.
Not safe for contact with skin.
---
Paint Stripper Buyers Guide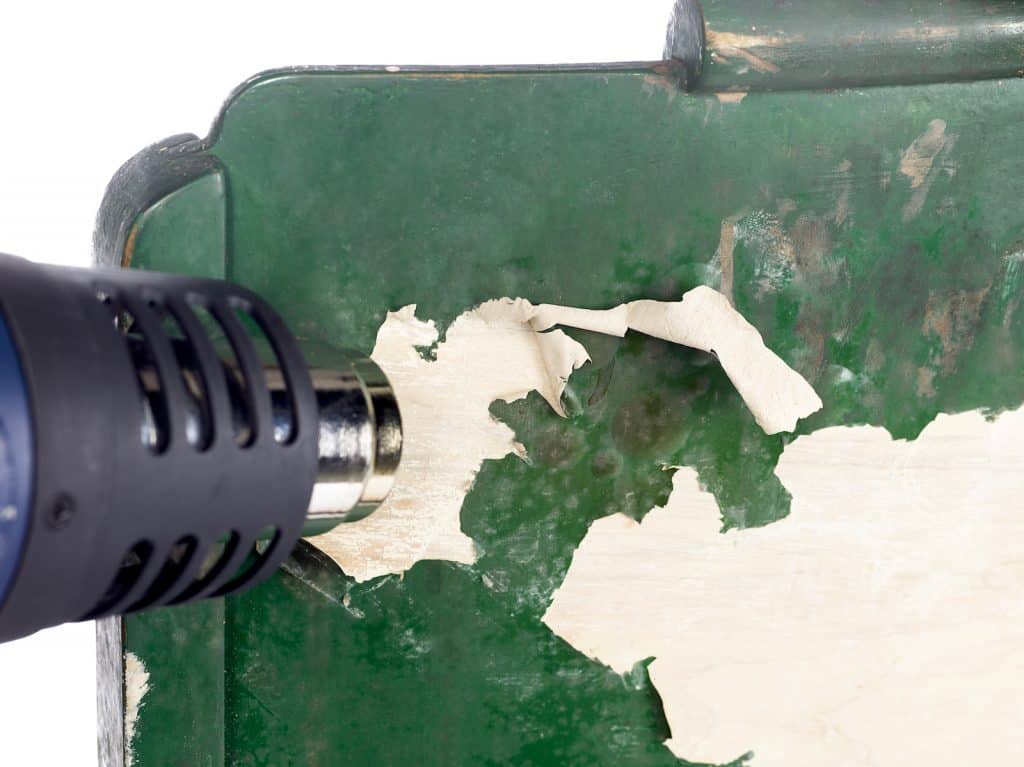 Before you start with your paint stripping, we have a few tips we can offer youto optimize your results. Follow the information in this buyer's guide to ensure you're using the right paint stripper product for your application.
Know the surface – Consider the surface you're stripping before you make your purchase decision. Heat guns are ideal for multiple surfaces, but better for metalwork than woodwork. Biochemical strippers suit stripping paint on floors and metal as well. Using a sander is great for woodwork projects, masonry, and metalwork, as well.
Safety – Safety is your top priority when choosing your ideal paints stripper. Many caustic and solvent-based paint strippers are no longer available for sale in various states and online. Biodegradable and environmentally-friendly options now make solvent-based products obsolete.
Respiration and Skin Protection – When using any paint stripping solution, whether its sanding, solvents, or biochemicals, take your health as a priority. Make sure you use respiratory equipment to avoid breathing in dust or fumes that could damage your health. Protect your skin and wear gloves if you're working with chemicals.
Different Kinds of Paint Strippers
There are paint strippers for any project. We listed the best solutions below, and others that you should avoid. Always ensure you read the ingredients label before buying a solvent or biochemical paint stripper.
Biochemical Paint Strippers
Biochemical strippers feature natural ingredients and enzymes that eat away paint and lift it from any surface. These products offer you an environmentally-friendly option to solvent-based or caustic paint strippers.
Some of the common ingredients are lactic acids in citrus terpenes, pines, terpenes, citric acid, or dimethyl sulfoxide (DMSO), from soy oil, wood pulp, or paper by-products. Health and safety risks associated with these products are much lower than solvent-based strippers.
You'll still need to use them in a well-ventilated space, and avoid contact with your skin in most cases. Some products add N-methyl-2-pyrrolidone (NMP), in the ingredients, along with the other biochemical components.
Solvent-Based Paint Strippers
Solvent paint strippers are still widely available, even though they are somewhat outdated. Most solvent-based strippers contain chemicals such as;
Methylene chloride (DCM).
N-methyl-2-pyrrolidone (NMP).
All of these chemicals are toxic to human beings, and we recommend you avoid using solvent-based products wherever possible. However, they are one of the most affordable options, so it's understandable why some people still use these products to strip paint.
Caustic Paint Strippers
We recommend you avoid these types of paint strippers. Caustic strippers include lye in the ingredients. Breathing in this toxic substance or getting it on your skin could result in injury or death. Stick to a biodegradable solution instead.
Heat Guns and Electric Strippers
The tools are convenient for stripping paint on a variety of surfaces. If you're a newbie to paint stripping, then you'll need to be careful about how you use a heat gun. Sensitive materials like wood and plastics can end up warping or distorting with the heat gun on the wrong setting.
Professionals get more time with these machines, and they learn how to handle them effectively. However, DIY users need to be careful when operating the heat gun, as it's easy to injure yourself if you're not paying attention to the machine.
However, heat guns are very effective at lifting paint from a variety of surfaces. With the right technique, you'll be able to strip the paint off any surface in minutes.
Electric strippers are also a handy tool to have around the workshop at home. If you have an old chest of drawers or doors in your home that needs stripping and repainting, and electric stripper takes the hassle out of doing the task. Electrical strippers are available in both DIY and semi-industrial options to suit your usage needs.
Conclusion
We find ourselves wondering if anyone ever purchases solvent-based paint strippers anymore? With the new biodegradable options, there's less chance of harming yourself or the environment. It's for this reason that retailers are starting to ban these solvent formulations for sale online, as of 2019.
However, that's not such a loss, especially when you consider the options available in this review. We think the Citristrip product is our favorite if you're looking for a liquid solution to strip paint from metal and plastics.
You can't beat the value of the Wagner PaintEater for DIY applications, or the 3M Abrasive Disc for small, once-off stripping jobs on a variety of surfaces.
Choose the paint stripper that matches your needs, and make an informed purchase decision by using the information in this guide to your advantage.