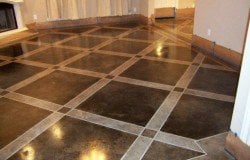 Posted on March 30, 2018 by Christine in Floors.

  Painted concrete floors can look stunning if you invest time to prepare them, use a specialty concrete floor paint, add a great design and finish off with a concrete floor sealer. It sounds complicated but its easier than you think. These stunning professional looking floors use a combination of paint or stain, stencil and […]

25 Comments. Continue Reading...