Cheryl and Jane's 30A Adventure – The Final Frontier
Posted on July 23, 2014 by Christine in
Home Decorating
.
Cheryl Maeder and Jane Dagmi share the last part of their journey along 30A and it is spectacular! These images are so gorgeous you just want to eat them up! If you missed the other two parts, you can find Part One here and Part Two here.

Our Favorite Places Along 30A
Written by Cheryl Maeder and Jane Dagmi & Photos by Cheryl Maeder and Jane Dagmi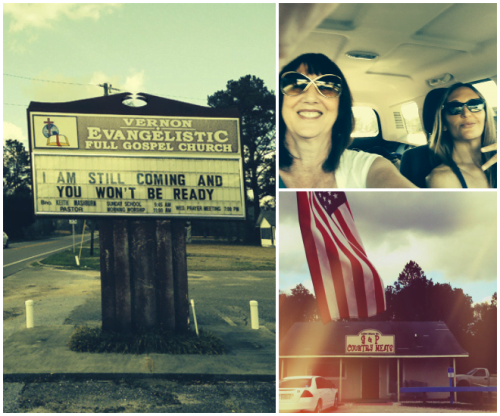 Images: Church, Roadtrip, Country Meats
If we had a bumper sticker on our car it would read: "We stop for religion and meat."
Our road trip to Florida's Panhandle took 10 hours. We stayed the course mostly, except for one missed exit and an attempt to visit an antique mall which was closed for repair. We did very little "sightseeing" along the way, though there were a few instances of small town charm that did catch our attention.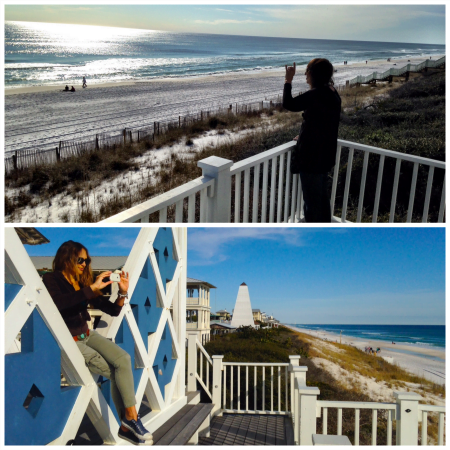 Images:Jane Dagmi shoots below, Cheryl Maeder shoots above
Cheryl and I basically cover the same ground, yet we interpret our surroundings uniquely.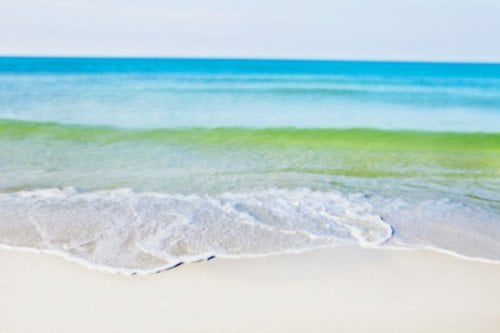 Images: Watersound
Each community along 30A has its own architectural vibe. With its apparent shingle style, Watersound feels very New England.
We arrived at Watersound on Wednesday and had the next 3 days for poking around. Our host and jewelry designer friend, Melissa Rovner, was busy working by day so Cheryl and I were the day-tripping duo. With cameras charged and iPhones at the ready (Camera+ was the app of the trip), we drove the 28.5 miles of Route 30A, soaking up the scenic eye candy both natural and manmade. It was an indelible sensory experience.
First stop, Alys Beach.
Images: Alys, Alys Detail, Shutters, Doorway

There is no lack for architectural inspiration.
Alys Beach is one of the more recent New Urbanist communities along 30A. Cheryl had told me about this incredible community of white stucco and masonry homes. She had been through Alys Beach before, met Marieanne Khoury-Vogt, one of the architects responsible for the aesthetic, and wrote about it here.
I had only seen photos online, but looking from afar cannot compare to meandering down the streets and discovering the architecture, gardens, and fountains. that feels like a hybrid tropical Grecian Southwest wonderland.
Images: None Such Way, feet, Jane under a trellis, Green Door
No matter where you look, there are thoughtful treasures to amuse the senses.
The best way to really see Alys Beach is by foot. Cheryl was on a mission to capture every fountain and she made several fountain videos. We lingered for a good long time before settling at the cafe for a cup of coffee at Fonville Press, the local family-friendly cafe, wine bar and newsstand.
The product – stone, architectural, relaxed — reflects the community aesthetic.
We stopped in at the Alys Shoppe before we left. From sheer palazzo pants to fab totes and stone wine stoppers, there is plenty here to want. We stopped and gabbed with Gibbie who happened to be wearing a couple of Blessings in Disguise bracelets along with a few other local makers.
Next stop, Rosemary Beach.
I had been here about 9 years ago for a Country Living photo shoot  and it was really good to get back. To me, Rosemary Beach feels like a cross between Amsterdam, Barbados, and NoLa. Cheryl gets a Mediterranean Italian vibe. Compared to Alys's pure white stucco, homes here feature creamier surfaces mixed with earthy trim colors such as olive, charcoal, and brick. There are such interesting variations between the houses of Rosemary Beach yet they share a West Indienne flavor. A nice woman who was walking her dog pointed our Vern Yip's house.
The town center has an assortment of merchants from eateries to home furnishings to a swank hotel called the Black Pearl. We shared a sandwich at Wild Olives and visited a couple of shops including Tracery, Tommy Crow Studios, and The Hidden Lantern book shop which was so cozy and magical with its Narnia-inspired decor and cushy seating.
Friday was slated for Seaside.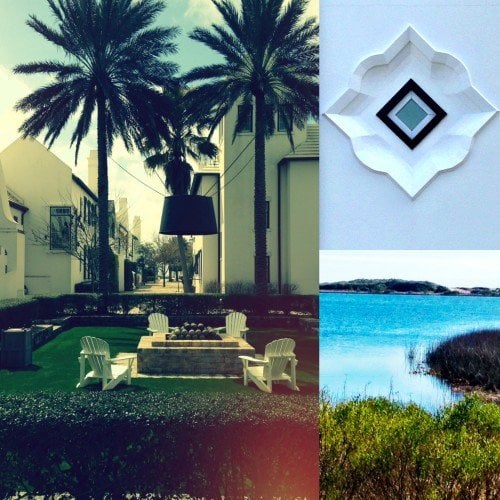 Seaside, the first planned New Urbanist community along 30A, is distinguished by brightly painted homes and was popularized in The Truman Show. Cheryl sees the town as an urban/old world melange. To me it felt like the New England meets Woodstock in the tropics. Here, one sees homes of all different colors. There seems to be more openness to architectural diversity, perhaps the perfect stomping ground for the part-time Southern hippie.
As much as we were entranced by the neighborhood layouts and alleys, Cheryl was particularly eager to get to the beach. You know Cheryl and her beaches!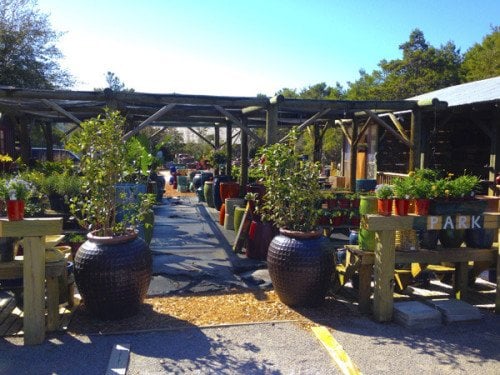 Images: Clay Pots
In addition to relishing the residential architecture along Rt. 30A, we also checked out some uber-cool shops. Among our favorites was Clay in Seagrove Beach. Clay is a garden and gift shop with lots of ground to cover and many treasures to discover. At Clay, Cheryl and I got to feed a squirrel which was a first for both of us.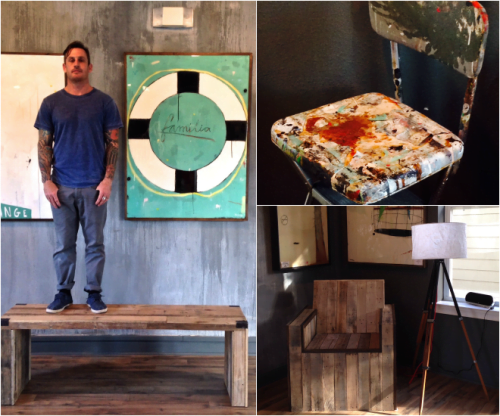 Images: Justin Lyons, Gallery and Chair
We also became quick fans of self-taught local mixed media artist Justin Lyons. His Grayton Beach gallery is a light-filled two-level space filled with his art as well as his brother's handmade furniture. Justin is often tapped to do signage and t-shirts, for 30A events such as the 30A Songwriters Festival, and he has also applied his edgy lyrical style to paddleboards.
Images: GraytonBarGrill, Bud & Alleys, Cheryl, Jane and Emily
As far as eating out on 30A, we tried the Grayton Bar & Grill on our first evening which had kick-ass decor and OK food. And we had Saturday lunch at Bud & Alleys in Seaside. The smoked tuna spread and sweet potato fries at the latter were really really good. I think I was totally craving salt!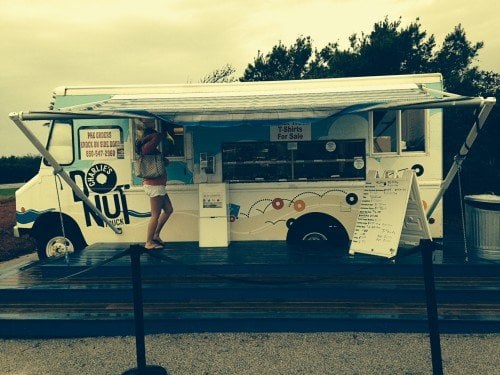 Image: Donut Truck
And then of course on our way out of town on a Sunday morning, with the threat of rain looming close, we made one last stop at the Donut truck parked by Alys Beach. Sticky souvenirs in hand, we bid a sweet farewell to 30A.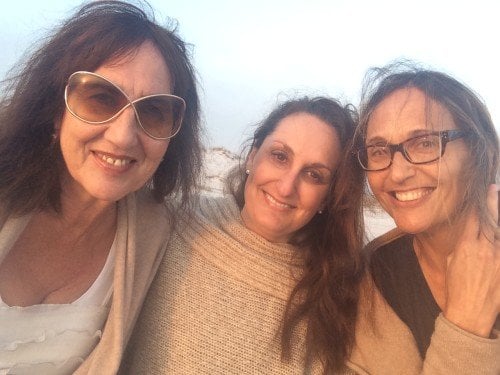 Thank you Melissa Rovner!
Jane Dagmi is the Communications manager at Parlore, a freelance lifestyle writer and blogs at http://missblogworthy.blogspot.com. Cheryl Maeder is a fine art photographer & designer at Gardenhouse, www.gardenhousedecor.net