Decor Crush: Susan Chancey
Posted on August 23, 2012 by Christine in
Home Decorating
.
Today's article is by a very talented guest writer Jane Dagmi on another very talented home decorating designer, Susan Chancey. You'll enjoy the wonderful photographs and article by Jane as she takes us through Susan's family home. Blending nature and industry, the rough and refined, Susan Chancey's layered style is swoon-worthy.
Written and photographed by Jane Dagmi
She's got an urban gypsy vibe with deep Southern roots.
Susan Chancey, shop girl and stylist extraordinaire, likes things pretty but not prissy. Four years ago, she took her pretty on the road and moved from Birmingham AL to Asheville, NC to build a life with her sweetheart.  Creating a new home in an old house was part of the plan. After looking at more than 30 homes, Susan and Guy fell in love with a 1913 two-story cedar shake bungalow. The first floor of the nearly century-old house had been beautifully restored, but the upstairs remained a mystery.
A mustard door (replete with dog paw scratches) stands out among a brown shingled exterior.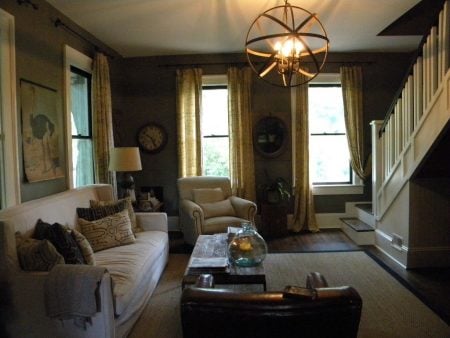 A commanding chandelier and tall linen panels take advantage of the 91/2' ceilings.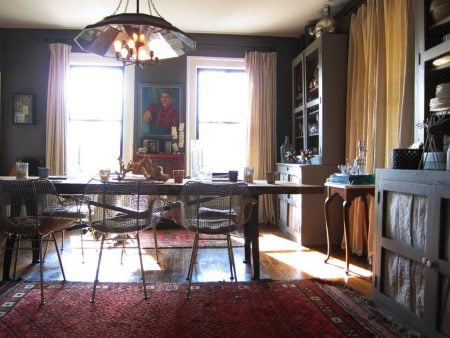 The dining room table is a slab of book-matched elm on a steel base.
For 3 years the Chanceys made home on the first floor. Blending textures, patterns, and objects gathered over time, Susan created a soulful cozy atmosphere laced with Southern tradition. With its spacious rooms, high ceilings, gracious front porch and deck, the two bedroom/one bath one-level house was adequate for two adults, two energetic dogs, and a part-time child.  When Susan's father made plans to move in, however, the couple decided it was time to move up.
Susan's second story design mission was to create a light-filled habitable energy-efficient oasis amongst the trees, and there were many challenges and "happy accidents" along the way. "It was just so hard to know how things were going to really work until we got up there," Susan explains.  The endearing and clever stylist, amply armed with Southern charm and a solid vision, forged forward and turned out to be expert at pushing building codes to the limits. The renovation was completed within three months. It resulted in 2 bedrooms, a full bath, dedicated office space and a roomy lounge. Now, Susan could finally get on with the pretty.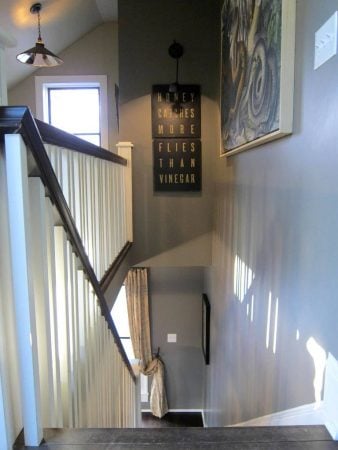 Susan carried the living room paint color up the stair wall for continuity.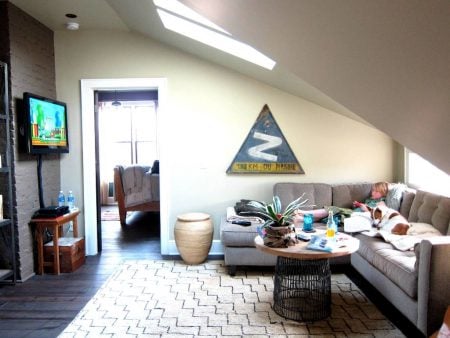 And she considered every paint shade of leaf, tree, dirt, and bark for the upstairs color scheme. "Nothing inspires me more or makes me feel more at peace than nature," Susan says.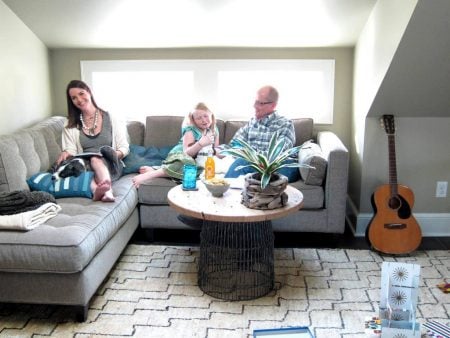 Now Susan and family have a great place to chill.
With its dramatically peaked roof lines and birds eye view of the landscape, "the Snugglery" as Susan coined it, has a quirky tree house personality.  Using her aesthetic arsenal that combines vintage and modern elements, handmade objects and industrial relics, and layers of natural tones and textures, Susan created a harmonious, cozy family loft space that is unique and simpatico with the downstairs. The Chanceys love it so much that they spend 90% of their time upstairs, save for family meals in the dining room and gatherings on the porch.
Upstairs and down, here are the design elements Susan can't live without:
NATURE-INSPIRED COLOR
Upstairs: Red roses glow against the color of the deepest ocean.
Downstairs: Pottery shapes stand out in earth-colored cabinets.
"I have loved almost every color at some point in time, but my base colors remain somewhat neutral to allow my need for pops of my latest color love and for change to always be an option!"
 

HONEST LINEN
Upstairs: Linen and cotton bedding is essential to sleeping well.
Downstairs: linen curtains drape deliciously.
"Imperfections in linen make my mouth water — the nubby textures and different naps just make me swoon. I love to see them layered and to look at the slight and varied contrasts."
CURATED LIGHTING
Upstairs: Skylights enhance the space by day; vintage and vintage-inspired fixtures glow at night.
Downstairs: A spherical chandelier is the focal point of the living room.
 "For me, lighting is the exclamation point in a room. I love it oversized and unexpected. Often I will build an entire room around the feeling of a fixture, but it is almost always the last piece that I like to place in the puzzle so I get that wow…take my breath away moment!"
DESIGN BOOKS +MAGAZINES
Upstairs: Susan rotates her desktop library as current projects dictate.
Downstairs: Design magazines, current and past, are neatly stowed in the living room.
 "For me books are a necessity to the beginning of my process and inspiration. I will pull several at a time and wrangle through them to get my creative mind flowing. Also, they come in handy when clients are having a hard time expressing what moves them in settings….I almost always send them off with a few."
GRAPHIC

SENTI

MENT
Upstairs: Susan had a transom etched with her mother's birth date; the sun shines through the glass in the late afternoon.
Downstairs: A collection of old handwritten letters reveals heartfelt sentiments.
"I love the faded colors and fonts of old ads, and the fading of the paper they are on. Also the words and thoughts behind them make me think"
Comfort and durability is important for a house where two dogs and three generations cohabitate. "I want my family and our guests to feel that they can come in, take a load off and not be afraid to truly live in the space," Susan says.  For a woman whose career is often about redoing, tweaking and moving things around, home feels stable. She says, "At this moment I feel the rare sense of sticking with it."
Susan Chancey is working on a new retail venture due to open October 1st. Check out her blog, Lost&Foundry, for more details.
Save