Nature Inspired Designer Wallcoverings by Cheryl Maeder
Posted on October 6, 2014 by Christine in
Wallpaper
.
[contextly_auto_sidebar id="tyI2bDjdqSILYNvSdKQszEKtAY2wbtV3″]
Decorated Life has been following the creative adventures of Cheryl Maeder for some time now. Recently we followed her Adventures on 30A with Jane Dagmi. Remember the wonderful designers, shops and houses they visited? Cheryl's design ideas are fun, prolific and her wall covering designs have found their way into the Hilton Hotel!
And apart from starting a new blog at Gardenhouse, featuring her gorgeous photos and many friendships, Cheryl celebrates being married to Gary for 20 years and has finished writing a new play! Seems there are no bounds to her creative endeavors.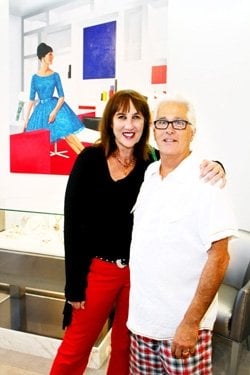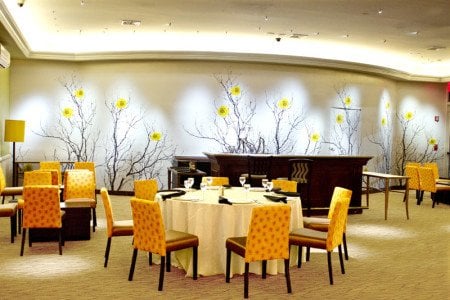 Here's Cheryl to tell you more about her designer wallcoverings.
Designing Wallcoverings from the Heart
by Cheryl Maeder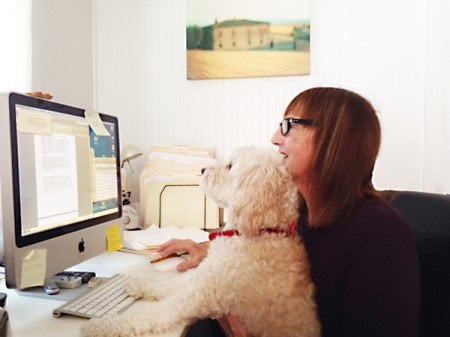 I have several exciting news blasts here at Gardenhouse. I have just recently partnered with Orange Alloy Creative Management. The wonderful Angela Krauss and Hannes Tammé. I have known Angela and Hannes for about ten years. We met at my previous studio in San Francisco where we became fast friends. Orange Alloy will be managing my creative collaborations in both Art and Design.
About a month ago, I also started blogging here at Gardenhouse, which is a great way to channel my love & inspiration for art and design.
Some months ago, our nature-inspired wall coverings, GardenWalls, Japanese Spring Collection, Yellow were installed on the 40 ft. wall of the lobby lounge in the Hilton Garden Inn, Staten Island, New York. I worked closely with interior designer Susan Huckvale Arann of American and International Design http://www.designamericanyc.com, to make it all happen.
The finished installation looks wonderful, and I was really happy that both Susan and the Hilton were pleased. Love it when a great concept and vision are brought to reality.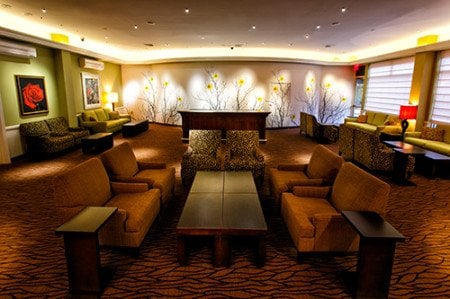 photos courtesy of Susan Huckvale Arann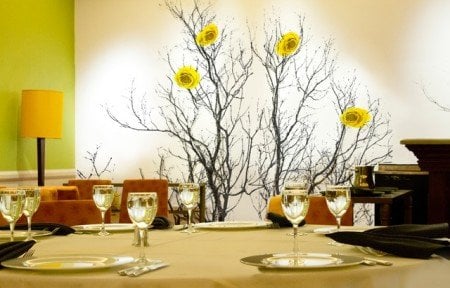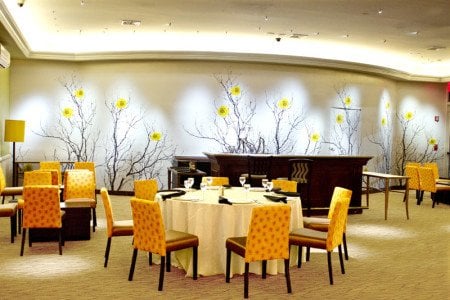 GardenWalls, our nature-inspired wallcoverings, grew out of our client's design requests to further marry their indoor/outdoor Gardenhouse home furnishings. I receive my inspiration from nature; the play of color and light inspire my designs and photography.
Each of the collections feature elements that I photograph in nature. Just walking through the mangroves to the seashore, or strolling through the everglades in South Florida, I find myself constantly being inspired to integrate nature into my designs. I approach the world with a holistic philosophy. For me, art and design are inseparable. I see the GardenWalls Collections as Wall Art bringing the outdoors into our indoor living spaces.
The GardenWalls are custom designed to fit any wall size. They are created on a high quality Type 2 vinyl and are Class A Fire Rated. GardenWalls are 52 inches wide and as they are custom designed for any wall size, the height is dependent on the clients' needs.
The GardenWalls were created for Hotels, Spas, Health Care Facilities, Schools, Restaurants and other commercial spaces, as well as, for private residences. The GardenWalls are applied just as wallpaper by a wallpaper installer. We have pricing for the Trade as well. Minimum order is 10 feet x 10 feet wall size.
For my latest GardenWalls Collection, Desert Bliss, the inspiration for this collection is the Joshua Tree which I fell in love with on a trip to Joshua Tree State Park in the California Desert, near Palm Springs. My husband Gary and I stayed at the heavenly Sagewater Spa in Desert Hot Springs. I wrote about it here on Decorated Life. The play of color and light on the beautiful surrounding landscape as I was floating in the mineral pool were just enough to get me to grab my camera and capture a bit of the desert for this collection.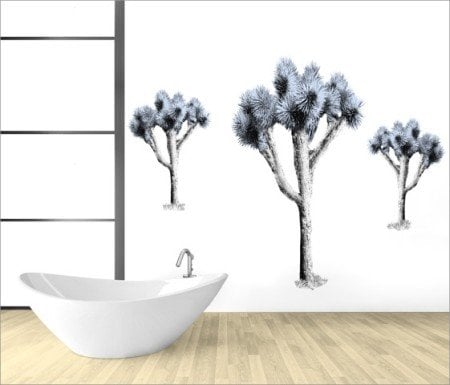 Desert Bliss Collection, Blue
Look below to find Cheryl's other posts!