Conquer Layering Rugs for a Designer Look
Posted on April 7, 2015 by Christine in
Home Decorating
.
Living Rooms, Layered Rugs and Getting It Right!
Layering area rugs can create a new designer look on your living room flooring, using a combination of materials and fabrics from Jute, Sisal, hide, wool and cotton and mixing in a range of patterns, textures and colors. Most people stay away from this flooring technique because you can get it so wrong. Here is a simple 3 step guide to help you get your home decorating right every time, add color and texture to your room and trick the eye into hiving off spaces, which is great for open areas.

Source: ArthurandMartha.com
This works for small rooms and large areas too. Think of your rugs as accessories. There are so many rug products, combinations, styles and shapes that you can layer and easily move around your house to get a new look every time.
Here is a wonderful post with photos from Dane O'Leary. It's the perfect DIY guide to using this flooring technique and how to get the most from your rugs.
Do-It-Yourself Guide to Layering Rugs
Guest Post by Dane O'Leary
Area rugs add texture and warmth — they're basically the finishing touch in a well-composed room. Rugs come in an array of textures of nearly every shape, size and color. As such, finding the perfect rug can seem like million-to-one odds unless you're content with an underwhelming solid-color rug that would be just as at-home in just about any other room. Where's the uniqueness and personality in that?
Layering multiple rugs can solve the issues of finding a great rug that's consistent with your decor without inducing a yawn. In fact, layering rugs can solve more than just your design problems; it can define and delineate space in an open concept floor plan, provide the pattern and color inspiration for a room, even incorporate an intriguing or exciting texture. By following a few simple steps, layering rugs can be a functional, easy way to take your decor to the next level.
Step One: Rug Planning
Before you go shopping for rugs, you must first figure out what it is you want to achieve. Are you incorporating rugs in an existing room or will the rugs provide the color palette for a redesign? If it's the latter, then you can essentially buy whatever rugs that tickle your fancy; however, if you're incorporating layered rugs into your existing decor, your new rugs must be consistent with your room's existing style and color palette. It would be a good idea to take a few pictures of your room with your smartphone so that you have a reference while you shop.
Step Two: Finding Your Rugs
This is probably the most difficult step with regard to adding layered rugs to a room in your home. With all the options available, how will you know which rugs go together and which would look like an utter mess?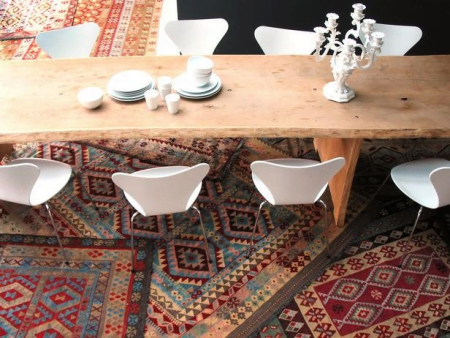 Photo Via Teresa
Remember those pictures you took with your smartphone? If you're layering rugs in a room that's already been decorated, this is when you need those pictures. As you're in the store looking at the rug selection, compare the rugs in front of you with the photos on your phone. Look at things like how much floor space you have, the layout of the furniture, whether the room is open to other rooms or whether the space is closed off and separate. The rugs you buy will depend on the effect you want to achieve.
If you will be layering rugs in a large room that's separated from other spaces with walls, you'll be able to use rugs of just about any size, but larger rugs will look more at-home in the space. If the space is smaller, then you'll need smaller rugs. Keep in mind whether you'll be layering rugs neatly in a more specific, deliberate pattern or whether you're going for the casual, incidental look. If the layout of your rugs is more deliberate, you should probably stick to mostly geometric, rectangular rugs. If you're going for organic, perhaps choose round or ragged-edge rugs.
Note: Rugs can be very expensive. It might be a good idea to browse stores for one or two rugs with patterns that you absolutely love and that will be core components to your layered-rug look. However, since you'll probably be buying several rugs consider browsing yard sales, thrift and secondhand shops, Craigslist, even eBay. This will save you money and oftentimes these used rugs are still in like-new condition.
Step Three: Layering Rugs
This part will probably take you quite a bit of time, but unless your layered-rug pattern came to you as a blueprint in a dream, this part is supposed to take some time. Play around with your rugs, moving them and rearranging them until you get the look that you want. However, here are some things to consider.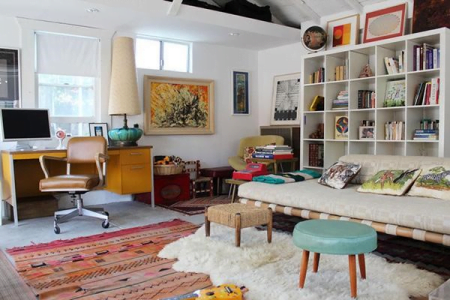 Via Kelly Peterson
Look at the arrangement of your furniture and think about where you'd put a rug if you used only one. In a living room, for example, rugs are usually placed in the most-trafficked area, perhaps centered beneath a coffee table with sofas and seating on the perimeter. You might consider positioning top-layer rugs as if they're radiating from seats on the perimeter toward the center of the coffee table. Another idea would be to put organic-shaped and round rugs on top of geometric and rectangular rugs.
If you're using rugs to delineate space in an open floor plan, a good rule of thumb is to think about where walls would be if the floor plan was closed, then layer rugs in each area accordingly. The idea is to use the rugs to indicate separate areas within a single, large space.
Examples of Layered Rugs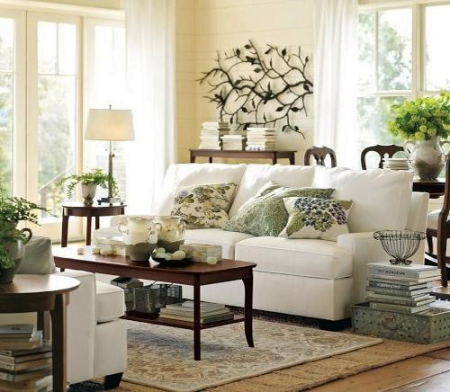 Via HomeSpirations
In the living room pictured here, there are only two rugs used to create a layered look. Both rugs are rectangular with the lower rug being a burlap-like texture and the top rug featuring a floral design that's consistent with the rest of the room. Additionally, the layered rugs are centered beneath the coffee table and flanked by the room's main seating areas.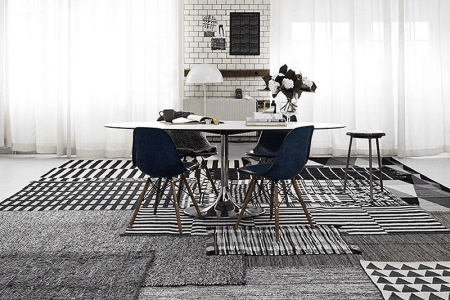 Photo Via Kristofer Johnsson
The layered-rug look in this dining-study area create a more complex, creative look. The designer chose a monochromatic color scheme so that all the rugs would correspond according to color, but no two rugs have the same pattern. As a whole, these layered rugs are reminiscent of a quilt and give the two-dimensional rugs more of a three-dimensional effect with plenty of movement throughout the room.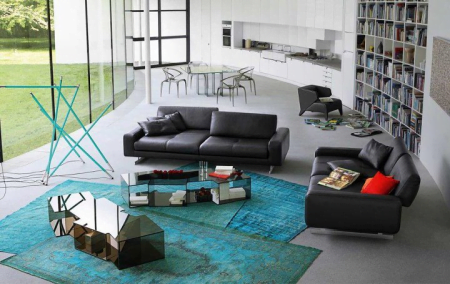 Via Indo Designer Rugs
Contrasting with the very deliberate layout of the previous room's layered rugs, the rugs in the room pictured here are laid out in a more casual, nonchalant way. These rugs aren't completely centered beneath the coffee table, but are actually providing balance against the heavy black sofas by being oriented toward the other side of the seating area. The effect is that, while it looks like no thought was put into the rugs layered haphazardly and off center, these layered rugs are actually providing a delicate, albeit effortless, sense of balance to the room.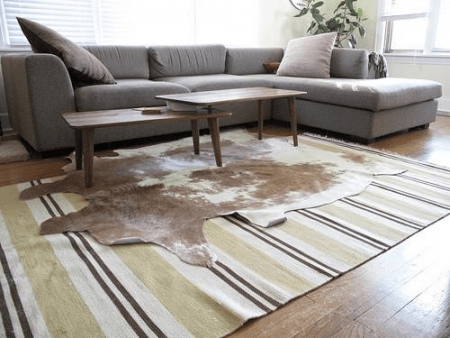 Photo Via & Kathleen
Here's a layered rug design that combines a geometric rug that features a white and muted linear pattern with a rug that's organic and simulated an animal pelt. This is a popular approach to layering rugs as it juxtaposes the organic with the inorganic; the natural with the synthetic. It's also fun and makes your layered rugs a design feature in your room, like being a star in the show rather than just being a supporting character.
For more tips and tricks, head to Modernize.com.
It's all about trying new things to discover what really looks and feels different and original in your living rooms. Experimenting with texture, color and fabric will change the design and mood of your living rooms. It helps define the shape and size of your space which is a great technique in both large and small rooms. Here are some more flooring ideas. Enjoy.
Save