Glam Metallic Decorating in Shades of Gold, Bronze, and Copper
Posted on February 14, 2017 by Christine in
Home Decorating
.
Metallic Decorating ~ A Touch of Glamour in Shades of Gold, Bronze, and Copper
Guest Post Alex Williams
Metallic decorating finishes are a massive and continuing trend in interior design. Metallics add a special touch of glimmer to any space. Common choices like chrome and stainless steel are now taking a backseat, making room for the new champions: gold, copper, and bronze.  They are warmer and far more inviting, a perfect way to ramp up glamour.  This is a seductive and expressive design approach you can adjust to your specific needs and taste. Here is how to infuse a bit of sparkle and reflectivity to spark attention and enhance the visual appeal of your abode.
Gold Rush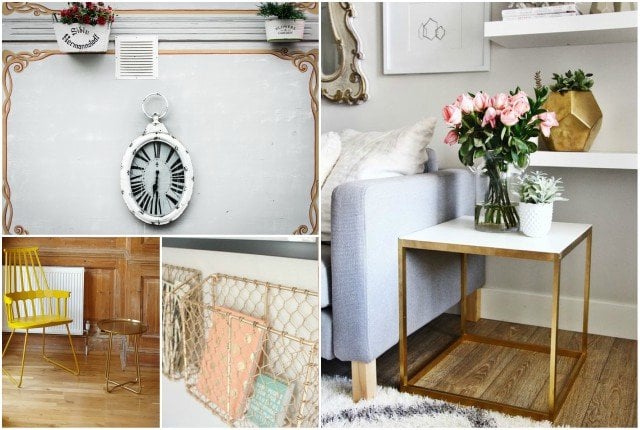 Metallic decorating shades work well as part of the natural world. They certainly fit the role, seamlessly harmonizing with a wide array of tones. Gold is epitome of timeless glamour; king in the realm of metallic shades. First off, gold finishes look majestic on centerpieces such as shaped-front accent chests, striking chandeliers, cocktail cabinets, and exquisite drawers.  Additionally, you can use them in moderation and introduce small pieces that evoke enough elegance to beautify the space.
A lot of designs underline that variations like Cherished Gold can be combined with neutrals, black and white, but also bold shades, such as sapphire blue and emerald green. Antique gold metallic linen is one of my personal favorites for dressing up a room. Pantone's rose quartz and serenity is perfect for creating a softer or more feminine atmosphere, while a bit more edginess can be achieved by mixing gold with blacks. Feel free to paint a whole feature wall in a shade of gold to create a big visual impact.
The New Bronze Age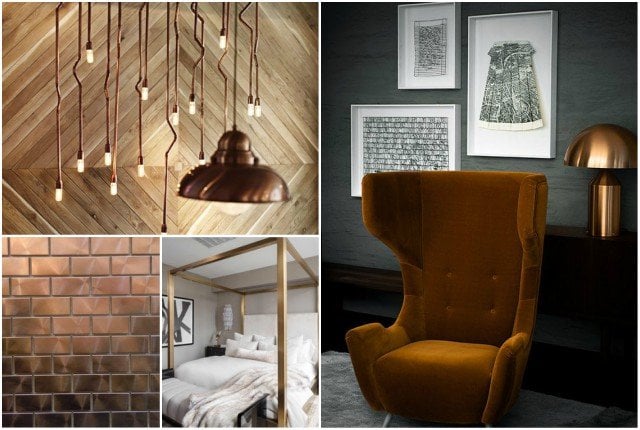 Bronze metallic decorating is the lifeblood of sophisticated style and atmosphere. It introudces an impeccable and luxurious feeling to rooms. Its reflective character enhances design elements, including leather, upholstery, accents, and lighting. While used for accessories and furniture, it can also be used in larger wall areas or other surfaces. We have seen some incredible bronze tiles and sinks that transform kitchens into industrial-style hubs of domestic life.
But bronze likes to work alone and is not easily combined with other metallic decorating elements. Instead, when using metallic decorating finishes like bronze, combine them with different textures like sheers, linens, and velvets. Further more, bronze is a natural ally of wood and stone in interior design. That is why many designers and homeowners invest in bathrooms that feature wood-bronze mélange.
Copper-Bottomed Design
Copper is the new black in interior design. It reminds us of burnished gold and brown autumn leaves. It is a warm metal, but not as bold or stately as gold.  Many people use it to add rustic charm, pairing copper with floor rugs in Pantone pastels. The perfect opporunity to brighten a natural space with splashes of metallic decorating accessories, such as coppered hammered champagne buckets, copper bowls, and cutlery sets.
Copper and raw natural materials (like leather and wood) are a match made in heaven; contrasting partners that bring out the best in one another. Do not shy away from killer combinations like copper and Nimbus Cloud or Greenery, shades highlighted by Pantone this year.  Metallic wallpapers work well too; reflecting light and creating dramatic features for dull corners or featureless rooms. Copper pieces like pendant lights and table lamps are a standout feature making a statement and providing the room with a warm glow.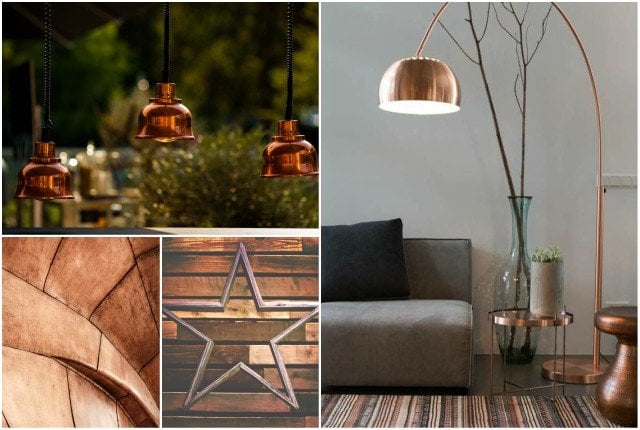 Metallic Decorating Triumvirate
Metallic decorating shades are examples of stellar design; timeless elements in well-designed homes across the globe.  These rich metals have stepped into the spotlight again as one of the hottest trends. No matter what style you love, from rustic, country, minimalist or coastal, its easy to use a mix of metallic decorating finishes and embelish your home design and living space with touches of royal metals. To stay on top of emerging trends, weave some metallic decorating magic into your home, and assemble a gleaming retreat brimming with grandeur and style.