What to Look For in Green Home Cleaners
Posted on December 9, 2017 by Christine in
Home Decorating
.
Green home cleaners are no longer the low strength, watered down cleaners they used to be. Like choosing energy-efficient appliances or using less electricity, choosing eco-friendly products is a choice, and a good one for home cleaning as they become more less expensive, more effective and easier to make, find or buy. In most cases, they are easy to make. Keep reading to find how to make quality, green home cleaners and the three chemicals to watch out for.
Not so long ago most green cleaners were notorious for not cleaning as well as old style traditional chemical-based cleaners. Today, green home cleaners are highly effective and safer than ever. So, what do you choose, and how do you find a solid cleaner that works?
Start with the label. The rule is longer the list of ingredients and the harder they are to pronounce, suggests more chemicals, and the more harmful to you and the environment.
A mild case of mold can be treated with tea tree oil but more serious mold problems need a professional.
Green Home Cleaners – Grout and Tile cleaner
Three cups of water, 1/2 cup baking soda, 1/3 cup fresh lemon juice, 1/4 cup white vinegar whisked together in a bowl. Add to a spray or bucket and let it sit on the tiles for 10-15 minutes, then rinse.
There are so many recipes like this one with only two ingredients.
Baking Soda and Hydrogen Peroxide recipe
These 2 active ingredients work well together to create a paste which you can leave on difficult stains. You can leave it on hard to remove stains, like stained grout, your oven baking trays or Cookie Sheets.
Let's not forget the toilet.
Toilet Fizzies
These toilet fizzies look so good and smell even better. They are perfect for any bathroom or toilet, stored in a clear glass jar. They make a great gift too. 
Ingredients
½ cup citric acid

1½ cups baking soda

25-35 drops orange essential oil or lemon essential oil
24-35 drops lavender essential oil

orange zest

1-2 teaspoons water
Directions
Step 1. Add citric acid, baking soda and orange zest (optional) to a large bowl and mix.

Step 2. Add orange and lavender essential oil to dry ingredients. Combine.

Step 3.

 Slowly water (½ tsp. at a time). Hand mix until the mixture holds together when squeezed. It should be lightly damp.

Step 4. Place into a mold, pressing firmly to remove air. Silicone baking molds work best.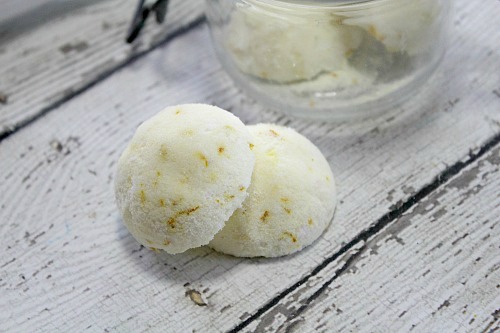 Step 5. Allow to dry overnight. Remove carefully and store in an airtight container.

Step 6. To use simply drop 1 to 2 toilet fizzies in your toilet bowl. Let them fizz and sit for 10 minutes. Use you toilet brush to move the dirt, then flush! Clean toilet! 
More recipes shortly but here are three main ingredients you should do your best to avoid. 
Phthalates
Sounding more like a mythical beast than a common ingredient found in a household cleaner, phthalates are chemicals found in many scented household cleaners.
You will find them in everything from soap to air fresheners and scented tissues.
The tricky thing about phthalates, is that by law, they don't need to be listed specifically on the ingredients list. They get included and listed as "fragrance" or "scent."
Should you worry about this mythical beast? Phthalates can reduce sperm counts and disrupt the endocrine system. Yes, you should worry. Inhaling phthalates is the most common form of contact, so avoid plug-in air fresheners.
But if you can, avoid these "ingredients" altogether.
Clean Your Oven
Three ingredients and some water can clean your oven without all the terrible smells of toxic chemicals. Simply fill a spray bottle 2/3 with water and top up with vinegar. Make sure you have some coarse salt and baking soda on hand. You will be using these as your scrubbing agents.
Directions
Remove your oven racks. S

pray the vinegar/water mix the walls and door of the oven. Make it very wet.

Sprinkle baking soda all over, taking care to add more to areas with baked on food particles.

Sprinkle a thick layer of coarse salt on top of the baking soda.

Add more vinegar/water mix. It should start to bubble. 

Leave overnight.

Sponge/scrub the oven. It should come clean easily. 

Spray again with your vinegar/water mix to remove remaining grime.

Wipe down with old rags or paper towels to remove excess.
Triclosan
Triclosan is found in most dishwashing detergents and antibacterial hand soaps. Its a strong antibacterial agent. That's good, right? Maybe not. Using such a strong antibacterial agent actually helps bacteria become more resistant against antibiotics. That's not so good. It also decreases the levels of thyroid hormones.
Every time you wash your dishes or your hands with a triclosan cleaner, you absorb some of the chemical and the runoff ends up in the water system, affecting plants and animals. 
This antibacterial has been banned by the FDA in hand soap but is strangely still allowed in toothpaste. Out with the toothpaste!
Chlorine
You can find chlorine in laundry whiteners, toilet cleaners, and more. Chlorine is a product we are exposed to all the time, especially in pools and hot tubs. Those rising fumes that choke you up and burn your eyes in a hot tub? They're mainly thanks to chlorine. Health risks include eye, skin, throat, and lung irritation and more, making green home cleaners even more popular.
Chlorine is so commonly used that it seems harmless and easy to ignore. Most cities add chlorine to tap water to help kill bacteria. Still, you would do well to avoid products with chlorine, if only to cut down on your exposure to it slightly.
There are several easy ways to avoid chlorine. Start by installing a filter on your kitchen faucet and showerhead.
By using green home cleaners like baking soda, tea tree oil, vinegar and lemon juice, it might be impossible to create a 100 percent green home. By cutting out these three harmful cleaning ingredients you can take the first steps toward creating a healthier and more eco-friendly home. You don't have to spend extra money to make your house greener.