6 Interior Design Trends That Will Dominate 2017
Posted on January 3, 2017 by Christine in
Home Decorating
.
6 Interior Design Trends 2017 Not to Ignore
With 2017 here, a list of popular interior design trends you can expect to see more during the year are starting to surface. From mixing patterns, bright green, no tech rooms and butterflies, it will be interesting to see which of these trends is picked up like hot cakes!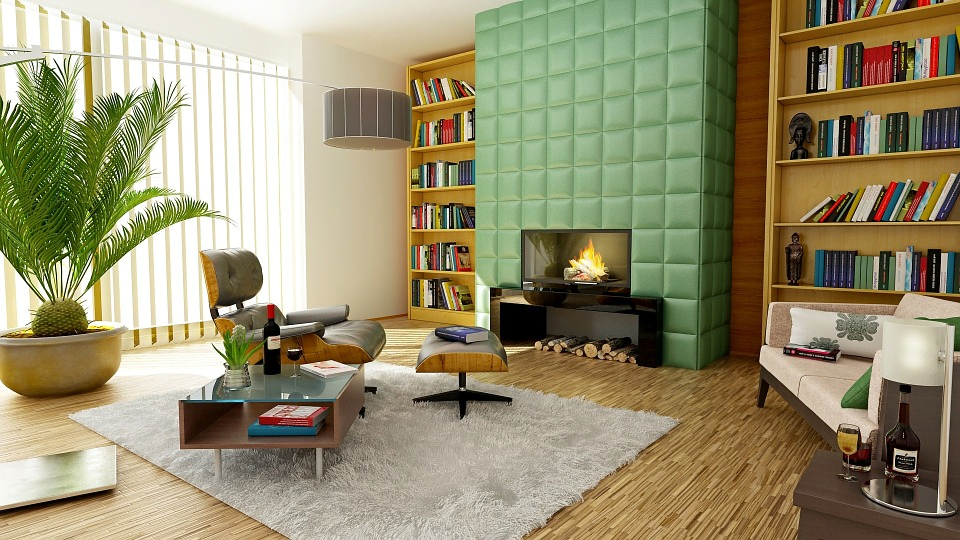 With this in mind, here is a list of top interior design trends that will surely dominate living rooms, kitchens, bathrooms and bedrooms in 2017.
No Tech Rooms
A trend that started a couple of years ago, and is continuing to grow, is a technology-free room. Once upon a time that was the living room; purely for guests and special occasions and technology free. But in recent years humans have become extremely dependent on everything technology until its found itself into every corner of the house.
Every aspect of our lives has been influenced by it in one way or another; people use phones, laptops and the internet for getting recipes, shopping, gaming or communicating or watching television or DVDs. From controlling the air conditioning, curtains, music and security, we've found a useful way of using technology to make life easier. So, why get rid of technology in some rooms?

The idea behind this interior design trend is to have a room with no electronics that cause social interference or disruptions; that means television, computer, phone, gaming consoles.
Instead the focus is face-to-face communication and on human interaction with no outside distractions.

Colored Stainless Steel Appliances
The next trend on our list is all about kitchen appliances. We are used to having stainless steel appliances in only one color and that is, shiny silver. The appliances below are 'Slate' and fingerprint free from GE.

This year we saw an increase in popularity of colored stainless steel. In fact, more than 60% of people questioned said that they would prefer colored alternatives. For now, the most popular colors are black and bronze, but something tells us that 2017 will introduce us a whole new set of colors.
So if you want to breathe some life into your kitchen, start by replacing that cold silver stove and refrigerator. Adding stainless steel appliances with blue or red color will really spice things up; even white can look fresh and clean.

Fireplaces
Fireplaces never go out of trend, people just change their designs and styles. For the most part, people avoided fireplaces because of their pollution and smell, but today there's none of that. Fireplace designs have advanced so much, that almost every household can install one, regardless of the size of the living room.
They are a great addition to the tech-free room idea, so if you thought about doing that, you should maybe consider merging these two trends.
Additionally, now you can make a fireplace to your own design, there is no need for traditional red brick. With the use of decorative concrete, you can style it however it suits you. Custom designed fireplace will be a great centerpiece for the living room.
Black Metals
There was a time when everything needed to be shiny in our house. Brass lamps, doorknobs, tables, etc. were the leading trend, but today, not so much.
Now, we are starting to see black metal on all our furniture. From bathroom fixtures, chairs, tables, etc., designers have started to mix iron and blackened steel with wood and glass.
This design trend was unimaginable some years ago, especially not for interior design, but as it seems we will see a lot more of it in years to come.
Bright Green
Pantone has this shade of cheery green as incredibly popular in all areas of fashion, home decorating and commercial design. "Greenery" is refreshing and revitalizing. You don't have to use it on your walls, you can use this amazingly refreshing color on your front door or on a piece of furniture.
Its inviting, clean and bright and depending on the material you use it on, it can take on more subtle characteristics like the bathroom vanity and mirror below. Which takes us to our last trend; faux..

Faux Materials
This is actually a big trend because the faux arc includes things like faux marble, faux leather seating, faux fur rugs, faux wood beams, faux foliage and faux wood floors. For kitchen counter tops you can use Giani Countertop Paint Kits at around $79 or use marble effect film vinyl paper and contacts which starts at around $19 up to $59. More expensive solutions, that are also hard wearing, are composite materials with a marble effect.

From kitchen benches to wood ceiling beams, technology has caught up with nature and ingenuity is supplying budget priced materials with great wear and tear characteristics. These faux wood ceiling beams look fantastic.

They come in different colors, sizes and prices. They can be a little difficult to install but well worth the trouble. Best of luck with all your interior design this year! This post was written by one of our readers Diana Smith. If you would like to write a guest post, please contact me.

Happy New Year to all our wonderful readers! Its going to be an exciting year all round and nothing more thrilling than improving your home and transforming it into a relaxing haven.

Save
Save
Save
Save
Save
Save
Save