Kitchen Decorations – 8 Stylish Kitchen Decor Ideas
Posted on August 22, 2014 by Christine in
Kitchen
.
These 8 kitchen decor ideas from guest writer, Sofia Lewis, will style your kitchen and make it the most loved room in the house.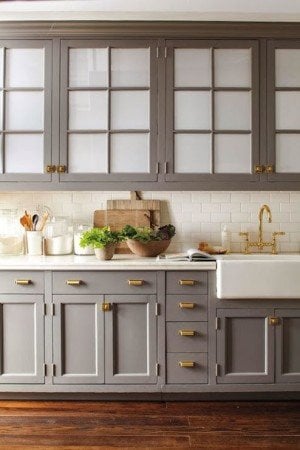 From kitchen backsplash ideas, decorating above kitchen cabinets or removing kitchen cabinet doors; kitchen decorating for a new look has never been easier.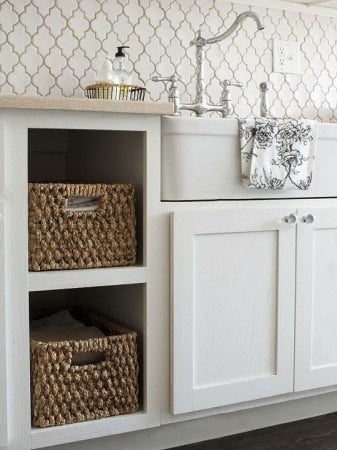 Source: BHG
Kitchen Decorations – Pick 3 or More Kitchen Trends
Guest Post By Sofia Lewis
The kitchen is the most used room in any home. We spend most of our day in it; preparing food, eating with our family or just relaxing. Even so, it can also be the most undecorated and neglected room. Most of us are too busy using it. Here are fun kitchen decorations that can make your kitchen look super stylish again.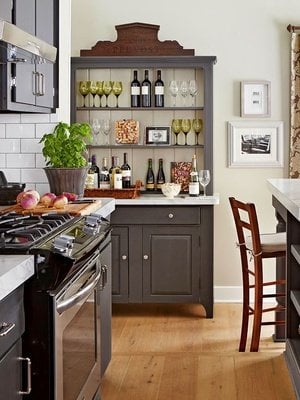 Source: Pinterest
These tips will make your kitchen an easier room to use and awesome to look at. Use one or more of these kitchen decor ideas to get the kitchen decorating look that suits you, change your kitchen decorating themes and update your kitchen.
• Begin with decluttering your kitchen. Remove anything you're not using. Look closely; they become invisible! Maybe its time to upgrade or give them to someone who needs them. Appliances that stand in the corner, never used and collect dust are first on the list to go. Look closely at things that have lived on top of kitchen cabinets for years on end. Aim for clutter free counter tops. Create a pantry.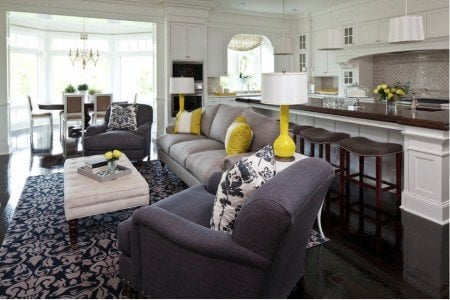 Source: Freshome
For things you use occasionally, find alternative space to store them and free up your working benches. Other culprits are storage containers with lids that don't fit, drawers full of utensils that 'kinda' work but it was a gift or bought in good faith (no-one wants to admit to being cheated, right?) and old spices or sauces past their use by dates. Spices will have no smell or taste and sauces will taste acidic. Ditch them. Anything that is broken, chipped or beyond repair with missing parts must go. If you haven't fixed it now, you probably never will. If you want to keep items but don't have enough space, consider storage.
• Introduce color. Using subtle accent colors can help to change your kitchen decorating themes, look and mood of your kitchen. Even small changes, like changing hardware, can make a big difference. For bigger color changes; paint your walls. Avoid using dark colors on all four walls. Dark paint colors absorb your precious natural light. Painting one wall a dark color, to create a feature wall, is often enough. Kitchens suit natural hues and warm elements. Bright colors out date faster, but are perfect for dark kitchen.
• Kitchen backsplash update. There are lots of new kitchen backsplash ideas; from peel and stick glass tiles, no grout tiles and even painting them. These will work wonders for a quick and inexpensive update.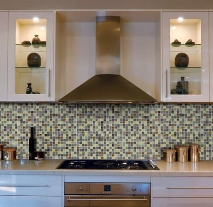 Source: Peel & Stick Tiles
One trend is to match your kitchen counter top with your backsplash. This is ideal when your countertop slab becomes your decorating focal point.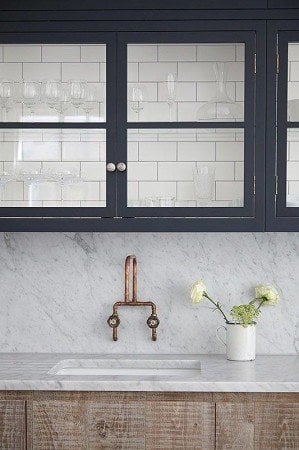 Source: Carla Aston
• Kitchen doors. Go for a frosted look or add a dutch door if you would like more natural light.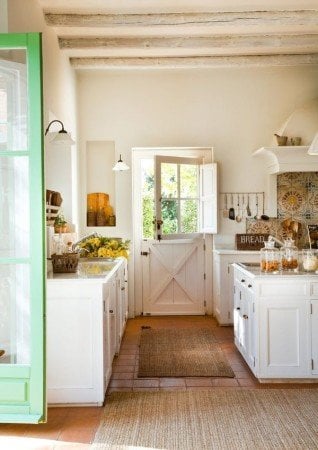 Source: The Inspired Room
Use barn door or a glass sliding door look if space is an issue.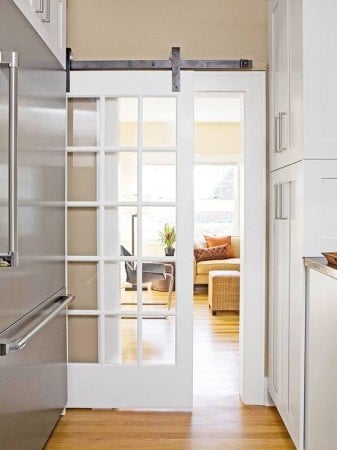 Source: BHG
• More lighting. This will give your kitchen table a lift and change the feel of your kitchen. Make sure its in keeping with your other kitchen decor and gives you enough light as task lighting.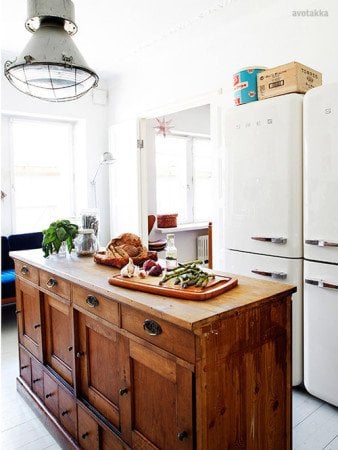 Source: Tumblr
Low hanging brass or copper pendant lamps, industrial lights or recessed lights can all give your kitchen a new look, a new mood and the extra lighting you need.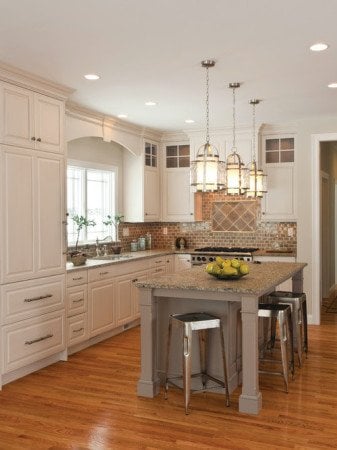 Source: Tumblr
• Replace cabinet doors. Add glass or frosted doors or remove doors completely and add baskets to keep things together but hidden from view.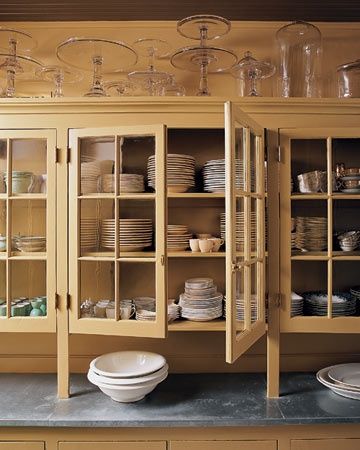 This could change your kitchen theme, into modern, vintage, country kitchen decor or French kitchen decor.
Source: Freshome
• Decorating above kitchen cabinets. This is the perfect space when you have a gorgeous collection of something. It creates a visual horizontal band or border. Group things of a similar color so you don't create a spotty visual effect. Fake flowers are out and smooth or textured things are in.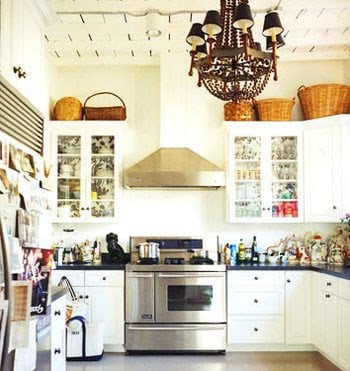 Source: 6th Street Design
Think in different styles; practical and functional, to decorative and chic. Are you decorating a small kitchen with limited storage space or a larger kitchen with more than enough space and want to create a feature?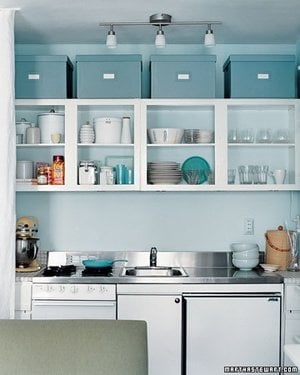 Source: Carla Aston
• Change your decorating accents. It could be something as simple as your wall clock, vases, chairs, flowers, or adding candle sticks, kitchen island or rug in your new style or colors.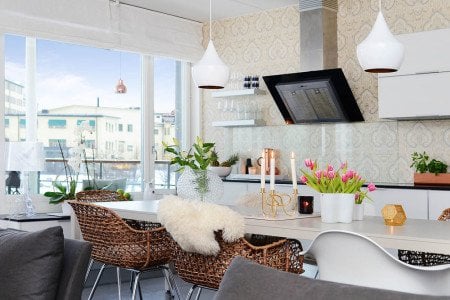 Enjoy your kitchen and have fun putting your kitchen decorations together!
No financial compensation was received for publishing this post.