Cheryl Maeder: In A Lush West Palm Beach Enclave
Posted on October 24, 2012 by Christine in
Home Decorating
.
Decorated Life welcomes back guest writer, and photographer, Jane Dagmi, writing on another Decorated Life favorite; artist, photographer and designer Cheryl Maeder and her husband Gary Antonio.

A Designing Couple Go With The Flow
Photos: Jane Dagmi
While the hair may have changed (on Maeder only), Cheryl Maeder and Gary Antonio's spirited design sense remains constant.
When fine art photographer/design entrepreneur Cheryl Maeder cold-called me six years ago, I was a very busy editor at Country Living Magazine, and she and her husband Gary Antonio had just opened a shop called Gardenhouse and were looking for press. I accepted her invitation, and walked into her life.
Working together to get the job done, I am the official bang monitor
Fast forward to now.
We are good friends; the shop, however, is closed and in addition to doing her photography, Maeder is designing a line of photographic wall coverings called Gardenwalls. We meet for photo shoots, gallery openings, lectures and coffee. Maeder is the kind of friend who calls me up at 9:30 at night and thanks me for something I said ten days before. She is talented, spontaneous, and quirky. We like collaborating; she shoots (mostly) and I write (mostly). This is our second project, and it unfolds in her West Palm Beach home.
The sign goes wherever they go. Previously hung on the house in Mill Valley, it now hangs in West Palm.
Welcome to Villa Antonio located in Flamingo Park, a historic neighborhood filled with homes mostly from the 20's and 30's. Maeder and Antonio moved here from Mill Valley, CA in 2004. They instantly fell in love with the vintage compound that features a 3 bedroom Mediterranean style house, one-bedroom cottage, and Italian lap pool.  "Who would not want to live in this backyard resort?" asks Maeder who saunters barefoot between the main house and her design studio which occupies the unattached cottage.
The couple road-tripped eastward with Jesse, their black lab, and a moving truck soon followed. They brought a lot of their furniture with them and later adapted certain pieces– a fresh paint job or a different fabric — to suit the new tropical environment. Maeder and Antonio love mixing the old with the new. Villa Antonio is comfortable, loose, pet-friendly, and chicly offbeat.
The house was structurally sound when they moved in, so the transformation was decorative. The walls started off white, and while that didn't feel right to Maeder, she summoned all her willpower to wait a while before painting. Antonio, an artist who paints big colorful abstract works of art, did the same. Sounding quintessentially new age, Maeder says, "I wanted the house to express the colors it needed." As soon as she got the message, she and Antonio zipped off to the paint store and started making their mark.
Between a coral pink bathroom and clay pink bedroom, a bright collection of vintage florals dot a lemony hallway.
The house in Florida demanded a radically different color scheme than the soft mellow one that worked back in Northern California. Maeder substituted yesterday's butter and blue gray for tangy lemon and crisp aqua. She reupholstered cream-colored seating with bright orange fabric. Maeder credits nature – the flowers, ocean and overall tropical atmosphere — with the palette. "Here in Florida I have much more fun playing with color," she says.
Scenes from an artsy and colorful house:
Fake Ancestors Gather in the Living Room
Find Maeder!
My favorite part of the living room is the wall of fake ancestors. Maeder conjured up the family legacy which began with the purchase of "Don" and "Betty." (Think "Mad Men"). Later, the family grew as Maeder added the daughters, Aunt Tilly the spinster, Don's mistress and so on. Maeder does not lack imagination.
The living room is big and open, and serves as a TV room too. The living room colors – pale blue, burnt orange and brown – feel like ocean, desert, and earth. Above the living room sofa is "Everglades III" from Maeder's "Dreamscapes" series. I imagine Maeder doing "Downward Dog" on the big brown rug that pads the way to the dining room.
The working fireplace was a score even though the Florida climate doesn't have too many wood burning-worthy days. Maeder says, "If the weather gets down below 70, we find an excuse to put it on."
Sid is a rescue cat and Maeder fell in love with him while shooting a cat show in Orlando. Originally nicknamed "Sid Vicious," he is behaving better and is now called "Sid Precious."

Maeder was at Michael's one day and could not resist the hard plastic cows and sheep She says, "They remind me of my days in the Swiss Alps. Every day I would wake up with the cow bells." Maeder lived in Switzerland for eight years.
Mismatched Dining Room Furniture United by the Same Shade of White
Maeder hand painted the whimsical dining table scripted with French food words. "I don't like matchy matchy," says Maeder, who loves the assortment of odd chairs around the dining table. Maeder has collected silverware from flea markets in Arezzo, Italy, California and Florida.
Maeder loves her coffee. While Paris' is best, and her local Cuban café is very, very good, her latest morning brew features Starbuck's Via topped with foam frothed by hand.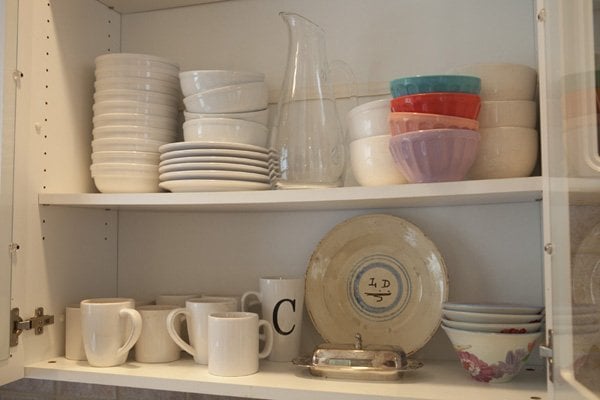 Colorful latte bowls and floral patterns are welcome accents in a cupboard-full of white ware. The old plate is from Tuscany.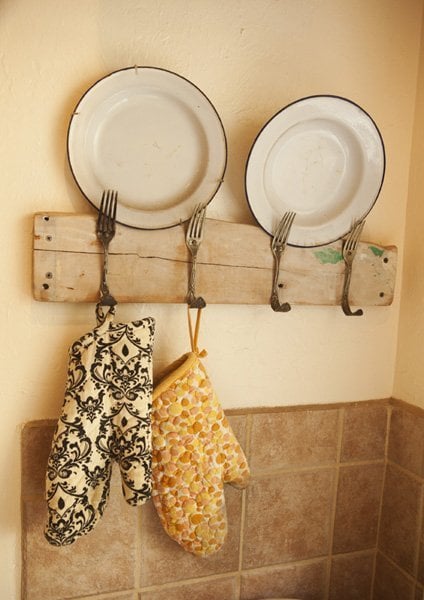 Antonio crafted the useful and decorative found-object oven mitt rack.
Bengi, muse dog, is a clear contender for "cutest canine."
"Under the Tuscan Sun" had major impact on Maeder's color sensibilities especially in the bedroom where she personally aged the Italian pink walls with Brie Wax. Antonio is cool with having a pink bedroom. He says, "I love sleeping with the warm color. It's very healing."
Thank you Jane Dagmi and Cheryl Maeder for the great story. Both gals lead a Decorated Life. You can read more articles on Cheryl Maeder here, leave a comment below or on our Facebook page. I love hearing from you!