8 Outdoor Wood Fireplace Ideas for Summer Entertaining
Posted on April 20, 2016 by Christine in
Home Decorating
.
This is a great time of year when outdoors and indoors merge again and we make the most of both areas; using them as one. Take the outdoor wood fireplace; practical, so intimate and a decorating dream. It's an inbuilt focal point for any sized outdoor area and is wonderful at creating ambiance. 
Keep Your Garden + Outdoor Entertaining Warm with Outdoor Wood Fireplace
 Guest Post by Melissa Hamler

Nothing spoils an outdoor celebration or festivity like a chilly breeze your guests are not dressed for, leaving them uncomfortable and ready to leave the party early; and nothing is better for an outdoor event than an outdoor wood fireplace.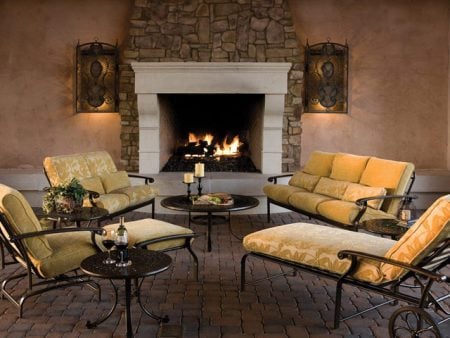 Outdoor fireplaces are a great mood creator, no matter what time of the year; keeping every one cozy while the warm sun disappears and the evening air gets cooler. There is something so relaxing about the dancing flames over slow burning fragrant wood.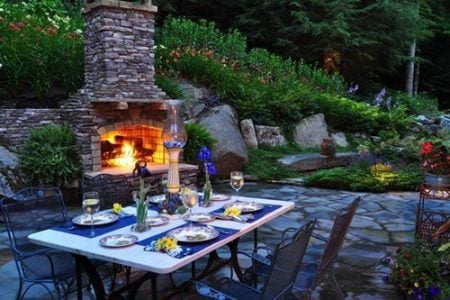 There are so many great designs to choose from that you can DIY, get a kit like the kit below, make from recycled pieces or create something a Russian Oligarch would be happy with.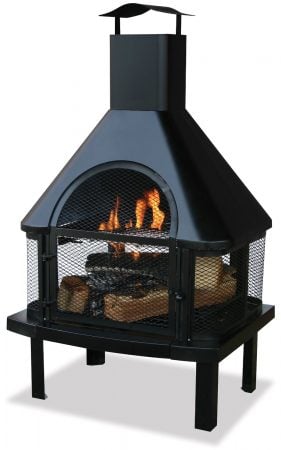 While gas and electric are the most used for indoor fireplaces, wood is still a great outdoor fireplace solution.

Wood fireplaces create such a cozy atmosphere. Whether you build an outdoor fire pit or a formal chimney with storage; making them decorative as well as practical.

They create an instant focal feature for any outdoor area, helping you with any decorating you might need. Lay down an outdoor rug and you are on your way to creating an outdoor room. They can be built on a patio, rooftop, in a garden, stand-alone or as part of your house.


While wood burning fireplaces have been considered environmental pollutants; today along with stricter EPA regulations, outdoor wood fireplace have undergone drastic changes and are no longer considered harmful to the environment.

Wood is still a great renewable energy source and perfect to use in outdoor wood fireplaces instead of oil, natural gas or propane-operated fireplaces.
Benefits of Installing an Outdoor Wood Fireplace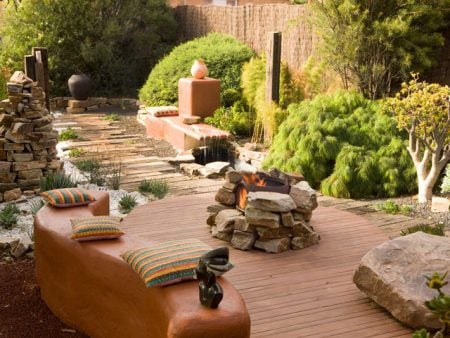 There are lots of great reasons to use a wood fireplace in your outdoor area:
5. They look great! From garden parties to casual dinners, late summer nights or early mornings.
6. They can be elaborate or simple and are easy to build.
7. Firewood is easy to find, and be delivered; and not particularly expensive. As a renewable energy source, wood is planted often and regularly, using certain wood types for burning, leaving better quality wood types for furniture etc.
8. Unlike oil and gas, outdoor wood fireplaces contribute little to global warming.


More Benefits
Unlike oil and gas, supplies are never disrupted due to a power fault or sudden storm. An outdoor wood fireplace will work any time, giving you heat, light and a cooking source if you really need it! In fact, it sounds downright romantic…

Wood heaters and fireplaces are often less expensive to run than conventional heating systems.

You can choose the outdoor wood fireplace if you want to remodel the outdoor area of your house, and in case you are unable to create a self-made design, you can call in the interior and exterior designers to make your fireplace at an affordable cost.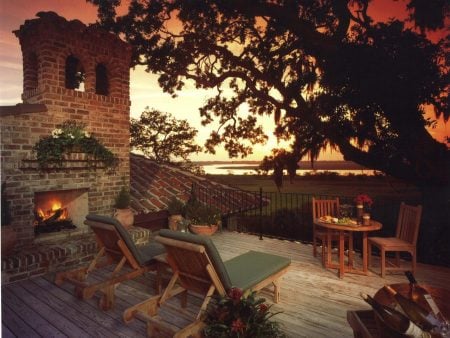 If you would like some garden party ideas… keep reading here.
Save
Save