Perfect Kitchen Design: Practical Comfort
Posted on July 5, 2016 by Christine in
Home Decorating
.
Designing Your Kitchen for Maximum Practical Comfort
Guest Post – Max De Viet – UK kitchen design expert
Kitchen design is vital because kitchens are still the hub of any home. The kitchen is where the day begins and ends; where friends and families gather. For every day practical reasons as well as long term investment, the kitchen is the best area in the home to renovate and spend time on designing your layout, storage and functionality. How it works will help how you work!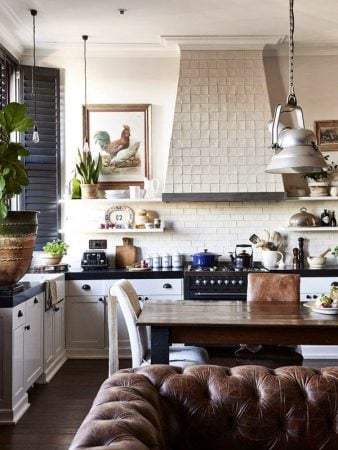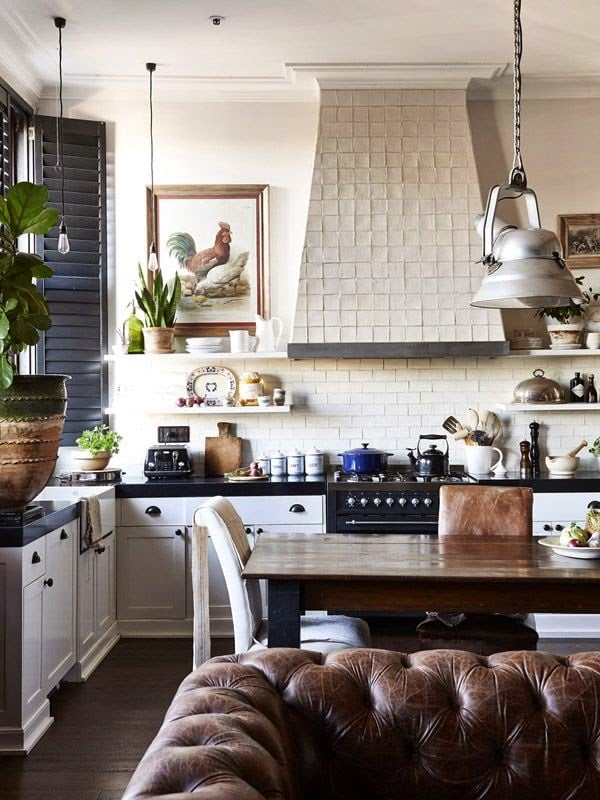 The kitchen can also be a difficult room to design. They can be far too small for the range of appliances, fittings, storage and uses required and present the greatest safety issues; from slipping on the floor to cutting yourself due to insufficient or bad lighting. Or they can be big, but you feel like you are running from one end of the room to the other.

That's why its important that your kitchen is designed to be practical, and safe, but also a wonderful place to entertain in.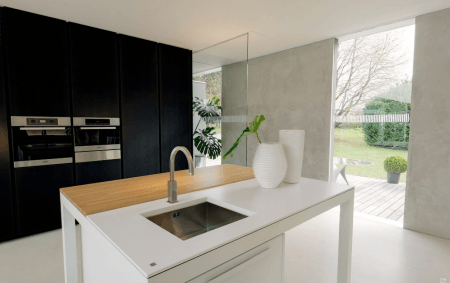 Kitchen Design – It Starts With A Triangle
Layout is the place to begin. You may have an L-shape, U-shape, Gallery or G­-shape kitchen area. Add to that an island, window layout or a butlers pantry and your combinations and options expand.
If you stick to the 'Triangle Strategy' you will build your kitchen around 3 foundation elements and create a very workable kitchen; your sink, stove, and refrigerator, which covers cleaning, cooking and storing of food products.
By containing these 3 activities into a triangle, it becomes easier to run kitchen that is very comfortable as well as efficient and highly practical.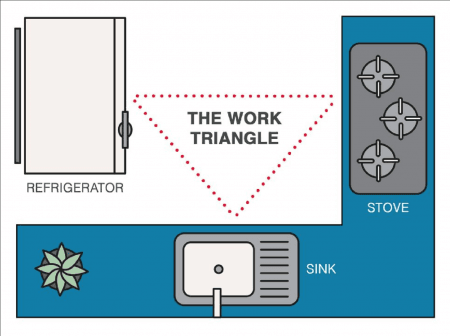 Are Islands Now Essential to Good Design?
If you have a large kitchen, a kitchen island is a great way to make kitchen life easier, if you can work in the Triangle Strategy, otherwise you will find yourself running from one end of the kitchen to the other. But they do add a great element of design. They have become their own fashion statement. But when should you use a kitchen island?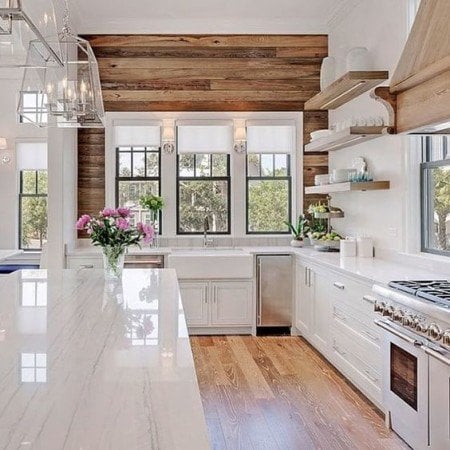 One Island Rule
Kitchen islands are wonderful but need at least 4-5 feet to the closest counter. If you have the space, you can use a wide range of design possibilities.
But if you don't have the space, don't fret; kitchen islands are by no means essential to great kitchen design, which can be beautifully designed around a central open space.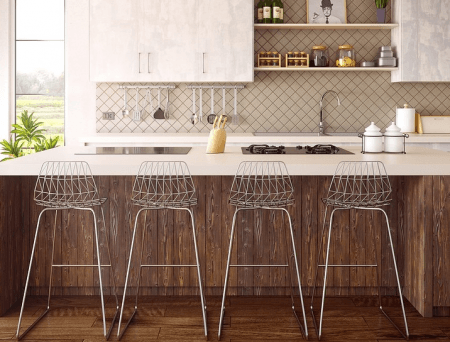 Efficient Kitchen Space 
Given all the appliances, utensils and food products that go into the average kitchen, efficiency can slip down the list as you try to store everything into a limited amount of usable space.You have to get clever and resourceful to get the most out of your kitchen space. You kitchen will not become bigger or smarter because you change your kitchen counter tops.

Consider installing a cupboard above the refrigerator to store seasonal items to free up space elsewhere. Next, carefully examine available cupboard space. Whether you are moving into a new home, or renovating your own kitchen, new does not always equal good design, so consider your options, how you like to work and the Kitchen Triangle Strategy to get the most from your kitchen cupboards.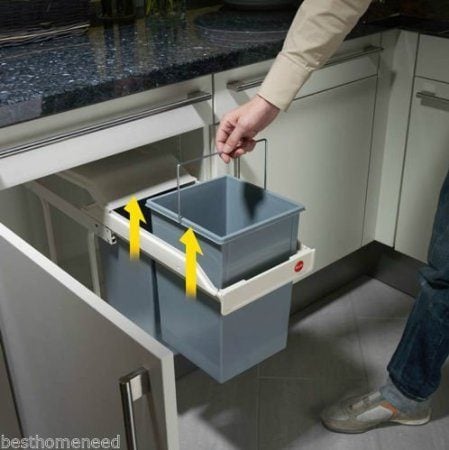 As a kitchen designer these are things I always consider:
If cupboards are tall, insert a shelf into a cupboard to create an additional shelf.

Deep lower cupboards can easily become the resting ground for old utensils or forgotten items. Consider using pullout bins or carousels, like the one below from Amazon to help you organize your kitchen space.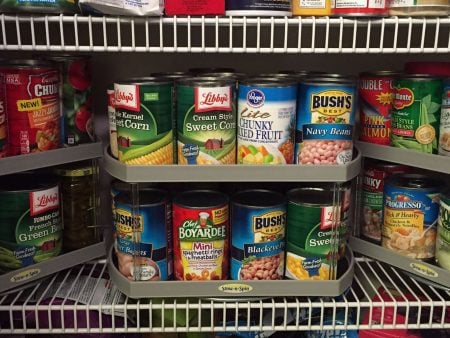 Custom made carousels and pull out storage units can be expensive; but its possible to buy universal pieces that fit into any space, like this pot organizer, for less than $20 you can make items more accessible.
If its not within reach, or you have to get on your hands and knees to find something to get the job at hand done, your kitchen is not working for you.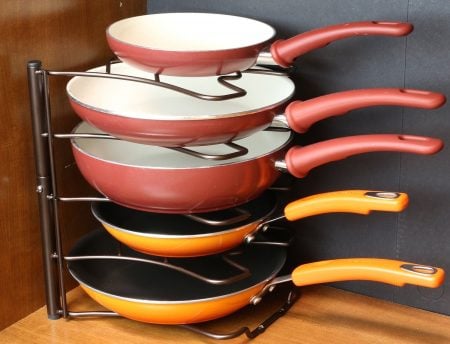 Kitchen Colors – Go Neutral and Natural 
Most kitchens are decorated in neutral tones. It helps to make most kitchens look larger and open, but it also means they don't date and are easier to clean. They also create the perfect backdrop for natural work counter tops as well as any decorating style. Consider splashes of colour or artworks, wall clocks or display plates that can add character but can still be easily removed or changed.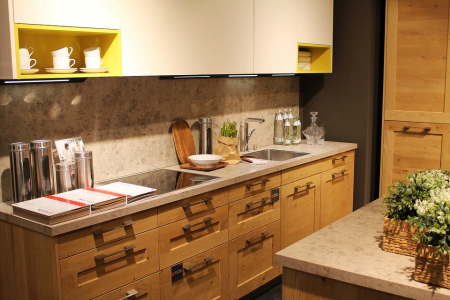 Invest in Good Kitchen Lighting 
A great kitchen by day can look dull and be difficult to work in by night. Good lighting is vital if your kitchen is to highlight your kitchen design elements, create mood as well as being a highly workable and efficient space.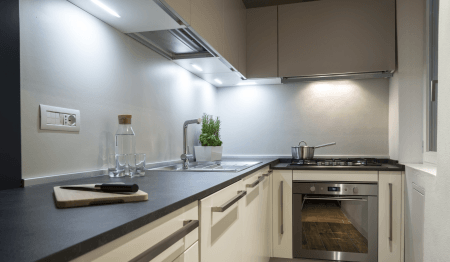 I advise using a strong mix of ceiling lighting and counter lighting. Good quality ceiling lights, with a dimmer or rotary switch, can be adjusted to the activity or mood required. Add to this effective task or counter lighting for a good working and entertaining environment. The range of ceiling lights is enormous; from flush ceiling lights to industrial pendants to task led lights or wall sconces.

Kitchen Counter Tops
In this article, Naomi Cleaver, Interior Designer says: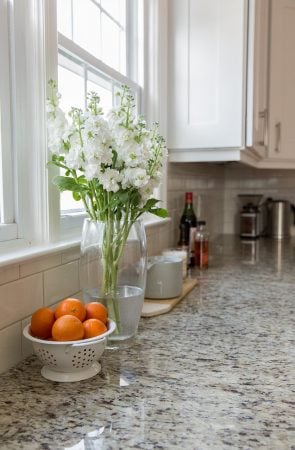 "WORKTOPS ARE THE MOST VISIBLE FEATURES OF A KITCHEN … WELL WORTH SPENDING MONEY HERE. HONED GRANITE IS BOTH CHIC … DURABLE.. COST-EFFECTIVE"
I can only agree. Kitchen design materials such as marble, stone or granite are durable and increasingly affordable; particularly if you are interested in increasing the value of your home. While they are also hard wearing and easier to clean, they give a natural, textured feel that is classic and elegant.
There is a wide variety of rock to choose from, according to your specific taste, preference and kitchen layout.
And like many natural materials, granite, stone and marble, improve with age and need replacing less often. They give your kitchen an appearance of high quality, while being resilient, good looking and a great investment.

Kitchen Design Backsplash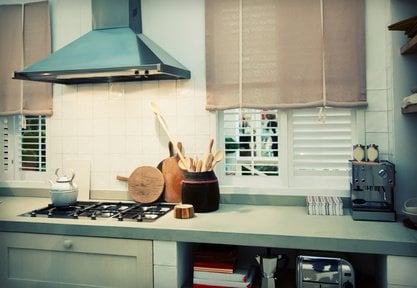 Kitchen backsplashes have a kitchen looking fancy and chic while protecting walls from the splatters of cooking.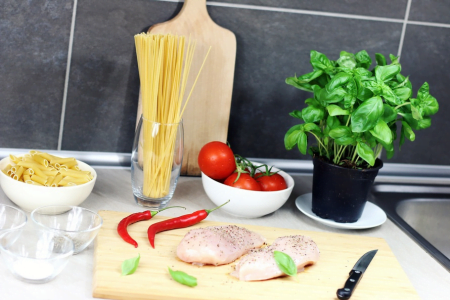 From colour to texture, your choice of backsplash; such as Moroccan or Italian tiles, subway tiles or mosaic tiles can change the way your kitchen looks.
One last kitchen design tip – avoid reflective materials such as glass or mirror which can reflect items on counter tops. The result is to make your kitchen look busy and cluttered.
Max De Viet is based in Notting Hill, London, where he leads a highly experienced team of stonemasons and interior designers. He is a granite, marble and quartz expert and supplier. Contact This is Stone by email [email protected] or phone on 0203 816 0449.

Save
Save
Save
Save
Save
Save
Save
Save
Save
Save
Save
Save
Save
Save
Save
Save
Save
Save
Save
Save
Save
Save
Save
Save
Save
Save
Save
Save
Save
Save
Save
Save
Save
Save
Save
Save