Summer Decor – Easy Bright, Fresh Ideas for Your Home
Posted on June 9, 2016 by Christine in
Home Decorating
.
7 Ways to Refresh Your Home with Summer Decor
Guest Post by Kelly Mahan and Patricia Leitao
With summer nearly upon us, it's time to refresh your home! Store your winter blankets and break out the soft sheets. Get your grill out of the shed and dust off your outdoor furniture. Summer is the perfect time to invite friends and family over to have fun and enjoy the warm weather. This summer, refresh your home and backyard with cheerful colors, fresh-cut flowers, and dreams of being at the beach. Turn your home into a bright and airy space by incorporating fun and creative summer decor.

Bring In the Outdoors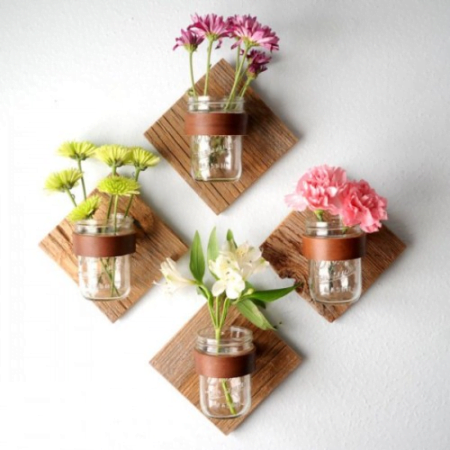 Source: Shelterness
Fresh-cut flowers are incredibly useful for summer home decor as they bring color and life to your home. You can display them on your wall with mason jar sconces, put them in a vase for part of your tablescape, or simply plant succulents in cute jars around your home.
Welcome Your Guests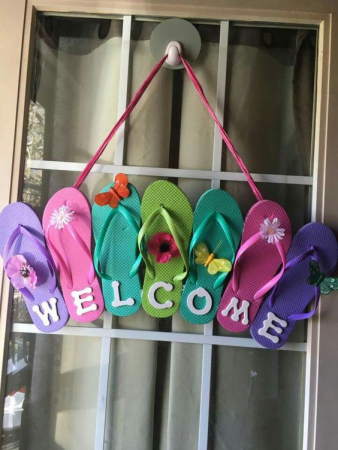 Source: Pinterest – Click here
Add a bit of fun color to your front door with a cute and welcoming flip-flop wreath. Your guests will love walking up to your home and being greeted by the bright summer colors and relaxed beachy decor.
Put Summer on Display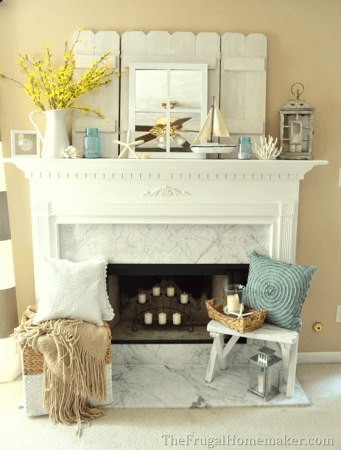 Source: Frugal Homemaker
The beach and summer are practically synonymous, so be sure to include some beach cottage chic decor in your home this summer.
Mini sail boats, shells, driftwood, and pale blues are all wonderful ways to add a hint of the beach life to your home. Add navy striped throw pillows to your couch or use thick rope to tie back your living room curtains.
Set the Table
For anyone who loves entertaining guests in the summer, your tablescape should be your focus point. By using bright yellows, teals, or blues, you can create the perfect space for you and your guests. Citrus-themed napkins are a great summer detail for your tablescape, and don't forget to add flowers!
Add Softness with Pastels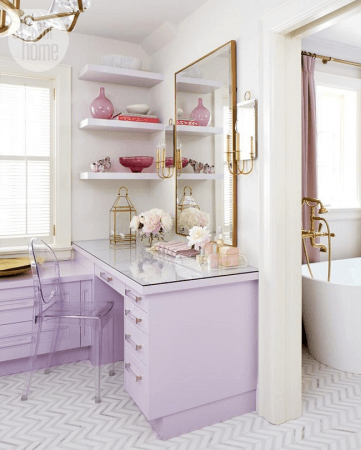 Source: Mix and Chic
To get that soft, summer vibe throughout your home, decorate with pastel colors. Give outdated furniture new life by painting it with a chic pastel purple or paint your walls with an airy blue palette. Add pops of gold for warmth and boldness.
Create an Outdoor Summer Reading Nook
Source: One Kind Design
Do you love to read? Create a magical reading nook in your backyard for the perfect spot to relax with a good book and enjoy the summer sun. Reading outdoors will make you feel more inspired and fill you with fun and creative energy.
Refresh Your Outdoor Space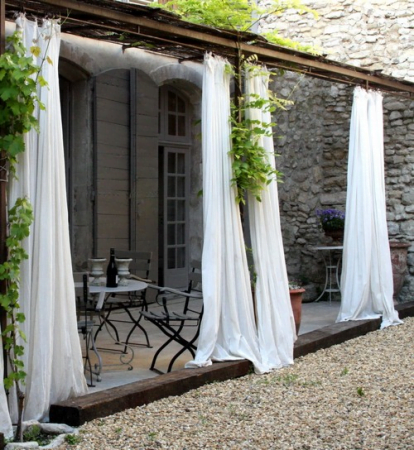 Source: Town and Country Living
Hang sheer curtains around your deck, patio, or pergola to create a soft and inviting space for you and your guests. If you plan on having your summer parties last into the night, add fairy lights to the curtains for a dreamy, illuminated space.
Article written by Kelly Mahan, writer for homeyou.com, and Patricia Leitao, Marketing Manager and Editor also with homeyou.com; a company that connects homeowners to reliable, affordable and professional contractors for their home improvement projects. Check more on Facebook, Instagram, Pinterest and Twitter.