Posted on November 20, 2018 by Christine in Home Decorating.

Bathroom Lighting Hack for a Bigger Bathroom The number of bedrooms and bathrooms per house is increasing while lots are shrinking. Tastes are changing and we want more bathrooms per household. Maybe we want more privacy, maybe kids are living with us longer or even returning, maybe our parents are moving in and what ever the […]

No Comments. Continue Reading...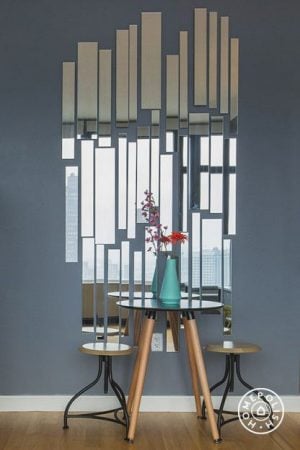 Posted on March 6, 2016 by Christine in Home Decorating.

Maximizing Light With Mirrors + Other Surfaces Guest Post by Cathy Habas To brighten a dim corner of your home, you can use a simple trick from the days before electricity: put up mirrors. Better yet, use multiple mirrors. You can strategically place several mirrors on various walls to keep the light bouncing from one […]

No Comments. Continue Reading...
Posted on April 12, 2012 by Christine in Acessories, DIY Tutorials, Home Decorating, Mirrors, Wall Decor.

Design Trends and Tutorials For Sunburst Mirror Classic A sunburst mirror is a brooch for a room. I love sunburst mirrors! Over a fireplace or on a wall or bed head, they live somewhere between wall decor and functional art. Design trends come and go but the sunburst mirror is a classic. Source: Shelterness […]

1 Comment. Continue Reading...