Self Adhesive Wall Tiles – Ingenious!
Posted on October 16, 2013 by Christine in
DIY Budget
.
Tiling is probably one job I hate thinking about when it comes to kitchen backsplashes or bathroom wall tiles. Finding tiles, fitting, grouting, cutting and tiling sound difficult, and need either great skill or deep pockets. Who hasn't seen a bad tiling job? It looks more than awful; it cheapens everything in room. But what about using peel and stick backsplash tiles like these mosaic peel and stick glass tiles below? Great for a fast, easy and professional look.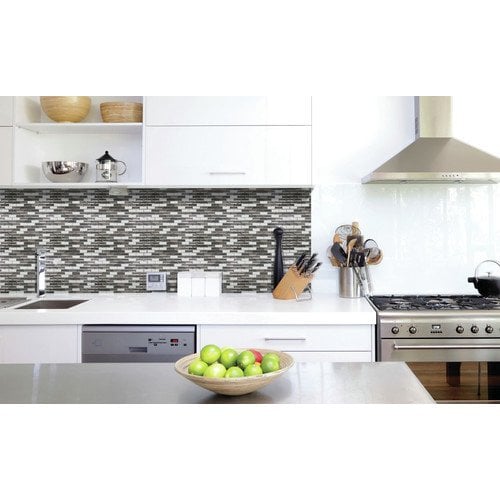 Or these kitchen wall tiles below; they come in subway, mosaic, subway glass tiles and .. I'm getting ahead of myself….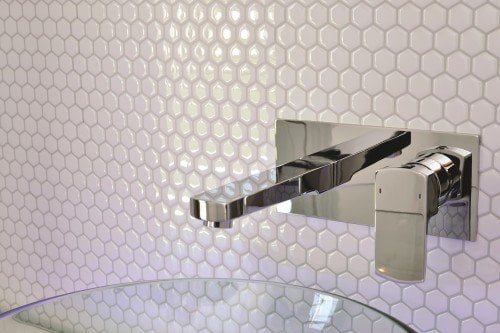 Source: Wayfair

As technology improves and the DIY market expands, products like peel and stick backsplash and self adhesive wall tiles are better quality and getting closer and closer to the look back breaking tiling gives. You can have the latest looks from metal to glass tile backsplash to create fabulous kitchens. Stick on tiles come in great designs and durable fabrics. You can buy varieties with grout already in place, and others that need grout added. There are videos for both further down the post.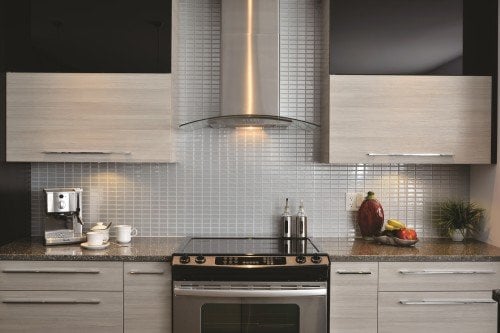 Source: Smart Tiles – Self adhesive stainless wall tile
Here is a great stainless steel look. Installing peel and stick tiles is not as difficult as you think. Best thing? No one will ever know!
And if you think that glass, metals and mosaics are the only type of peel and stick tile – think again.. what do you think of this peel and stick vinyl tile? This is a perfect bathroom wall tile or kitchen tile. Its high gloss, comes with a 5 year warranty and designed to be hard wearing for bathroom walls and kitchen backsplash.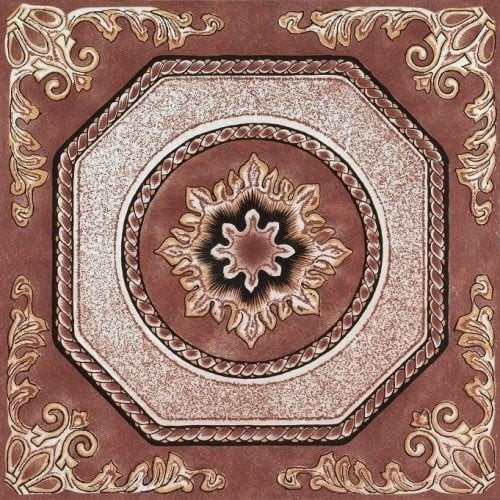 Source: Nexus Motif 12″ x 12″
They are cheaper than self adhesive glass tiles by a long way. Even if you hire someone to install them, they take less time and the installation will cost you much less.
Here are some ideas by Roberta Madison from the GlassTileStore.com.  who specialize in subway, wall, glass and slate and glass and stone wall tiles!
But first, watch the videos below using peel and stick backsplash tiles for a no-grout or grouting effect – it will make following Roberta's tutorial easier. You still need some skill at measuring and cutting the peel and stick tiles but your time saving and the look is definitely worth it. Glass tiles were my favorite – now I love the stainless steel look too.
Peel and Stick Tile Backsplash
Stress-Free Decorating with a Stick and Peel Tile
by Roberta Madison
Sometimes a good sprucing up is all you need to bring back the spice in your home. If after throwing all the rubbish out and you still feel like you are trapped in Alcatraz, then it's time to take drastic steps: Redecorate. Remodel. Renovate. Home improvement television shows with before and after snaps, show what a huge difference a remodel can make to any room.
They make it look so easy but in real life, financial or time constraints make such home DIY ventures impossible if not intimidating. Tiling projects can particularly be daunting given that they take a fairly large amount of time and can easily drain resources if not approached with careful planning.
Source: GlassTileStore
Now, thanks to the wonders of technology, homeowners no longer need to worry about their tiling skills or about breaking the bank to replace dowdy or cracked tiles.
Peel and Stick
Presenting the peel and stick, they are actually vinyl but they simulate the look of tiles. Vinyl as flooring material has been around since the 80's but improvements in technology allowed the introduction of a wide variety of vinyl tiles.
The most recent innovation is peel and stick tiles. These can be installed on top of any existing material and eliminates the use of messy adhesives and complex cutting machines. As such, peel and stick tiles lessen work considerably and at only the fraction of the cost of traditional tiles.

DIY Peel and Stick Project with Grout
For this DIY project, you need stick and peel tiles, spacers, grout, sponge, ruler, and a utility knife.
Steps:
Start by cleaning and checking the stability of the subfloor. If there are no problems with the subfloor, you can proceed but if the subfloor is uneven or even a bit shaky; stabilize it with a cement backboard.

Test the tiles by laying them out on the floor. For square or rectangular rooms, the best area to start is at the center and then work your way towards the edges.

If the pattern works, remove the peel off the back and place the tile in its assigned spot. Use spacers as you proceed to the next tile.

Use your measuring tape/ruler and utility knife to measure and cut tiles to fit corners and around tricky spaces.

After, grout the tiles and ensure that the grout trickles right into the spaces between the tiles. Let the grout settle for a while and then wipe off excess grout.

Let the grout dry for about a day or according to the manufacturer's instructions.
As you can see, this is a home improvement venture that even the beginner can accomplish. The downside is that peel and stick tiles will never be able to mimic the texture and charm of real tiles. As an example,vinyl can never replicate the atmosphere glass tiles create as they reflect and capture light.
Source: GlassTileStore
DIY Peel and Stick Without Grout
We think peel and stick tiles – fantastic and amazing as they are – are only great for quick make-overs or if you are renting a studio apartment and your lease prevents you from doing any major renovation. In the long run however, old fashioned tiles such as ceramic, metal, or glass is still the better option particularly if you want something more durable. As with any home improvement projects, consider the options before making any decisions.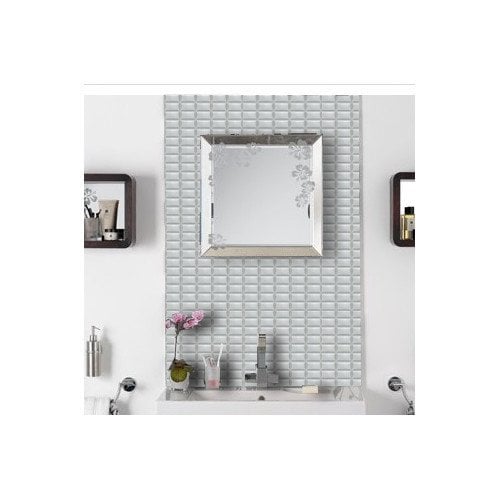 You can use the same peel tiles on flooring, tables and walls. Below is a video on how to install peel and stick tiles on your floor.
Use these ideas to make your kitchens look great and get rid of your tiling headaches.

I did not receive compensation for this guest post. All opinions are my own.