How to Use Your Travel Mementos in Your Home Decor!
Posted on May 8, 2018 by Christine in
Home Decorating
.

Home decor is never more challenging than when you try to blend your existing decor with something exotic, unique and simply wonderful that you picked up on your travels.
You've been away to a new country, state or county, visiting new places and, surrounded by sparkling new things, and bought a few mementos. They look like fun, easy to pack, and something to talk about back home. A reminder of that special time away.
Now its time to take that new rug, plate, poster, artwork, or trays and work out where to put them without looking obvious or out of place!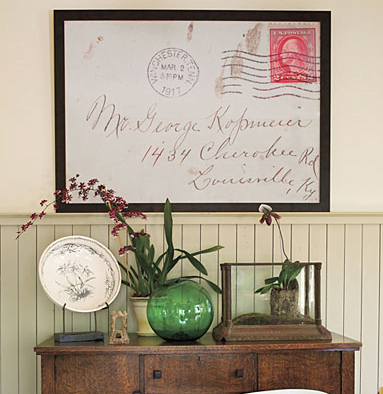 Image: Design Dazzle
Here are some fun, clever ways to add to your home decor in a truly unique way. You could add a wall gallery with all your photos designed into something special.
Image: Pinterest
From cushions to rugs there a dozens of ways to add these treasure to your home decorating without sticking out like a travel brochure!
These home decor memento tips are from lifestyle blogger, Kacey Mya, an avid traveler and blogger for The Drifter Collective.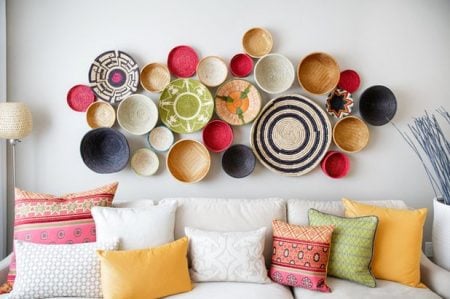 Image: Houzz
The Home Décor Lessons Travel Taught Me
Guest Post Kacey Mya
Kacey Mya Bradley is a lifestyle blogger for The Drifter Collective; 
Travel has taught me my fair share of lessons. Whether I'm packing just enough in a carry-on to get me through a weekend, or saying "yes" to something that scares me — hello, bungee jumping in Costa Rica — world travel has opened my eyes to so much.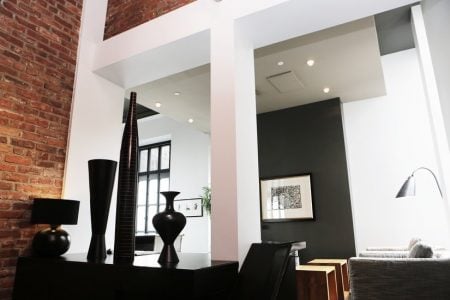 And, when I'm at home, I want to remember all of the incredible memories I've made around the globe. Pictures and scrapbooks certainly aid in the reminiscing process, but there's so much more that can be added to my home decor.
I've followed these four lessons in designing my space, and the end result has me feeling connected to my international identity; it also inspires me to get back on that plane and see somewhere new so I can keep adding to what I've got.
For travel junkies like me, there are no better feelings than those.
1. Don't Be Afraid of Color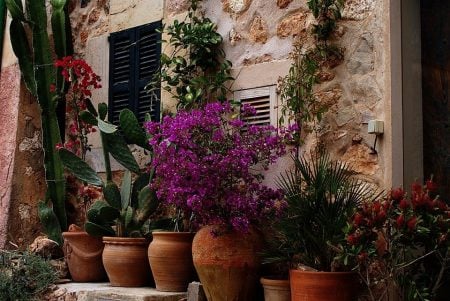 You don't walk past the Painted Ladies in San Francisco and think to yourself, "I love the neutral tones that the architect chose."
In fact, much of what's memorable about architecture at home and abroad are the colors used. That's why I have no qualms with cracking open a can of paint and adding color to the spaces in my home.
You might want to choose a hue that reminds you of a particularly special place you visited or, say, sunset you saw. You might also slick on a trendy shade that just so happens to match a piece of art that you picked up on one of your trips. No matter what, color is key when it comes to travel-inspired décor.
2. Scoop Up One-of-a-Kind Finds
No two places I've traveled have ever been alike — the newness is what keeps me traveling, after all. I try and apply that theory when it comes to decorating, too.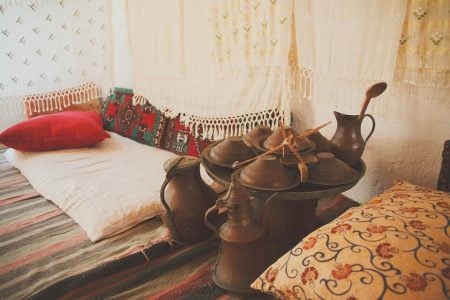 Rather than buying the same couch that I've seen in 20 different catalogues or purchasing a matching living room set, for example, I say it's important to find special, one-of-a-kind pieces for your space.
You don't have to spend big bucks to get this look, either: check out your local flea market, yard sales, and even Craigslist ads to find funky furniture that's great as-is or has potential with a new coat of paint or fresh fabric upholstery.
To that end, if you already have a piece that's kind of basic, use fun accessories to punch things up. Throw pillows on a couch or unique paint finishes on a kitchen table can change the entire feel of a space.
3. Heart Your Art
I mentioned previously that pictures aren't the only way to reminisce on your travel experiences, which is certainly true. Nevertheless, I believe that personal photos make the best addition to any space's décor, especially if your photos show remind you of all of the incredible places you've been.
If you have a high-quality camera and pictures to match, you can likely blow up your shots of the mosques in Istanbul or the bulls running the streets of Spain to a size that transforms them into a centerpiece of art in a space.
A cluster of smaller images works, too, especially if you arrange them in such a way that you create a gallery wall.
Personal photos aren't your only option, either. Perhaps you have a favorite city you've been to or lived in, and you want your room to reflect the vibe of that place.
Search online for an old-fashioned poster that depicts your favorite faraway place.You might also find art painted by a native of that city that reminds you of it every time you see it.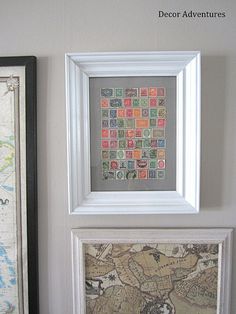 Image: Pinterest
No matter what you choose, you'll always think of Paris, Tokyo, Sydney, Buenos Aires, New York… when you see the art on your wall, which is exactly the home decor vibe we're going for.
4. Make It Homey
There's one thing that the traveler always craves, and that's a sense of comfort wherever he or she is — I love traveling, but there's nothing quite like coming home and just being 100 percent comfortable in my own space. That's why I deck my home out in the comforts that I miss most while I'm out adventuring.
Relaxing in comfortable sheets and plush carpets doesn't have to be limited to your travels. I have personally learned that bringing these luxuries to your actual home decor does not have to be complicated. There are also ways you can bring these luxuries into your home without spending a fortune like the hotels and places you stay on vacation, since who wants to even think about spending a penny after you come home from a trip! Am I right?
You can do some searching at your local mall, or also check out some options online such as discovering towels through a wholesaler. You'll find high thread count sheets on my bed, plush bath towels in my bathroom and even a fleece bathrobe that would never fit into my backpack.
Why not enjoy these luxuries while I have the space and time to do so? It makes the bittersweet end of every adventure that much easier to take.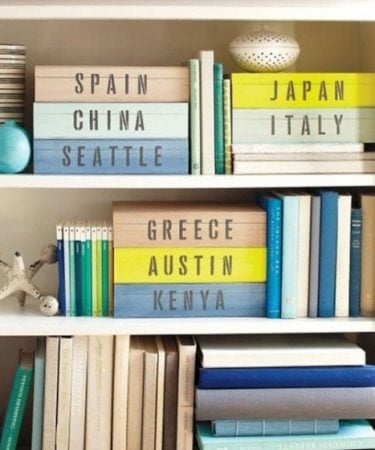 Image: The Frisky
Every traveler heads home with a head full of lessons, which is why my four tips to creating a travel-inspired space aren't in any way exhaustive.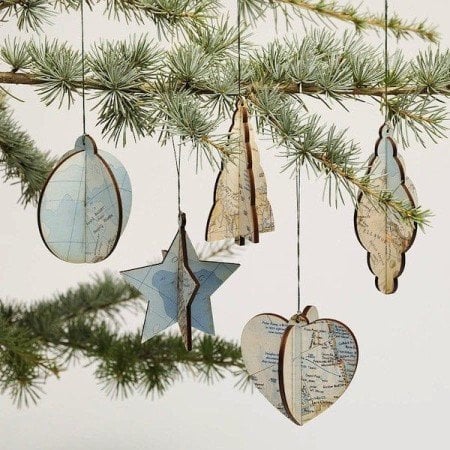 Image: Pinterest
Instead, they're a jumping off point: just like the first place you land on your next journey, these tips are just the beginning of a design adventure you can take in any direction that you may choose. All you have to do is go.