Why a New House is Perfect for Your Health!
Posted on February 23, 2016 by Christine in
Home Decorating
.
Could a new house improve your health? Moving to a new home can change everything about how you feel about your life. The way you do things; a new perspective. It can change your mood, your stress levels and your happiness. Find a home that fits you perfectly and everything in your life feels like it runs like clockwork.

How long have you lived in your home and is it time to say goodbye – for your health?
Forgetting for one short minute all the little details like finding a Realtor, a mortgage finance, staging your kitchen for buyers, and then finding time to look for a new house, packing your things and moving … could a new house really improve your health and make you happy?
Kacey Mya from Drifter Collective has 7 Tips on finding the perfect new house to improve your well being.

The Science Behind Finding the Perfect Home – And How It Affects Your Wellbeing
Guest Post Kacey Mya
Is there "science" involved when you're searching for the ideal home? Does this so-called "science" also have an effect on your well-being? Don't worry, you won't need a microscope, Bunsen burner, thermometer or particle accelerator to figure out this relationship.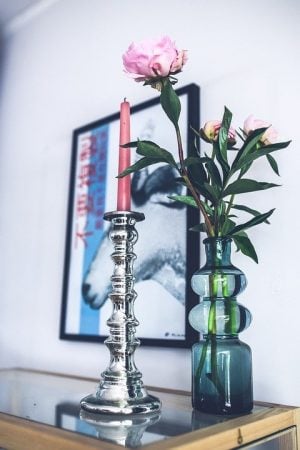 "Science" is not just biology, chemistry or physics. It's also a way of thinking and doing in a way that can place you in a position of realization and focus in regards to the life you are living. You gather information in an organized way and analyze it systematically.
When looking for a new place to live, or discovering a new phase in your life, this process helps keep you from becoming overwhelmed, frustrated, desperate, discouraged and pessimistic.
Whether you're set on finding your dream home or hunting for a stop along that path, consider the following questions to help determine the right answers for you at this point in time. Since after all, this kind of decision varies from person to person.
What do you need right now in life? Is it the right time? Will it help your personal growth?
According to Jim Taylor, author of "Personal Growth: Will a New House Bring You Happiness?" on Psychology Today, happiness has nothing to do with the stuff you own, or the material objects we spend our money on, but has to do with the values that underlie our stuff and how it impacts our lives. However, asking yourself two specific questions about the criteria of the home you want to or currently live in, can be beneficial to realizing the happiness level you currently have with your home and what you need.
The two questions are as follows:
1. Is the house in which you currently live in inconsistent with what you value or the lifestyle you want to lead? 
2. Would a new house be more consistent with what you value and enhance the quality of your life experience?
Answering these questions may require some work and getting in touch with your personal needs as an individual (trust me, it doesn't have to be hard), but once you are able to do this, you will be well on your way to your perfect home and discovering what it is that YOU need at this moment in life. For now, maybe forever.
What's Your Time Frame?
This question is first because it's critical. How long before you want or need to move on? This determines how fast you have to work.
Maybe you have a specific time frame. The lease on your old place is coming to an end, or you're relocating for a new job.
If these are your circumstances, you've got to make time to think through the rest of the questions soon. Otherwise you might end up settling for someplace that's OK but not great.
If you're planning on relocating but can do it on your own schedule, relax. Keep the process moving along by answering the questions. However, it doesn't have to be the primary focus in your life.
What Can You Afford a New House?
It's no use looking at potential homes that are out of your price range. It wastes time and might make you sad. Before you start looking, calculate what you've got to spend.
A rent affordability calculator helps renters decide what they can manage based on monthly income and debts, as well as the home's location.
If you're looking to buy a new house, use an affordability calculator to help determine your upper limit. These tools consider annual income, down payment and monthly debt.
If you're looking into home loans, a mortgage calculator shows you monthly payments based on home price, loan term, number of points and interest rates.
If you simply cannot afford a big change in your life such as buying a new house or moving, stop focusing on it. Stop focusing on that aspect of your life. In other words, think about changing your inner world instead of immediately looking at changing your outer world. Learn what you need and how you would like obtain these things. Learn to think about things that your focus should naturally swim towards, instead of looking to make a change that isn't at all financially possible or reasonable at this time in your life.
After all, there are many ways to find happiness in life. This may be something you work towards in the years to come, but it is certainly okay if buying a home is not one of them yet.
Where Do You Want to Live?
Location, location, location. It's kind of a corny real estate phrase, but it's also meaningful. This is your perfect home, remember. If it is the right time in your life to think about these kind of things, don't just spend time thinking on what you want the outside of your home, or as mentioned above "your outer world," and look at the bigger picture. Where will you be happy? What makes the most sense location wise for your well being?
It's pointless to look in the boonies if you want easy access to a city's nightlife. And don't consider a megalopolis if you really desire space.
That said, you need to ponder what these choices offer.
Rural homes typically provide more room between neighbors. Prices are often lower. However, country dwellings do come with some concerns.
Consider all those utilities you take for granted in city living – water, sewer, power, road upkeep. Are these going to be problems in the hinterland? Do some investigation in the area you're considering?
You'll also probably have to provide your own transportation. Mass transit is often not easily accessible away from cities.
Suburban homes generally offer more space than city dwellings, but you're still close to shopping, restaurants and entertainment opportunities. However, the cost of commuting can be high, and you'll see your share of cookie-cutter houses.
Want to be an urban dweller? You'll be right in the thick of things. Transportation may be as close as the end of the block. But urban living frequently brings with it a higher cost of living.
What Type of New House?
So what should your perfect home look like? Is it a house, condo or apartment? With houses and condos, the good news is that you build equity. However, unless you've paid cash, you're also committed to a long-term loan. After all, as Wall Street Journal says, make sure you get the most bang for your buck, because most likely, money may not buy you happiness. But, I assure you, being broke does not either. Think about your options and what makes the most sense for you now, as well what will be a good choice later on in your life.
Houses and condos are not created equal. If you own a house, you're responsible for its upkeep. With a condo, that's built into maintenance fees. No need to mow the lawn.
However, you do need to follow the condo association's rules, whatever they are. Houses ordinarily offer more privacy and freedom.
With an apartment, you're tied only to a lease. But you've got no investment in the property.
A lot of renters are young people, many who are planning to buy a house someday. But that doesn't mean that you can't find the perfect rental home for now. For instance, luxury apartments are out there and may suit singletons or couples.
What Size? Upsize or Downsize?

What square footage do you want? Though the average size of new houses is increasing, many people are interested in smaller homes that are a good value and meet their needs.
This could be a consideration if you're worried about making the monthly payments. Part of "perfect" might mean bringing peace of mind.
On the other hand, too small a space can quickly become frustrating. Think about must-haves for your home.
How many bathrooms and bedrooms? What kind of shared spaces do you imagine? How much do you care about the kitchen?
What Home Condition Can You Handle? Ready to Renovate?
Unless you have lots of time and money to burn, you probably won't find the exact home you're seeking right off the bat. But many close-but-not-quite-right things can be changed. How much do-it-yourself work can you tolerate?
Wrong color? Add a coat of paint. Don't love the landscaping? Plant flowers. Bedroom in the wrong spot? Maybe you can switch out rooms.
Sometimes knowing that there are going to be imperfections with a home while going into the search is one of the most beneficial things you can be aware of. It can help the "search process" get started on the right foot. Not everything is going to be right at first, but there are many different things that can be done to a home to make it perfect for you, such as figuring out which style of front door you would like, how extravagant or delicate you want your windows to be, the length of the drive way – the list goes on!
The personalization process is up to you! It is your home; don't be afraid to do a little research and figure out what you are envisioning.
What Is Perfect Anyway?
After you've carefully answered these questions, you'll have an excellent idea of what you should look for in your new home. You will hopefully begin to realize that there may not be a perfect science to buying the right home, and there certainly is not an easy way to achieve the most-perfect amount of happiness in doing so, but you will be able to dig deeper into these thoughts and learn what is important to you right now – and that, that is what will bring you happiness.