13 Paint Trends to Embrace in 2023
It's exciting to see the new paint trends for 2023 after having a samey color palette and matt tones for many years. We've had lots of muted greens and blues, as well as subtle blush tones, and the can't-get-away-from-it gray! So we'll see some big changes in the coming seasons.
If you have rooms to transform or you'd like to paint an accent wall for a quick update then you can take some inspiration from the colors for this year. You could also add designer touches through a blanket or soft furnishings in the latest hue.
So which paint colors are trending in 2023?
Natural Neutrals
Beiges and Cream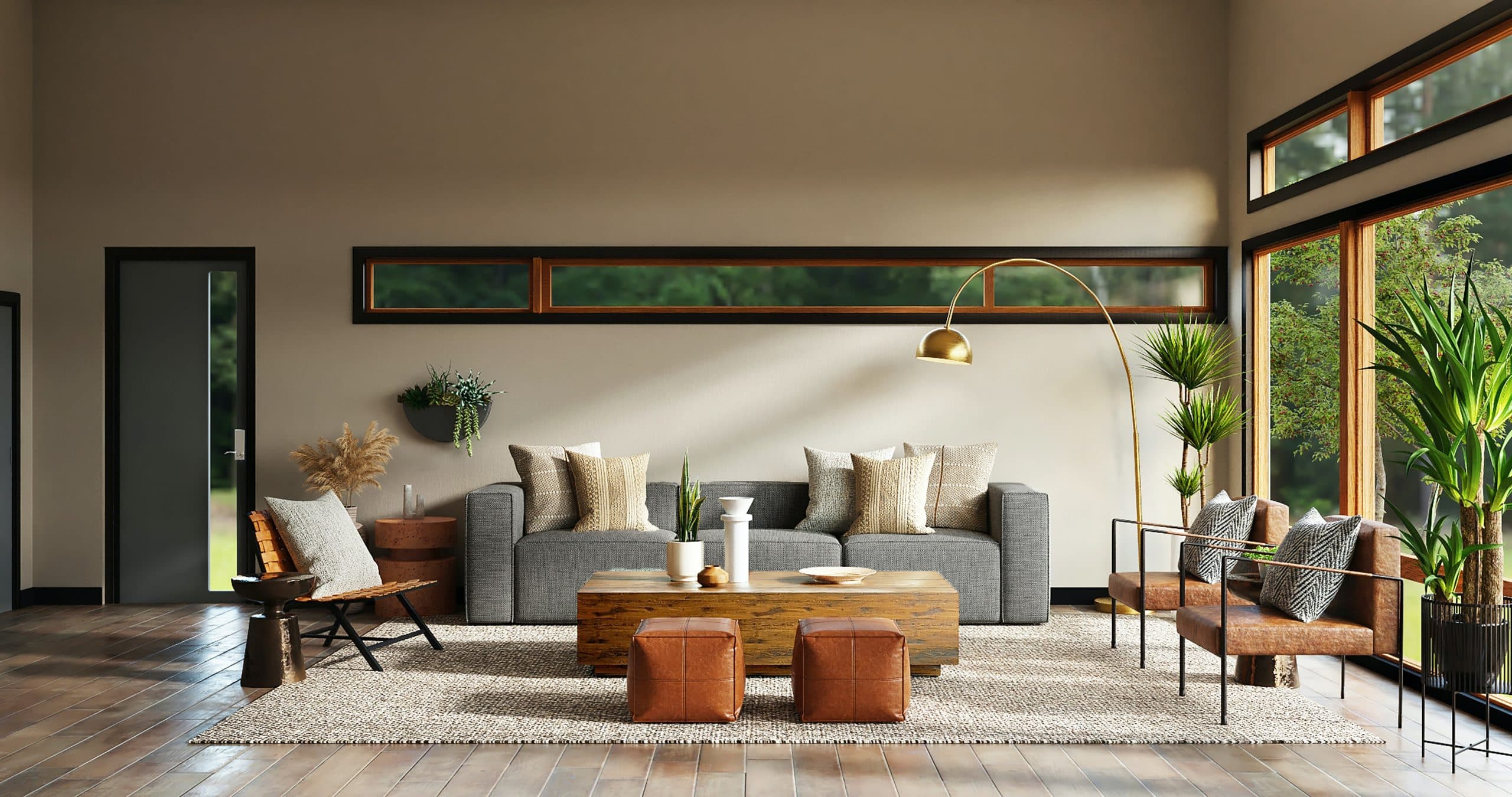 In recent years we've seen gray become the new neutral. It's a great color to use as a background tone as it looks good with pretty much the whole spectrum. But now, guess what? Beige is the new beige!
A neutral color palette can look homely and warm. It works well with natural leathers. You can style with dried grasses and woven neutral fabrics. It can also be used as a backdrop for brighter colors in your ornaments and soft furnishings.
With good longevity, painting your wall in a cream or beige color will give you versatility for future interior updates.
Brown Accent Hallway
Unless you're big into the retro look, we've not seen much brown in interior design. However, just the right shade of mid-brown with a toffee tone will look fabulous against white and when paired with natural furniture.
You can add a dash of coffee as an accent or paint every wall. Just remember this will enclose the room and make it cozy. So go lighter if you want a feeling of space.
Blue Hues
Inky Blues
Continuing on from previous seasons, a muted, dark denim blue is still very much on trend. This looks particularly good in a traditional room with high ceilings and can be continued onto wood panels.
Tans and natural leathers are at the opposite side of the color wheel so you may like to tone with these shades. Think of a chunky leather sofa and mid-century furniture. But this shade of blue can also work well with pinks and greens.
Bright Blue Accent Wall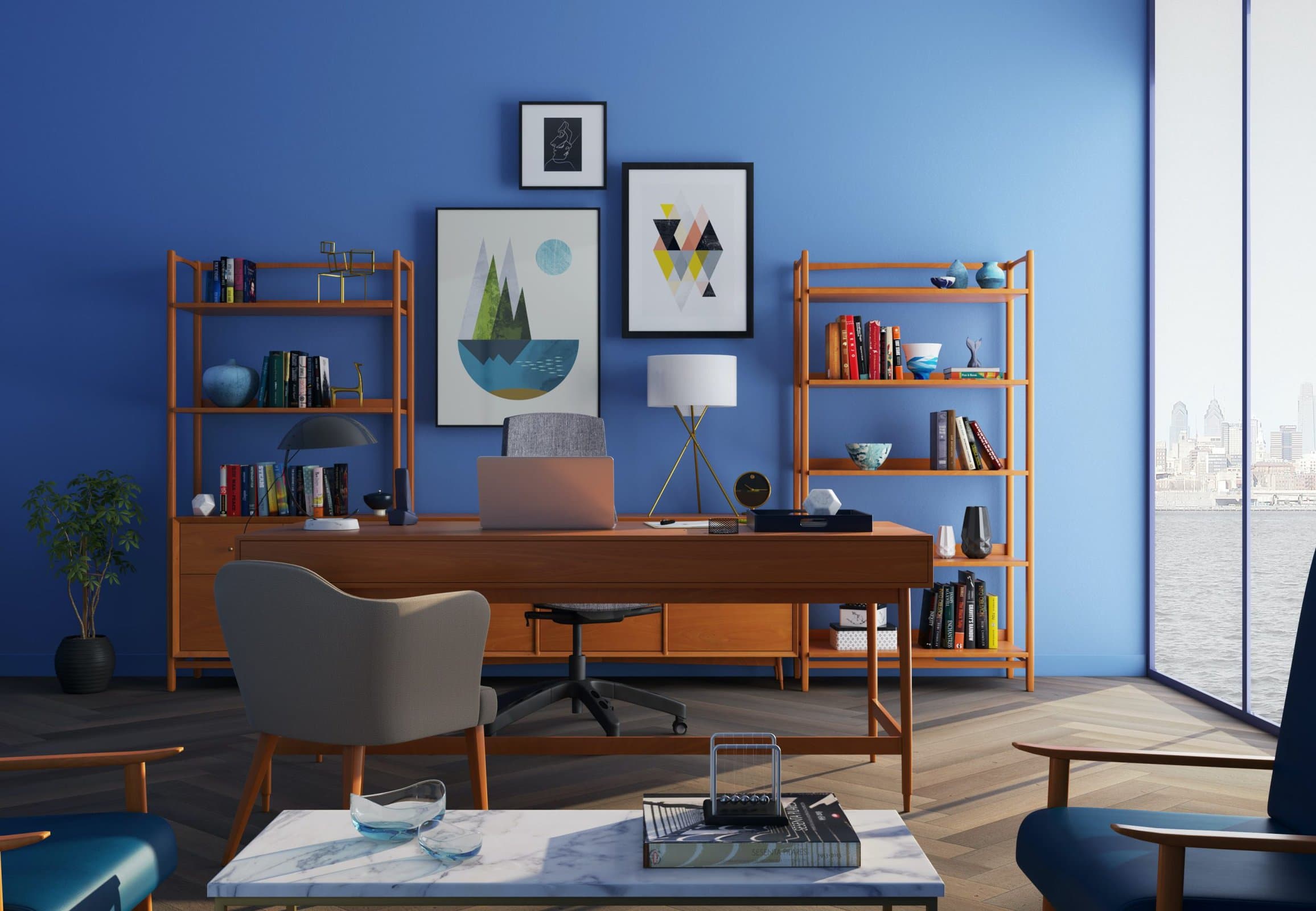 Yes – bold blue is back! Royal blues and deep cornflower blues are making a strong comeback in 2023. You don't need to be subtle when you can liven up your living room with a bold electric blue.
Matching with natural mid-woods and leather will give a warmth and richness to your bright blue. For cooler effects, go with whites and pale grays.
Mural Arch Blues
For those who like the thrill of being ahead of the game, then murals are big news. We've seen color blocking as a trend on walls but now creating your own design is picking up the pace.
What better than choosing some bright blues to make your room stand out. Archway designs look amazing on accent walls. This is not as difficult to achieve as you might think so maybe try painting an arch mural yourself.
Vibrant Reds and Pinks
Viva Magenta
Wow! The Pantone for 2023 is Viva Magenta, a rich pink-toned red and it looks magnificent. It'll work with your blush pinks and give your room a huge burst of impact.
A bright, passionate shade, it's not for those who favor a somber room scheme. You can paint your walls or panels and add gold hardware for a colorful, warm accent. It will truly lift any space in your home and be the envy of your guests.
Rich Red Accents
Extending on from the new Pantone that's all the rage, if you like reds then you could choose a deep shade for your wall.
A wonderful color on the wall for a gossipy dinner or cozy drinks, this could also work for a reading nook due to its associations with library colors in large, old houses.
Pair a red with dark wood for a moody, opulent scheme, or with paler shades if you want to keep it on the subtle side – as much as is possible with a red!
Dusky Pink
The new pinks we're seeing are on the same color palette as Viva Magenta – rich and sultry. The new pink is deeper in pigment than the pale blush pinks of recent years. And warmer than the plaster pinks.
This dusky, verging on terracotta, pink will tone well with the new neutrals. Metals in your hardware, furniture and lighting should be black or bronze for the best contrast.
Watermelon Hues
Another current pink trend is a watermelon, thinking of the juicy flesh tones. A more orange color than the blush pink, think of fresh and vibrant room schemes against golds and blues.
Most rooms would take this color on each wall, and will create an illusion of space as well as warmth. Fabrics in creams and soft translucent effects will add romance.
Gorgeous Greens
Green Green Grass
So, we've had enough of duck egg, and sage is timeless, but to pack a punch and add some zing to your living room, why not go for a vibrant green?
A bold mid-green, the shade of a freshly cut lawn, is ultra-modern and looks tasteful with monochrome and earthy furniture. Don't be afraid of your new accent colors here. A pinky-red cushion or an orangey-red vase will liven up the room.
Nordic Green
Staying with the earthy neutral and warm brown tones, adding a dark, neutral green will enhance the warmth of the natural shades.
Whether you paint kitchen cabinets in this shade as an update or go for an accent wall, with earthy accessories, this is a distinguished color choice.
Strident New Textures
Half-Gloss Accents
Now, we might not have seen this coming, but the big textural wall fashion for 2023 is gloss paint! Shiny is all the rage so you might like to give this a try by painting horizontal stripes in a matching gloss paint.
If you don't think you're quite up to seeing the whole wall in a shiny finish, then opt instead for stripes. Use the same color in matt emulsion and then tape off a horizontal section from one side to the other and paint this in the gloss finish.
Lacquered Walls
To go a step further, painting the walls in a gloss paint or lacquer will give you a decadent new look. This is a style for those who like to be trendsetters, not for the faint-hearted!
So, after decades of matt finishes, take a look at the shiny finishes next time you're in your local hardware store.
In Closing
There are some truly exciting new paint colors for 2023. From gorgeous warm neutrals and greens, to bright, bold blues. But the big news is a pinky-red known as Viva Magenta. Expect to see this a lot, or be one of the first to try it.
And it's not only colors which are new in paint. Bit of an artist? Try painting a mural on a plain wall. And the new texture? Shiny, gloss walls. You paint the entire wall in a gloss paint or add texture with horizontal stripes.
There's lots to choose from so you may need to go try out the new trends!