Decorated Life is reader-supported. When you buy through links on our site, we may earn an affiliate commission. Learn More
10 Above Fridge Cabinet Ideas & Alternatives
If you don't have a custom kitchen, chances are good you have that awkward above refrigerator storage or open space situation to deal with. Do you just put some decor up there? Well, that's all well and good unless you are short on kitchen cabinets and need to utilize every space possible.
If you are going to utilize that space for storage, then you're tasked with finding a way to make the over the fridge storage look pretty since it's out in the open. It's a frustrating situation, but we're here to help. Here are some ideas that will help you make the most of your above fridge cabinets and storage space.
Cookbook Storage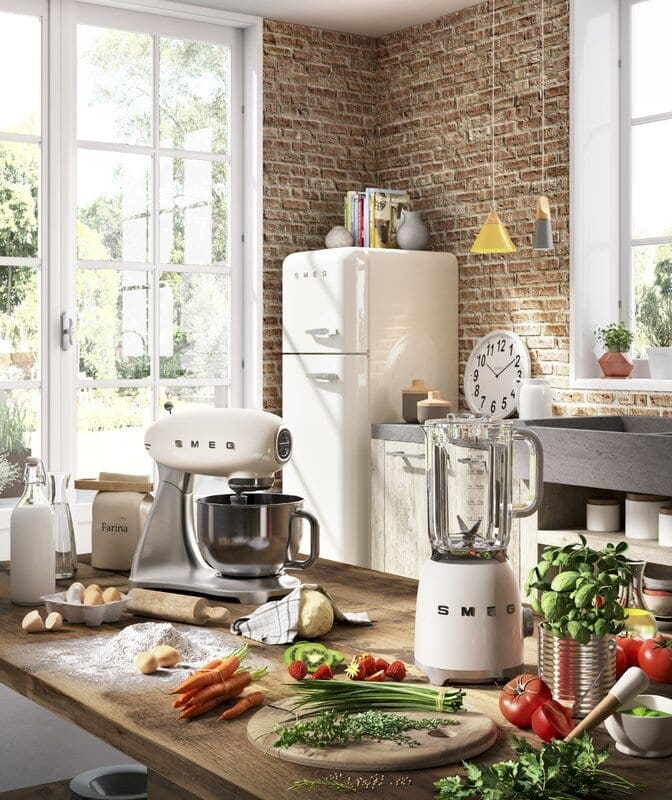 If you're an avid cookbook user, then storing them away either on top of your fridge, like in this picture, or stacked in a cabinet is a great way to utilize the space over your fridge while still having easy access to your cookbooks.
If you decide to leave them out in the open, keep the display looking neat with them sitting straight up like in this photo, or stack them and put something decorative on top to give it a bookshelf look.
Pull Out Cabinet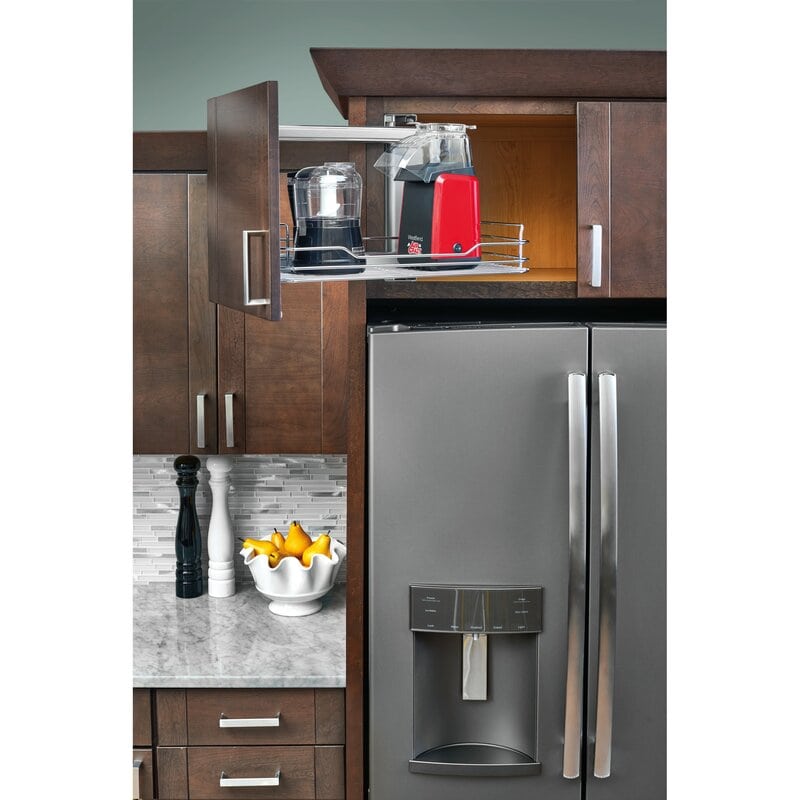 Of all the above fridge cabinet ideas, this one makes the most sense to me. I'm short, so I always have to grab a chair to try to reach anything in the cabinets over my fridge, and even then I can't always get to what I need.
With this little number, you can just swing out the contents and get to them easily. That cabinet space over the fridge should be utilized, and installing one of these can help make it a functional space.
Wine Rack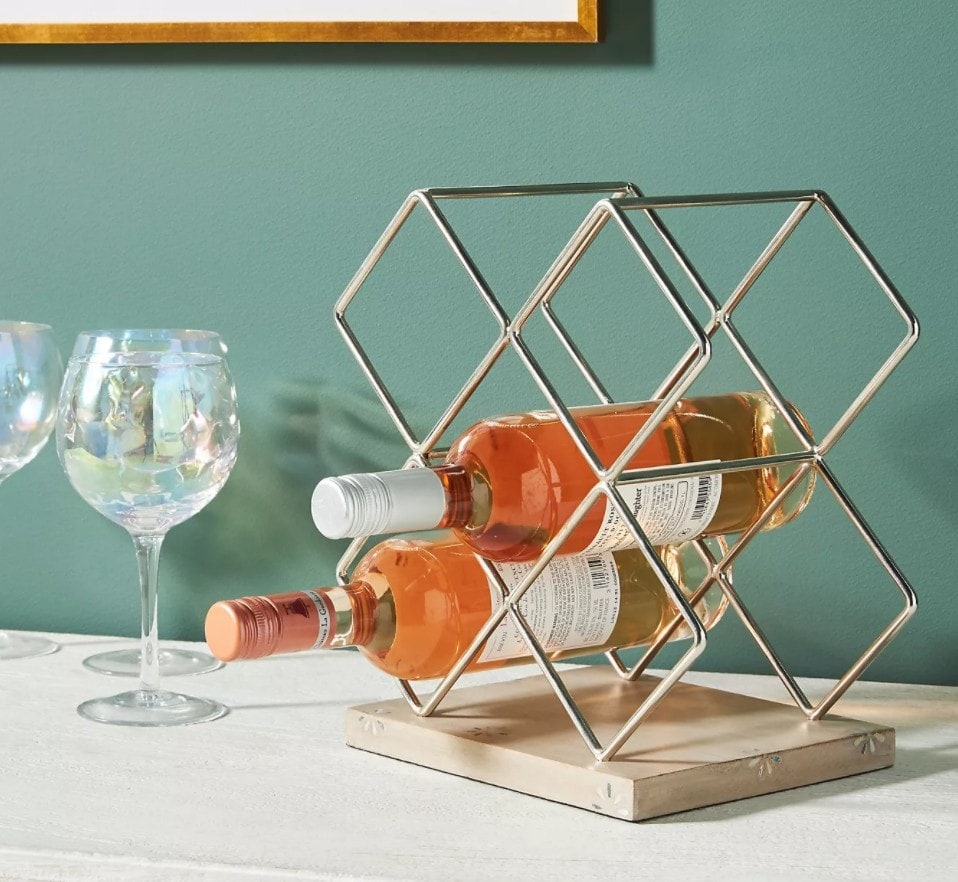 You can free up some counter space by putting your wine rack on top of the fridge. If you opt to do this, make sure you invest in a rack that's pretty even if it's not entirely full.
One piece of advice, this isn't a great option if your fridge tends to shake a lot when you open and close it (you'll end up with some sad wine bottle casualties).
Fruit Bowl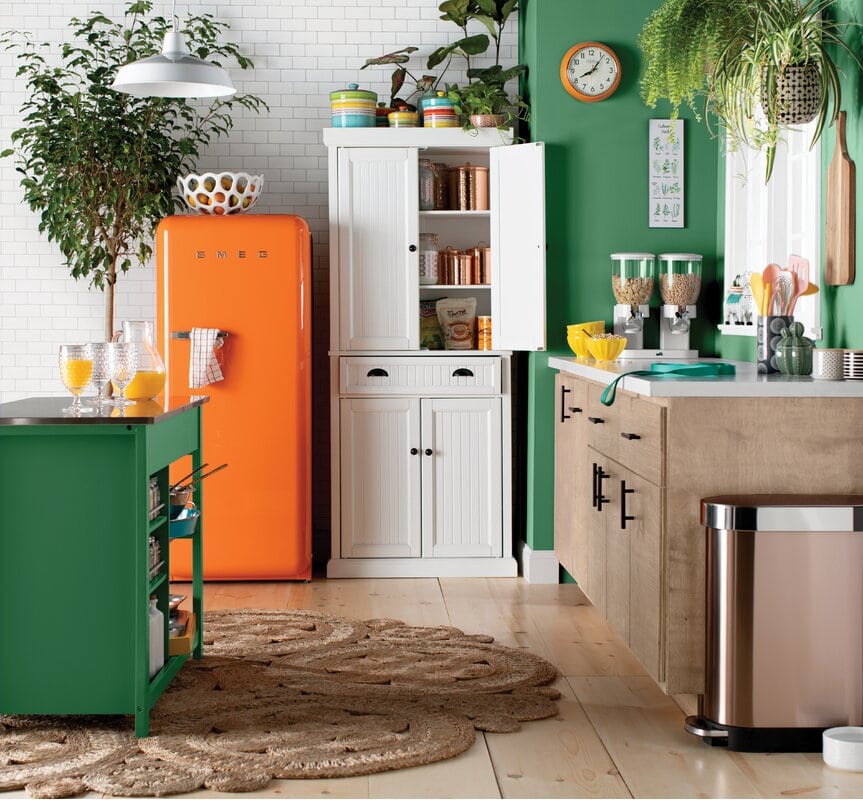 Have a fruit bowl with nowhere to go? Set it up on top of the fridge!
This is an especially great idea if you have a smaller fridge like the one in this picture because it will be even easier to access. Even if you have a standard size fridge, this is still a great use of space that won't throw off your aesthetic.
Bakeware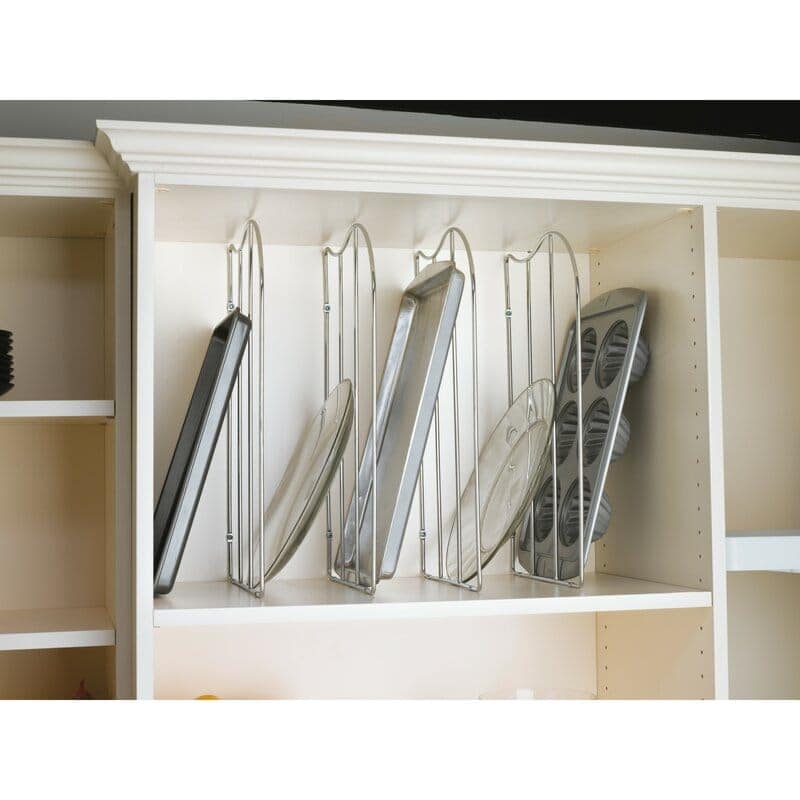 When you have cabinets or open over the fridge storage space, it is a great place to store your bakeware with one of these organizers.
What makes these organizers so great is that 1. You don't have to dig through a stack of pans to find the one you're looking for and 2. it's a lot nice to look at if it's out in the open than having a stack of bakeware sitting out.
Glass Food Storage Containers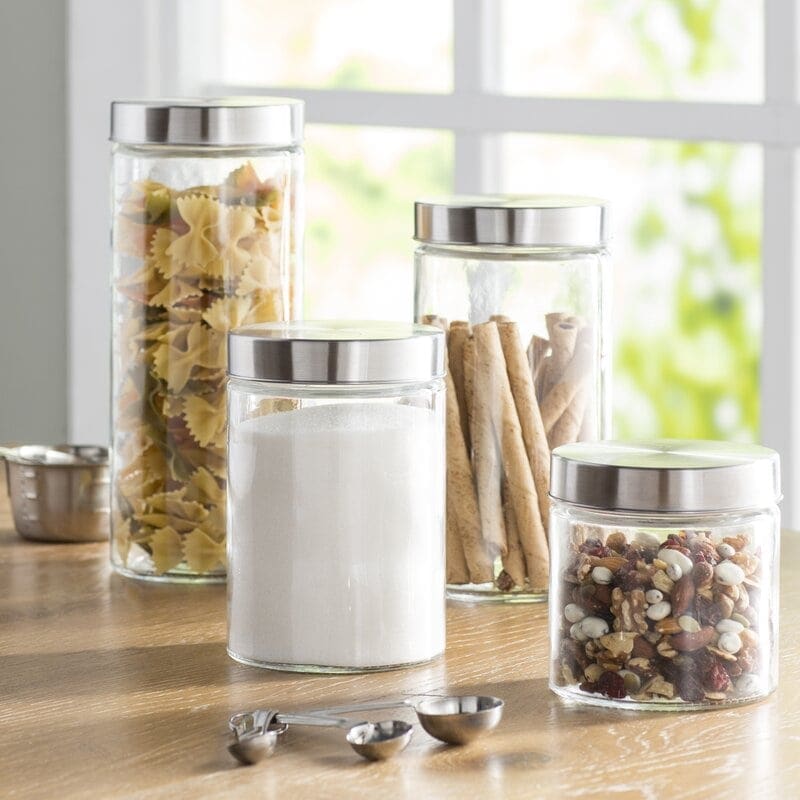 A lot of homes have a pantry next to the fridge or somewhere else in the kitchen, but if yours isn't one of them you have to strategically use your cabinet and drawer space to store your dishes and all of your food.
In this case, get some nice glass food storage jars like these and set them on top of the fridge. Simply moving the food from its packaging (which likely has blinding colors and labels all over it) into a glass container elevates the look tremendously and gives your kitchen a much cleaner and organized appearance.
Pull Out Shelf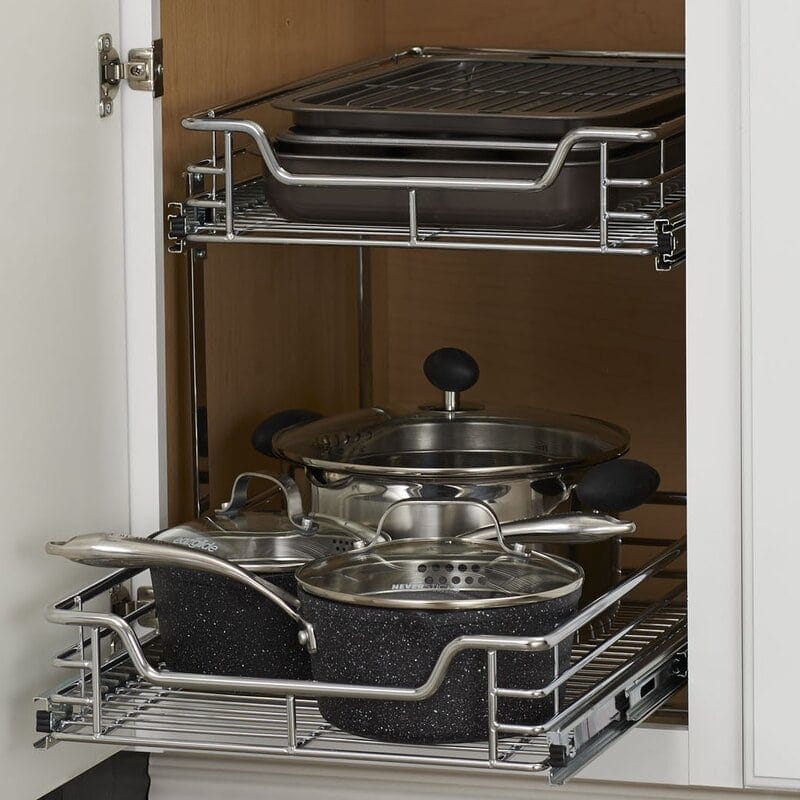 If you don't like the idea of installing a swing-out shelf in the cabinets over your refrigerator, consider a pull-out set like these instead. They're basically like drawers inside the cabinets and they will allow you to more easily access what you need without having to get a ladder out to do it.
Colorful Storage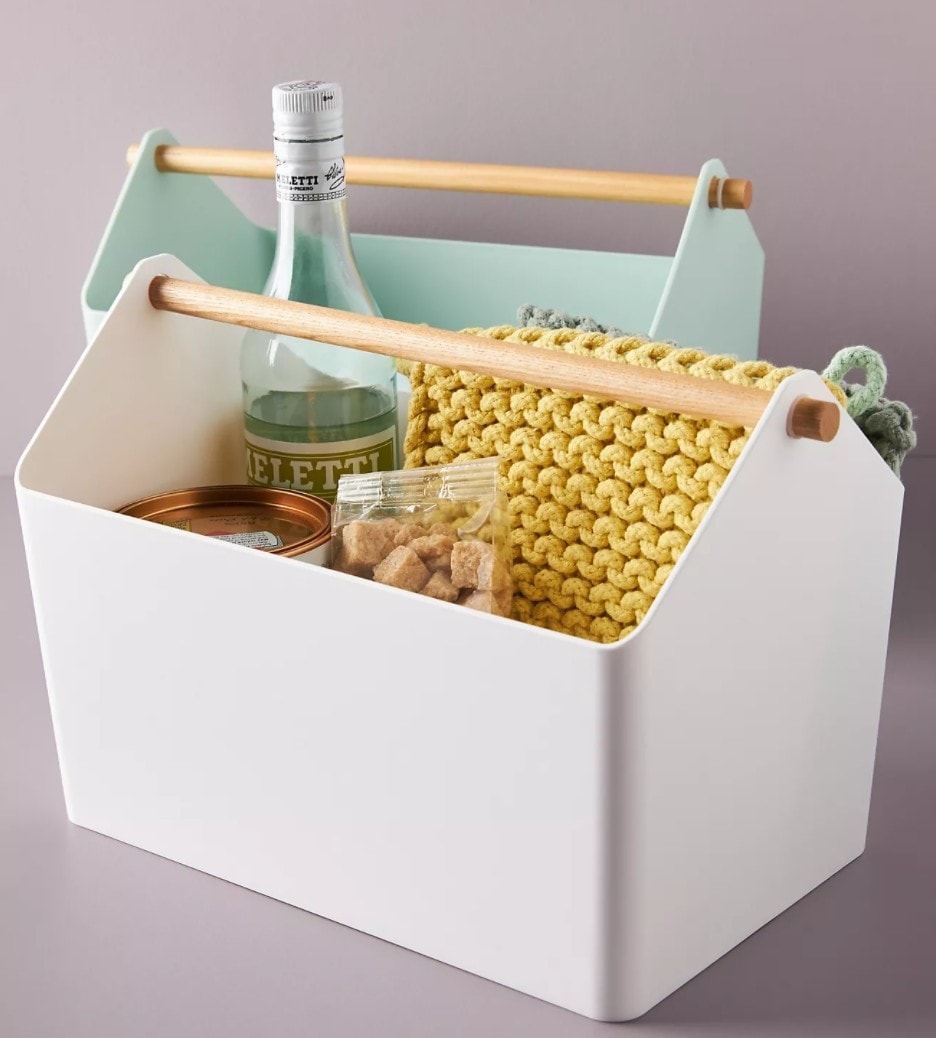 One of the more creative ideas for the space above the refrigerator is to find storage baskets and glassware in different colors to give the spot a fun look, without being messy (remember, no food labels should stick out).
If you go this direction, consider mismatching your storage baskets a little bit so that they're not only colorful but also have variety in size and texture. While it may sound chaotic, it will actually give it a more curated look.
Wood Serving Dishes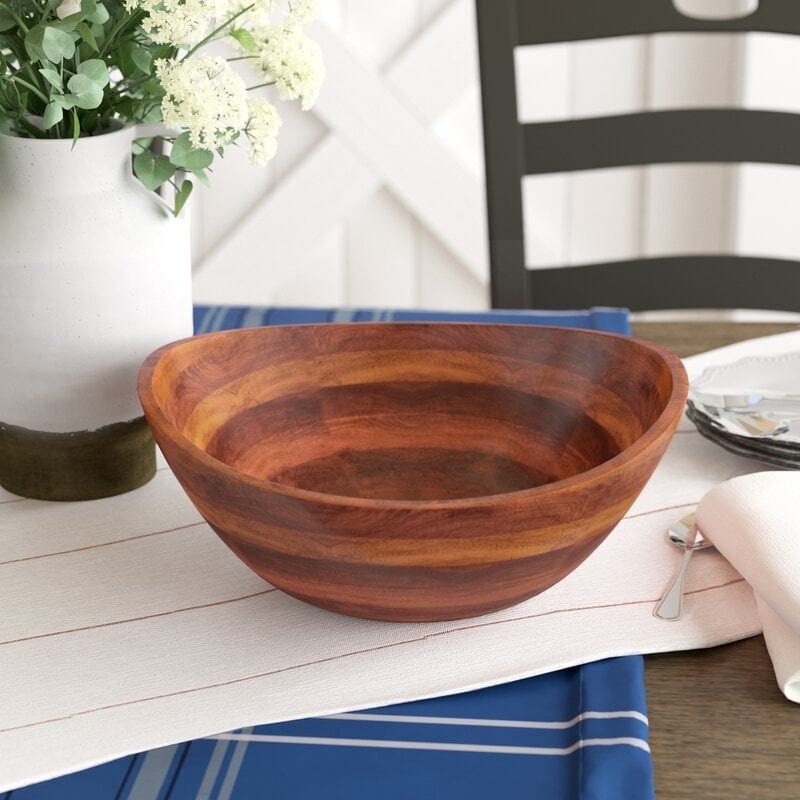 If you have some nice wood cutting boards, serving dishes, or dinnerware, put those on display! There is no need to hide them away in the cabinets because they can really add to your kitchen decor.
To make this look good, either use objects that have different stains or mix two or three white ceramic dishes into the display to add some depth. Treat the space like it's a display shelf, make sure there are varying levels, textures, and colors, even if they're all within the wood family.
Wire Baskets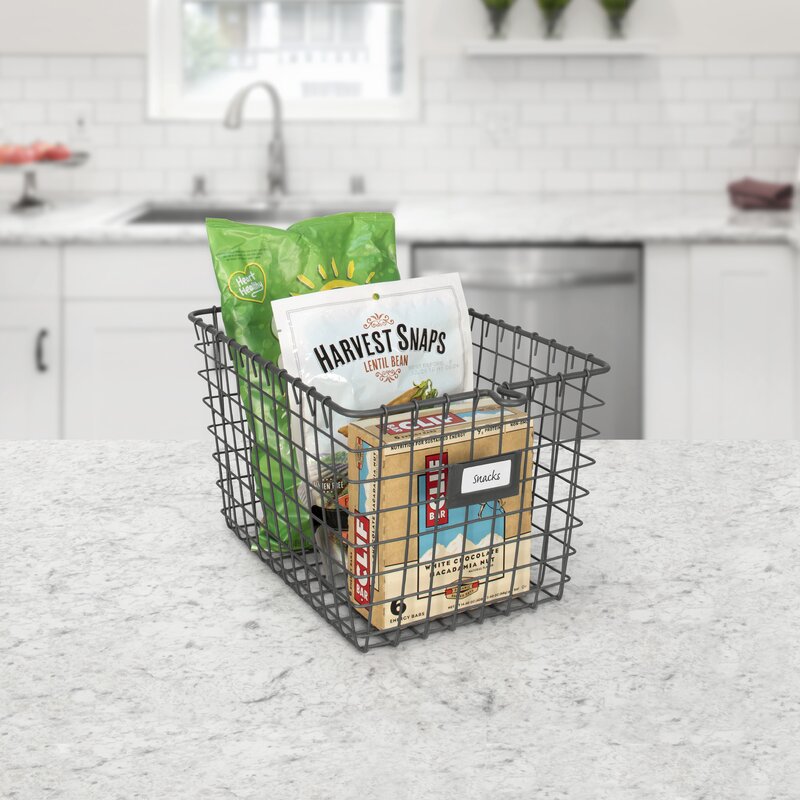 For a bunch of small objects, consider a few baskets, like these wire ones. Since wire baskets are see-through, you'll want to be mindful about what you store in them, and if you don't want to deal with that then small regular baskets look great too and work just as well.
One thing to keep in mind, try not to just toss a bunch of small things into them like they're a junk drawer. Keep them organized and clean so they actually get used instead of just collecting dust on top of the fridge.
Final Thoughts
You may have to get a little creative to the most out of that awkward space above the refrigerator, but it can be done, and it can be done in an aesthetically pleasing way.
Remember, try to move food into glass containers and anything with a label should be stowed away in a storage basket rather than sitting out in the open. Now, go make your top of refrigerator storage space work for you, and look good while doing it.