Decorated Life is reader-supported. When you buy through links on our site, we may earn an affiliate commission. Learn More
12 Glam Home Office Ideas
Glam home offices are very regal. They feature lots of gold, brass, sleek desks, velvet chairs, and unique light fixtures.
As far as color schemes go, you usually see either deep, bright colors like peacock blue or soft-muted colors like blush pink. But of course, there are lots of variations, and you're free to use the colors that speak to you the most.
Ready to decorate? Here are 12 glam home office ideas to use for inspo.
Create a Gallery Wall Behind Your Desk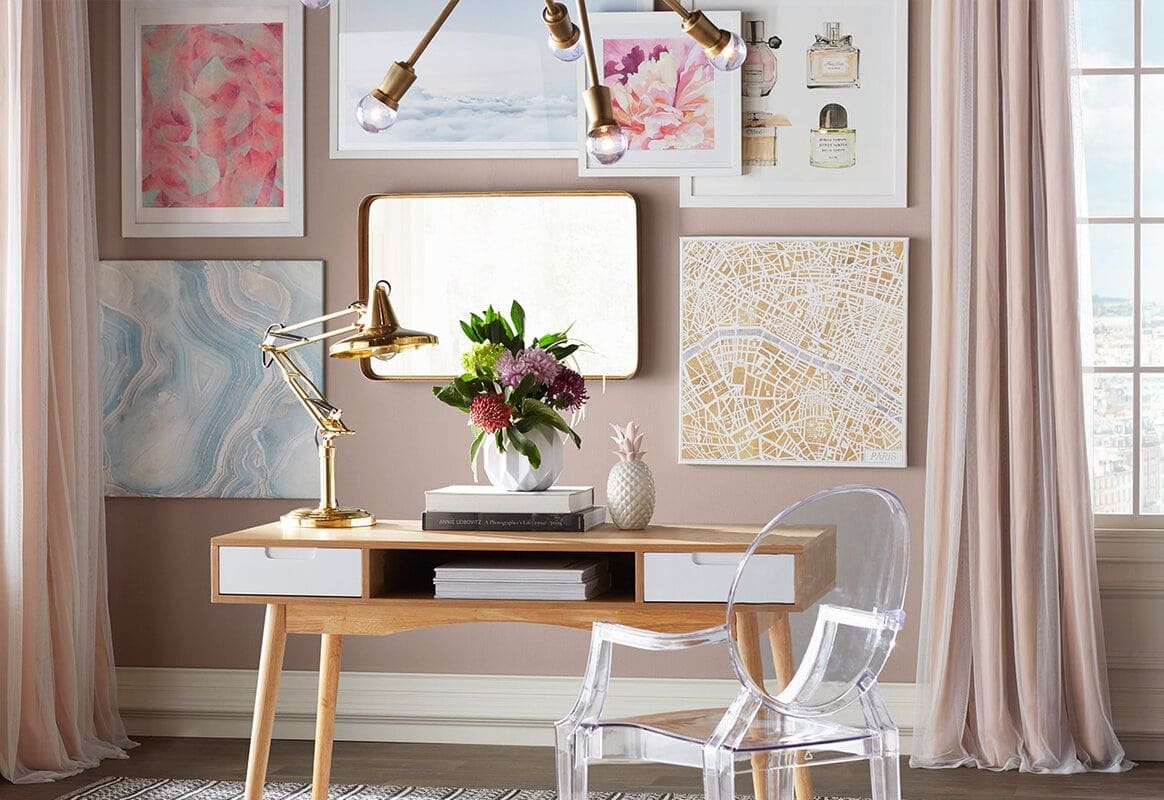 Gallery walls are classic home office wall decor. And if you carefully curate your pieces, you can create the perfect glam wall.
Start by choosing a color scheme. Then look for pretty floral prints or gold frames. Finally, layer everything together for a beautiful effect.
Use a Brash-Embellished Desk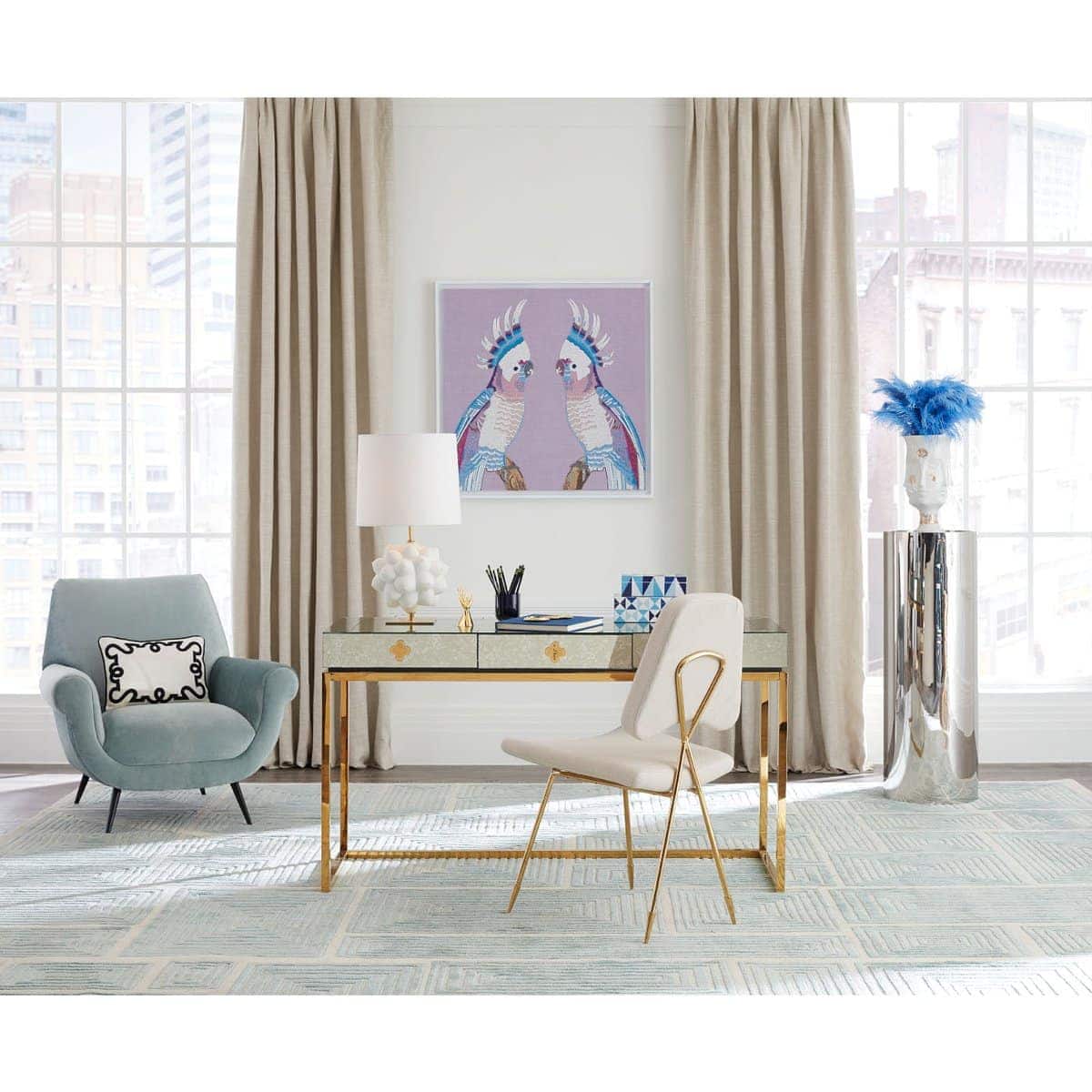 Metallics are perfect for a glam home office desk. If you like this look, opt for gold, silver, or a beautiful brass like shown in this desk from Jonathan Adler.
This desk also has an antiqued mirror finish on top for a retro flair. If you're looking for a small desk, this one will work with minimal or maximalist glam style.
Try a Velvet Office Chair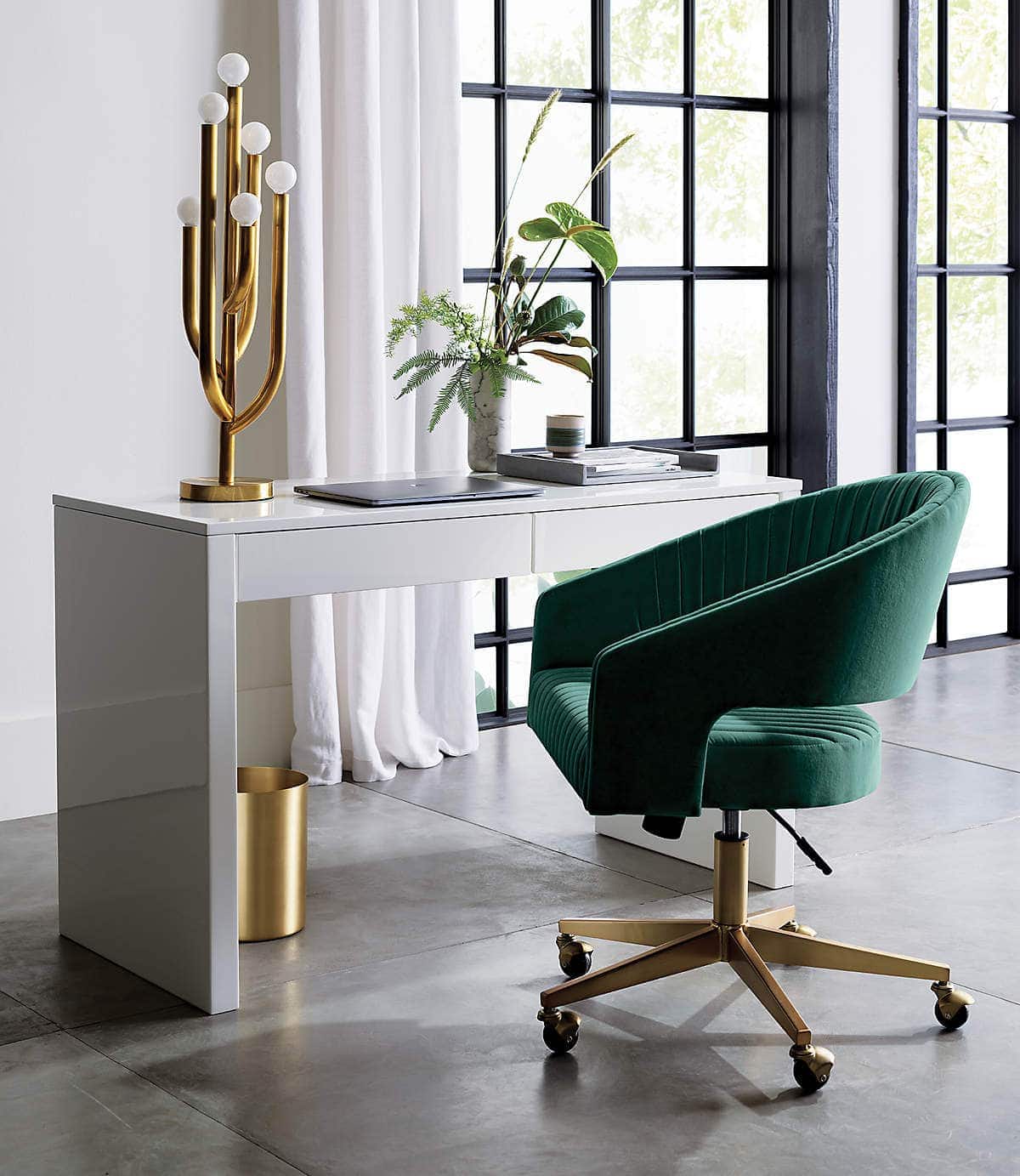 Velvet is such a luxe material and one of the best choices for a truly glam office. A great way to bring it in is with your desk chair. I like this version with the brass base for high-end offices.
This particular model is from CB2 and comes in green or white. Both options will match any style desk – you can pair these with wood, white, or even brass.
Make the Room Look Bigger with a Mirror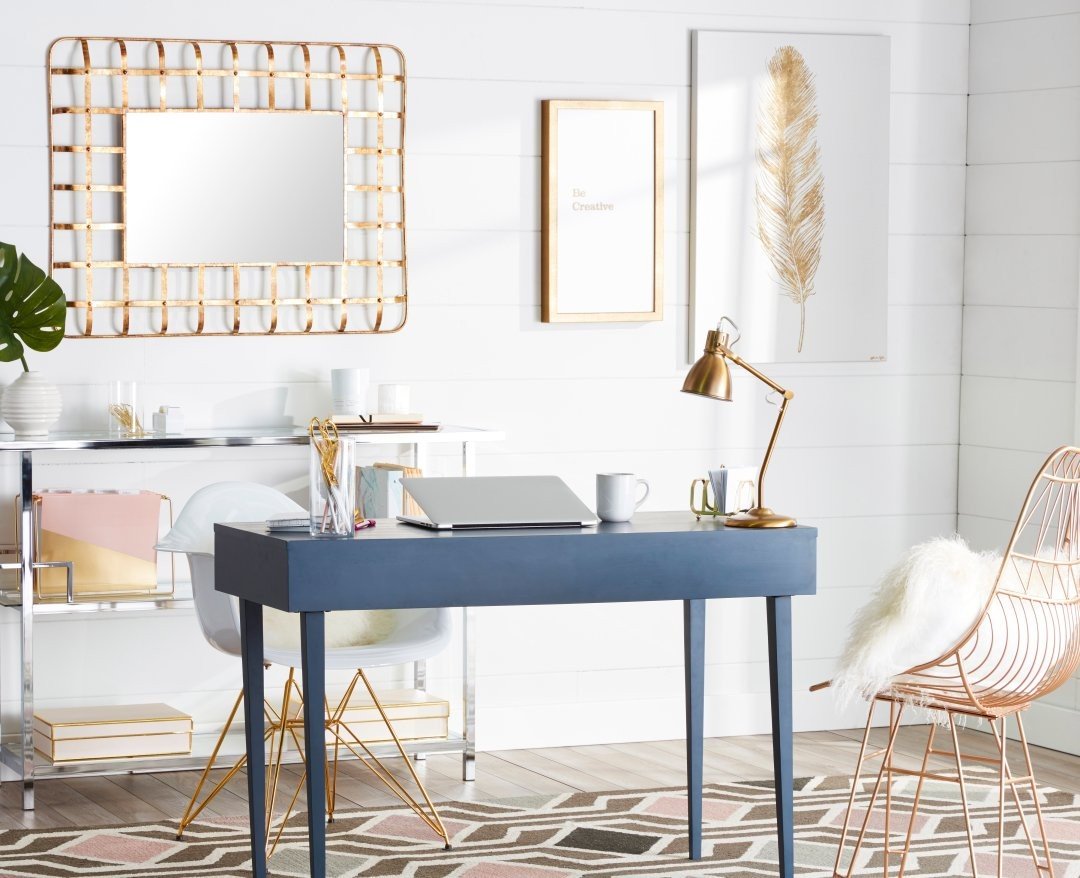 If your office is on the smaller side, you can instantly make it feel bigger by adding a mirror. Mirrors reflect light which can make a room look larger and more open.
For a glam look, go with a gold-framed mirror – this especially works well if you have other gold items in your office, like a desk lamp or gold-framed art. Other suitable options are silver, polished nickel, and brass.
Get a Desk with a Unique Shape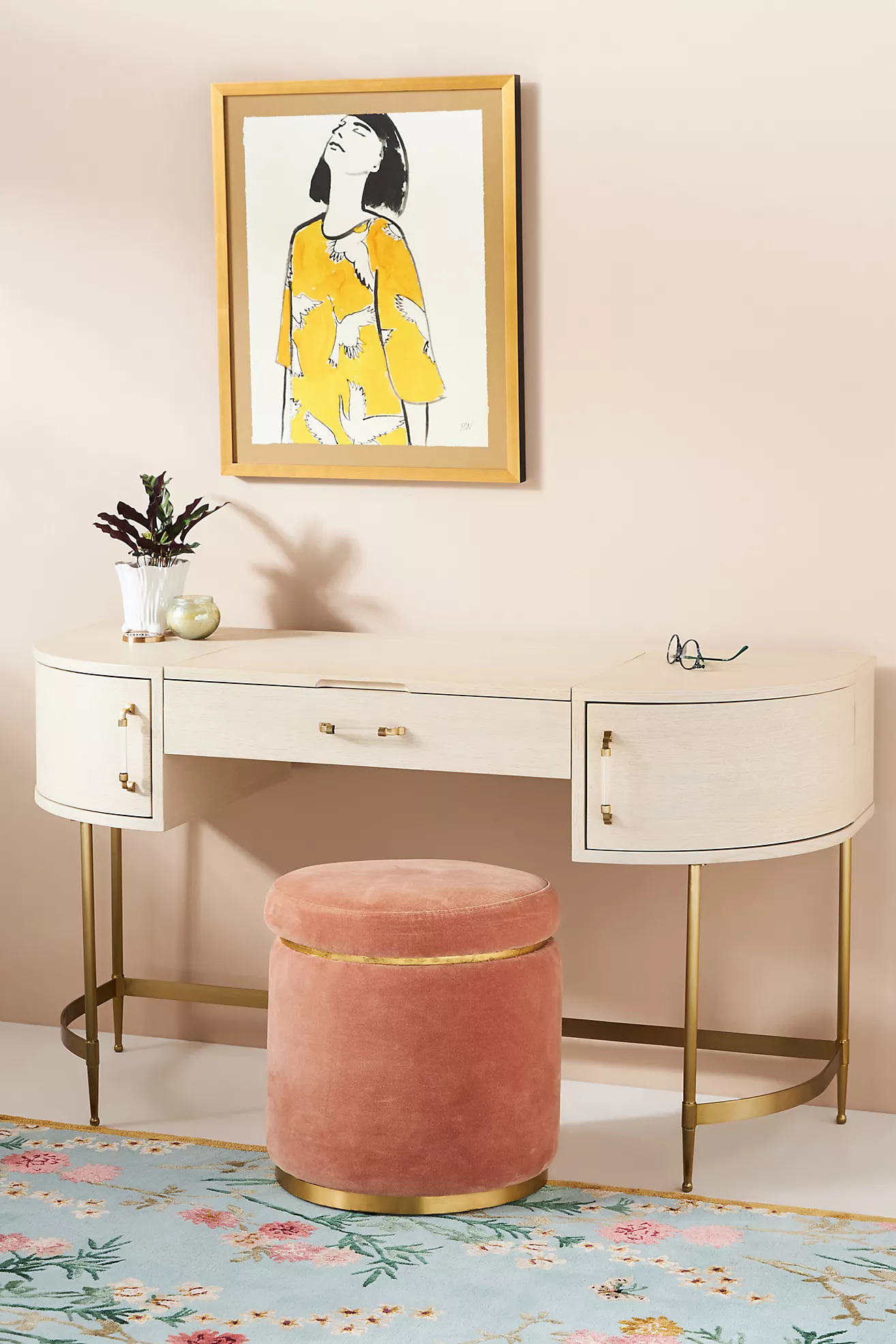 Retro and glam work perfectly together, and this desk pays tribute to both. So if you're looking for unique glam home office ideas, this desk fits the bill.
The top of this desk flips up to feature organization trays. It also has built-in USB ports and power outlets to make charging your devices a breeze. This is an excellent option if style and organization are at the top of your list.
Add a Gold Bookcase to the Room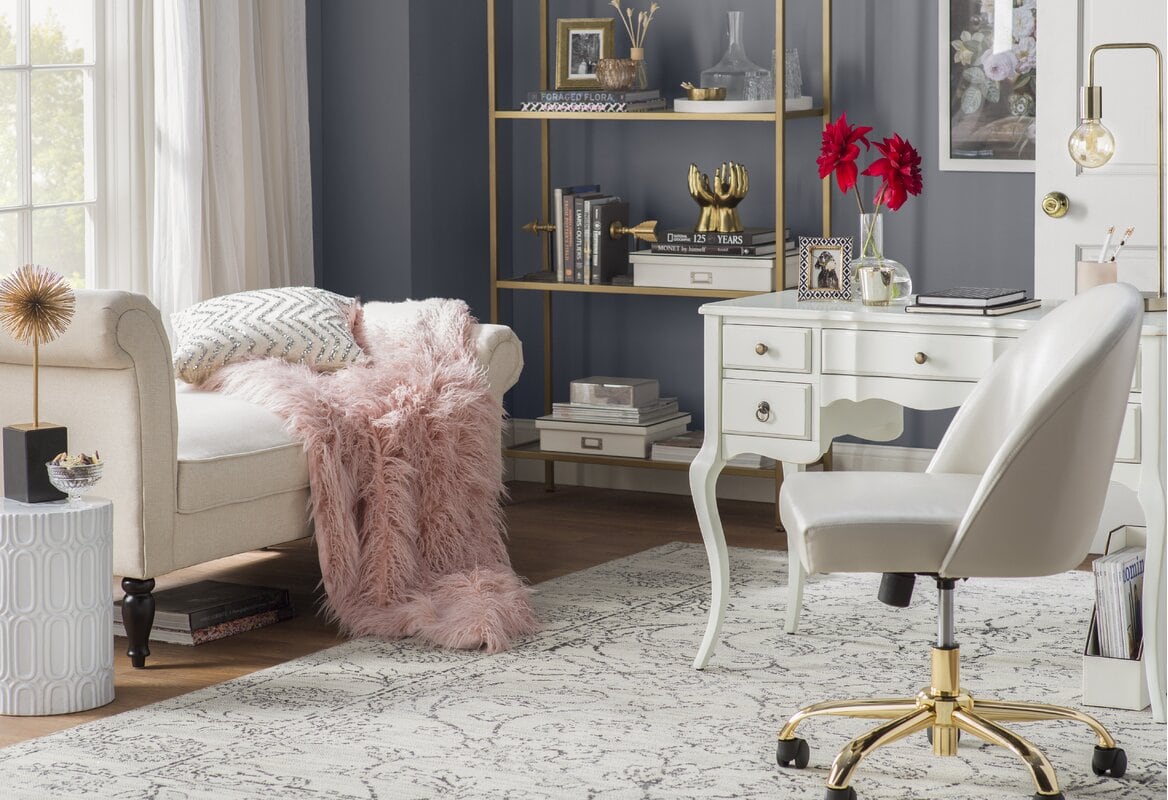 If you have a large office or need a place to put your documents, add a bookcase to the room. A gold-finished bookcase like the one pictured is the perfect luxury glam home office decor.
You can add your books, files, and decor for functional beauty. This bookcase will make the perfect addition if you already have gold or brass accents in the room.
Bring in a Desktop Lamp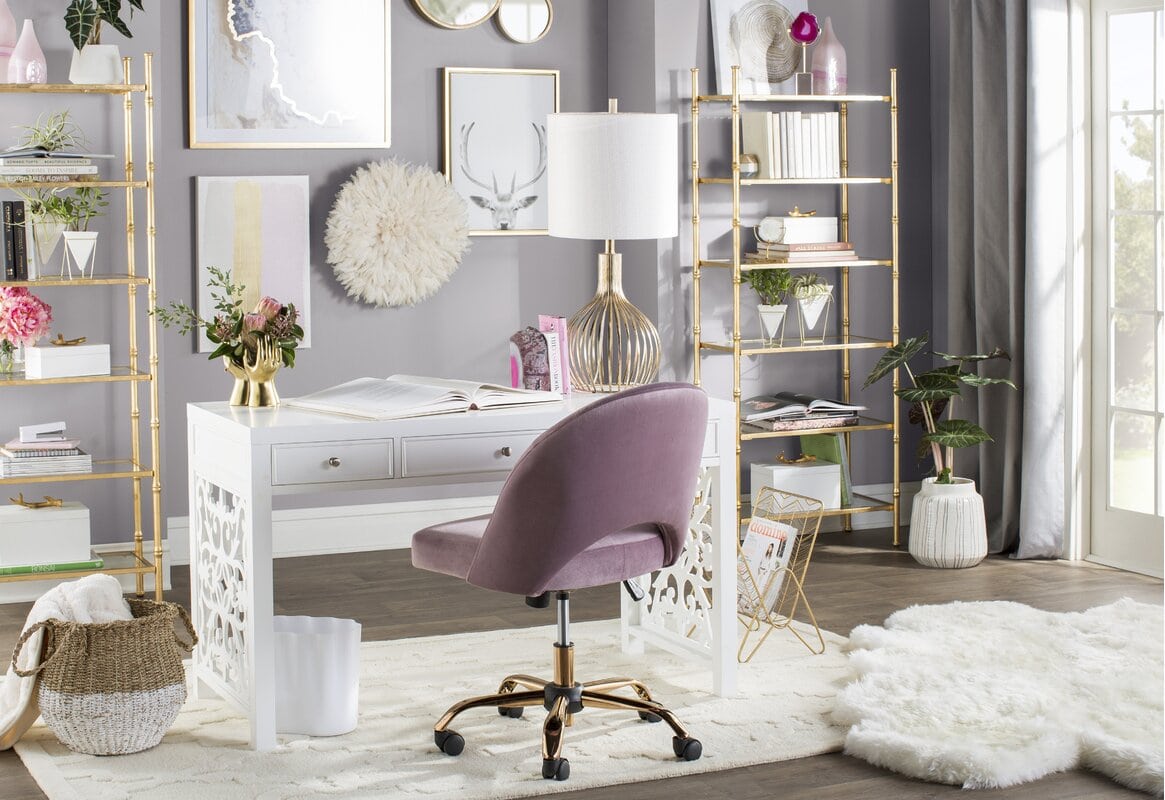 Need to bring more lighting into the room? Try a dainty desktop lamp. Gold and brass lamps will look like jewelry sitting on top of your desk.
If you have a small desk and no extra room, consider getting a standing arched lamp. You can find one in a gold shade or one with crystal embellishments to add sparkle to your home office.
Layer in a Soft Rug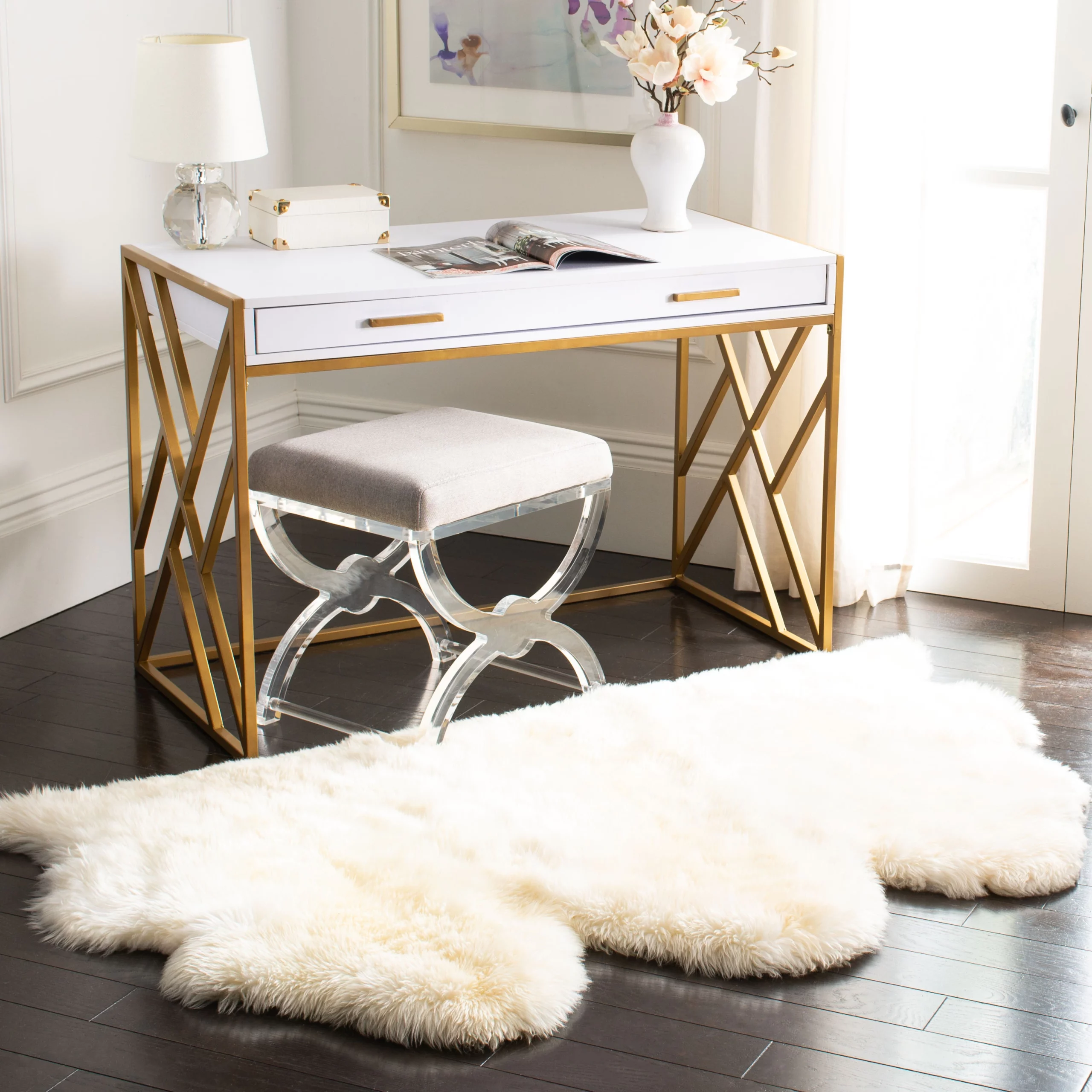 If you're often barefoot in your office, bring a soft rug under your desk for a bit of warmth. This sheepskin rug from Overstock is neutral, so it will go with any color scheme.
The fluffiness of the rug adds texture to the room without being overpowering. You can find this rug in four different colors and four sizes.
Have Fun with Your Lighting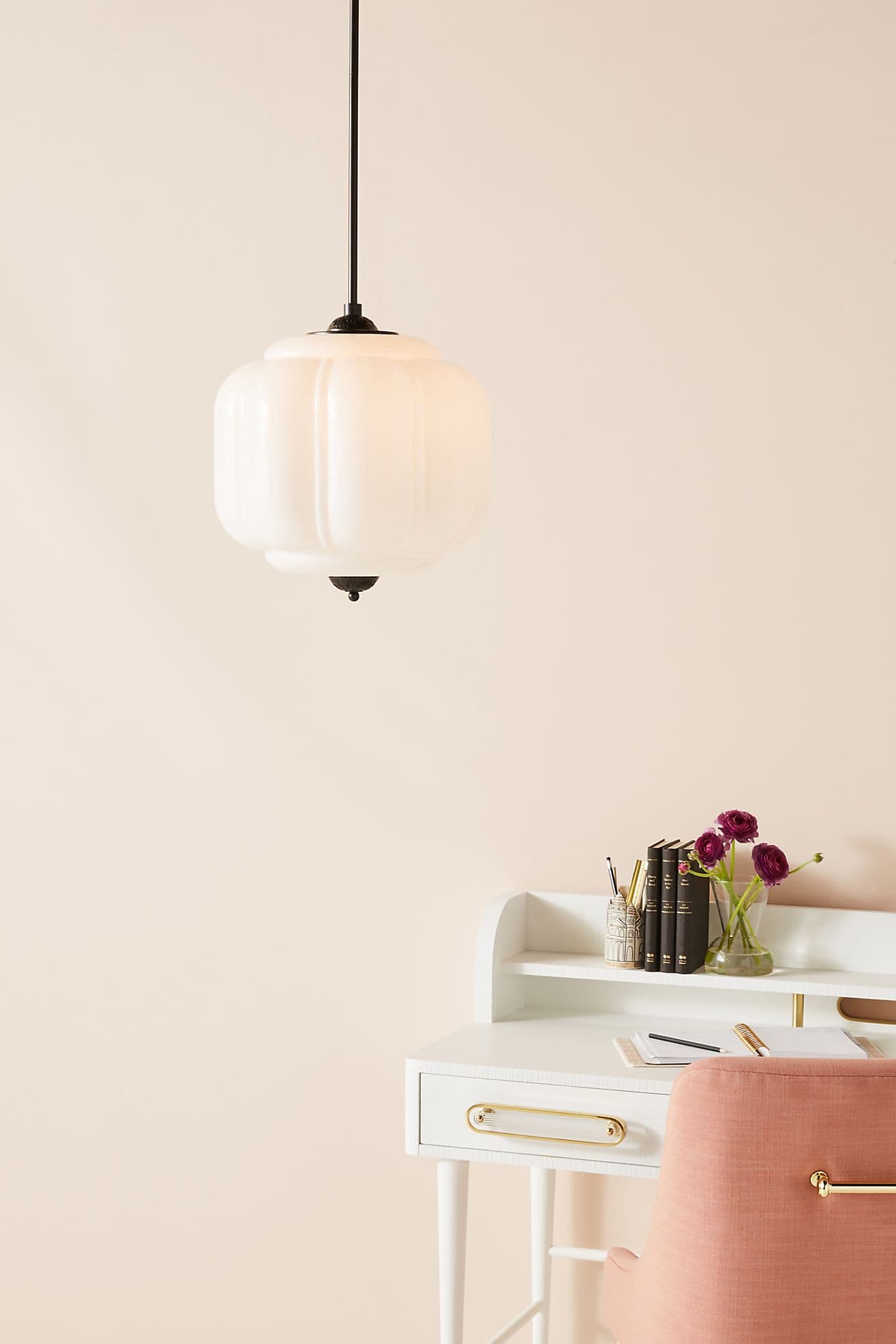 There's no need to play it safe in the office. If you're going glam, ditch the traditional flush mount and bring in a pendant or chandelier.
If you like to keep things on the simple side, try a single pendant light like this one from Anthropologie. If you prefer a maximalist look, go for an ornate chandelier.
Adorn Your Desk with Bookends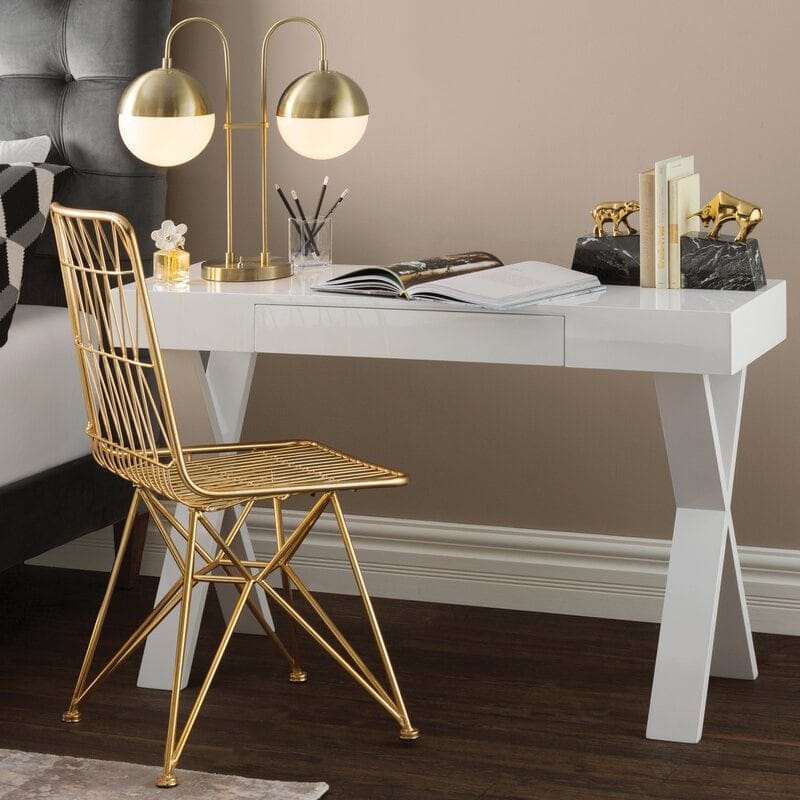 If you're looking for luxury glam accessories for your office, try bookends like these. These bookends are not only practical but are a great way to sneak some decor into your office.
You can use these to keep the books you're currently reading close by, or you can move them to your bookcase for organization.
Add Some Greenery to the Room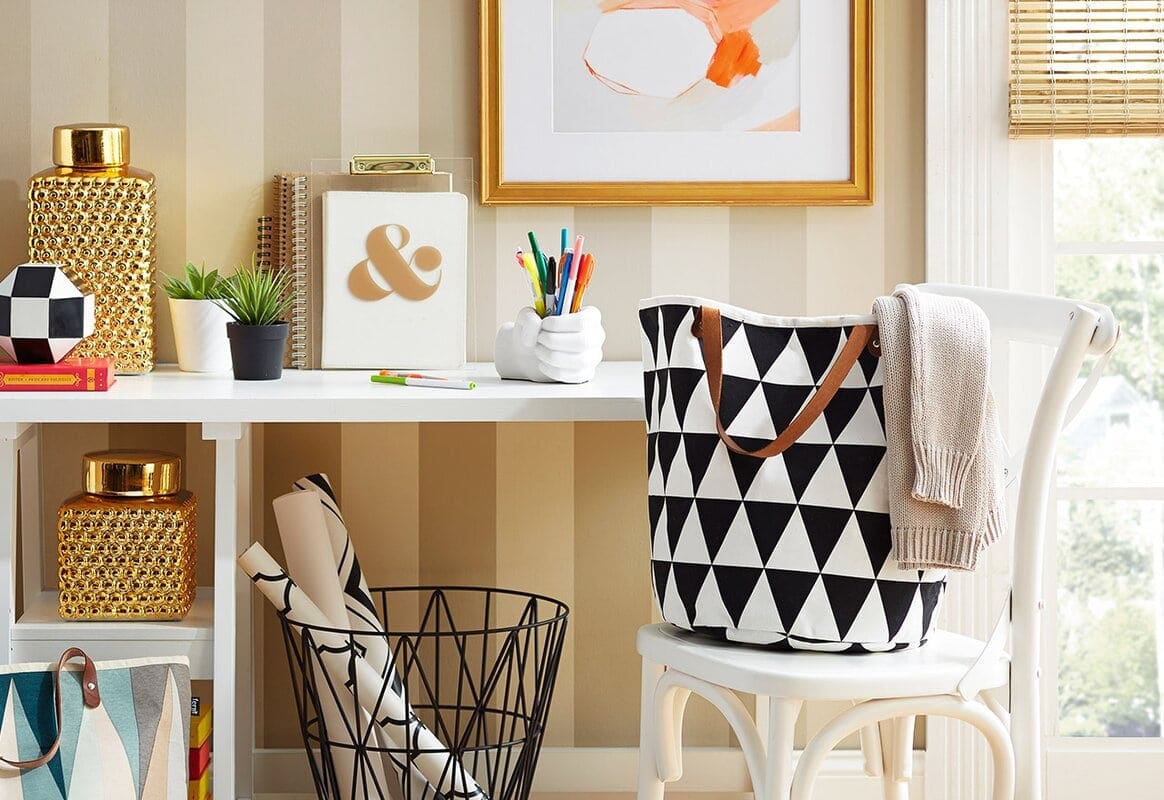 Every room can benefit from some greenery, whether that comes from natural plants or faux versions like these.
To get this look, mix in a couple of small artificial plants with your desk accessories. If there's no room on your desk, you can add these to your bookcase or bring in a larger plant and place it on the floor.
Create an Accent Wall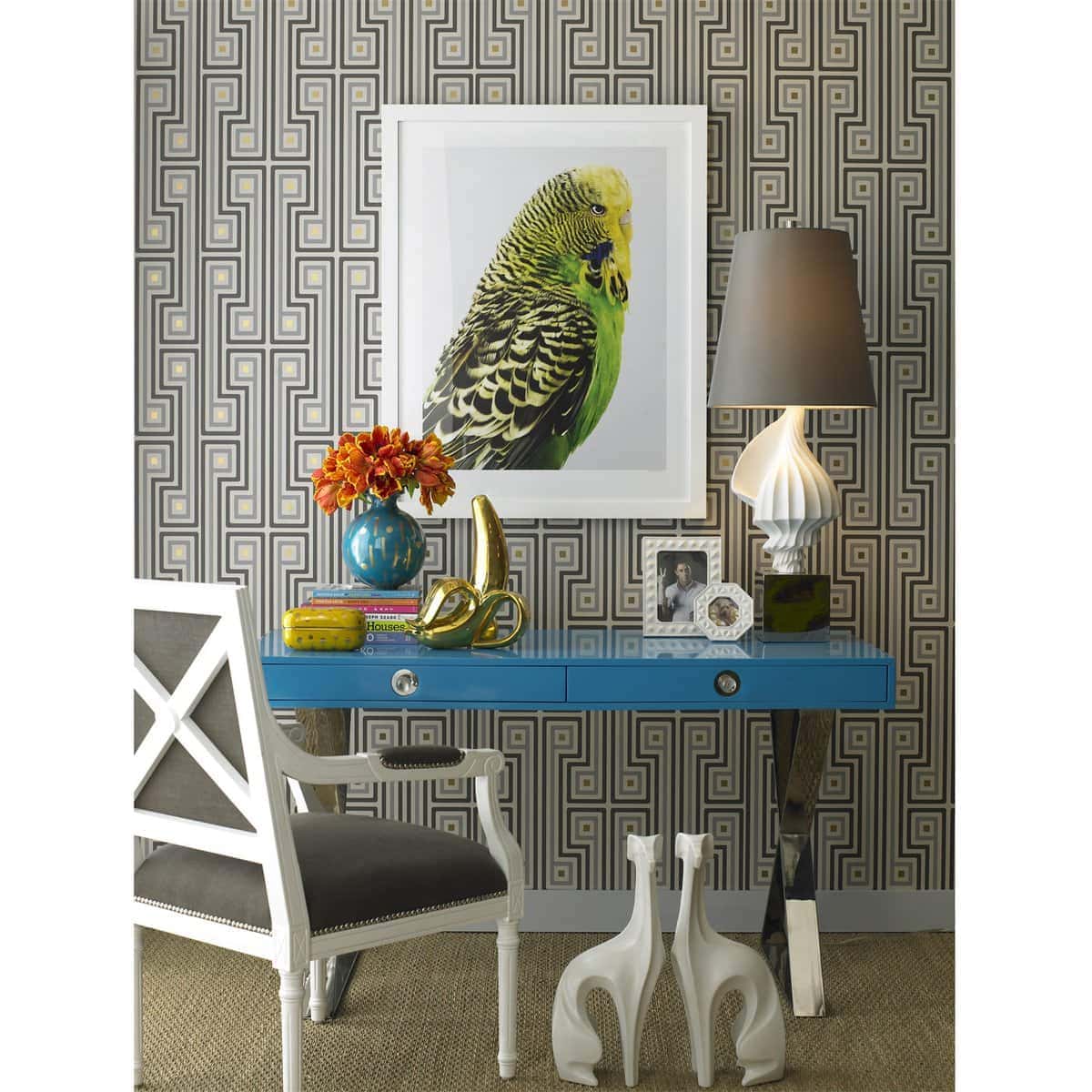 If your home office isn't in its own dedicated room, you can create a zone for it by placing decorative paper on the wall your desk sits on. This geometric wallpaper from Jonathan Adler will work with your existing color scheme no matter what it is.
If your home office does have its own room, you can create an accent wall by applying this to the wall your desk sits against.
Final Thoughts
Glam home offices are very regal and stylish. To get the look, you can go for a bold color palette that incorporates deep blues and golds or tone it down and paint your walls a blush color.
For your desk, try choosing a fun shape and something with gold or brass knobs. From there, bring in artwork, a chair, and accessories to complete your design.