8 Barn Door Alternatives
Sliding barn doors are a popular trend right now because they add a lovely farmhouse-style character to the interiors of a home. They're a great way to upgrade your home's appearance by replacing traditional doors.
They do, however, come with their own set of drawbacks. They require the installation of a track system for the door to slide along, take up more wall space than you may have anticipated, and may not provide complete privacy.
They're also undecided on the 'trend vs. timeless' debate, leaving you to wonder if this design will still be relevant in a few years.
If you still want to install a one-of-a-kind door system without having to deal with these issues, we've got you covered. Read on to find out amazing barn door alternatives you can consider instead.
French Doors
French doors are a great alternative to barn doors because they are an evergreen door style that balances functionality with aesthetics. They are typically installed in pairs and consist of a lightly constructed wooden frame with glass panes.
French doors are commonly used to separate the patio, terrace, or balcony from the living room or bedroom and blend in with almost any home style. This allows more natural light to enter the room, making it appear more airy, bright, and spacious.
They also serve as the focal point of a room, making even the most mundane of spaces appear striking and dramatic.
Although they are an expensive option that may require more maintenance, they're an excellent investment with a timeless appeal and definitely worth considering.
Pivot Door
Pivot doors add a sense of elegance to your home. As opposed to a traditional hinged door, a pivot door spins on a spindle or an axis, moving inward or outward from the top and bottom of the door's frame. They are typically heavier and larger than standard doors, which may increase the cost of installation.
However, they are quite versatile and can be made from a variety of materials, including glass, metal, and wood. They make an excellent entrance door or a stylish patio door that lets in plenty of light and breeze.
Shoji Door
If you've ever considered incorporating a bit of oriental design into your home, shoji doors are an excellent choice.
These doors are nothing like your conventional door design. They're made of a delicate wooden frame interspersed with durable yet translucent rice paper. Shoji doors act as a sort of room divider and slide on a track system similar to barn doors.
Their simple design and lightweight material may be difficult to lean into, but they add a lovely charm to a modern home in need of a zen-like touch. Their translucent material also allows for softer, diffused light to enter, making them ideal for patios or outdoor porches.
Bifold Doors
Bifold doors are a clever way to save space while also increasing the visual appeal of your home. They're a modern, well-engineered option that works particularly well for open-style house formats with few partitions. Closets, laundry rooms, and patios also commonly make use of bifold doors.
These doors are typically made up of two or more panels connected by hinges that collapse and allow the door to be pushed to one end of the frame. This allows you to widen the room space whenever you want without making structural changes.
They can be made of wood, metal, or glass.
Pocket Door
Pocket doors, with their super space-saving features, are a minimalist's dream. Because they take up less space than a regular door, these doors are becoming popular as great ways to upgrade a small space. Not to mention that they make the room appear smart, stylish, and compact.
These innovative doors operate by sliding along a track built into the wall. When you slide the door open, it disappears into a nook in the adjacent wall. While they have a mechanism similar to a barn door, pocket doors provide more benefits in terms of visual appeal and space utilization.
They do not extend past the wall, allowing you the freedom to decorate your door-adjacent wall area. This results in a less cluttered, contraption-free space.
Pocket doors do require some forethought, and you should keep an eye on their upkeep because their track hardware can be difficult to repair once damaged. Despite this, the advantages of a pocket door far outweigh the drawbacks.
Hidden Door
Contrary to popular belief, hidden doors are not Narnia-like contraptions found only in fantasy literature. They are both a functional and aesthetically pleasing addition to a modern space.
Operating on a camouflage principle, hidden doors reduce the distractions and space that regular doors take up. They are also versatile in terms of styling.
For instance, you can build a hidden door into the existing closet space in a master bedroom, where it opens into an ensuite bathroom. Or, disguise them into kitchen cabinetry, with the door actually leading into the pantry.
Alternatively, you can also disguise them into contemporary slatted wall panels, which are currently a hot trend.
Saloon Doors
You may have seen saloon doors in cafes and restaurants, but this door style is an emerging new alternative that has begun to appear in homes as well. With their rustic appeal, they make a good alternative to barn doors.
Saloon doors swing both outward and inward and are a low-maintenance option that isn't difficult to install. They also provide just enough privacy while also encouraging an open-style layout.
If you want to give your home a more relaxed feel without using standard or barn doors, this is a great option to consider.
Sliding Door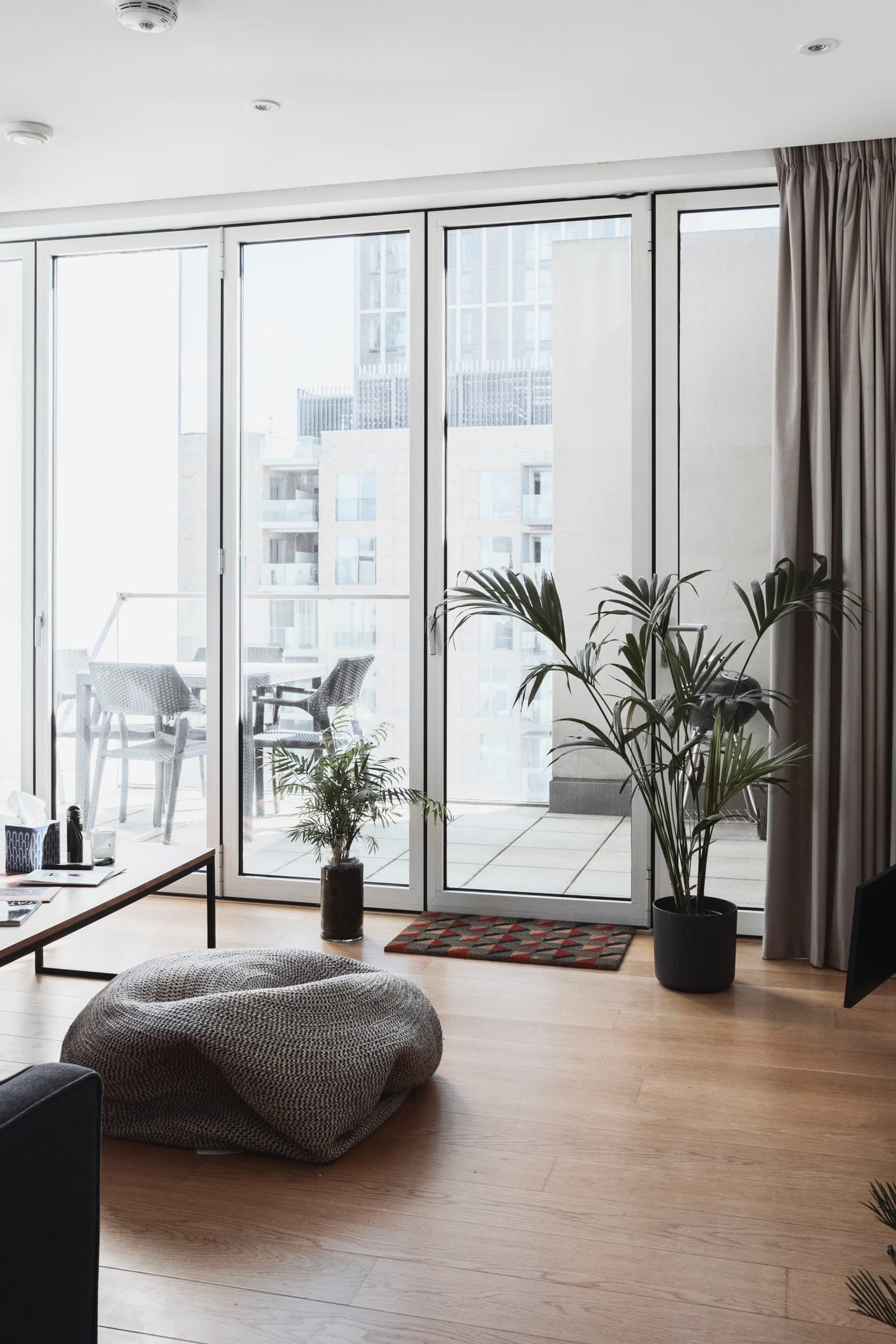 Sliding doors are the original barn door, with a simple mechanism and style that is here to stay. These doors stand out for their clever use of space and incredible practicality.
They are not only more durable and adaptable to any material, but they are also easier to install, repair, and maintain.
They are an excellent addition to small spaces without sacrificing aesthetic appeal. You can consider adding glass panels to raise the style quotient of its inherently simple design.
Sliding glass doors add an understated elegance to the room while also amplifying the sense of space and light—especially if they're used as patio or balcony doors.
Final Thoughts
When it comes to unique door designs, there are many fascinating options available these days. While barn doors have a rustic appeal, it is also important to consider designs that incorporate both practical and visual elements.
This is where classic door styles like french doors, sliding doors, and bifold doors come in handy. The allure of space-saving doors such as hidden and pocket doors is unrivaled for those seeking more than a simple design. Ultimately, choosing a door style must completely align with your home design preferences, leaving no room for regrets later!