Decorated Life is reader-supported. When you buy through links on our site, we may earn an affiliate commission. Learn More
10 Best French Bistro Chairs
French bistro chairs are growing in popularity, and it's easy to see why! These comfortable and stylish lightweight chairs make ideal dining chairs, and with Summer on the way they can easily be moved outside when you want to have dinner and drinks in the garden.
We've been working hard behind the scenes to find the best french bistro chairs so that you can bring a touch of Parisian chic to your home.
Here are our favorites!
Sunwashed Riviera Dining Chair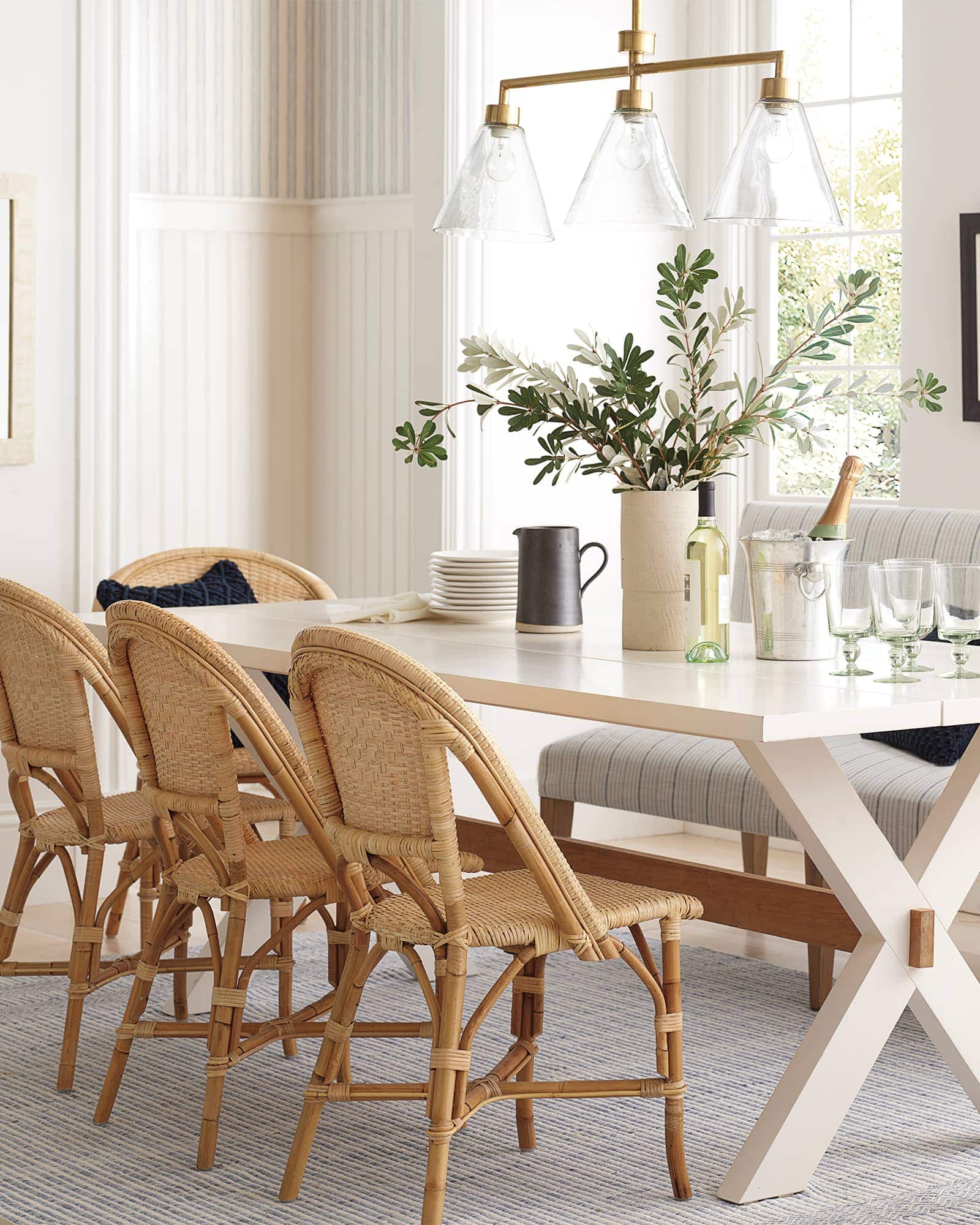 The Sunwashed Riviera dining chair is the ultimate French bistro chair. Perfect for bringing a touch of Parisian Summer into your home! It has been lovingly handcrafted using traditional French techniques, with an exclusive finish which highlights the beautiful natural variations in the rattan.
It's iconic shape and natural rattan color will evoke happy memories of sitting in the sunshine in France drinking rosé wine with lunch!
Red and White Wicker Bistro Chairs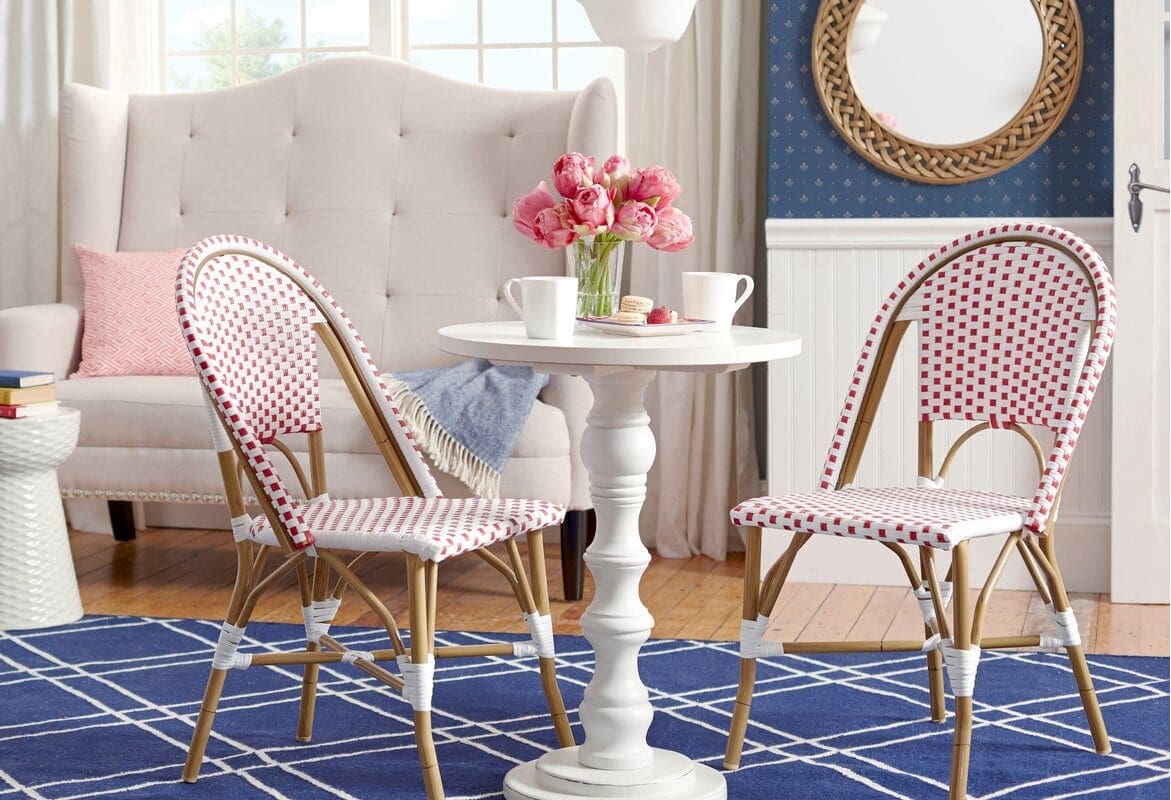 These charming red and white bistro style chairs are ideal for both indoor and outdoor dining. The chairs feature a wicker design which gives a checkered look.
The wicker has been formed on a powder coated aluminium frame with PE wicker that is 100% water resistant, so the chairs can be used outside all year round. These chairs are a must have if you're looking to add a touch of french chic to your home or garden!
Remi Outdoor French Bistro Chairs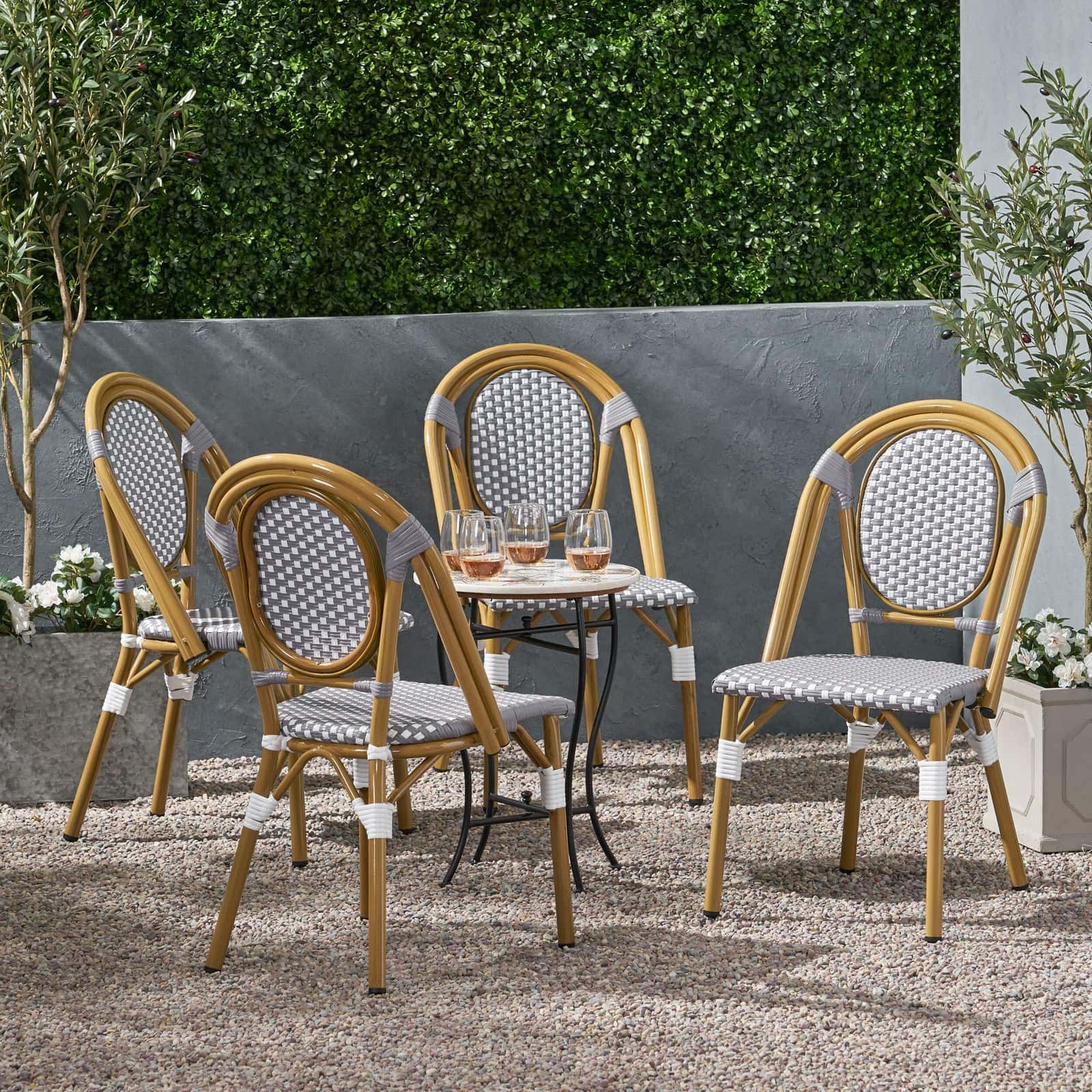 These white and blue bistro chairs are perfect for alfresco dining. Built on bamboo finished aluminium frames, these chairs are strong and durable as well as stylish. The seat and backrest are finished in wicker, giving the look of classic French café bistro chairs.
These chairs come as a set of four, and are perfect for bringing a touch of sophisticated French style to your outdoor space.
Lea Bistro Chair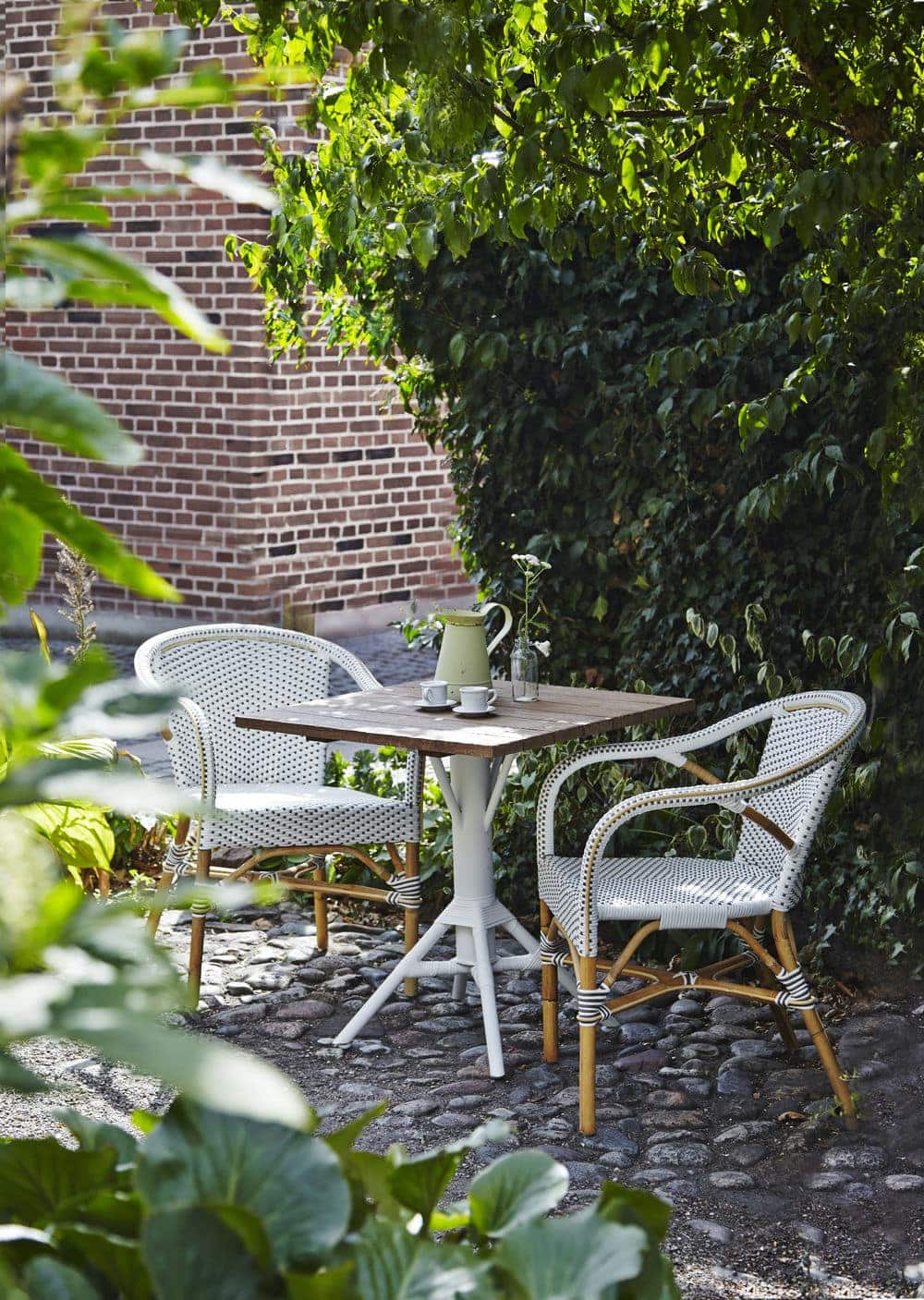 The Lea bistro chair is designed for both indoor and outdoor use, and features a woven dotted design in blue and white for a classic look. Striped trip at the wrapped joints adds a contemporary touch to these classic French chairs.
These French woven bistro chairs are strong and durable, and have been crafted from a Swiss made artificial fibre that provides optimum comfort and maintains its look and structure for years to come.
Riviera Bar & Counter Stools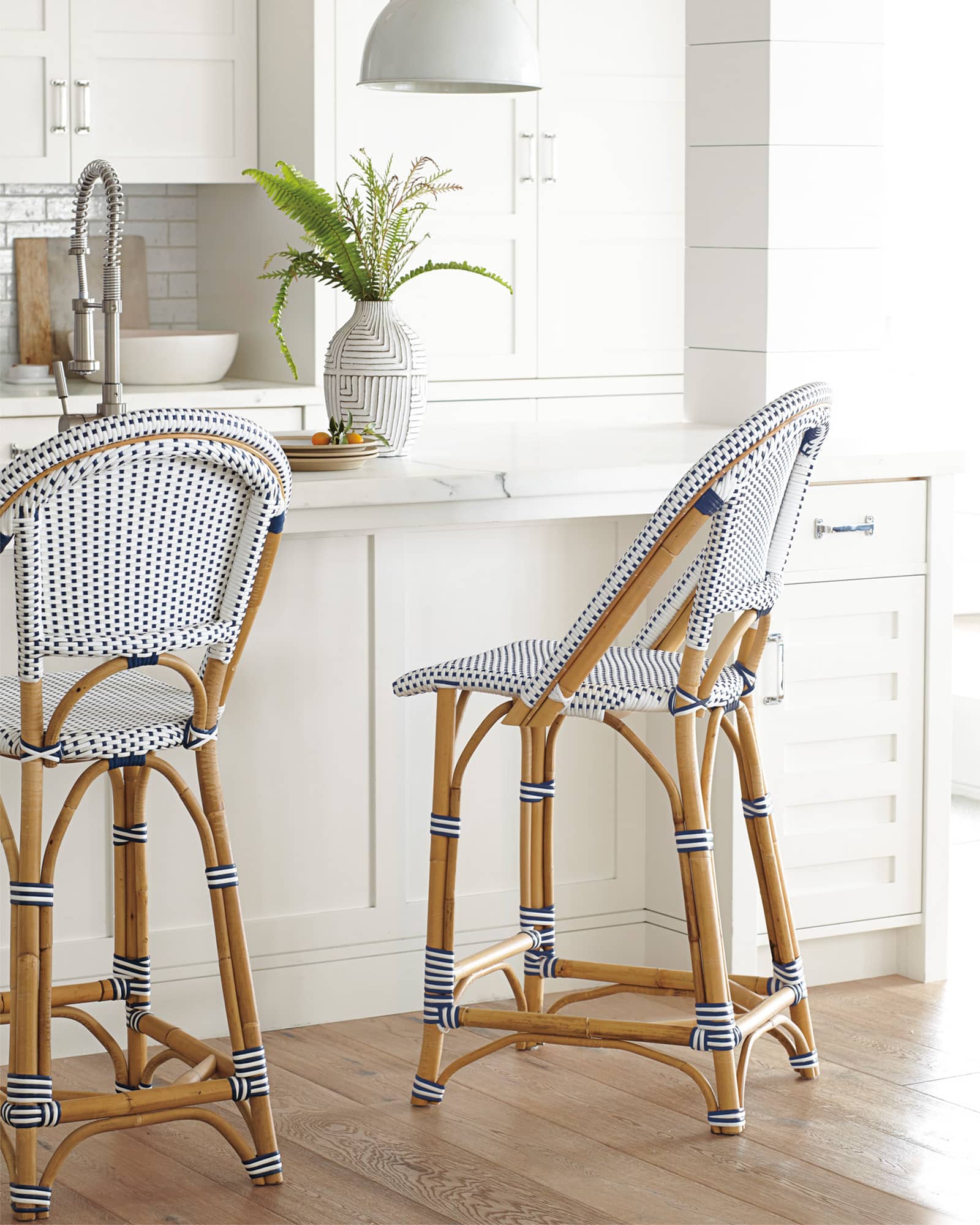 If you want to bring a touch of Parisian chic to your kitchen, then try adding a few of these riviera stools to your kitchen counter or bar. This will create a beautiful breakfast area where you can chill and eat croissants while you read the papers in the morning!
The seats are woven from lightweight rattan and plastic, making them exceptionally comfortable and family friendly. They can be used both indoors and outdoors, but must be stored in a dry place when not in use.
Belmar Striped Bistro Chair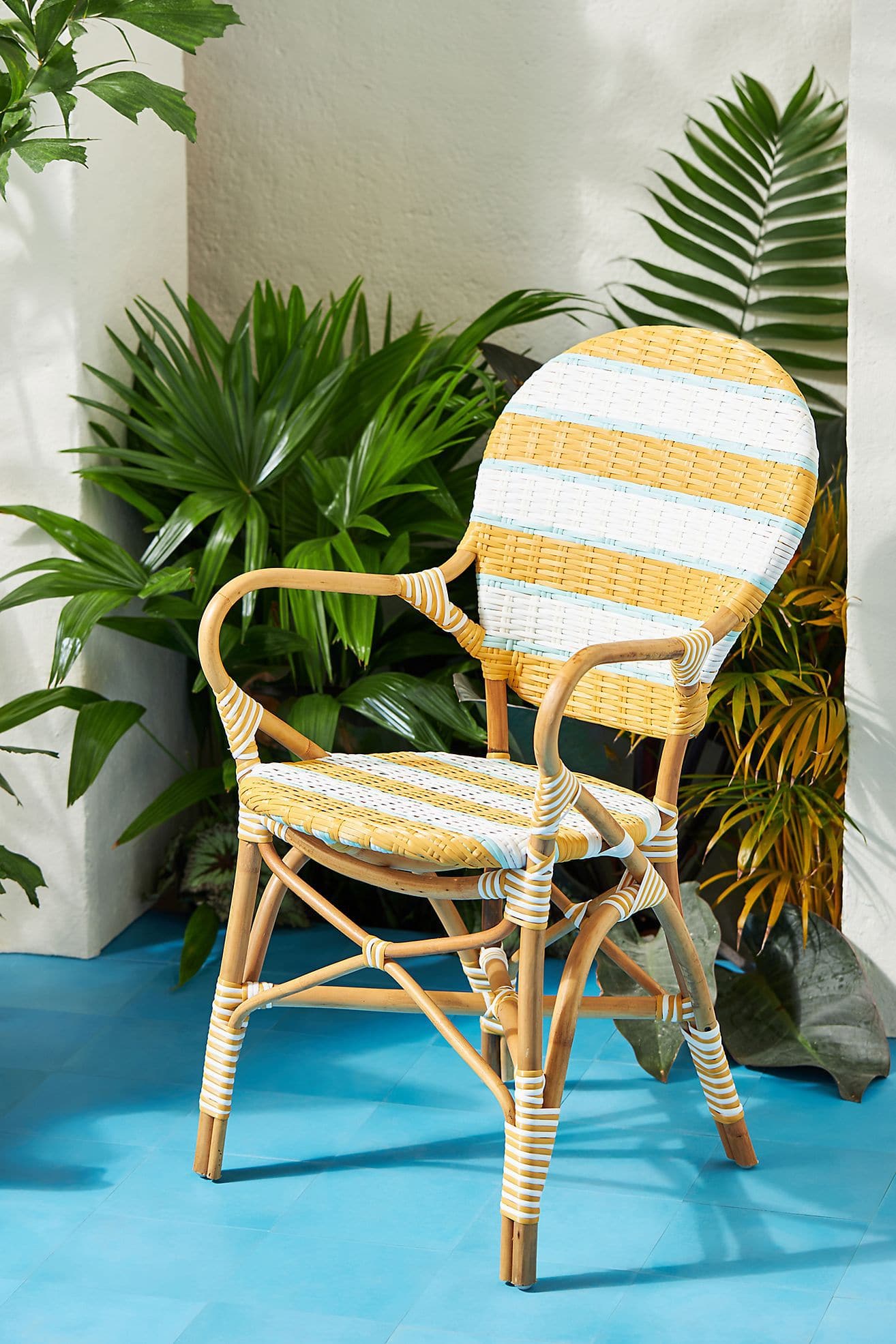 For a modern take on the classic French bistro chair, take a look at this Belmar striped bistro chair. This stylish chair has been crafted with a durable rattan frame, and sealed with a clear lacquer for protection, making it suitable for both indoor and outdoor use.
Lemon yellow, pale blue, and white horizontal stripes give this classic chair a contemporary twist. This beautiful, bright French bistro chair is sure to bring a touch of sunshine to anyone's day!
Blue and White Bistro Chairs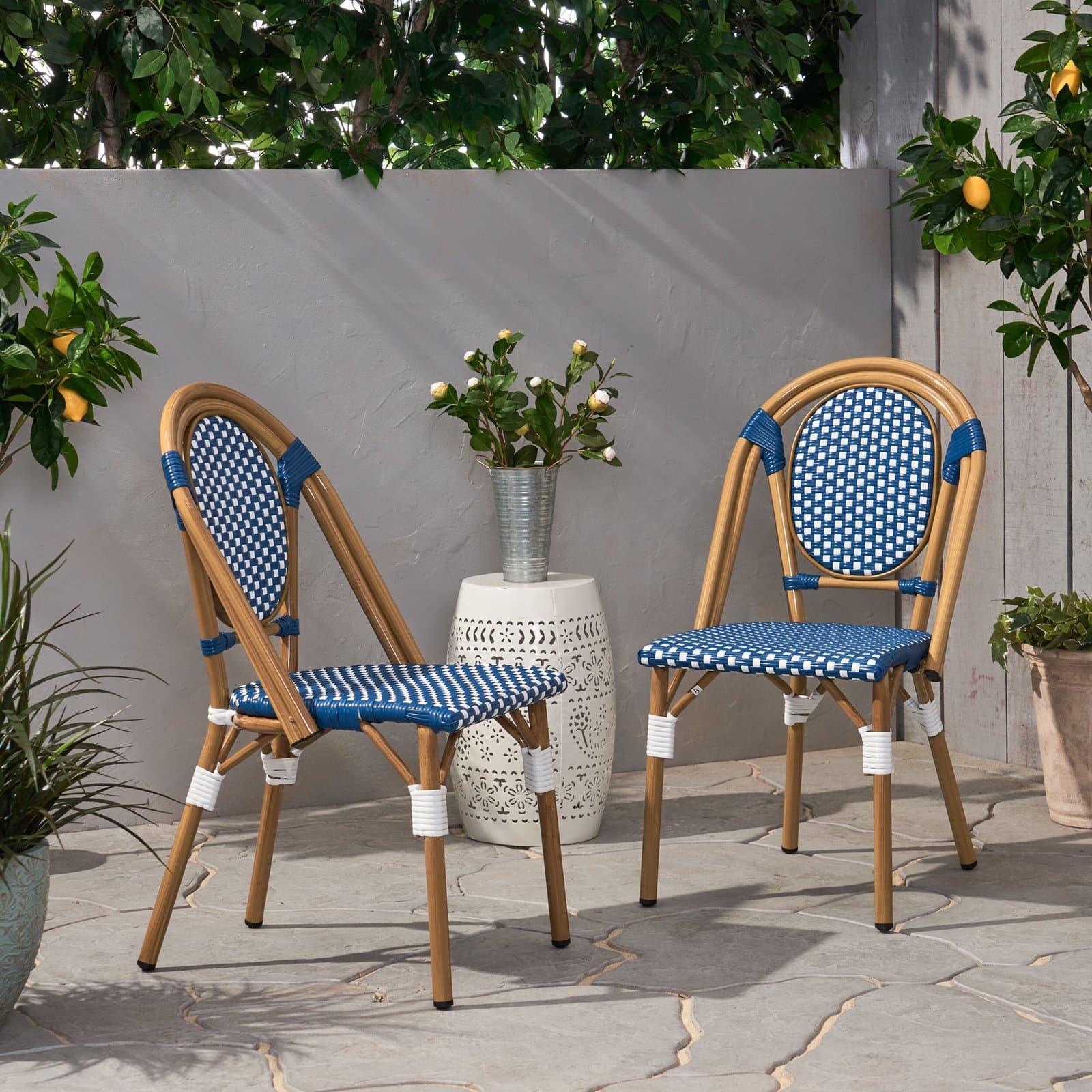 These blue and white bistro chairs are perfect for adding a splash of color and a touch of charm to your patio. Blue and white wicker on bamboo finished aluminium flames ensure that these chairs are not only stylish, but comfortable too.
Wicker is famous for being breathable, so these chairs are perfect for hot summer days, ensuring you stay comfortable and cool while you dine outside.
Gauthier Bistro Chairs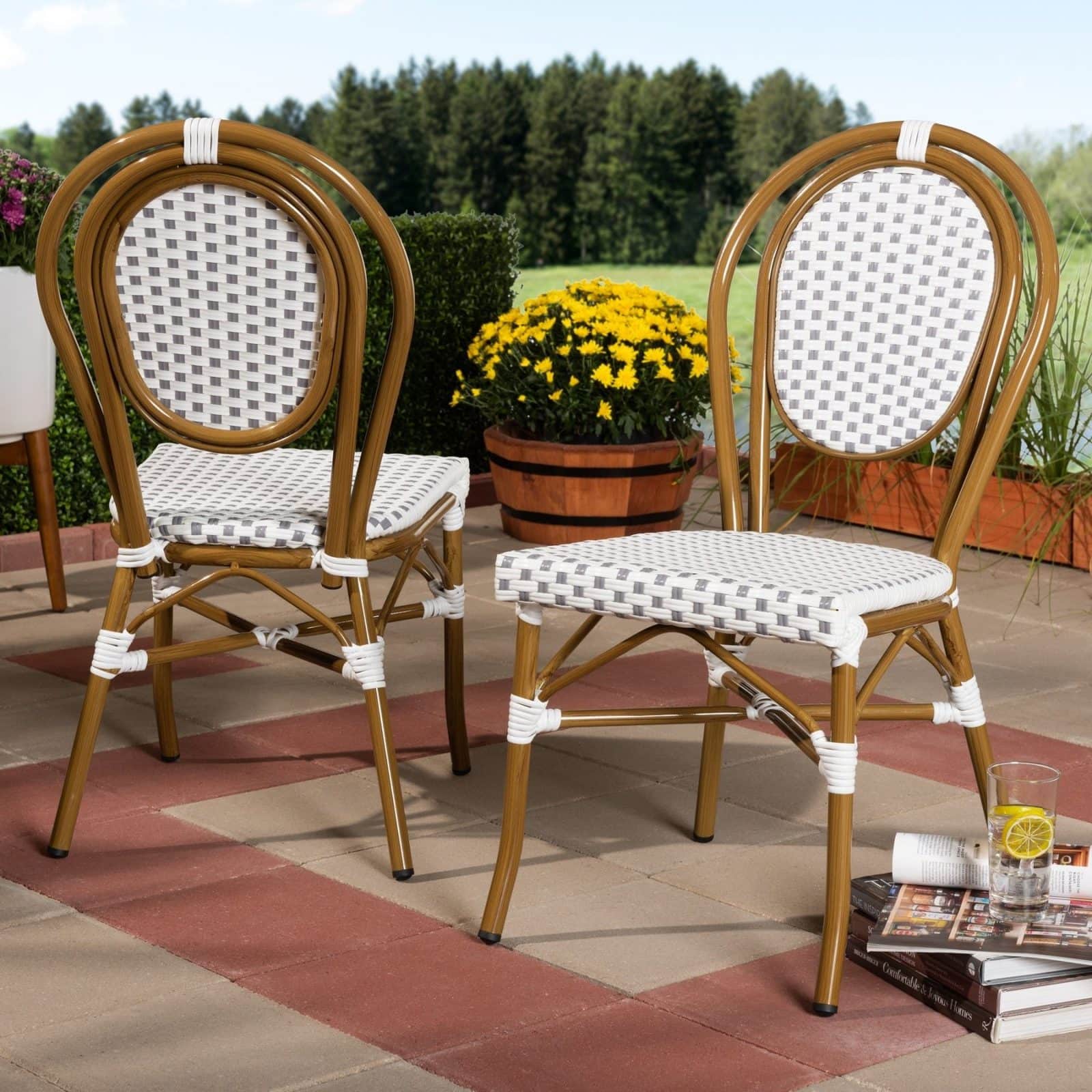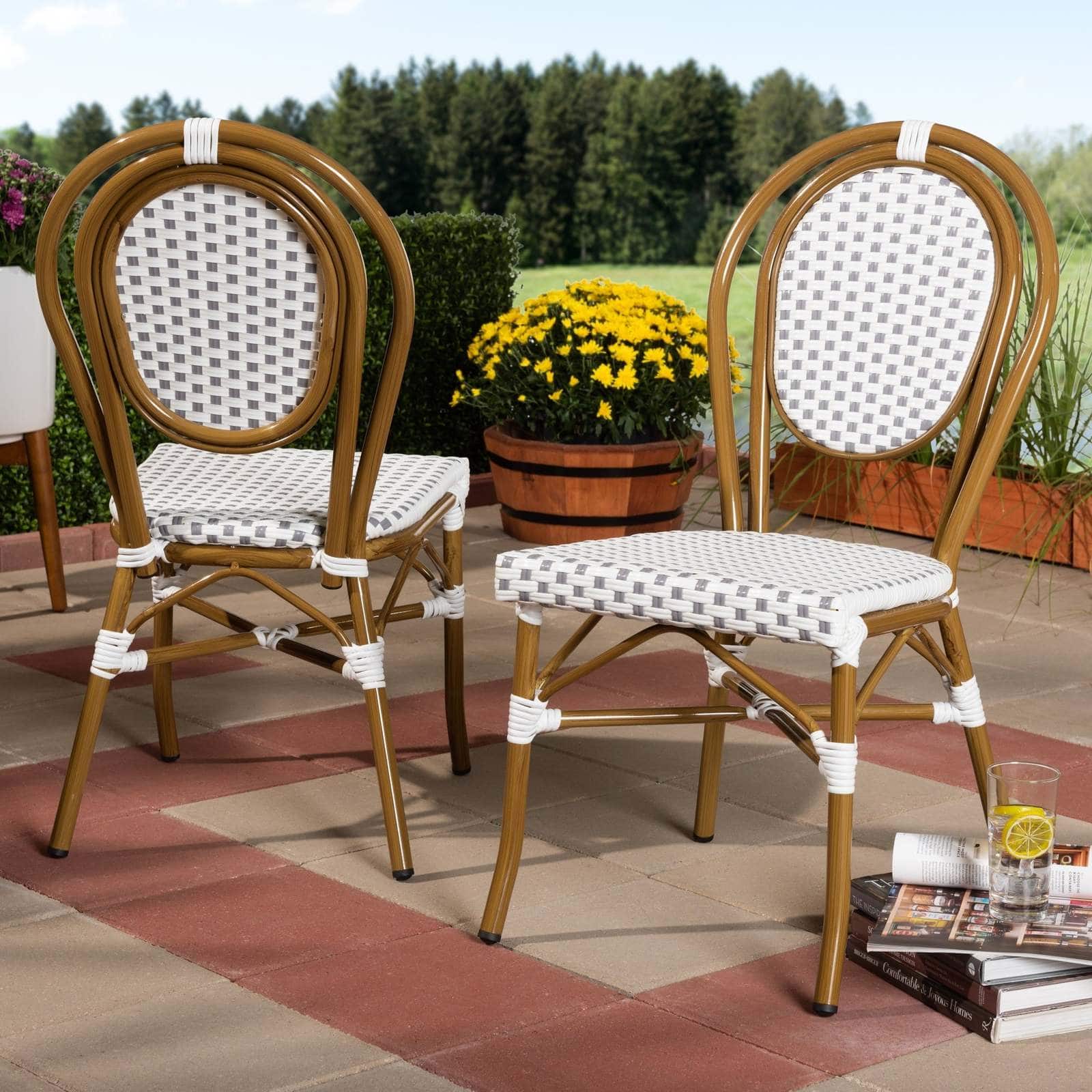 If you're looking for the perfect white bistro chair, you might have found it here! The Gauthier bistro chairs will bring a touch of French country charm to your home. This chair is constructed with a sturdy aluminium frame, with a high, supportive backrest for the ultimate comfort.
These French bistro dining chairs are stackable, making them an ideal choice for outdoor spaces such as decks, patios and balconies, but they can be used indoors too if you want to add some French style to your kitchen!
Rahul Stacking Patio Dining Armchair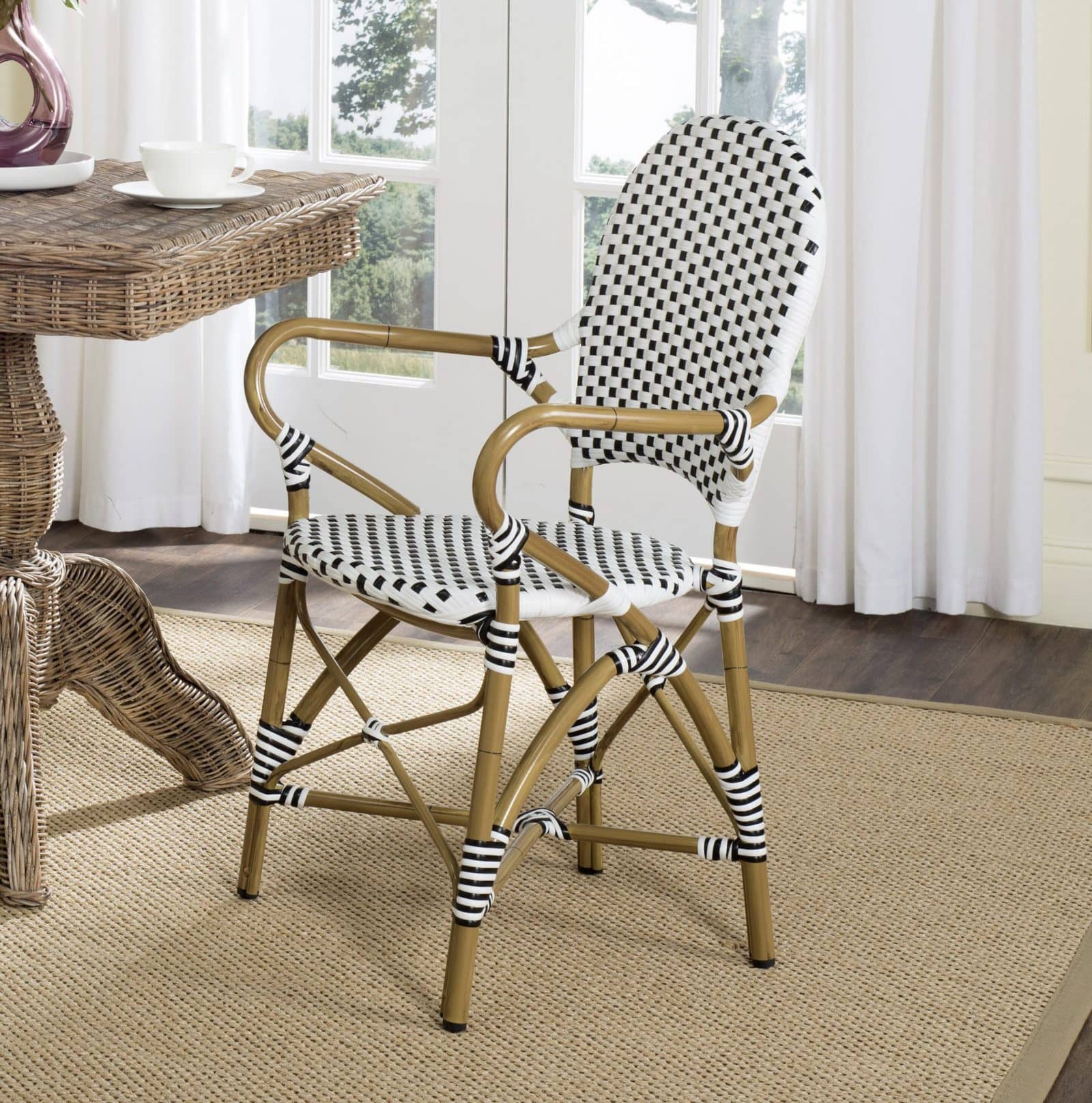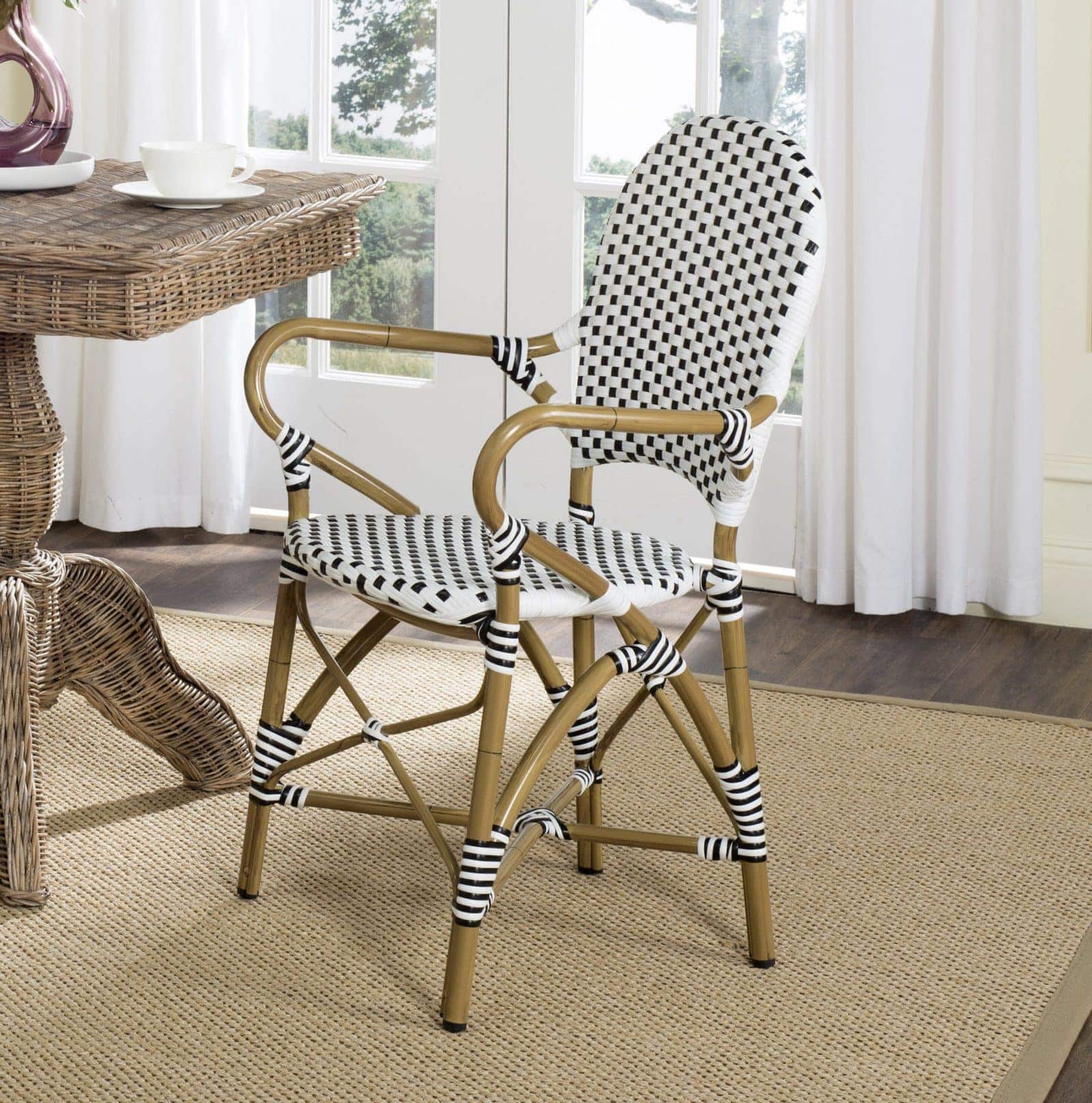 This chic black and white wicker bistro chair is perfect for adding some Parisian style to your outdoor space. With a seat woven from PE wicker, and a faux wood frame, this chair is completely waterproof, so it's long lasting and ideal for outdoor use.
The black and white wicker is woven in a way that creates a checked look on the seat and the back of the chair. Black and white striped wicker detailing wraps the joints creating a striking look on this traditional chair.
Arthur French Bistro Chairs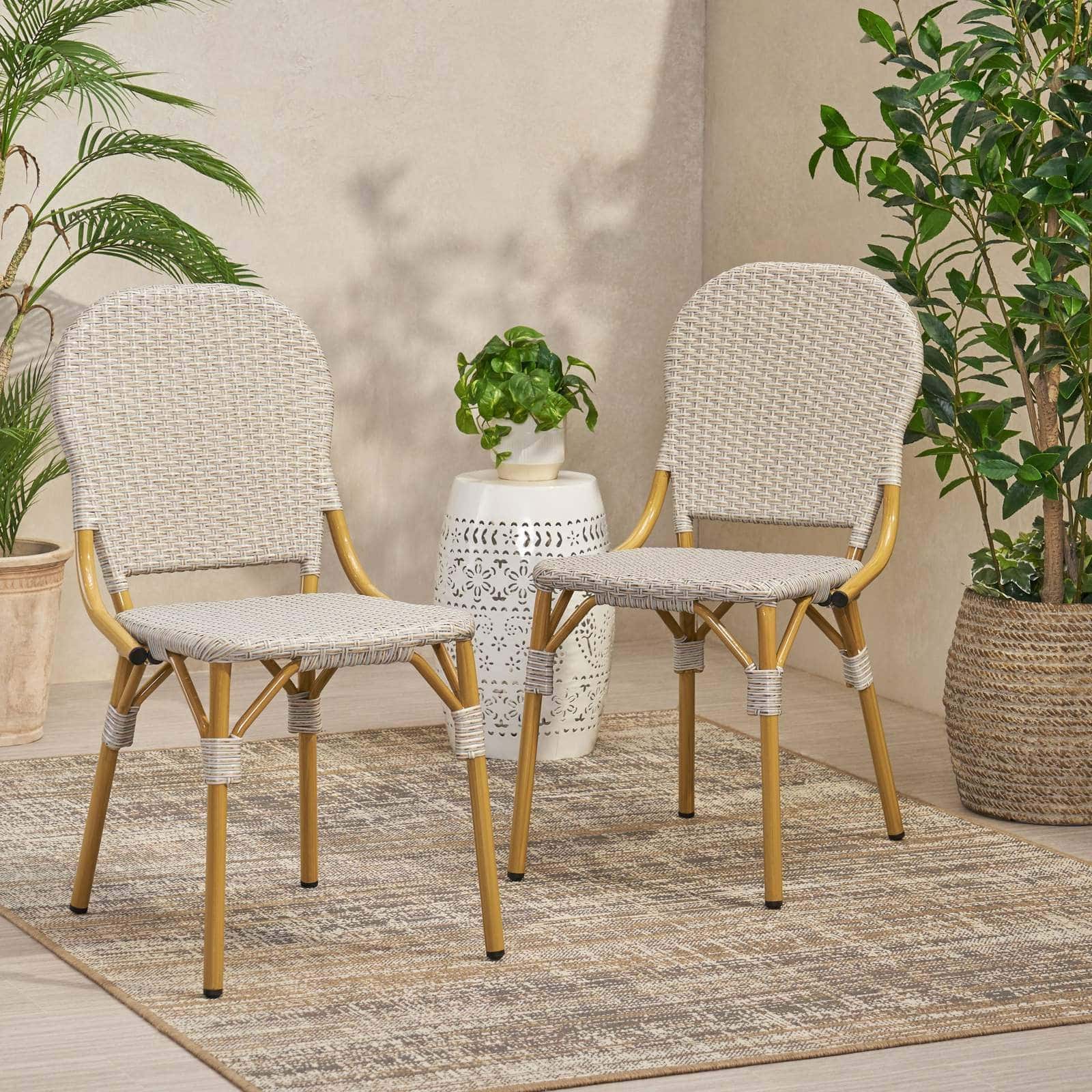 These beautiful, French inspired bistro chairs have been built with bamboo finished aluminium frames, with stunning natural wicker on the seat and backrest for an understated chic look.
The subtle natural colors will look as good indoors as they do outdoors and will work with a variety of decor styles, and so if you are looking for French bistro chairs to go inside your kitchen or dining room, these are a great choice!
Final Thoughts…
French bistro chairs are the perfect stylish dining chair for patios, decks and balconies, bringing a touch of French chic to your outdoor space. Whether you are having a 3 course meal or a gin and tonic, you can be sure you will be cool and comfortable sitting on these breathable wicker and rattan chairs.
Although these chairs are traditionally designed to be used outside on the cobbled streets of France, they look just as at home in a modern farmhouse kitchen or dining room.
These charming chairs are lightweight and strong, so if you choose to use them inside your home, they can easily be carried outside for alfresco dining in the summer months!