Decorated Life is reader-supported. When you buy through links on our site, we may earn an affiliate commission. Learn More
Best Sherwin Williams Blue Paint Colors
Blue is hands-down the most beloved color on the face of the planet. In our hectic, overscheduled world, the calm and relaxation that blue offers is probably always going to be in high demand.
It's no wonder then, that so many blue shades get all the love online. But there are so many of them! Where do you even begin to choose which one to use in your home? Especially if you love all of them? Trust me, I can totally relate to that problem!
But never fear! I have narrowed down all the fabulous blues Sherwin Williams has to offer into the best of the best: the most popular, the most useful, the most enduring. Once you've perused this list, not only will you know which blues are best, but you'll be ready to put them to use.
So let's take a swim with the best blues, and find out which ones win the blue ribbon!
Salty Dog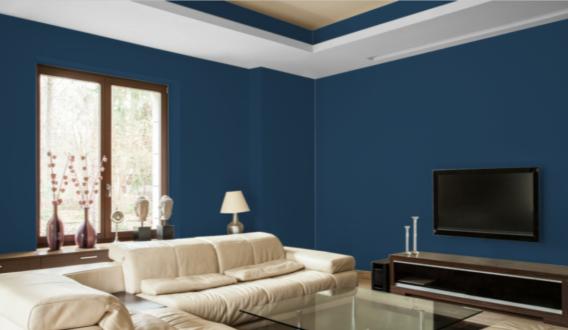 I had to include Salty Dog on this list, because it's my personal favorite navy blue. I love the vibrant royal blue undertone that really makes this color pop, and sets it apart from more traditional navy blues that typically have more gray in them. Salty Dog is still very dark, with a LRV of 5.
Salty Dog is Perfect for Kitchen Islands
Naval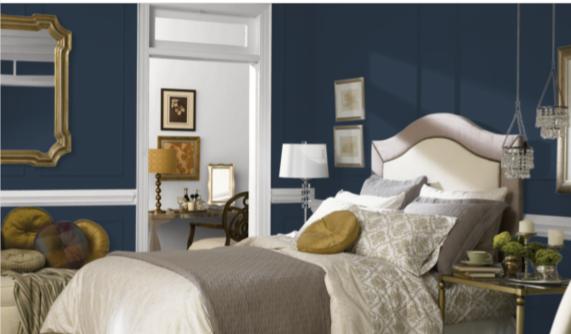 Naval is an extremely popular traditional navy blue, and was Sherwin Williams' 2020 Color of the Year. They were determined to start our new roaring '20s with a bang, and Naval looks absolutely killer with bold Art Deco gold and black. This inky blue has a super deep LRV of 4.
Naval is the Best Version of a Classic
Atmospheric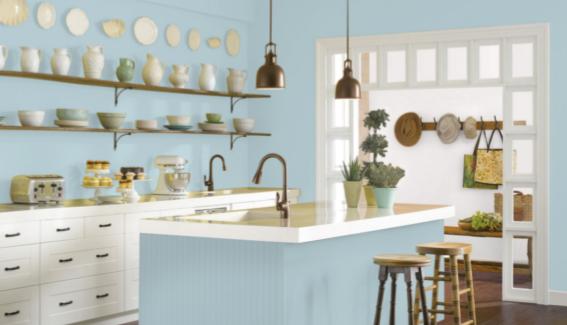 Atmospheric is an interesting light blue that can definitely be something of a chameleon in changing light conditions.
Just compare the color in the two very different images we have for you here, and you'll see what I mean! Atmospheric is a creative and eye-catching choice for ceilings that can help a room feel more expansive without the starkness of a white. Its LRV is 67.
Atmospheric is Great for Ceilings
Windy Blue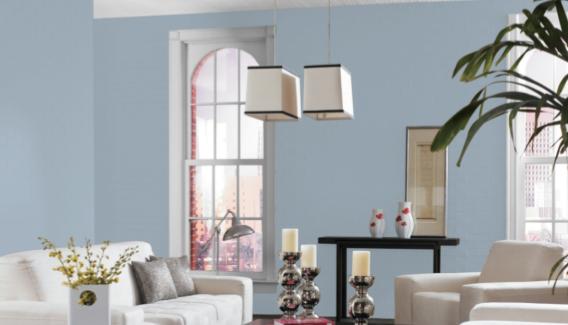 Windy Blue is a balanced blend of cool periwinkle blue and cloud gray to make a subtle blue mid-tone that can function as a neutral backdrop for other colors. It's a medium-toned color, with a LRV of 48.
Windy Blue is a Subtle, Neutral Blue
Indigo Batik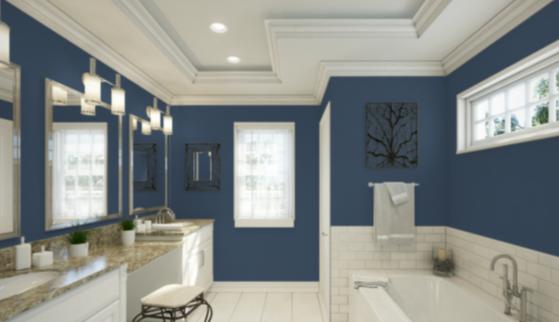 Indigo Batik is a rich, dark blue that hangs out with the navy blue family, but comes across as more blue than, say, Naval. This is a color that feels upscale and luxurious, especially next to gold and silver. Indigo Batik has a low, dark LRV of 8.
Indigo Batik is Instant Luxe
Georgian Bay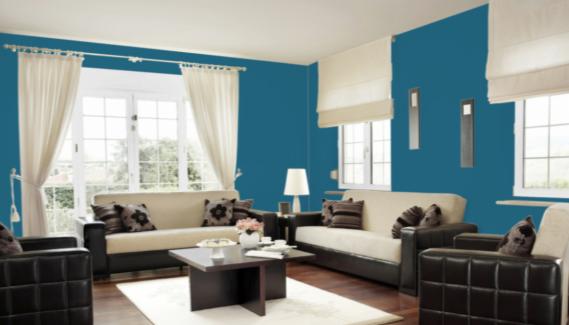 Blue colors don't all have to be quiet and calm. Georgian Bay is a bright and appealing teal that's sure to make any space more cheerful. You can play up this trait by pairing Georgian Bay with other bright colors, or tone it down with earthy neutrals like creams, tans, and browns. Georgian Bay is a deep color, with a LRV of 11.
Georgian Bay Cheers Up Any Room
Sleepy Blue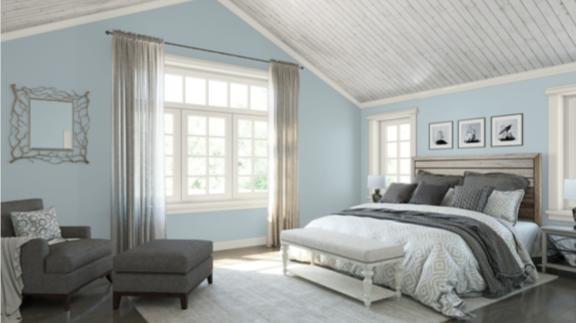 Sleepy Blue is a subdued robin's egg blue that sticks to the blue rather than leaning into other color families. That can be nice when you're trying to get away from the gray trend.
This is a soothing and relaxing color that's great for restful spaces such as bedrooms, family rooms, or reading nooks. Sleepy Blue is a mid-tone with a LRV of 58.
Sleepy Blue is Calming and Cooling
Watery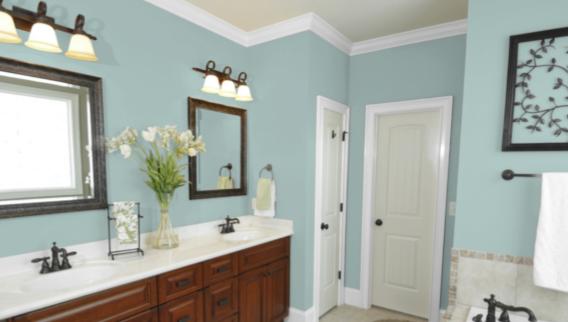 Watery is a soft blue-green color that's as cool and refreshing as its name implies.
As you can imagine, this color is a popular choice for coastal decor styles. Its light and airy feel helps open up small rooms. Watery has a LRV of 57.
Watery Makes Rooms Feel Larger
Aviary Blue
Aviary Blue is a light spring sky-blue that's happy and friendly. With a LRV of 73, it's light enough to work well in small or dark spaces, while working with a gentle hand in larger rooms.
Aviary Blue is Beautiful with Tile
Stardew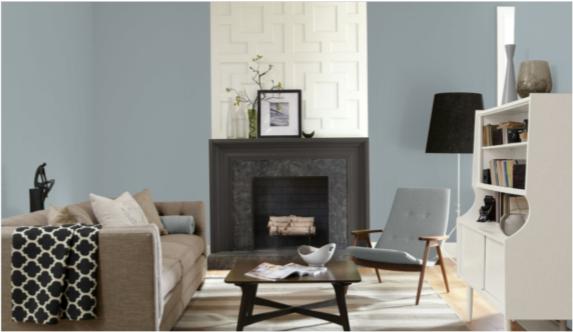 Stardew is a very subdued slate blue blended with a lot of gray. It's a mid-tone color with a LRV of 43. Good lighting and white or cream coordinating colors will bring out Stardew's blue tones.
Stardew is Gorgeous on Cabinets
Smoky Blue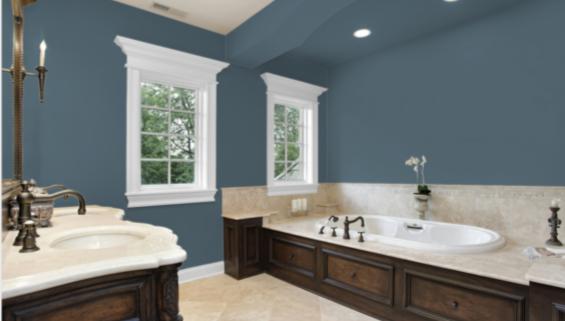 Smoky Blue is a restful and organic shade of navy blue that makes a statement without being overpowering. It owes its understated coloration to the gray in its blend. It's a little lighter than the typical navy blue, with a LRV of 15.
Smoky Blue Makes a Statement without Overpowering
Aleutian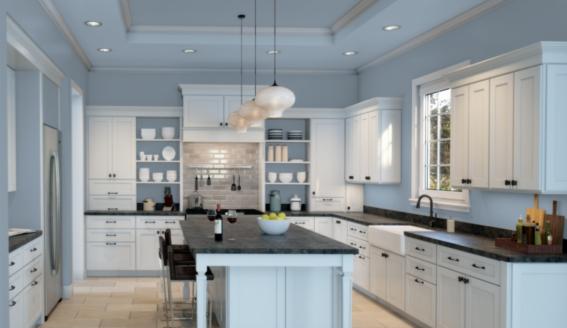 Aleutian is a silky blue-gray mid-tone with a flowing quality. Its silver undertones are ideal companions for metalwork and appliances, making Aleutian a great color for a kitchen, dining room, bathroom, or office. Aleutian has a LRV of 39.
Aleutian is Ideal with Metalwork
Luxe Blue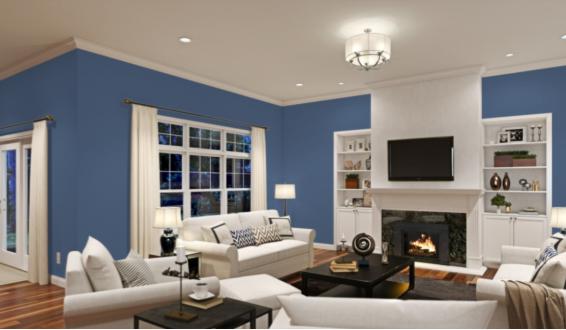 Luxe Blue is a deep and vibrant blue with purple undertones. It's a great choice when you're looking for a blue that pops, or trying to get away from the gray family. This is a friendly color with a "true blue" feel to it. Luxe Blue is a bold choice, with a LRV of 13.
Luxe Blue is Friendly and Welcoming on Exteriors
Icelandic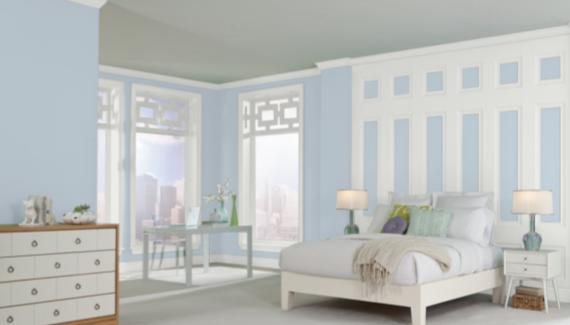 Icelandic is a pale, wintry blue that's been trending in recent years as ice blues become more popular. This color lends itself to a variety of styles including Scandinavian, minimalist, coastal, and mid-century modern.
Icelandic is Great for Retro Kitchens
Oceanside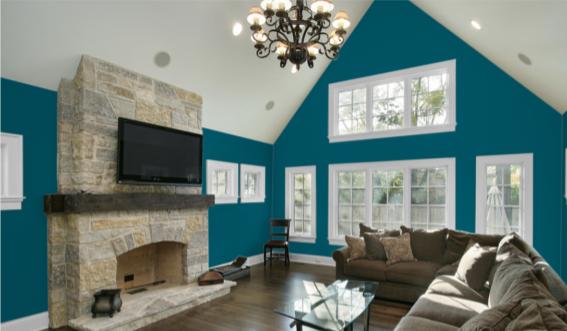 Oceanside is a vibrant, dark teal that can whisk you away to exotic seascapes or jungles, or let your inner kid out to play.
This lively jewel-tone was Sherwin Williams' 2018 Color of the Year and has a lot of fans. It's the perfect backdrop for an art wall or to accent a unique collection. Oceanside has a LRV of 8.
Oceanside is Perfect for Boho Style
Wait, So What is LRV?
LRV stands for Light Reflectance Value. It's a way of measuring how light or dark a color is. The scale runs from absolute black, which is 0, to sheer white, which is 100.
The LRV numbers are provided in this article so that you can easily compare the colors on the list to each other.
Final Thoughts
You really can't go wrong making blue the star of your color palette. Like a favorite pair of jeans, many blues will go with anything.
Plus, you'll have a hard time finding a person who doesn't like blue! If you're not sure where to start, pick one or two colors from this list that speak to you and build a palette around them. You'll be well on your way to a true blue home refresh!