Can You Mix Leather And Fabric Furniture?
We know that what works in design is those touches that throw things off to add a little intrigue. Matching too many tones and styles can look like you've bought your living room straight out of a catalog. But combining random furniture can make your home like a junk store.
But how do you get it right? Can you put any old leather sofa with a fabric armchair for example. Well, yes, to an extent you can, if you style it right.
You'll need to think about your overall scheme, your colors and materials, to get the look right for your home. Layering textures from a solid foundation is a good way to create a stylish designer look.
Cool and Minimal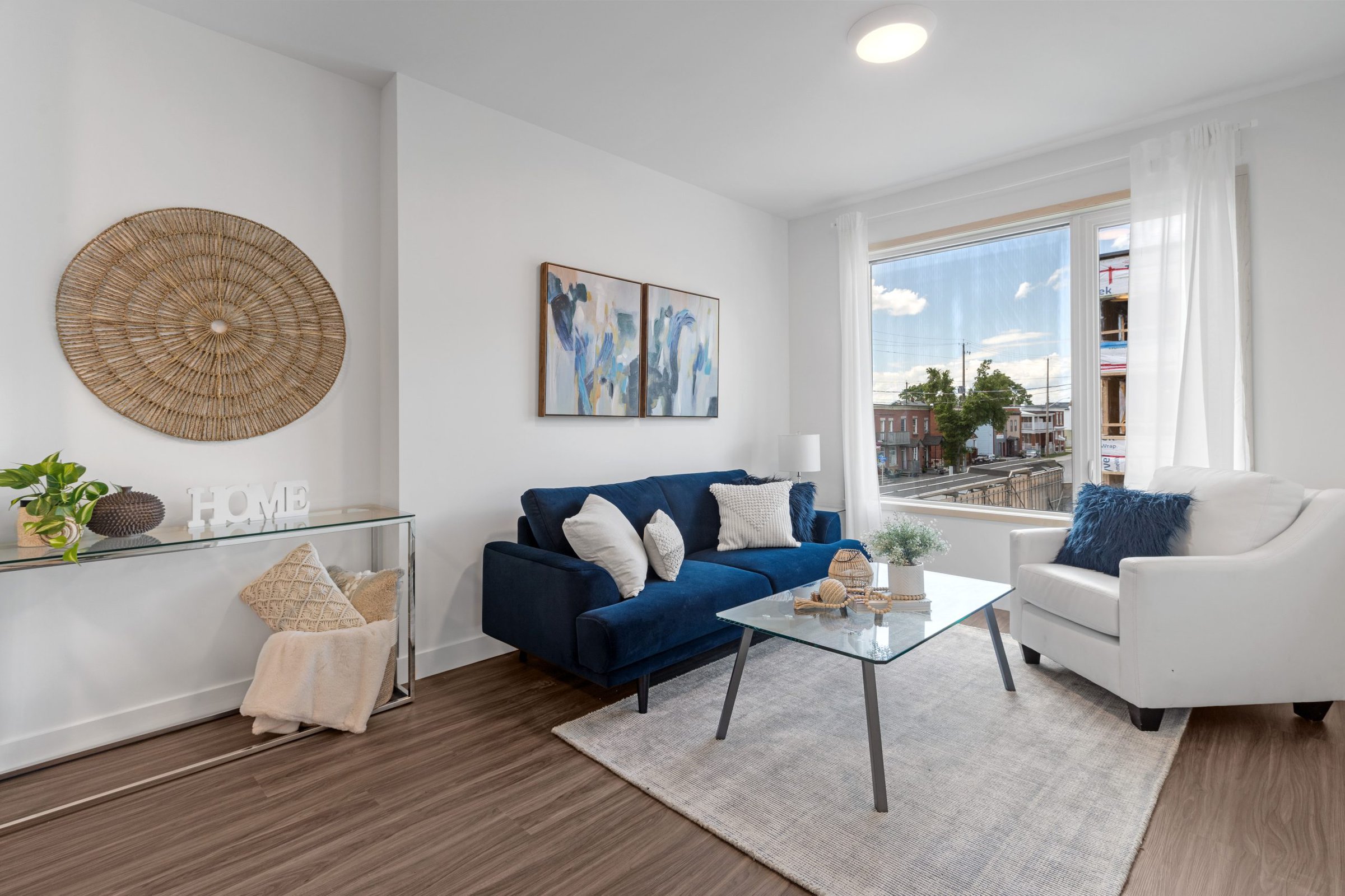 If we go right back to basics and experiment with subtle tones and textures, choosing two colors in a scheme is a good, unobtrusive beginning.
A bold blue velvet sofa can be given an air of tranquility by decorating walls in white with matching pale tone accessories. A traditional piece of furniture like a heavy sofa can be modernized by blending it with a sleek leather chair in an angular design.
And if you're feeling brave, you can begin to introduce more color with accessories and soft furnishings like pillows. Go as bold as you dare.
Large, Open Living Room
Brown and tan leather has a natural warmth so if you have a large open floor plan room, a leather sofa will introduce a cozy feeling.
Layering textures with fabric pillows will also draw the room in. And instead of buying a matching suite, to add a little playfulness and contemporary look, pale fabric chairs are cute and right on trend.
Classic Minimalism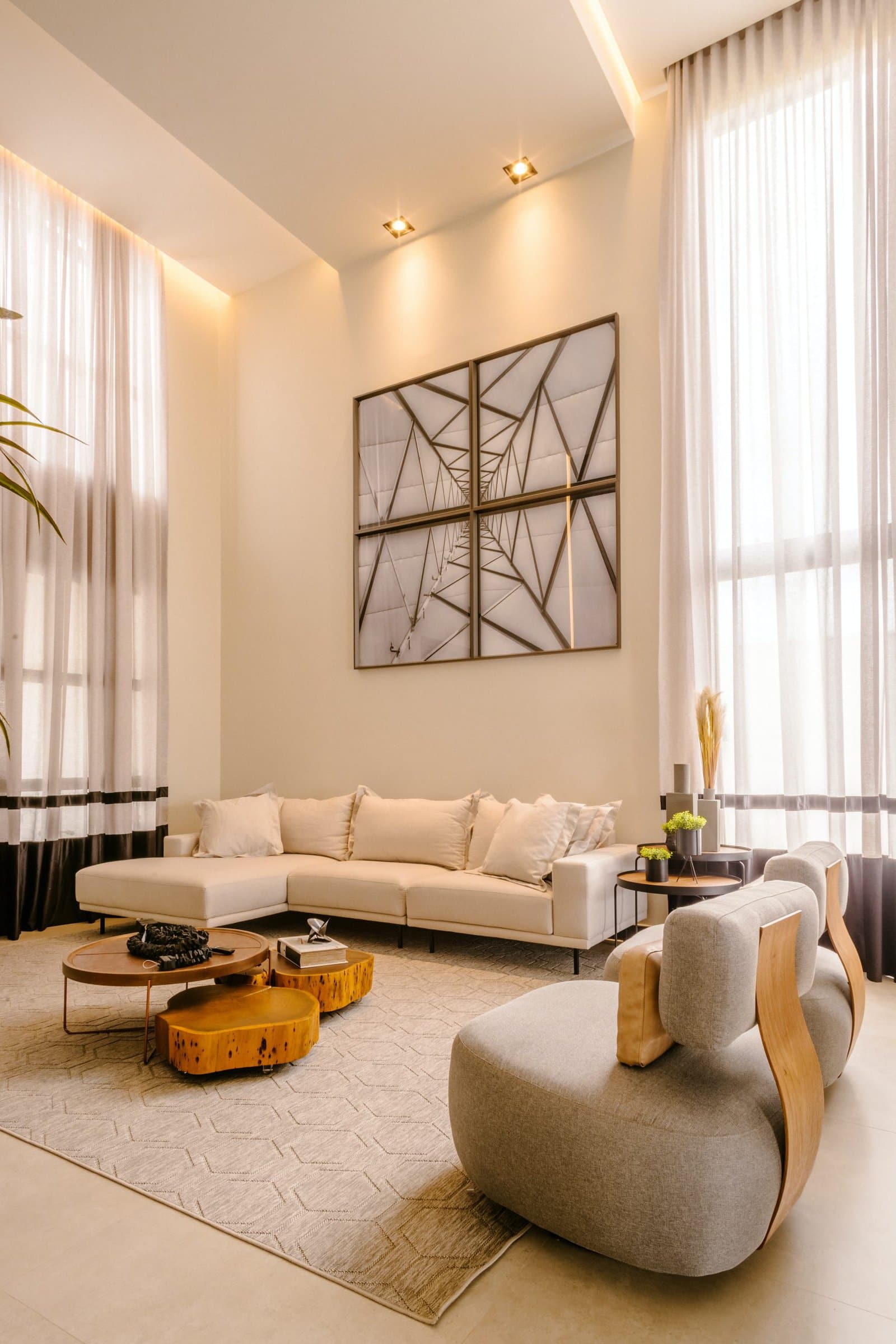 If you are a minimalist perfectionist then you'll prefer to keep a large space more stark with clean lines that accentuate the room's architecture.
A white corner sofa is the epitome of cool in a modern leather material. To add a distinct designer look, unusual fabric chairs are fun without detracting from large windows and exquisite art in shades of gray.
Dark Times
For delicious chocolate textures and a comfortable place to chat and relax, a brown leather sofa looks gorgeous against dark walls and soft furnishings.
For added sumptuousness, a velvet sofa is a welcome addition. Attention to detail through accents like lamps and art can give a period feel. Think of a cozy English pub, or a weekend in an olde world Bed & Breakfast. Somewhere to draw in close together on a stormy night.
So if you have a taste for the dramatic, pick soft furniture in mixed upholstery, layer dark colors and be sure to mismatch patterns.
Glamor in the Living Room
A plain brown sofa is versatile in many design schemes for your living room. If you are fed up with a dull palette, then painting your walls in a dark blue will add instant glamor.
To go totally for a polished, golden finish, choose metal-framed furniture in a plush velvet. Other gold metal touches in the room will introduce an Art Deco style.
Keeping your colors to two or three choices will leave the room feeling cool and calm. Any more and it'll feel energetic and busy, so it's a matter of your personal preference as to how you would like the room to feel.
Trendy Loft Space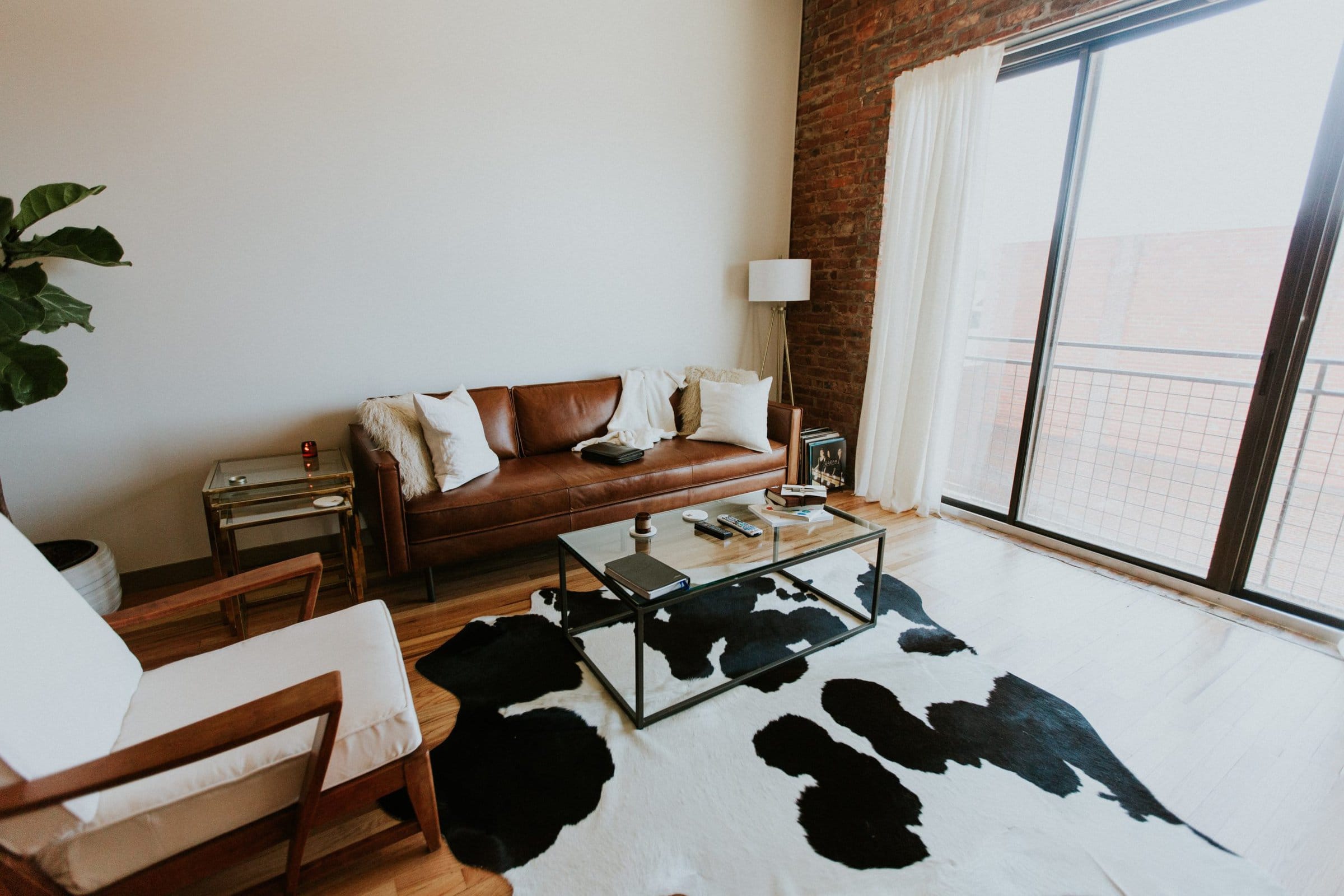 If you are lucky to have a loft apartment with gorgeous red brick walls, then to put in a little retro cool, a brown leather sofa will look perfect with just a few additions.
An easy Scandinavian style fabric chair in off white will look anything but boring if you pick an unusual contrasting rug. If animal skin is not your thing then go for a print. Or a woven Aztec rug with textured pillows would look seriously hip.
Farmhouse Living Room
If you're into the pretty, rustic look then a brown leather sofa is crying out to be paired with a traditional neutral linen sofa.
With layers of fabric pillows in pale and blue colors and varied textures, you'll bring in that earthy yet luxurious feeling in a living room that's practical but calm to relax and read or to entertain.
Other accents in wood and cotton will make you feel like you're in another century. A romantic yet practical combination.
Warm Monochrome Living Room
For a clearly defined statement look, sticking with two or three tones will show there is no accident for any of your choices.
Monochrome decor can be given warmth through a leather sofa and cute boho design pouf. A neutral sofa adds another layer of texture and will break up what could be heavy, dark walls. Again, the two contrasting sofas give layers and richness to a styled look.
Boho Beauty
For the mid-century boho look, leather chairs with a wooden frame are simply perfect. Add a sheepskin or fluffy rug for an added pinch of vintage style.
To make the room cozy, a plump velvet sofa with eclectic colorful pillows will keep you comfy and let you enjoy the vibrancy of the design.
If you have a sofa or chairs that need replacing but some of the furniture is still good then you don't need to throw all of the old out. Use your creativity to see what new room scheme you can come up with by adding leather to fabric or vice versa.
A Splash of Color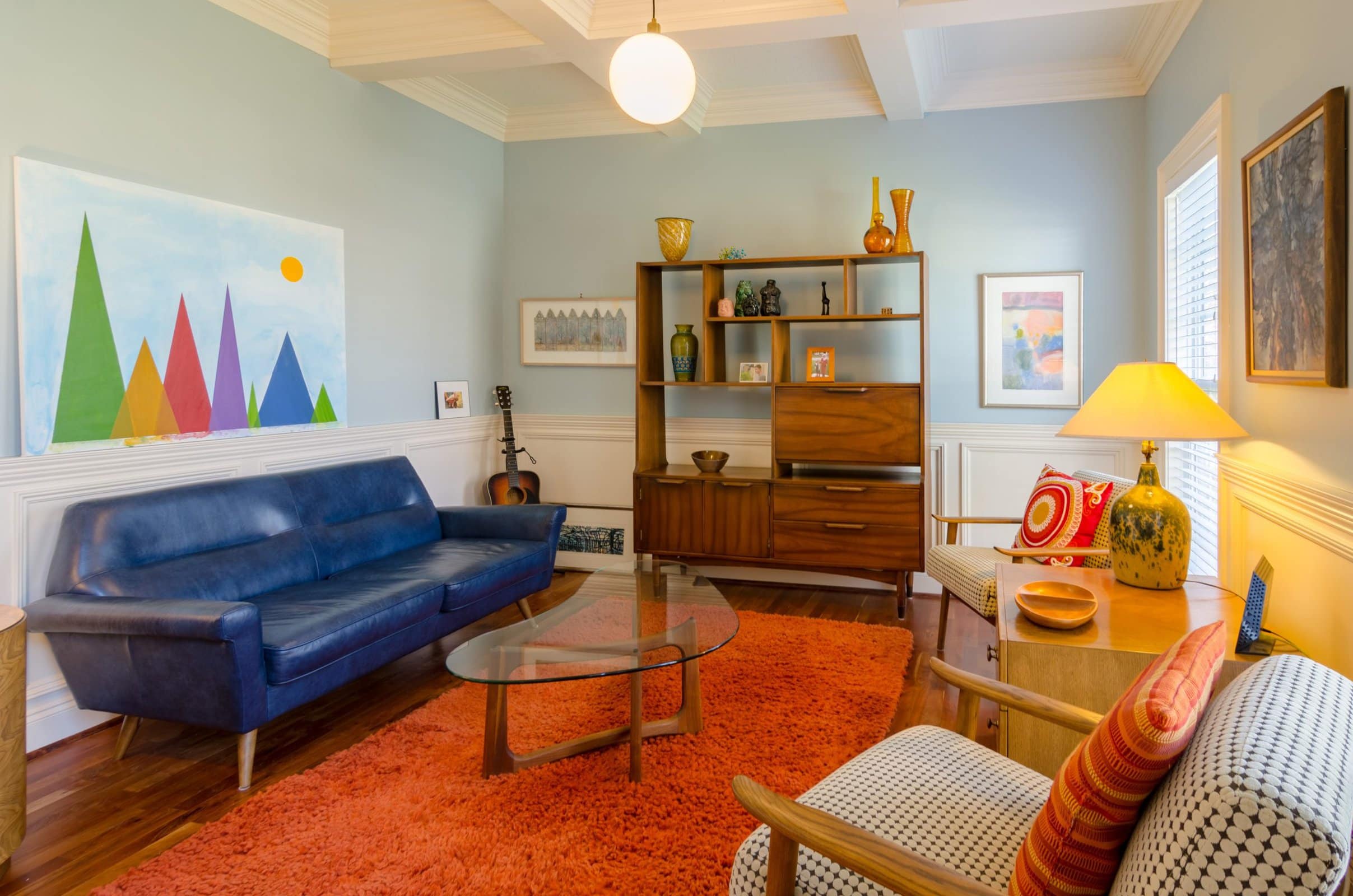 A bright blue leather sofa is a bold statement on its own but combined with colorful art and accessories and patterned fabric chairs is a room full of fun.
Don't just think about using plain fabrics. You can lift the whole room by juxtaposing leather against a variety of patterns, including the chair or sofa upholstery.
If you favor an eclectic style then mixing with little restraint will give you the living room of your dreams.
Utter Decadence
For a feeling of expense and plushness you can't go wrong with a solid Chesterfield sofa, the kind you might find in a grand house or a country club.
To recreate this look, don't match too much and don't go too new. See what your antique store or local Facebook group has for sale.
A Queen Anne style chair in a dusky pink velvet with another mismatched armchair and some traditional style sofa cushions will ace the look.
Think about accessories like gilt-edged mirrors and a wonderful traditional style library with leather bound books.
In Conclusion
You can most certainly mix fabric and leather furniture. If you have a theme for your room, then you'll need to make sure your choices lend themself to that.
For minimal looks, clean lines are a must. But a natural leather sofa can introduce some warmth and another layer of texture.
For those with eclectic tastes, you can feel free to combine color and texture as you please. The more unusual the combination and the more varied the textures, the more boho your home will look.
There's something for everyone to try, whether your tastes are conservative or whether they're big and bold. Mixing materials will enhance your home design.