18 DIY Computer Desk Ideas That Will Save You a Lot of Money
Whether you have a home office or you're a student who wants to spend time in online research, a dedicated computer desk is very important. Of course, you can just take your laptop and sit anywhere but if you do care about ergonomics and the right posture, it's best to have a proper computer desk.
And there are so many computer desks in the market. But if you don't want to buy one because they're expensive or not according to your specifications you can create your own custom computer desk right at home.
Let's look at some cool computer desk ideas.
Corner DIY Gaming Desk
If you're looking for an elaborate desk that can help you play games on your PC, you might think you need a lot of space for it. And if you have a small apartment, dedicating a lot of space for a computer desk is out of the question. However, the good thing is that you don't really have to use up a lot of space.
Create a corner gaming desk that will utilize space and still offer a comfortable area where you can work or game. And if you need it for office use, it's just perfect. A cabinet for the processing unit and separate sections for other units – it is the perfect solution for a small home.
A Minimalist Homemade Computer Desk
This minimal computer desk might not have separate cabinets for every unit but it looks modern and stylish. The processing unit can be kept on the ground and only the screen, keyboard, and mouse rest on the countertop. Since it's a minimal design, it doesn't take a lot of effort in making. And in that saved time, you can design a matching chair as well!
While the desk is minimal in design, it does have enough space for your stationery and a couple of diaries and notepads. And since it doesn't take a lot of space, it's also good for a small house.
Concrete Countertop Computer Desk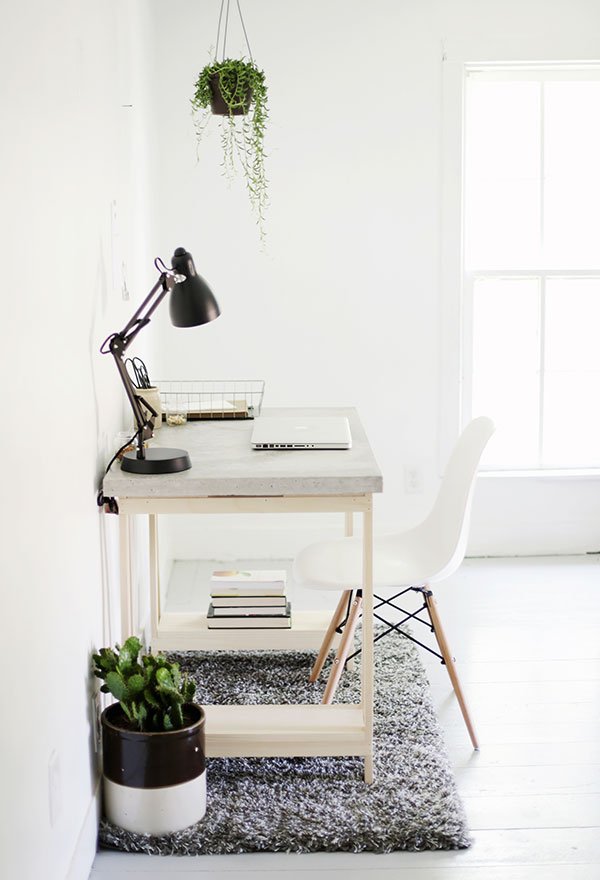 Why get a regular computer desk when you can have an industrial style modern desk with a concrete top? And since it is concrete, you can give it any shape, thickness, size, or even color. Here, it's kept simple and minimal. It's just a regular table with the top made of a concrete slab.
There's one consideration here – since a concrete slab can be heavy, you might want to replace the wooden frame with a steel one. This will give it more strength and you'll have a computer table that's durable enough to survive at least a decade.
Via Home Depot
Computer Table Made of Planks
You don't have to spend too much time or procure too many resources to create this table. The countertop is made of planks put together as one surface. Just make sure you polish the planks so they form an even and smooth surface that lets you work easily.
You can install pull-out cabinets on one or both sides of the table. Or you can install cabinets on one side and create space for the processing unit on the other side. This computer table gives a rustic look and will add a modern appeal to the room.
A Rustic Computer Table
Get that rustic look by using thick planks of wood to build your computer table. Also, keep it raw and simple to give it that farmhouse look. This design here is minimal and will take you back to the time when things were simpler.
This table doesn't just have a rustic country house look, but it's also very durable. This thick rugged wood isn't going anywhere for several decades to come. And it also has a cabinet for your processing unit. It's a simple design. If you want to add some additional features, you can install a couple of shelves in it.
Just a Floating Shelf
If you think computer desk plans are too complicated for you, check out this beautiful baby. It's just a floating shelf – a thick, beautiful floating shelf that will support your screen, keyboard, and mouse while the processing unit can be placed under it.
It doesn't take much to build this shelf. Just cut the wooden board evenly and there you have it – your very own computer desk. If you don't have much time and want a quick solution that's practical, beautiful, and stylish, try the floating shelf idea. It suits modern as well as traditional decors.
A Typical Computer Table with a Keyboard Tray
Remember the good old days when we all had big computer screens and wired keyboards and mice and what not? And remember the classic tables that were available for them. If you want to have the same experience, try to build a table like this.
This is a traditional computer desk that will need some level of expertise and drawer slides. This table will be made of wood and steel. Since it is going to hold just a computer screen, a keyboard, and a mouse, you don't have to invest in high quality wood. You can use cheap wood to create a computer table.
A Computer Desk Made with Industrial Pipes
If you have some planks and industrial pipes lying around from your last project, you can use them to create a workable computer desk. It carries an industrial and somewhat steampunk-ish charm. And it's pretty easy to make too. You can polish the wood or leave it raw – it looks good either way.
Just make the measurements and cut out the pipes of the right length. The design is really simple and so you don't need to spend hours creating a blueprint. The result will be a minimal computer desk that can hold your laptop or desktop PC.
Fitted and Painted Computer Desk
Create a uniform look with a computer desk that merges in your room theme. The room here is grey in color and so it would be a good idea to get a computer desk that's grey. This way, the desk doesn't look like a separate entity. The room looks tidier and less cluttered this way.
It's a simple table that merges into the wall and it's painted uniformly. It has enough space for a computer screen, a keyboard, and a mouse. The processing unit can be placed under the table. With a power socket at the side of the table, you'll be ready to work in your home office in no time.
A Computer Desk with Attached Bins
Making wooden desk plans can be difficult. Instead of going for an intricate design, you can use some frills to make an existing table look more beautiful and sophisticated. For example, check these bins that are attached at the base of this table.
They can be used to keep things that you need every day. Stationery items, books, or even random things you use. It is especially useful if your computer table is used for other applications as well, such as arts and crafts. You can store your art supplies in the bins.
Computer Desk Made with Reclaimed Wood
An eco-friendly computer desk made of reclaimed wood – this table requires the minimum frame structure. It's even easier to make if you have the frame pieces already lying around. Just cut out the countertop and fit on the frame pieces. It's natural brown in color and very attractive.
Installing pull-out cabinets is optional but if you do, it will be more useful. This computer desk looks stylish and modern. And since it is made of reclaimed wood, it's environmentally friendly and costs low. If you were looking for a complete win-win, this is the one.
Multiple Floating Shelves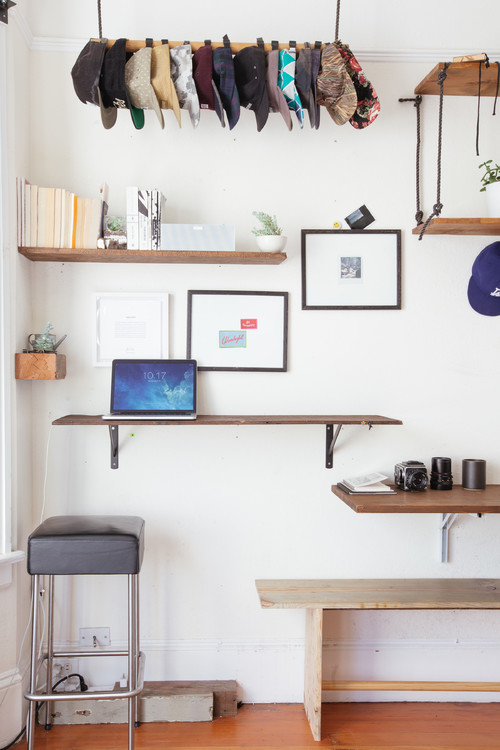 One floating shelf is enough to hold a computer screen, a mouse, and a keyboard. The other shelves can hold other things like speakers, webcam, and headphones. You can add as many shelves as you want. If you have some books to place and some trophies to showcase, it's best to have multiple shelves because one will not do.
You can use a chair or a stool to sit and work on the computer. A wooden bench also looks nice and rustic and acts as an extra shelf. Make it more beautiful by painting the wall and the shelves in one color so they don't look odd.
A Chalkboard Nook
It's important to note down ideas as soon as you get them. Because ideas slip out of our minds quickly. Some people carry little notepads in their pockets so they can note down things as soon as they think about them. But you don't have to do that, thanks to this beautiful chalkboard nook built with the computer desk.
You can use it to note down ideas or to just create doodles when you get bored. Keep a handful of colorful chalks in a drawer so you can just scribble or doodle whenever you need to break the monotony.
A Bedside Computer Desk
Many of us don't have enough space in our house to create a dedicated home office. If you're sailing in the same boat, you can create a desk that fits the bedside. Measure the space and create a desk accordingly. It can be a plain and minimal desk or a sophisticated one.
This desk here has a pull-out keyboard tray while the countertop holds the screen and the mouse. The countertop has enough space for a houseplant as well. The processing unit can be placed under the desk and a small chair will be enough to help you work on the computer.
A Wooden Shelf with Industrial Pipes
A good project for the lazy carpenter, this desk will not take long to make. It will need some reclaimed pipes from an old project. And the countertop is made of wood with rugged edges. While you don't have to smoothen the edges, make sure you sandpaper it so it doesn't scratch your arm as you work on the computer.
It's a minimal computer desk and is ideal for a laptop instead of a full-fledged PC. But it does have space for your stationery, a couple of books, and a cup of tea or coffee.
A Floating Shelf with Glass Top
While a floating shelf is an excellent idea, take it a step further and play with the right colors and materials. A glass sheet on the countertop makes the shelf more attractive. Plus, it creates that office vibe that will help you work more seriously.
Working from home isn't easy because of the casual atmosphere. Create the right office atmosphere at home with the right looks and colors. The bedroom is partitioned in two areas here, with the bed on one side and your home office on the other. And it is cozy and looks wonderful too!
A Grandfather Style Computer Desk
There were no computers in the grandpa's era but that time had a distinct style. You can bring that style to your home in the form of a computer desk. It's a sturdy desk that's beautifully crafted. There's a separate unit for the processing unit and shelves for books and other things.
The deep reddish brown tone of the desk looks traditional and sophisticated. The drawer pulls are made of bronze and look conventional and attractive. To enhance the traditional look, place an old styled photo frame next to the computer screen. This desk will look amazing in Victorian themed homes.
An Elaborate Computer Desk
When you're building a computer desk, why stop after building the desk. Extend it to create a full-fledged cabinet and shelf unit. So there's space for your PC, your laptop, books, stationery, headphones, speakers, and absolutely anything you need when you're working on your computer.
If you're an expert carpenter, this will be a project you'll love. With separate sections for different things, it is a desk like none other. And look, it has space for a beautiful houseplant too! If you have time, skill, and resources, this is a good option.
A Computer Desk Depending on Your Needs
A computer desk – seems like a simple thing. But it can come in so many forms. Since it's a DIY project, a lot depends on the level of your skill and the resources that are available to you. Check the options given above and see which ones suit your needs and expertise. Make the right choice and enjoy non-stop gaming or office work.