Decorated Life is reader-supported. When you buy through links on our site, we may earn an affiliate commission. Learn More
Dovetail by Sherwin Williams Paint Color Review
Greige has dominated the last decade in paint, so you may think you've seen all that it has to offer. But just wait until you lock eyes with Dovetail.
Dovetail is like no other greige on the color wheel. It's a violet-chocolate dream that's in perfect step with the trend towards warmer color palettes. Forget boring neutrals: with a rich depth of color and loads of personality, Dovetail is here to make a statement.
If you're ready to shake up your neutral palette and find out why this bold greige is the darling of social media, then read on to learn everything you need to know about Dovetail.
What Color is Dovetail?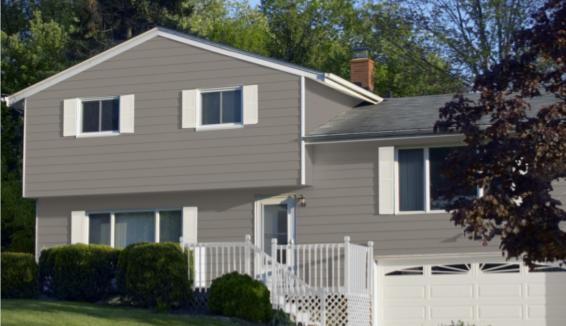 Dovetail is a unique deep greige with a chocolate brown appearance. Greige is the harmonious blend of gray and beige to create a balanced neutral. Dovetail is different from your average greige, with a deep brown replacing the beige.
This toasty neutral has a bold and dramatic appearance, yet can work with a surprising range of colors and decor styles. It's one of Sherwin Williams Top 50 Best Selling Colors.
LRV of 26
Dovetail has a light reflectance value, or LRV, of 26. Light reflectance value is a scale designed to measure how bright a color is, and ranges from absolute black at 0 to sheer white at 100. The lower the number, the darker the color.
Dovetail's LRV puts it in the darker end of the spectrum, but it's not dark enough to be among the black or nearly-black colors.
What Undertones Does Dovetail Have?
As a greige color, Dovetail has gray undertones, which are its most noticeable ones. It also flashes violet undertones thanks to its warm brown side. More rarely, it can flash a bit of green undertones as well.
Is Dovetail a Warm Color or a Cool Color?
Dovetail is a warm neutral, with a mix that's predominantly warm chocolate brown, but still balanced out by some cool gray shading.
Where Can You Use Dovetail?
Dovetail is a fairly dark color, which means you'll need to keep an eye on it so it doesn't dominate your space.
To balance Dovetail, you can use it in a room with a lot of lighting. You can also use it with a white or light ceiling and accents. Light or colorful decor elements can break up Dovetail walls to give a different feeling.
Dovetail's warmth means it will add a cozy feeling to any room, and this makes it ideal for spaces where we want to feel comfortable, like living rooms and bedrooms. If you have a home with a very open structure that feels too airy and cool, Dovetail can ground the space and warm it up.
If you put Dovetail in a south-facing room, you're going to see more of its warm side, and potentially more of its violet undertones.
Be sure to sample Dovetail in a large enough area so that you can watch its undertones interact with your unique lighting conditions throughout the day.
Dovetail is an excellent choice for home exteriors, where its depth adds intrigue and charm even under direct sunlight.
Let's take a look at Dovetail in home spaces and gather inspiration for our own projects!
Living Room
Dovetail shiplap on the accent wall in this living room ties everything together at a single focal point.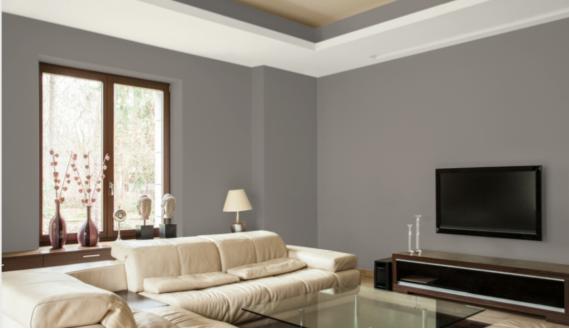 Dovetail and Alabaster create a calm and cozy environment for this TV den.
Kitchen
Dovetail cabinets bring warmth to this cool, gray kitchen, standing out against a beige tile backsplash.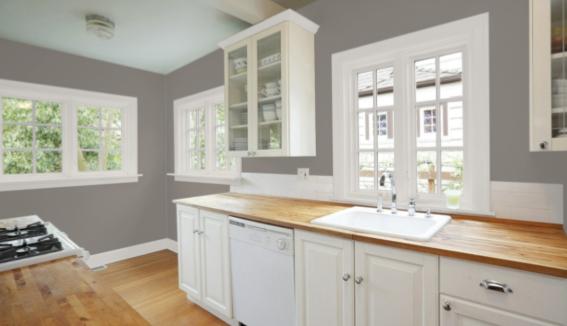 Dovetail and Eider White turn this cozy kitchen into a nice warm cup of hot cocoa.
Dining Room
Creamy board and batten rests against warm Dovetail walls in this farmhouse style dining room.
Dovetail walls allow this bright white dining room table to be the star of the show.
Bedroom
Dovetail walls balanced with a white ceiling bring coziness to this bedroom without letting things get too cavernous.
Blue-greens and crisp whites in the bedding play beautifully with the Dovetail walls in this soft, romantic bedroom.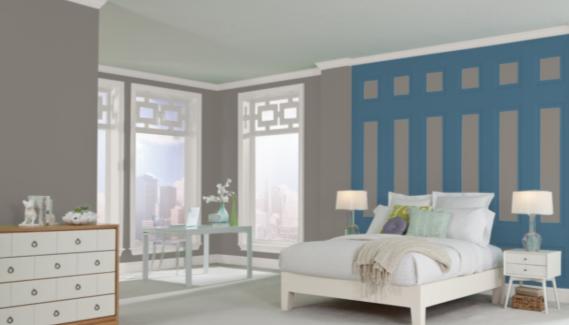 Dovetail and Inky Blue make a subtle callback to sand and surf in this coastal bedroom with a twist.
Bathroom
Cream tones are a match made in heaven for Dovetail, as this charming bathroom demonstrates.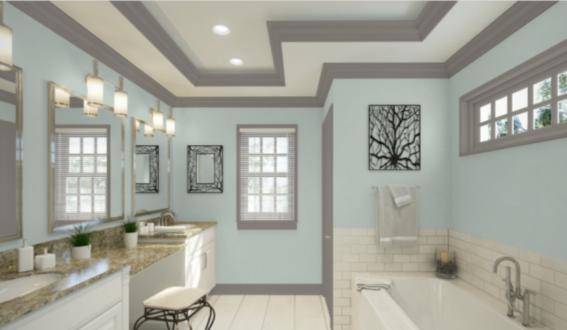 Dovetail and Rainwashed offer the best of both grounding and refreshing tones in this spa-like bathroom.
Staircase
This staircase transformation balances Dovetail with a clean white to get a bright, uplifting contrast.
Laundry Room
Dovetail cabinets are a finishing touch in this simple and effective laundry room.
Porch
Dovetail turns this porch swing hangout into a comforting retreat.
Exterior
Dovetail shows green undertones on the exterior of this home in the woods.
There couldn't be a prettier companion for this cream colored stone than Dovetail accents!
Front Door/Entryway
Warm neutral Dovetail is a nice front door choice for a red brick exterior.
Dovetail offers a subtle contrast to this light greige entryway.
Coordinating Colors for Dovetail
Dovetail's best color companion is a simple white or cream. You can pair it with a warm and creamy off-white for a gentle glow, or a clean white for a stronger contrast.
Colors that traditionally work well with greiges will also work with Dovetail. This includes lighter greige colors, blues, and greens. Dovetail can look especially pretty with light seaglass colors, in the blue-green and green-gray ranges.
You might not expect Dovetail to look as nice with dark coordinating colors, but it actually works quite well with darker blues too. Consider a dark powder blue or even a teal.
Light grays will come up nicely against Dovetail, since it's such a dark greige. You may find that Dovetail looks more earthy by contrast.
Need some coordinating color ideas for Dovetail? Here's some inspiration for you!
How Does Dovetail Compare with Other Colors?
Dovetail vs Gauntlet Gray by Sherwin Williams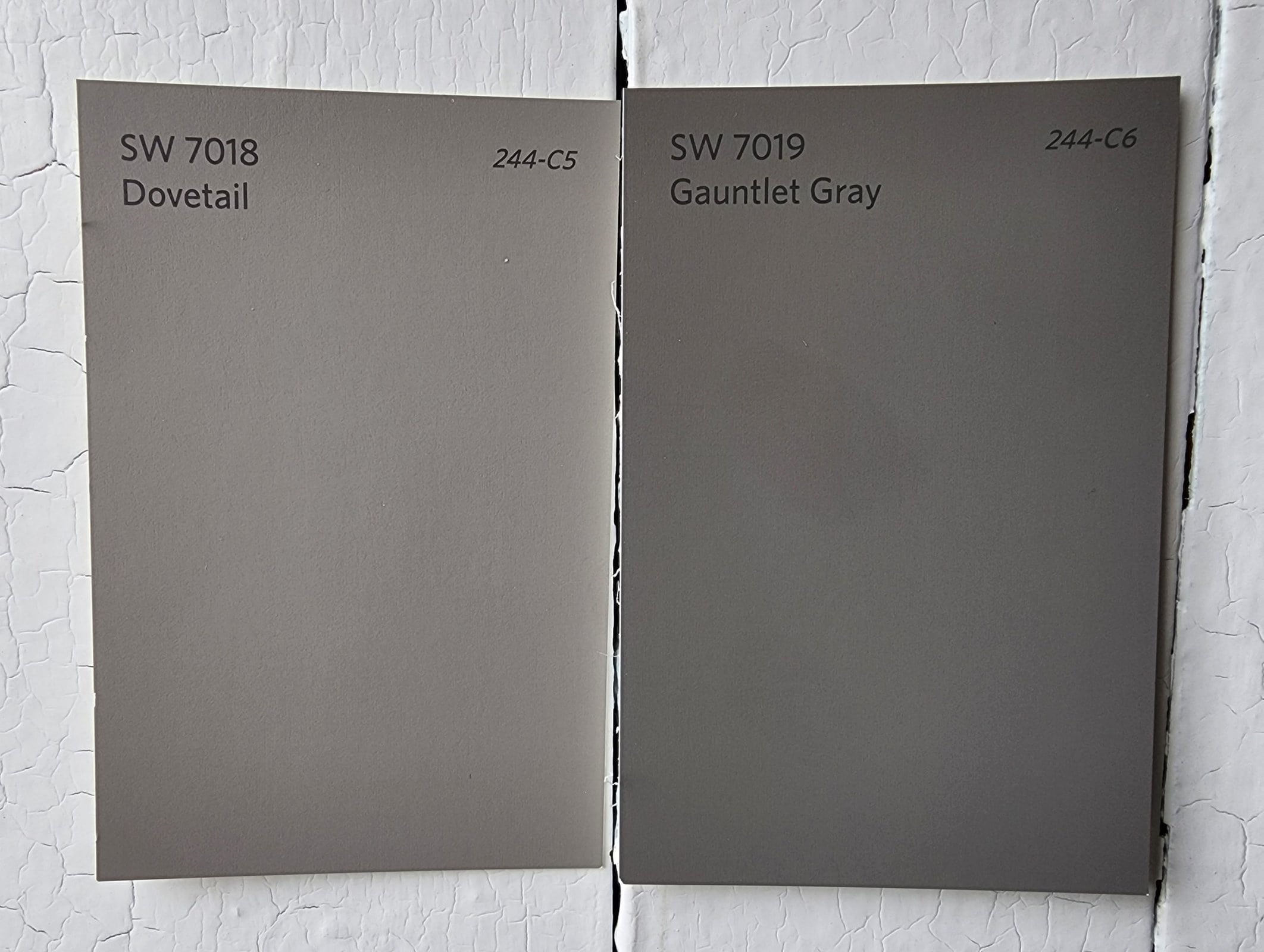 Gauntlet Gray is a significantly darker color than Dovetail. It has a heavier dose of brown, but without Dovetail's obvious violet. Gauntlet Gray has a LRV of 17.
Dovetail vs Dorian Gray by Sherwin Williams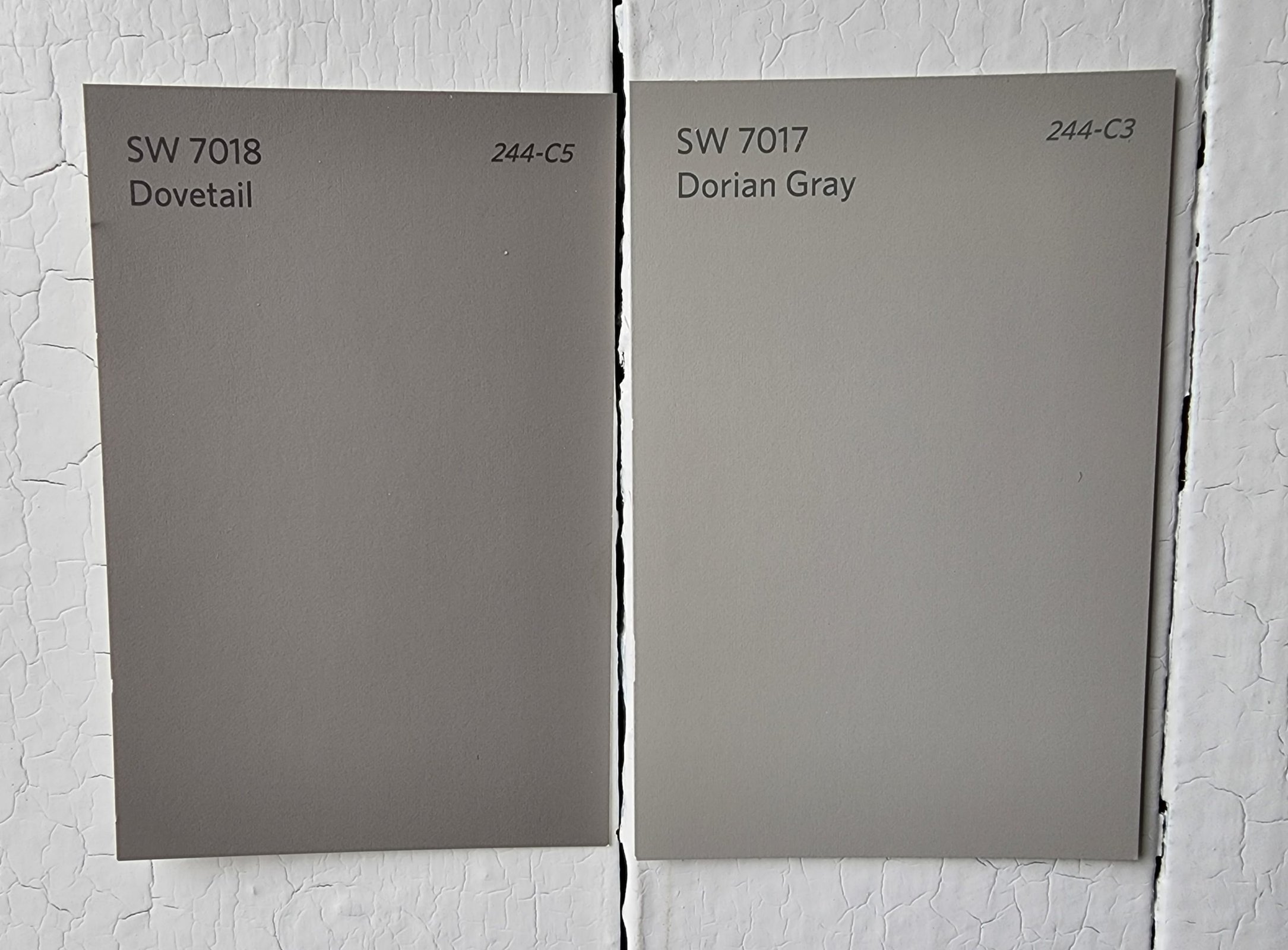 Dorian Gray is a greige with a stronger dose of gray than Dovetail, and a less chocolatey appearance. It also has less of that signature purple. Dorian Gray is significantly lighter than Dovetail, with a LRV of 39 to Dovetail's 26.
Dovetail vs Elephant Ear by Sherwin Williams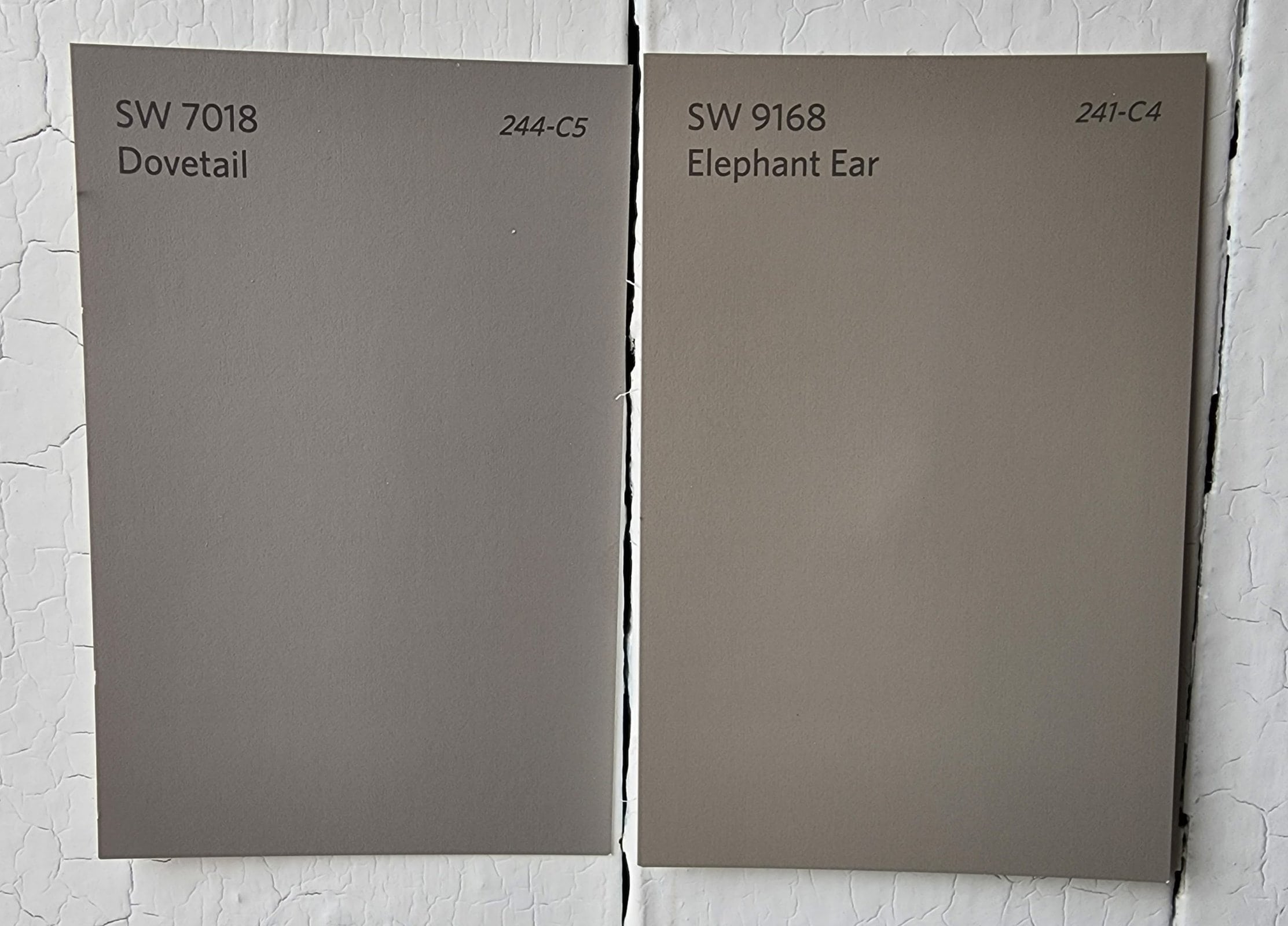 Elephant Ear is a greige that does share Dovetail's chocolate brown appearance, but it's also got more beige in it than Dovetail does. It's ever-so-slightly lighter than Dovetail too. Elephant Ear has a LRV of 28.
Final Thoughts
Dovetail is a violet-chocolate greige with serious personality. This on-trend color is dominating Instagram and is one of Sherwin Williams' bestsellers. The staying power of greige combined with the rising popularity of warmer neutrals means this is a color you can switch to with confidence. Does your space need an update form Dovetail?