Decorated Life is reader-supported. When you buy through links on our site, we may earn an affiliate commission. Learn More
9 Front Door Awning Ideas
While not nearly as popular as they once were, awnings serve an essential purpose. They protect your entryway from elements like rain, snow, and harsh UV rays.
They can even help cut the costs of heating and cooling.
But the hard part is finding the perfect awning for your home's exterior.
If you're on the hunt, we've narrowed down nine of the best front door awning ideas that will offer protection and look good while doing it.
Use Clear and Black for a Modern Look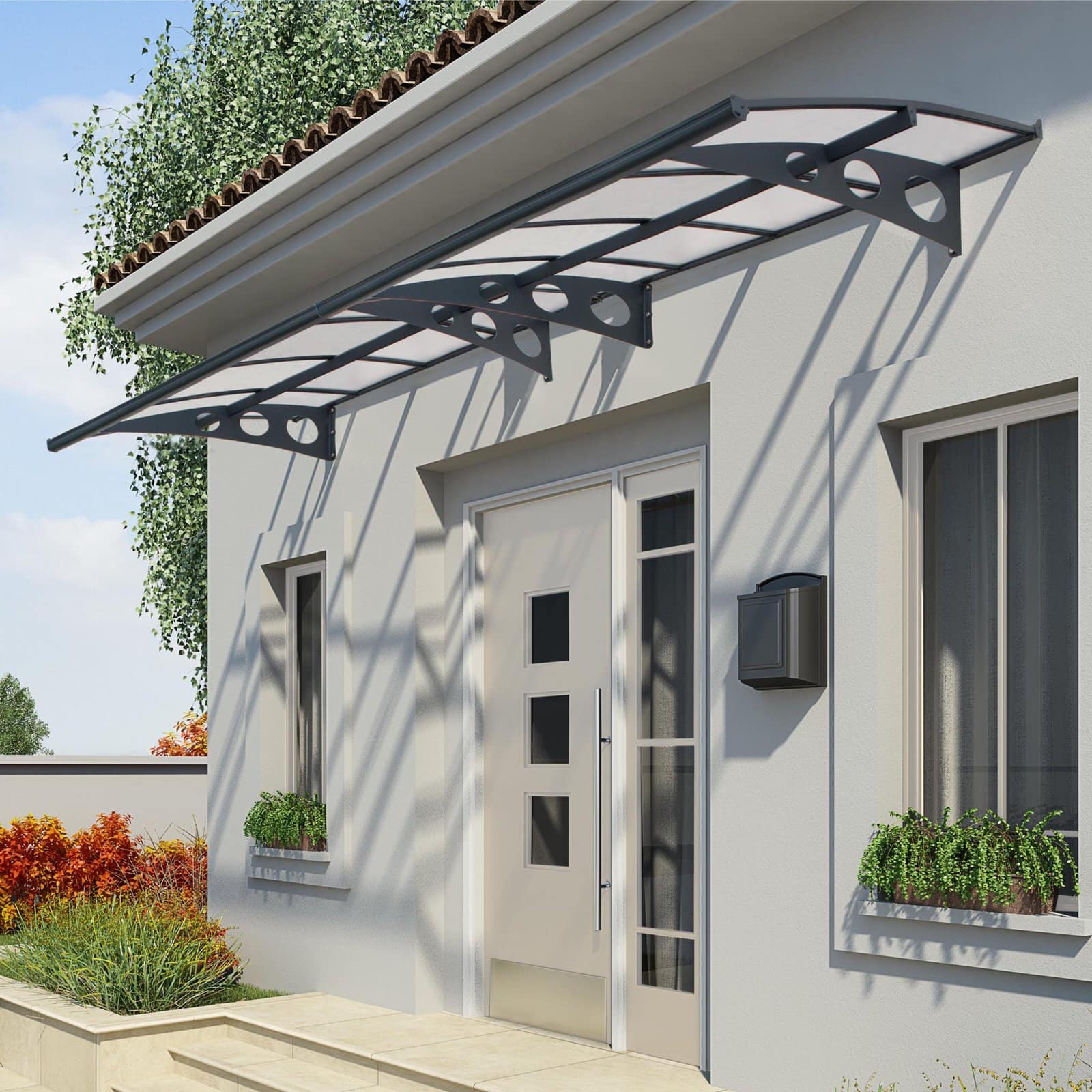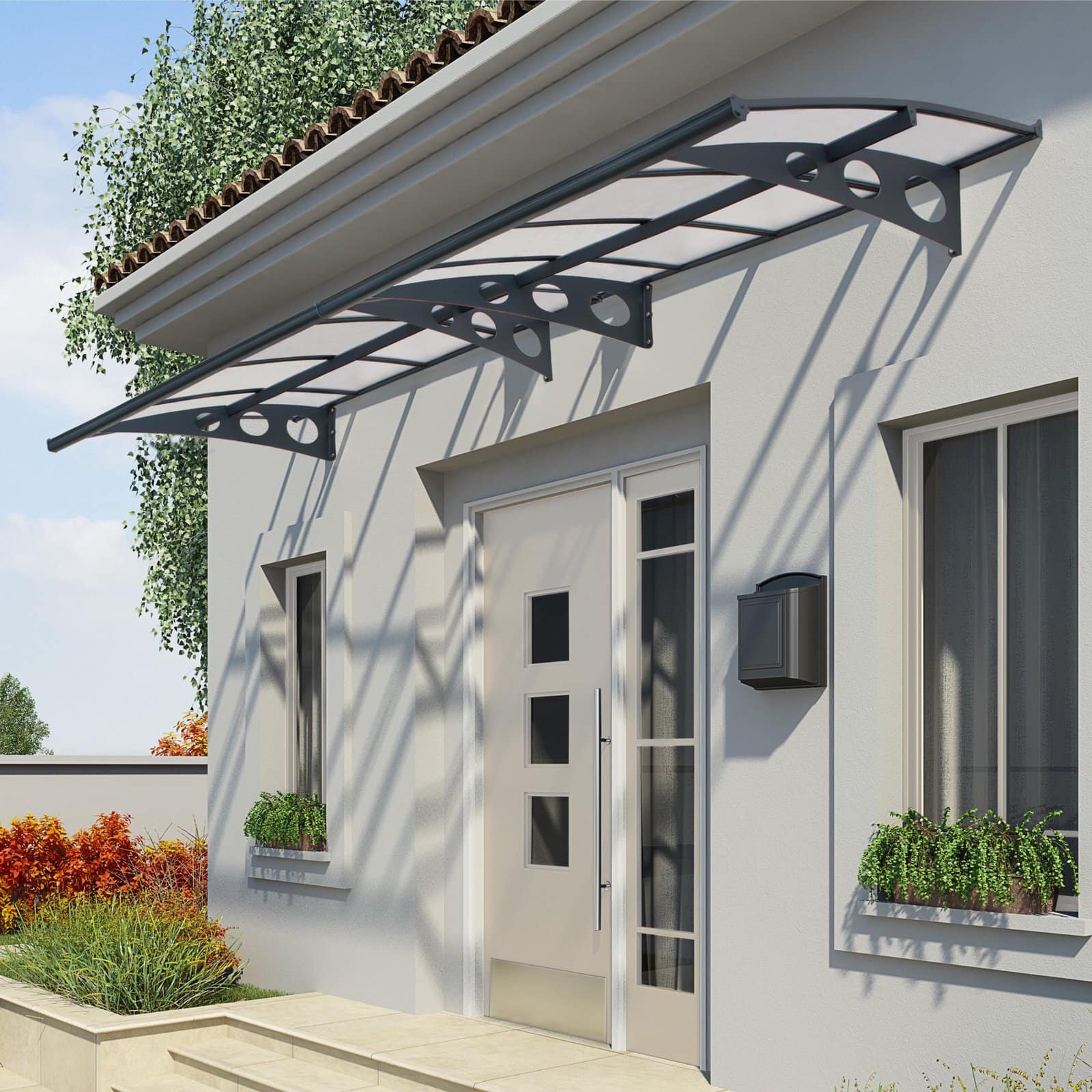 If you want to give your front door a modern look, this awning is perfect. It has galvanized steel support arms with a powder coating and aluminum trim.
It features transparent polycarbonate panels that offer UV protection and last for years. The mix of black and clear makes it suitable for most homes but looks exceptionally well on modern and modern farmhouse exteriors.
Try Long-Lasting Aluminum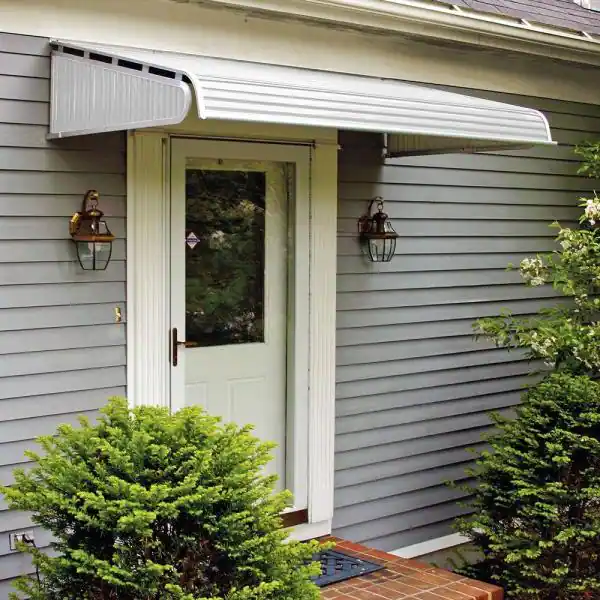 Aluminum awnings are highly durable and add a bit of texture to your front entryway. This one is powder-coated, holding up against the elements and never rusting.
You can find this version at the Home Depot. It has a five-foot span with a built-in front gutter and comes with a five-year warranty. This awning is highly versatile, working with most exteriors.
Go with an Ornate Bracket for Traditional Style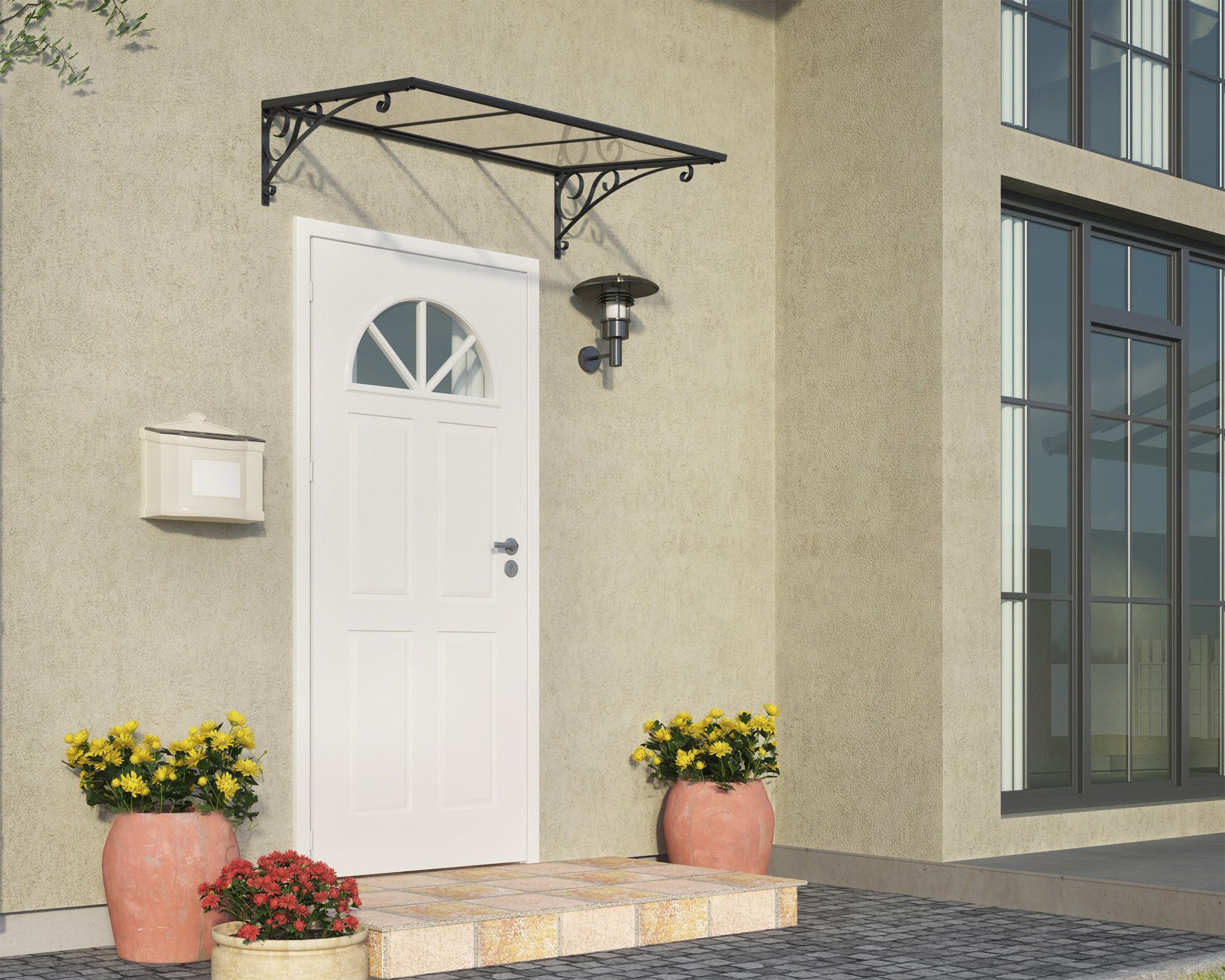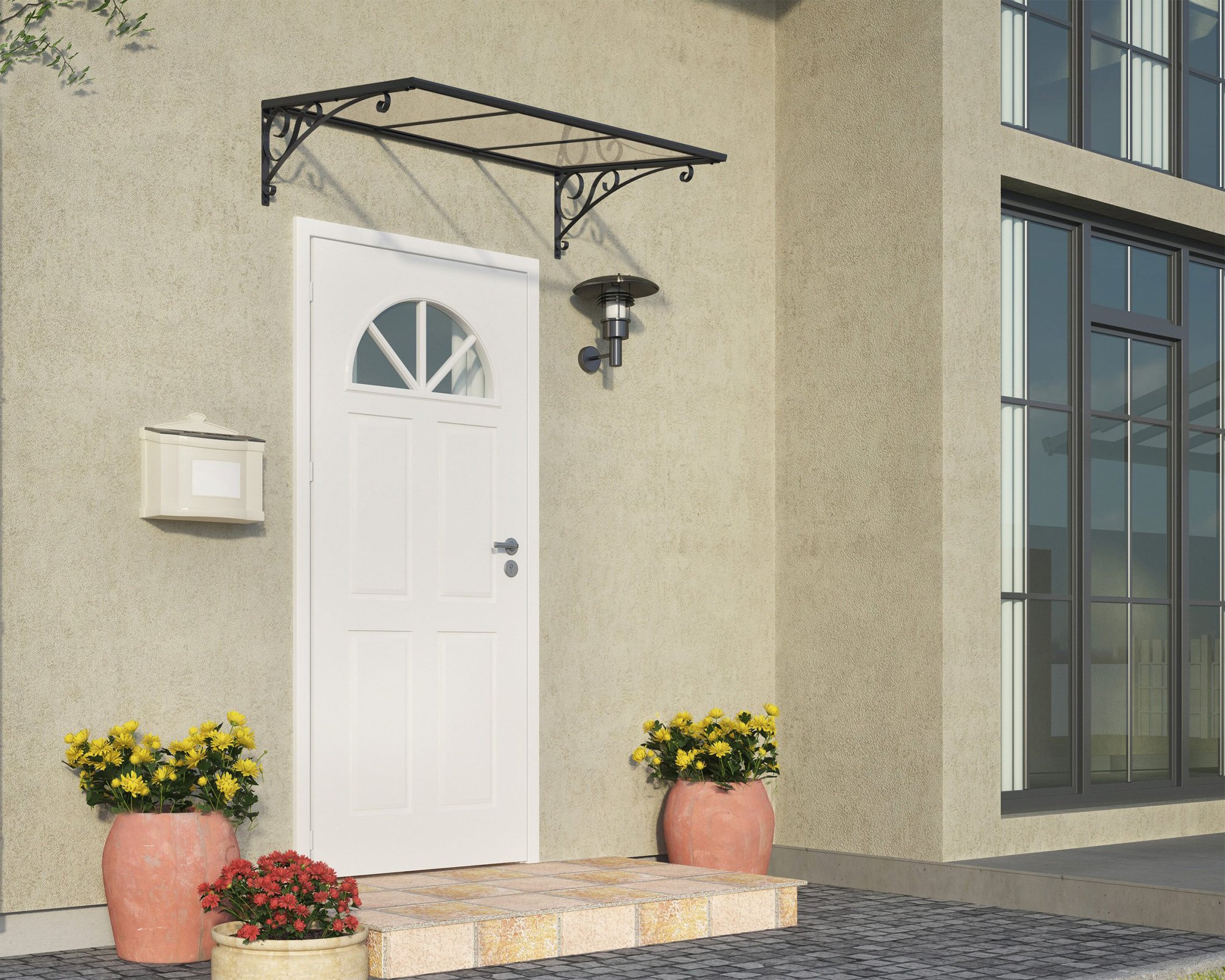 If you like the black and clear look, but your home is a more traditional style, skip the sleek awnings and go for something with an ornate mounting bracket.
From Wayfair, this awning is 4′ 5″ with a 2′ 11″ slope. It features dark gray farming and brackets with a transparent polycarbonate roof. While the polycarbonate allows light to pass through, it blocks more than 90% of UV rays.
Protect Your Door with this Sleek Design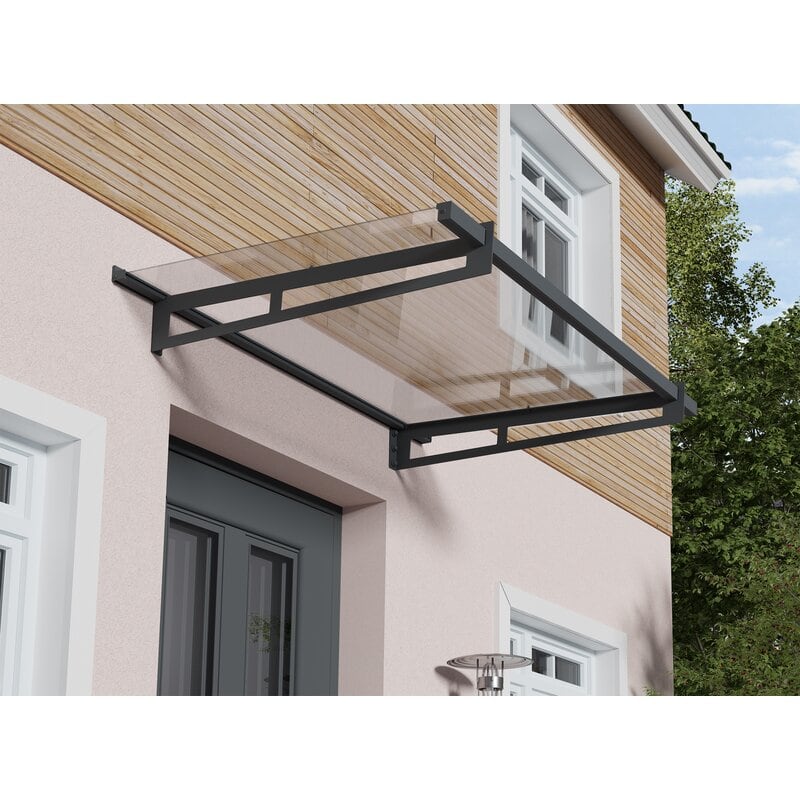 If you're looking for a sleek minimal design, you won't find much better than this. It features powder-coated galvanized steel brackets with a high-impact acrylic panel.
The awning width is 59 inches, perfect for covering most entryway doors. However, if you have extra-large or double doors, you can also find this in an 81-inch width. Even though the panel is acrylic, it's UV, wind, and rain resistant.
Get a Retro Look with Acrylic Fabric
A vast majority of awnings feature clear panels. If that's not the look you're after, consider this canopy with an acrylic fabric roof.
From the Home Depot, this awning has a retro look and comes in 15 different colors and patterns. It's fitting if you're trying to add a bit of vintage or old-world charm to your home's exterior.
Give Your House an Artistic Touch with a Dome Awning
If you have an arts and crafts-style home or want an awning a bit more unique, this clear dome shape is an option to consider.
It features powdered coated aluminum and steel with solid acrylic panels. The five-point dome shape will protect your front door from the elements while adding style to your exterior.
Match Your Awning to Your Door Color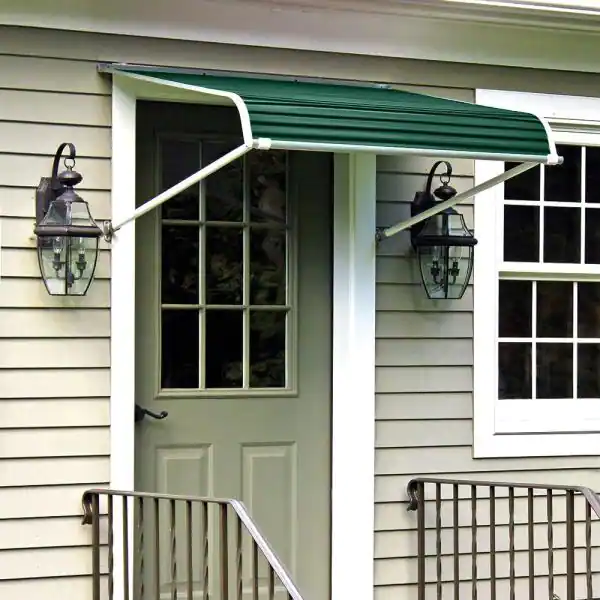 While many awnings are metallic or transparent, there are still plenty of colored options to match your door.
You can find these aluminum awnings at the Home Depot. This one comes in hunter green, but they also have other colors. The aluminum has a powder coat, so you don't have to worry about rusting over time.
Save Your Budget with this Small Plastic Canopy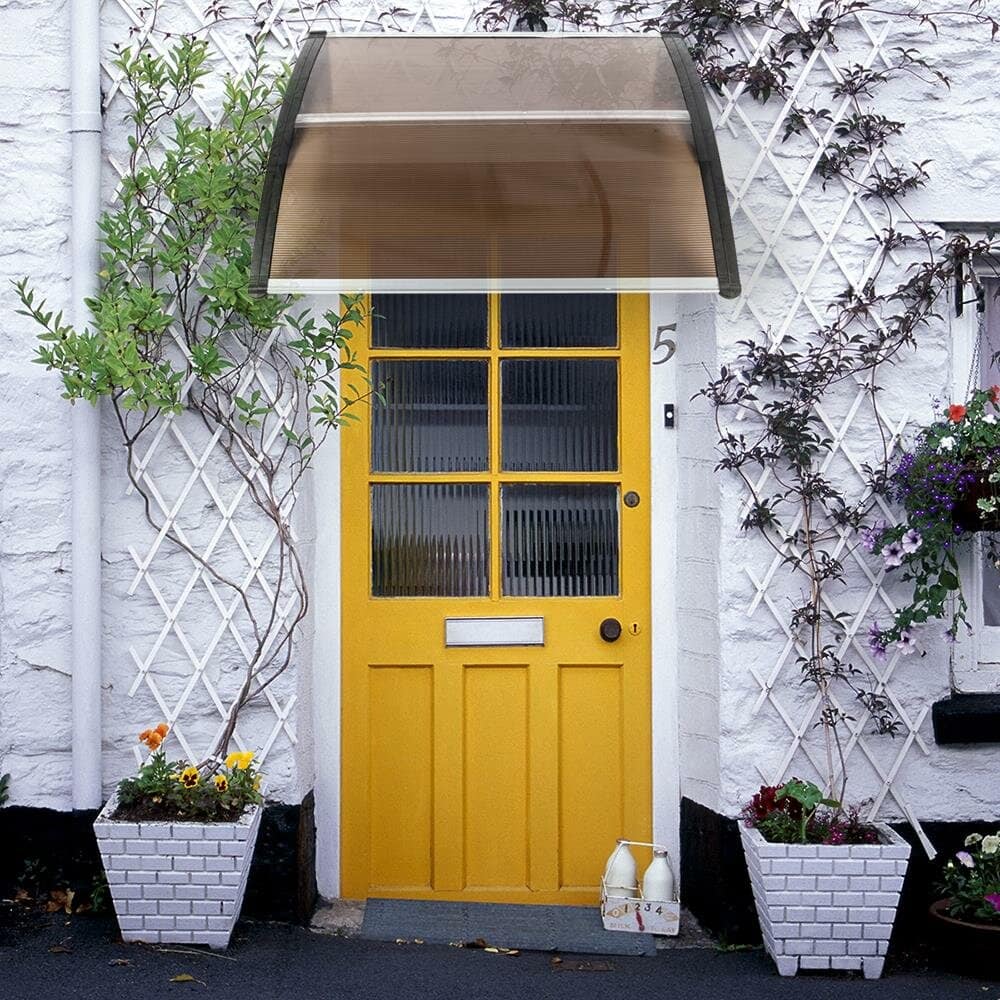 Working with a tight budget and need something quick? This plastic canopy will protect your entryway and your wallet.
This canopy from Wayfair measures 39.8 inches wide. Even though it's inexpensive, it will still offer protection from the sun, rain, snow, and wind. It features plastic brackets with a PC sunboard.
Cover Large Areas with this 22 Ft. Awning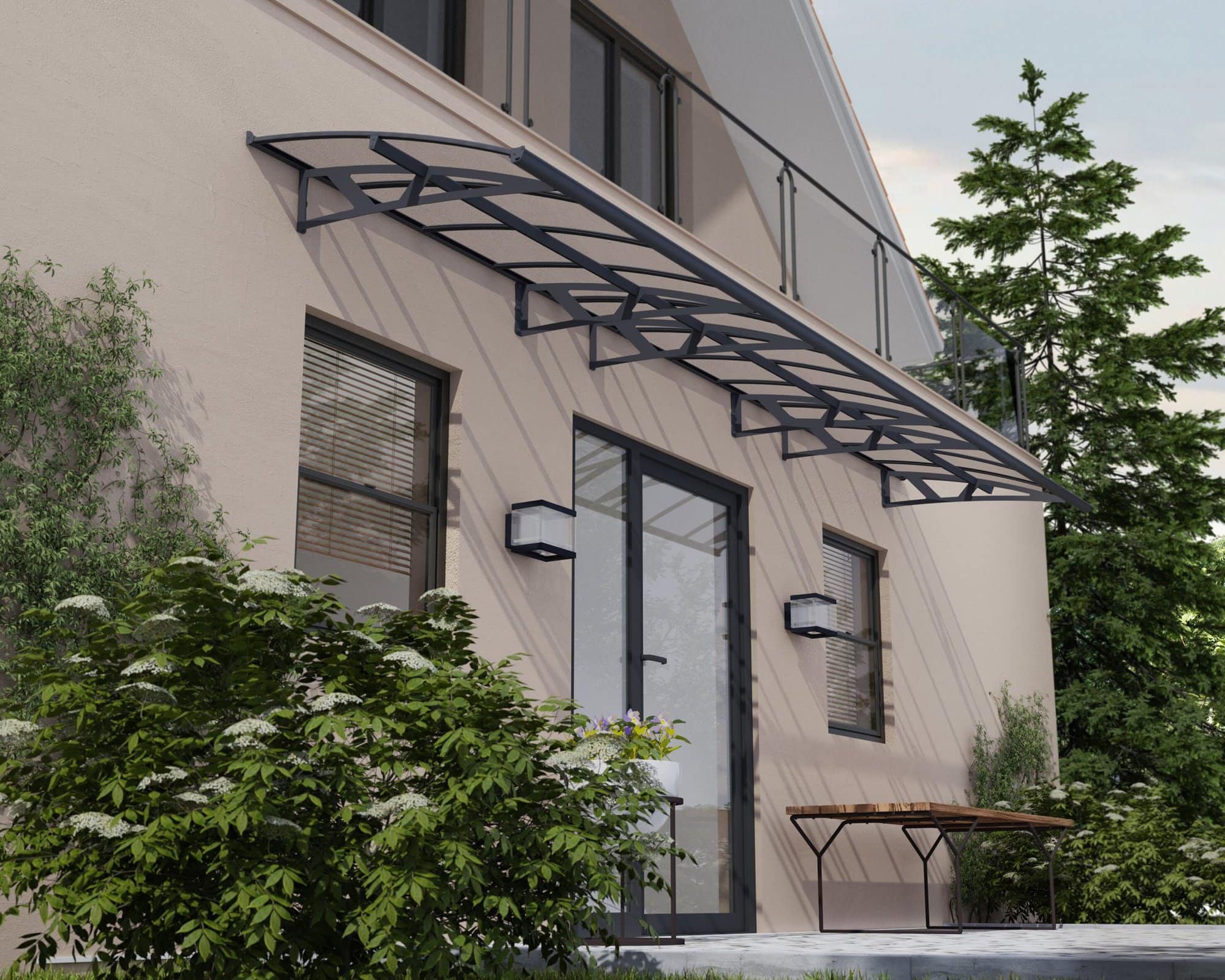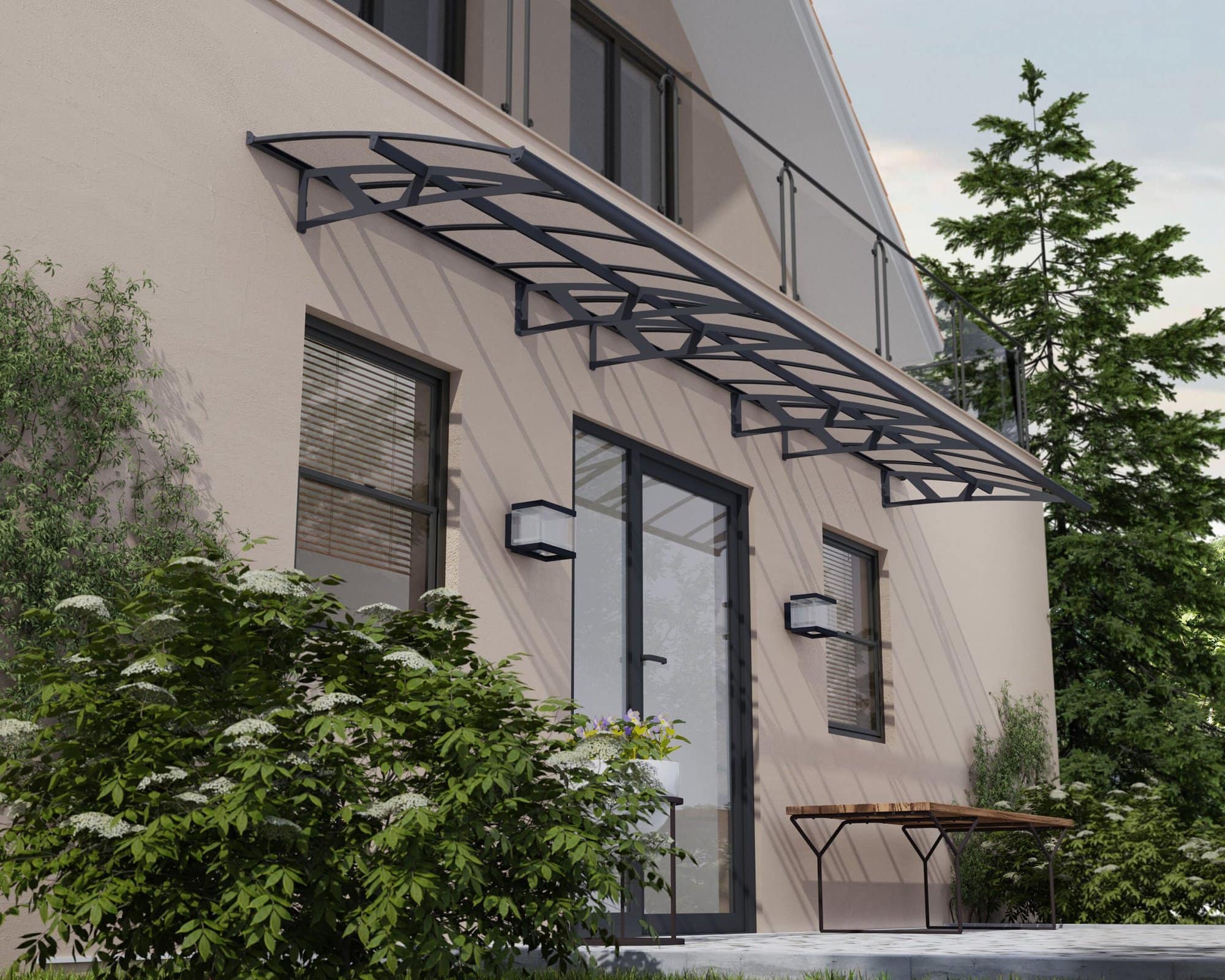 Here's some good news: if you have a large area to cover on the front of your house, this 22-foot wide canopy will do it.
This awning has an elegant look, making it suitable for most style homes. Its 22-foot length is perfect for covering double doors and large front windows. It features galvanized steel support arms and acrylic roof panels.
Final Thoughts
Awnings are practical. They can protect your entryway from the elements and even help you save money on heating and cooling. But, as functional as they are, you still need one that looks good with your home's exterior.
If you're after a modern look, go for a sleek black and clear design. Try something with a more ornate support beam if you live in a traditional or craftsman-style home. And if you like the retro look, something with acrylic fabric is your best bet.