Decorated Life is reader-supported. When you buy through links on our site, we may earn an affiliate commission. Learn More
15 Front Door Color Ideas for a Beige House
Beige is a popular exterior home color choice due to its versatility, neutrality, and flexibility. But it's also neutral, making it suitable for most color palettes.
Traditional, classic, and colonial-style homes are more likely to use beige for the exterior and the front door. But a beige home can have a modern flair with a colored front door. Check out these 15 best front door colors for a tan house to explore the immense creativity you have available.
Serious Gray by Sherwin Williams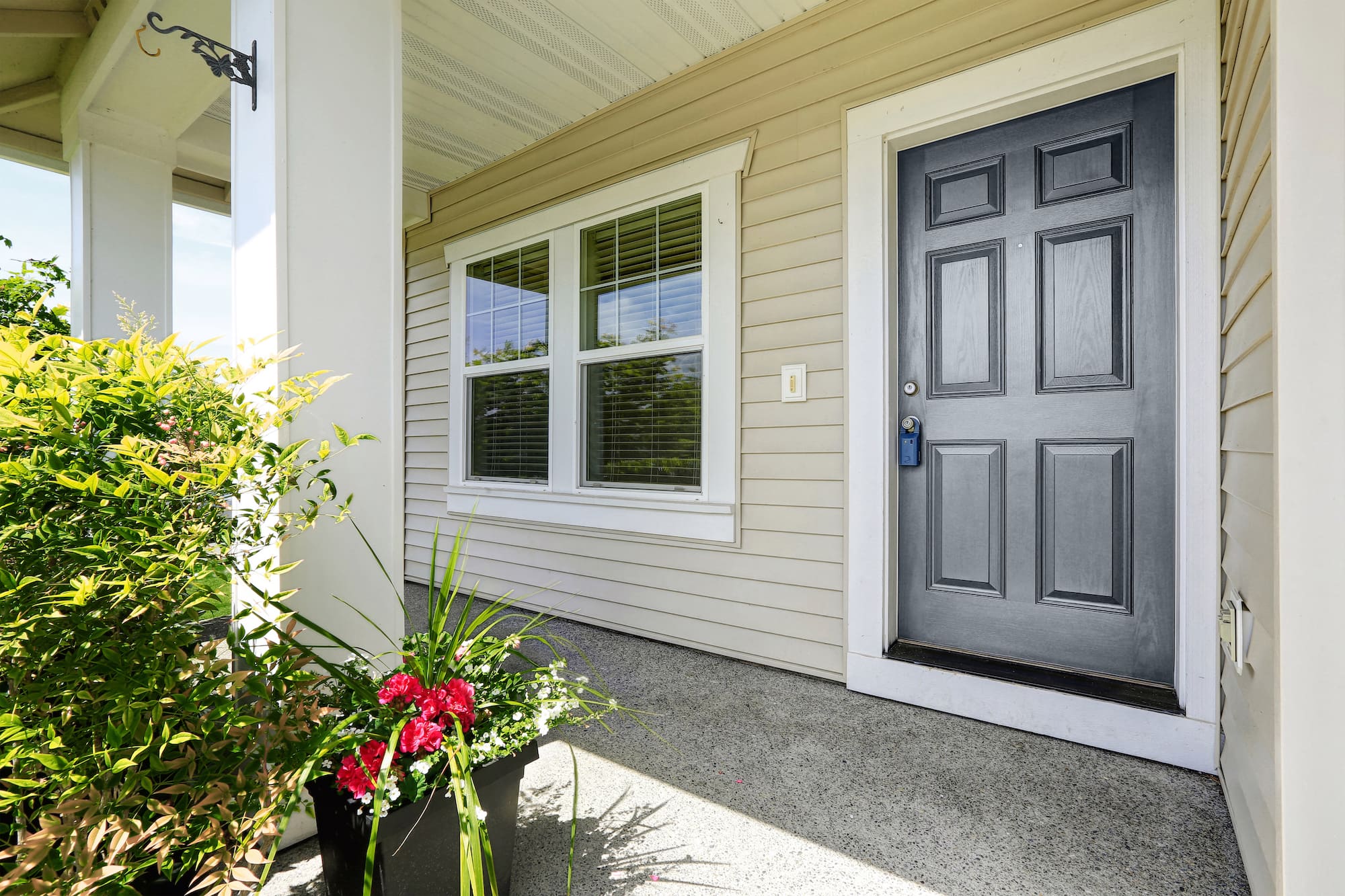 Beige is a color that blends in rather than stands out, meaning there isn't much curb appeal to make your house noticeable. If you want to keep your home's exterior calm and understated, choose another neutral color for the front door.
We like pairing beige with a dark gray door, like Sherwin Williams' Serious Gray. Gray is a chic color that can modernize traditional homes. The darker you go with your gray, the more drama you get in your design.
Burgundy by Sherwin Williams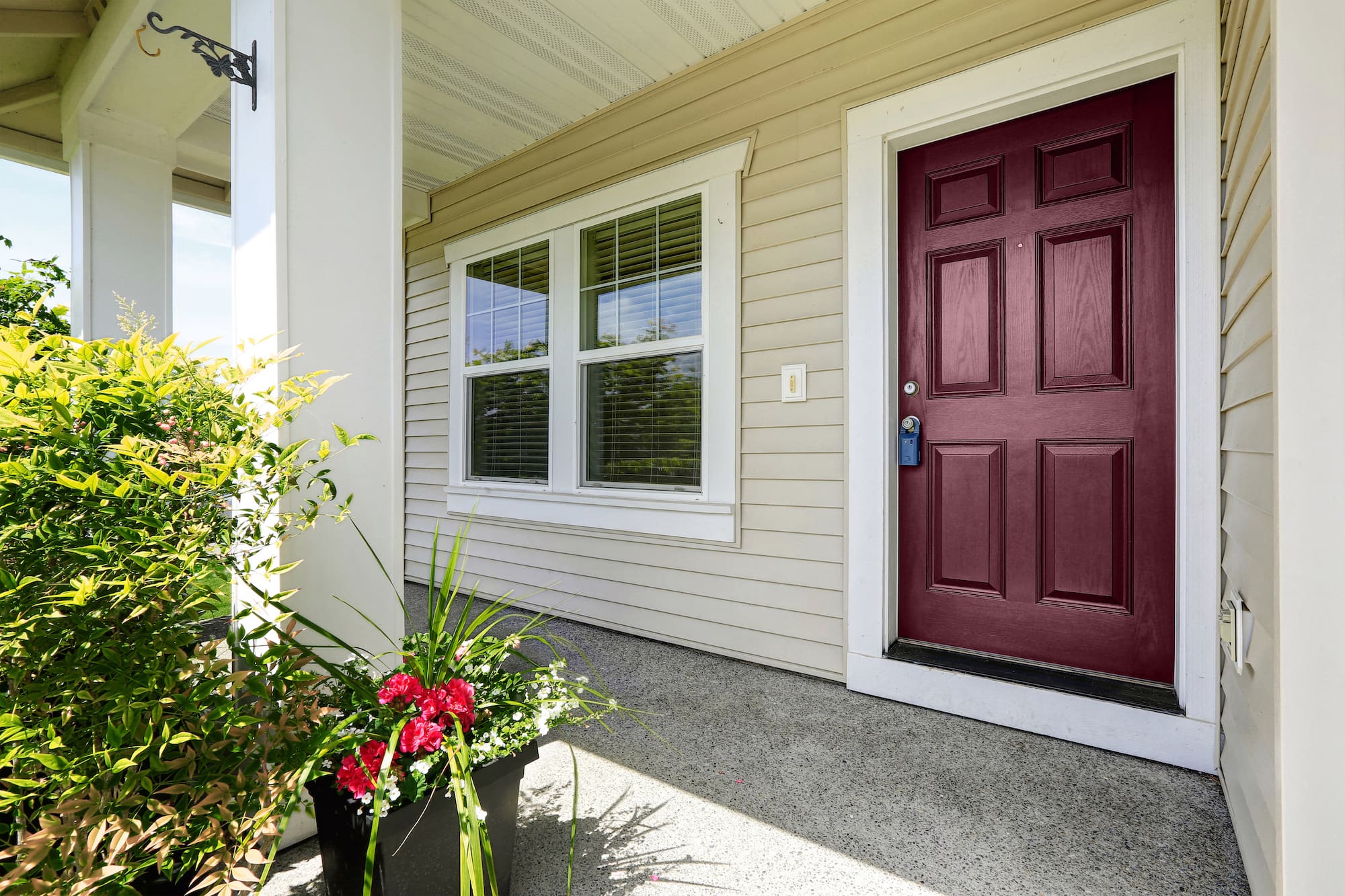 Beige is a neutral that works for multiple architectural styles, including traditional. To keep your home fresh and inviting, consider other conventional colors to achieve a timeless look for the front door.
Stick with the commonality between traditional colors and choose something rich and saturated. For example, you can get a stunning nuance by using a beige and burgundy color palette.
Enduring Bronze by Sherwin Williams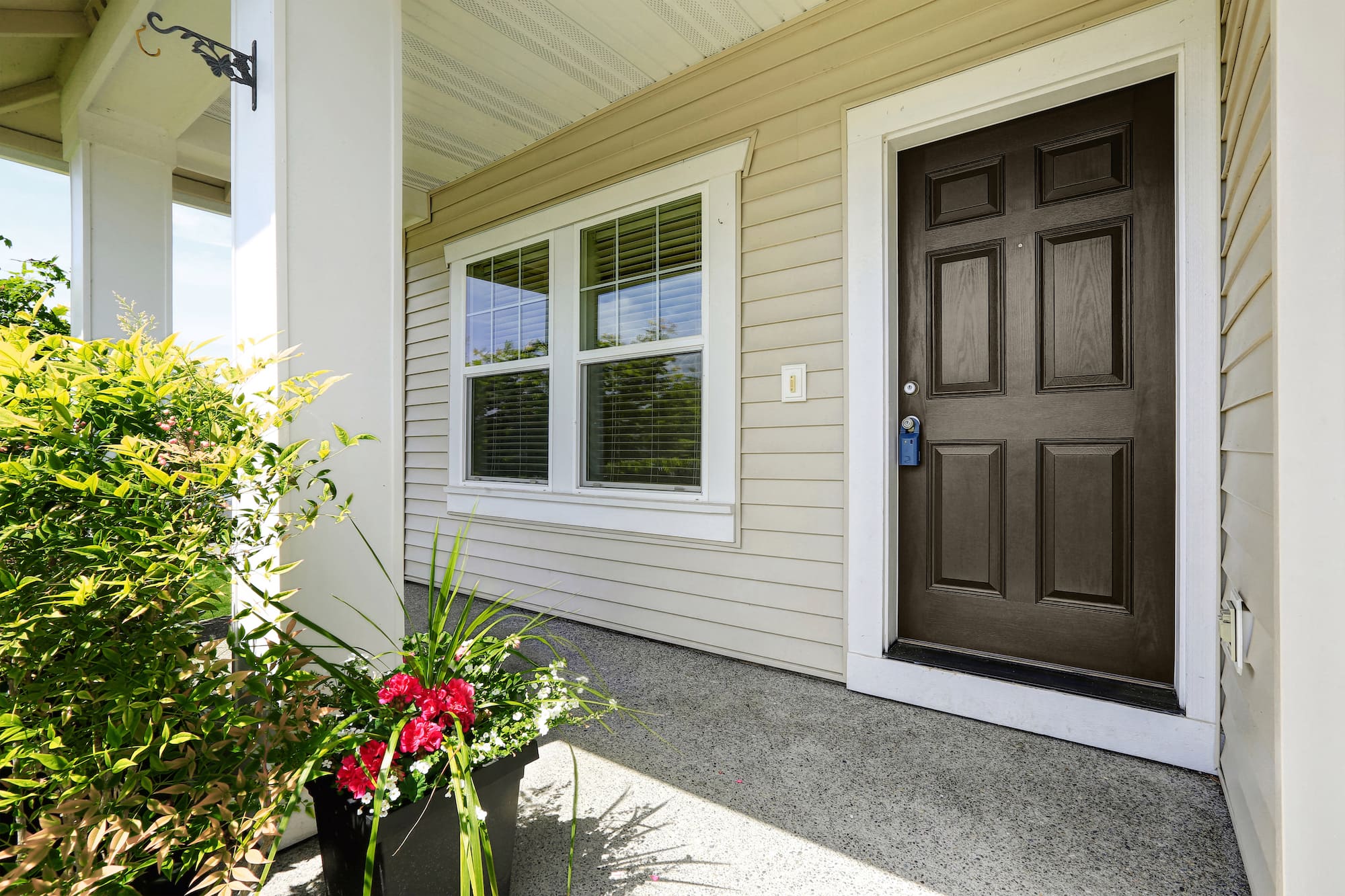 A tan exterior can pop with a brown door. Brown symbolizes protection and comfort and is an earth color in the same neutral family as beige.
While you can use any variation of brown, from stained to painted, we're partial to the SW color, Enduring Bronze. This color brown is dark and muddy, with an aged vintage feel from traces of gray and orange undernotes.
Honorable Blue by Sherwin Williams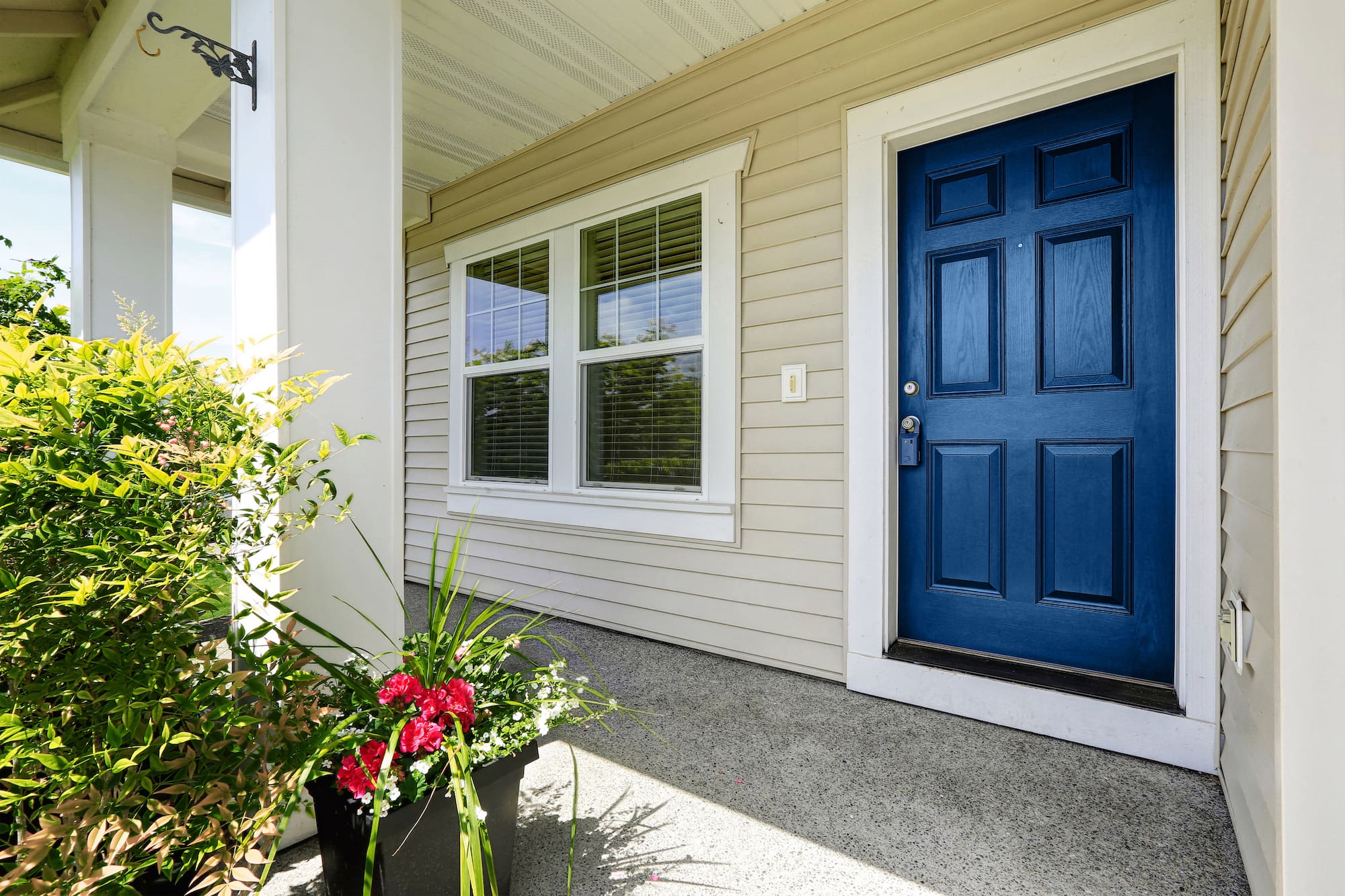 If you want to give your beige house a regal, formal feel, you can go with a door in a bold primary like blue. Blue offers many traits, like being artistic, funky, fun, relaxing, and energizing.
Like the name implies, Honorable Blue by Sherwin Williams is a justifiable color to choose for your front door. This saturated dark blue can give your entryway a serene, calming vibe that's attractive and cleansing.
Downy by Sherwin Williams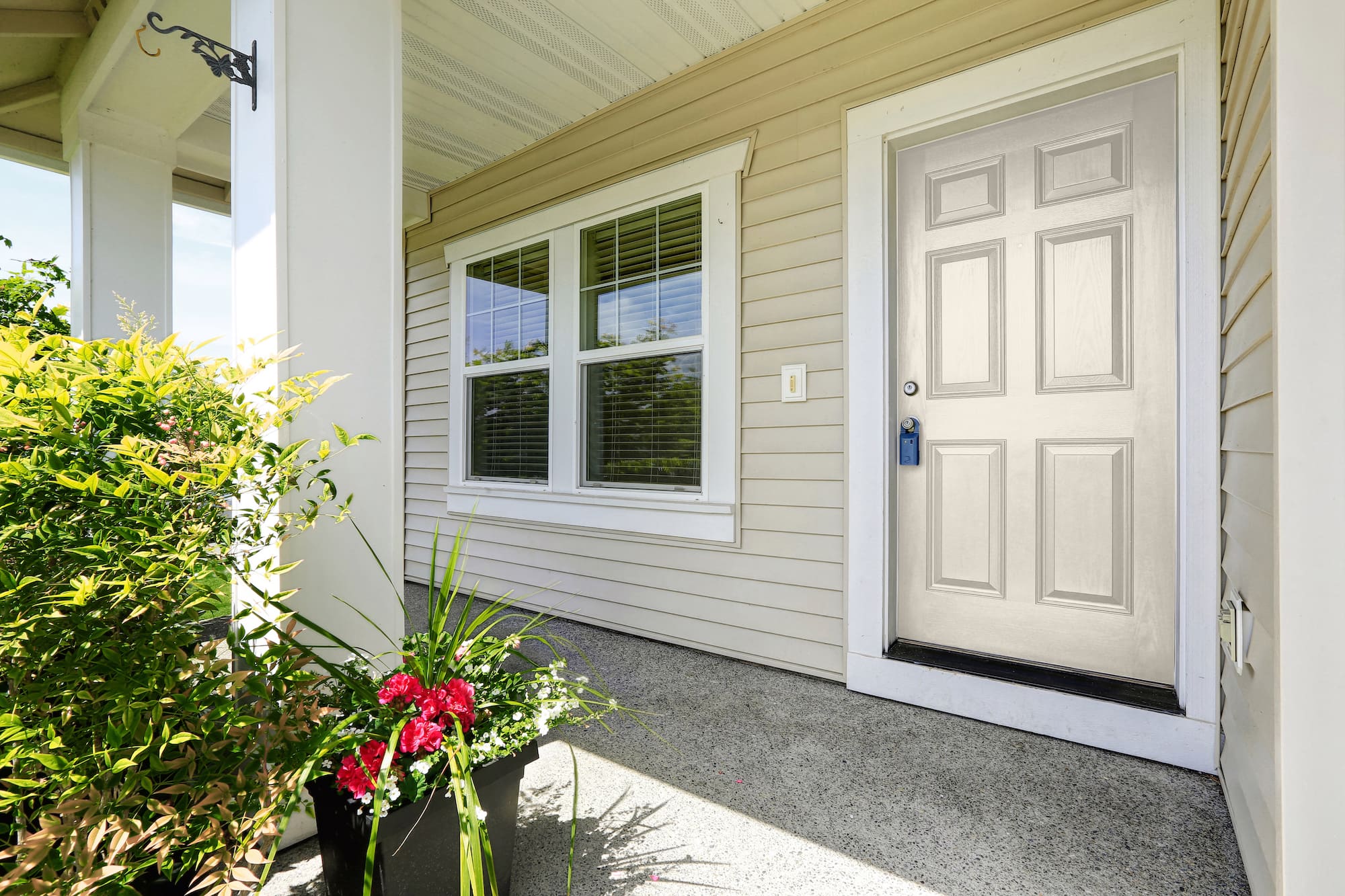 Some people prefer entryways that are subdued and harmonious with a beige house. As a result, you often see analogous color palettes used in contemporary architectural styles. Other people prefer a monochromatic – same colors used in different variations – palette.
Monochromatic color schemes, like a front door in Downy by Sherwin Williams with beige, create depth and visual interest that can make your home look bigger. Downy is a light off-white that shares similar beige and cream layers.
Black Magic by Sherwin Williams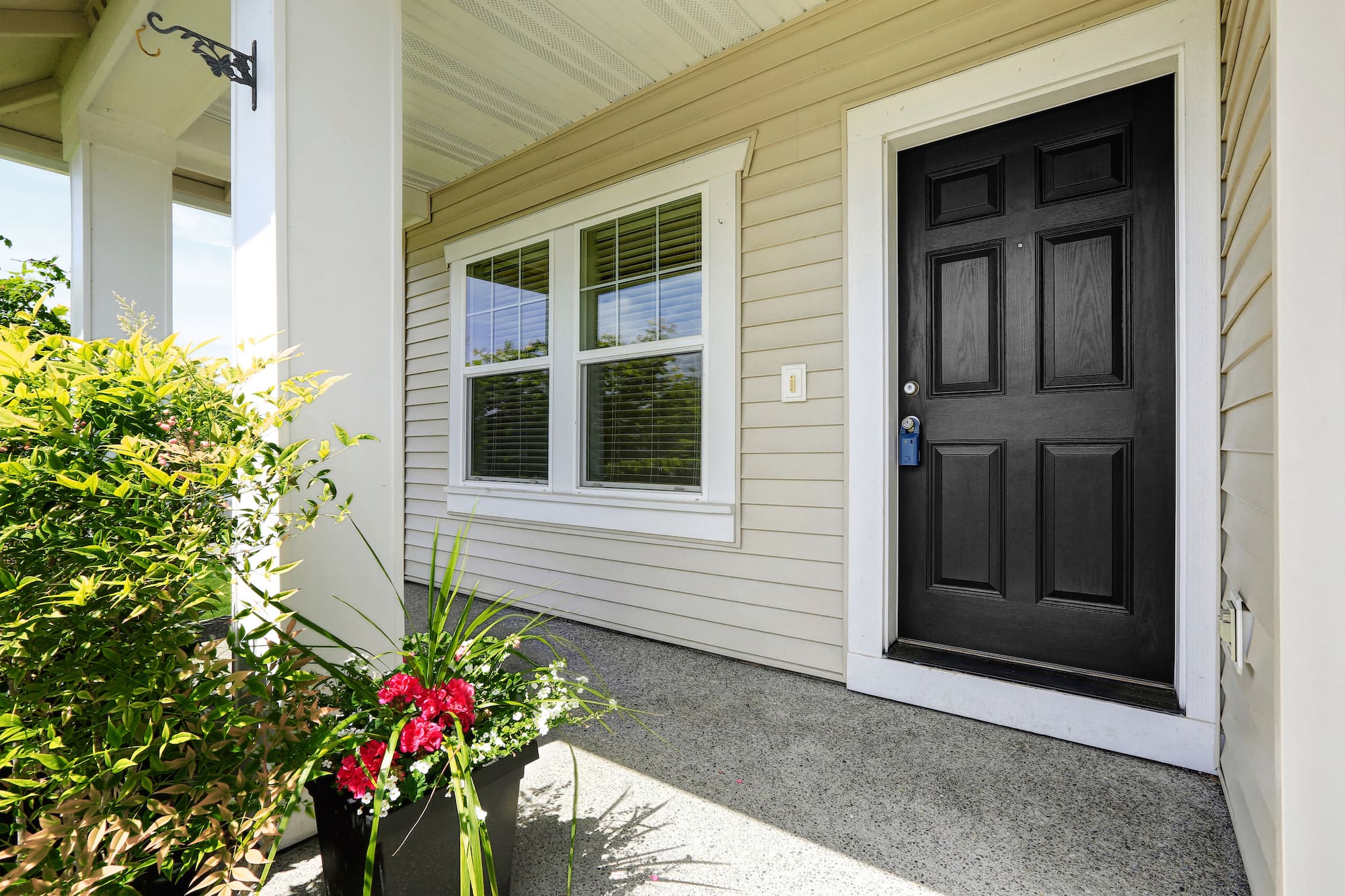 Like Sherwin Williams' Black Magic, a black door commands attention while exuding strength and authority. Black is a timeless door color for symbolizing reservation and conservatism.
A black door on a beige house looks sophisticated with refined beauty that can awaken strong emotions. You can give your home a modern, minimalistic, or chic vibe with the sharp contrast of a lighter tan house with a dark black door.
Coral Essence by Benjamin Moore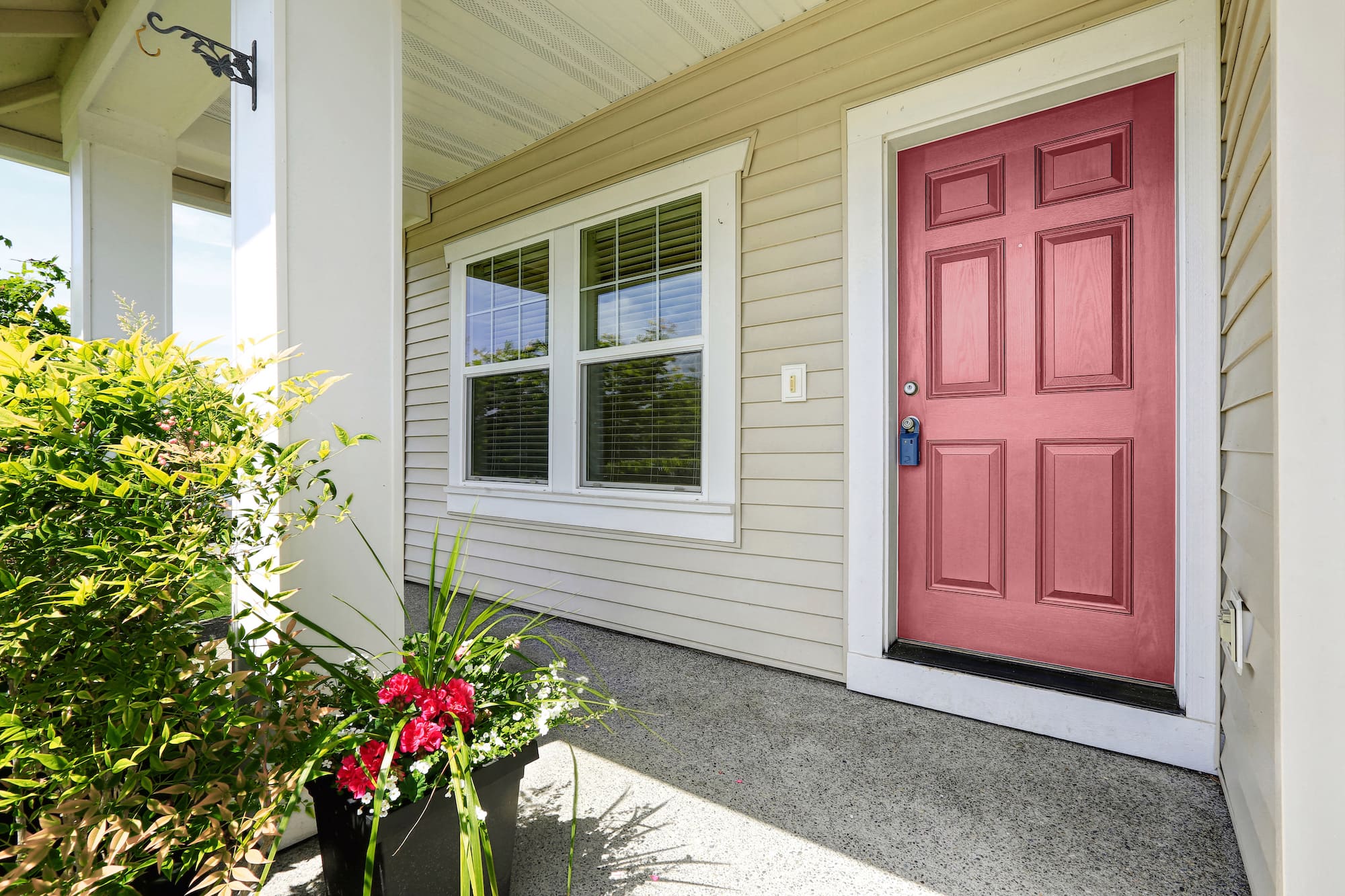 Painting your front door pink isn't a move that will appeal to every person or look right on every type of architecture. However, beige and pink are complementary colors that can look fantastic together.
Cottages, beach huts, and coastal homes can benefit from the chic, vintage feel of a pink front door. Like Coral Essence by Benjamin Moore, pink doors are romantic, youthful, fun, exciting, and the color of happiness and love.
Blue Springs by Benjamin Moore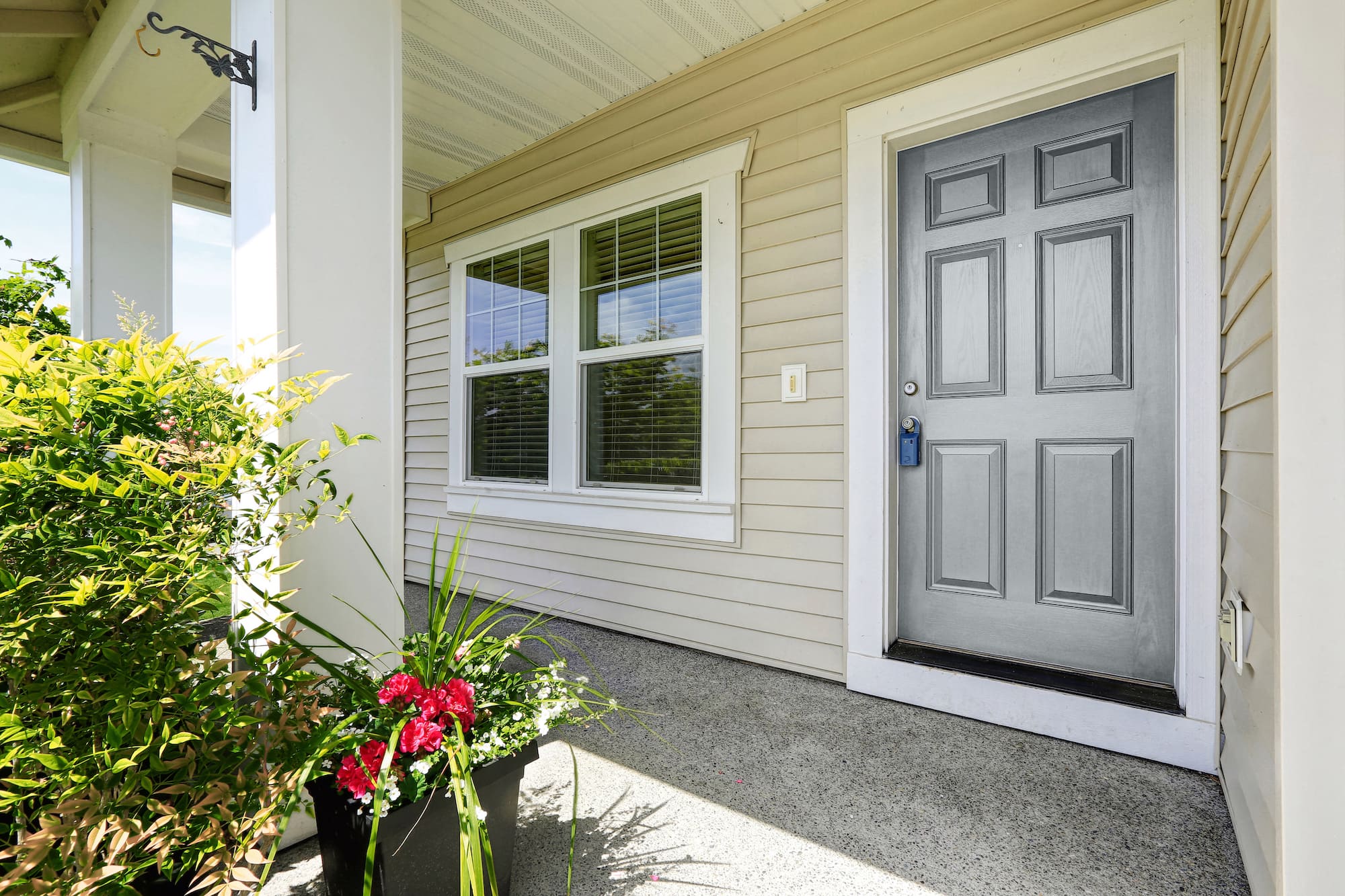 Adding a light gray front door to a beige house allows for a soft, understated design full of curb appeal. The best thing about any variation of gray is that it never goes out of style.
This timeless color embodies strength and represents subtle beauty and composure. You can give your entryway a sense of mystery by choosing a lighter gray, like Benjamin Moore's Blue Springs. This color looks gray or green or greige or silver, depending on the light.
Cat's Eye by Benjamin Moore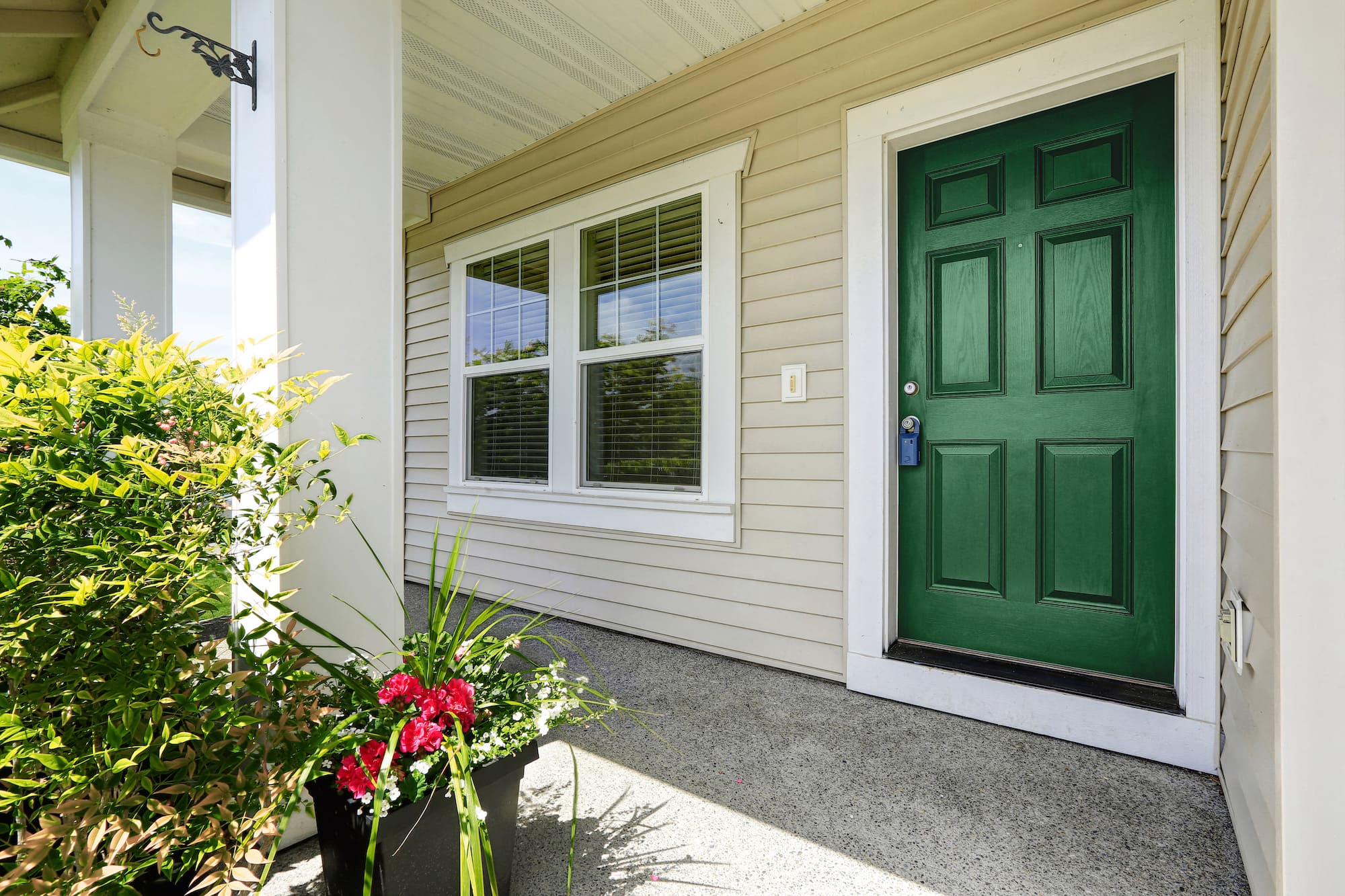 A green front door with a beige house is the perfect combo for a natural, earthy palette. So many people choose green for inspiring positive vibes, balance, harmony, and oneness with their community and surroundings.
We're fond of a darker green front door against the light neutrality of beige. Cat's Eye is a deep, saturated green with a low LRV that adds bold contrast.
Hawthorne Yellow by Benjamin Moore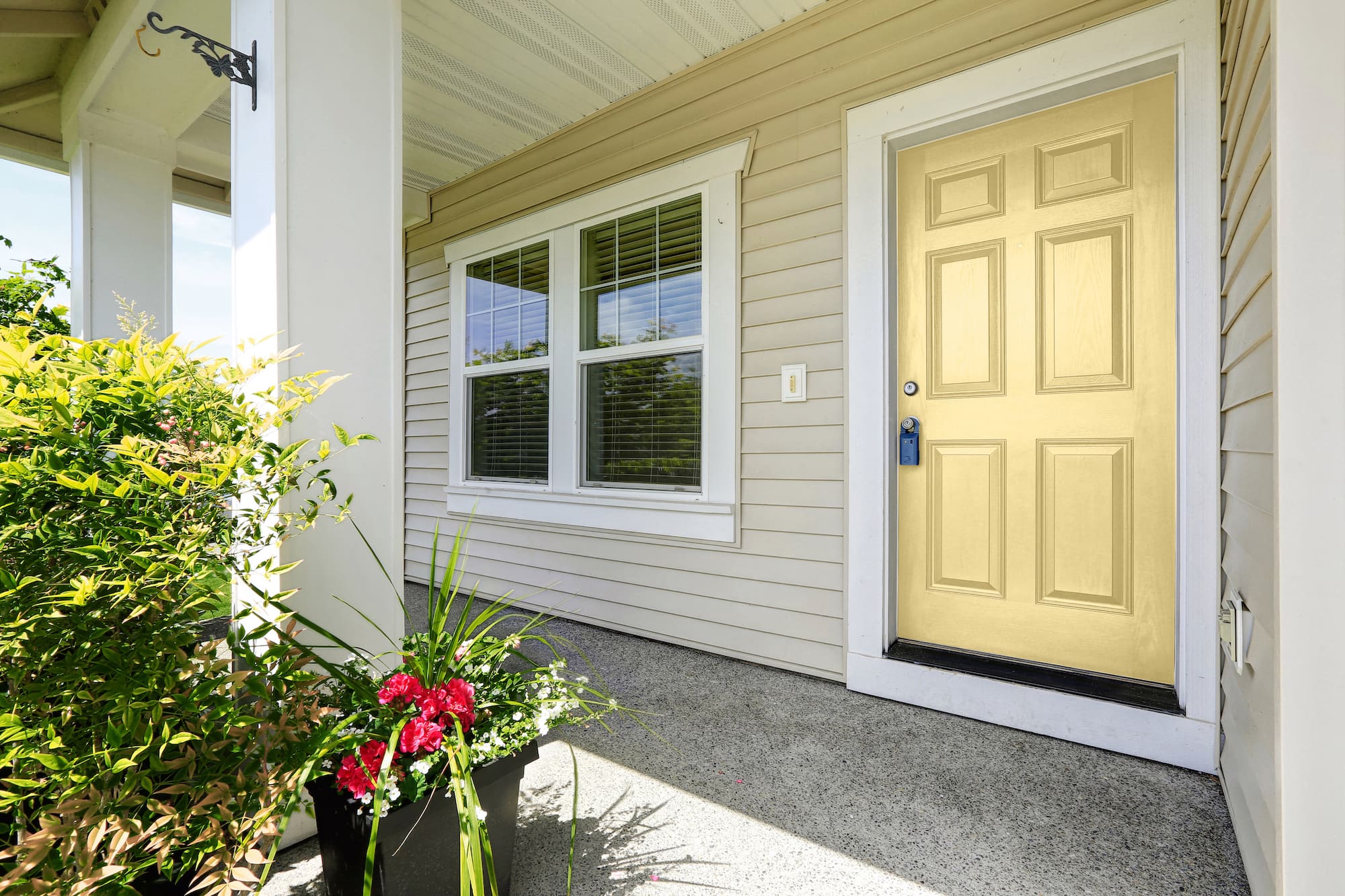 Painting your front door yellow is an easy way to refresh a boring exterior into an uplifting, cheerful facade. Yellow symbolizes creativity, confidence, intellect, and mental clarity.
Hawthorne Yellow is a traditional historical color, beloved for its light saturation and earthy hues. This color is soothing and subtle for a cheerful front door color without being too loud.
Orange Parrot by Benjamin Moore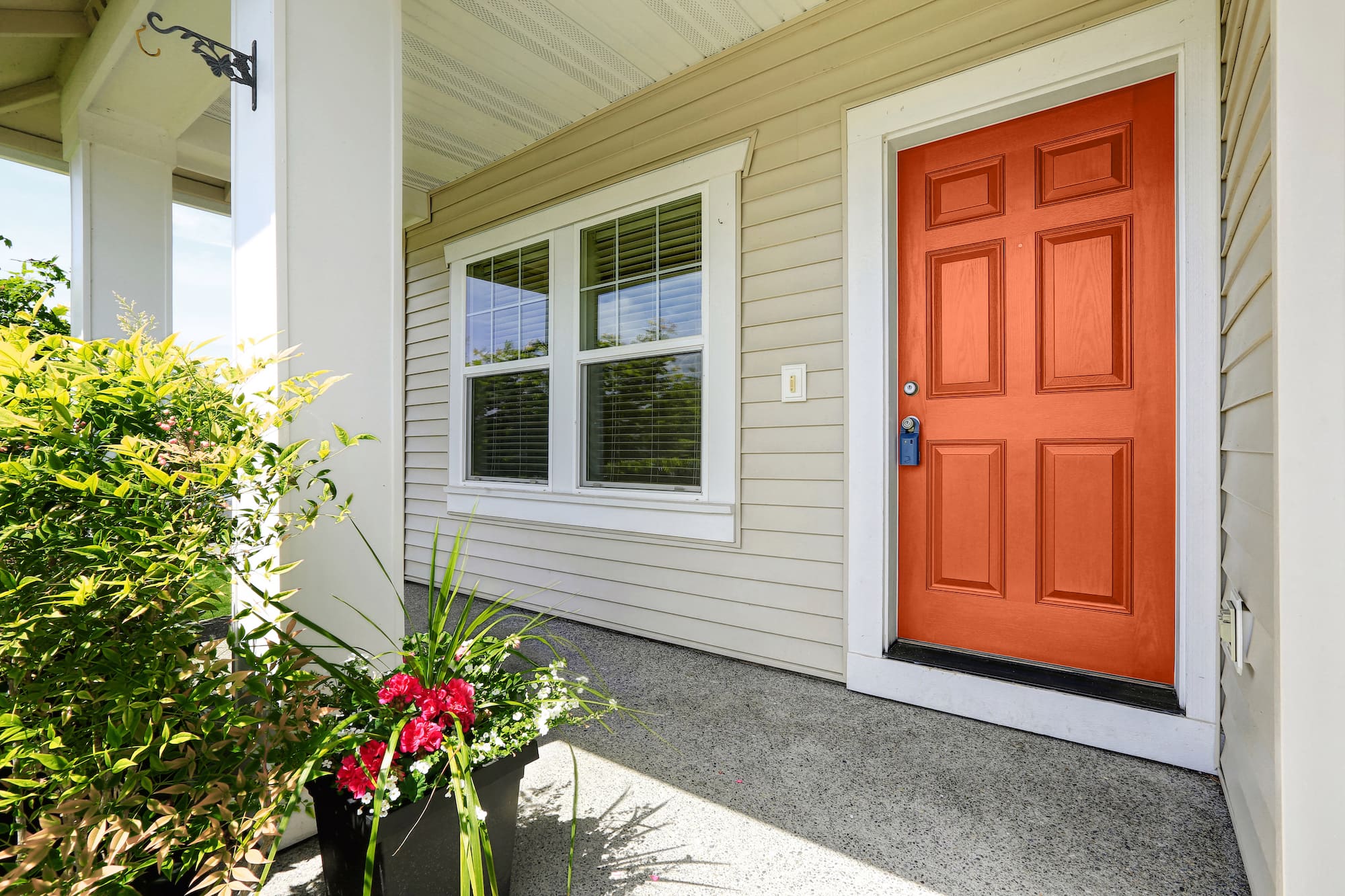 An entryway painted with a bold color choice like orange is often reflective of the homeowners. This color is a favorite for extroverts, offering a fun, welcoming energy.
A color like Benjamin Moore's Orange Parrot is a mix of yellow, which gives happy vibes, and red, which is passion and energy. People who choose an orange door are fun-loving, friendly, and sociable.
Pure Turquoise by Behr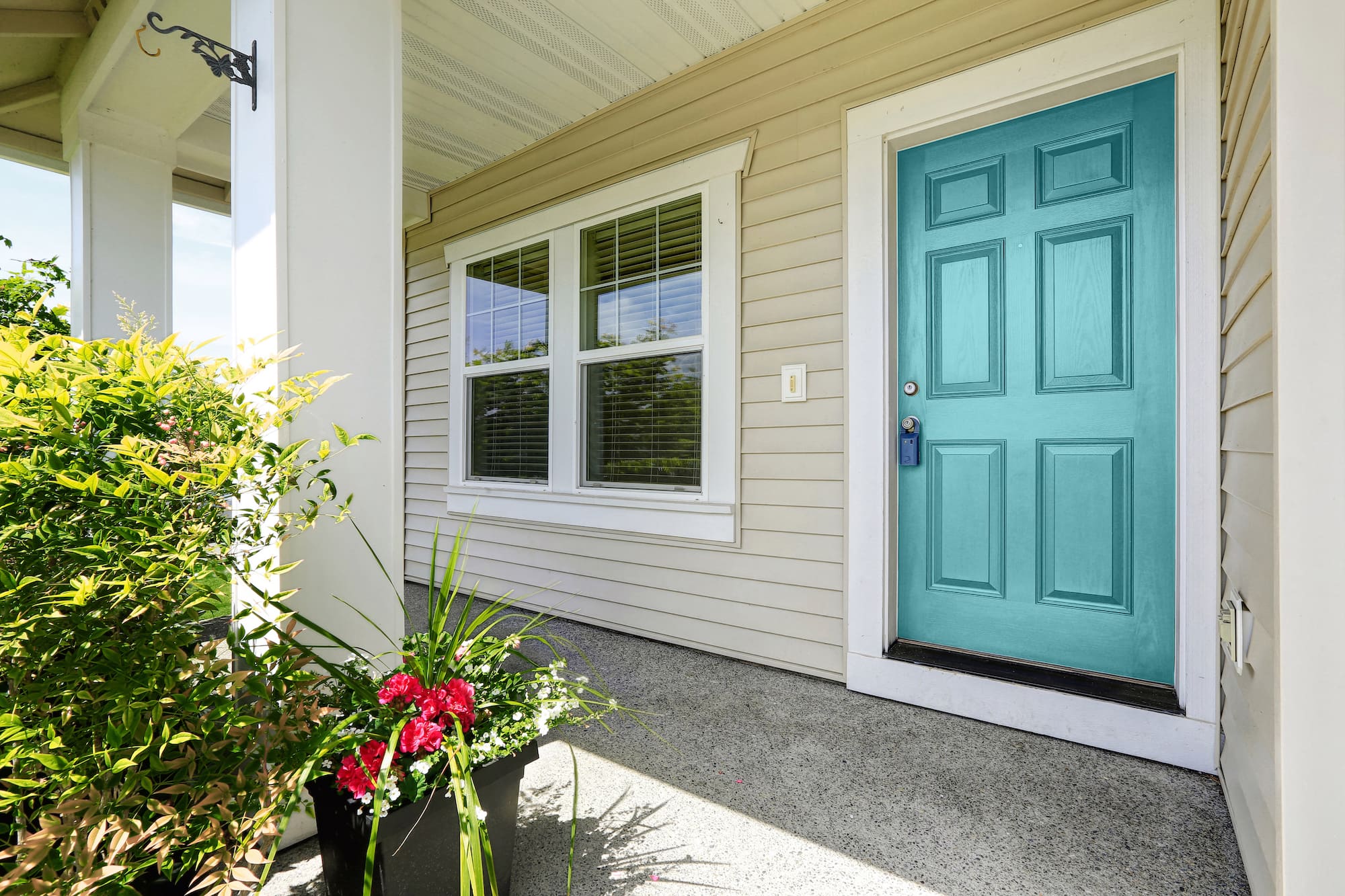 A popular choice for front doors to achieve a tropical, beachy feel is turquoise. This jeweled sea color is a hypnotizing blend of blue and green that sets off a neutral beige exterior.
Behr's Pure Turquoise is a mid-LRV color that's a balanced blend of green-blue that's dark enough to add contrast but light enough not to be distracting.
Mystical Purple by Behr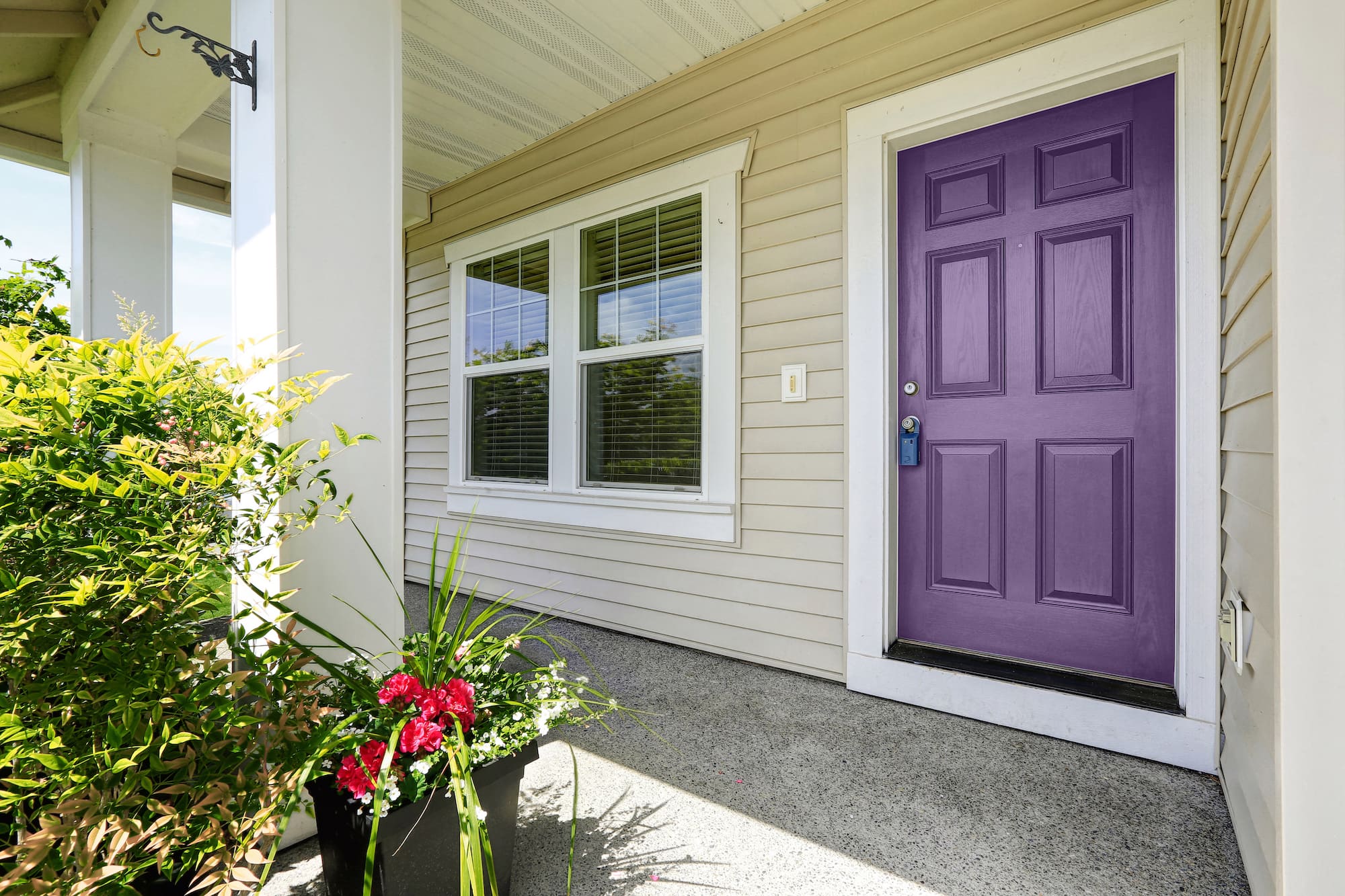 Purple doors are less commonly seen but no less powerful of a statement. Purple is a color of royalty, symbolic of wealth, loyalty, and honor. Purple is a combo of the vital energy of red with the peaceful calm of blue.
Mystical Purple by Behr is a welcoming color that greets guests with a regal vibe. A low LRV and a hex code of B:131 R:116 G:93 give this purple a dense plum tint that works for front door colors with tan siding.
Calke Green by Farrow & Ball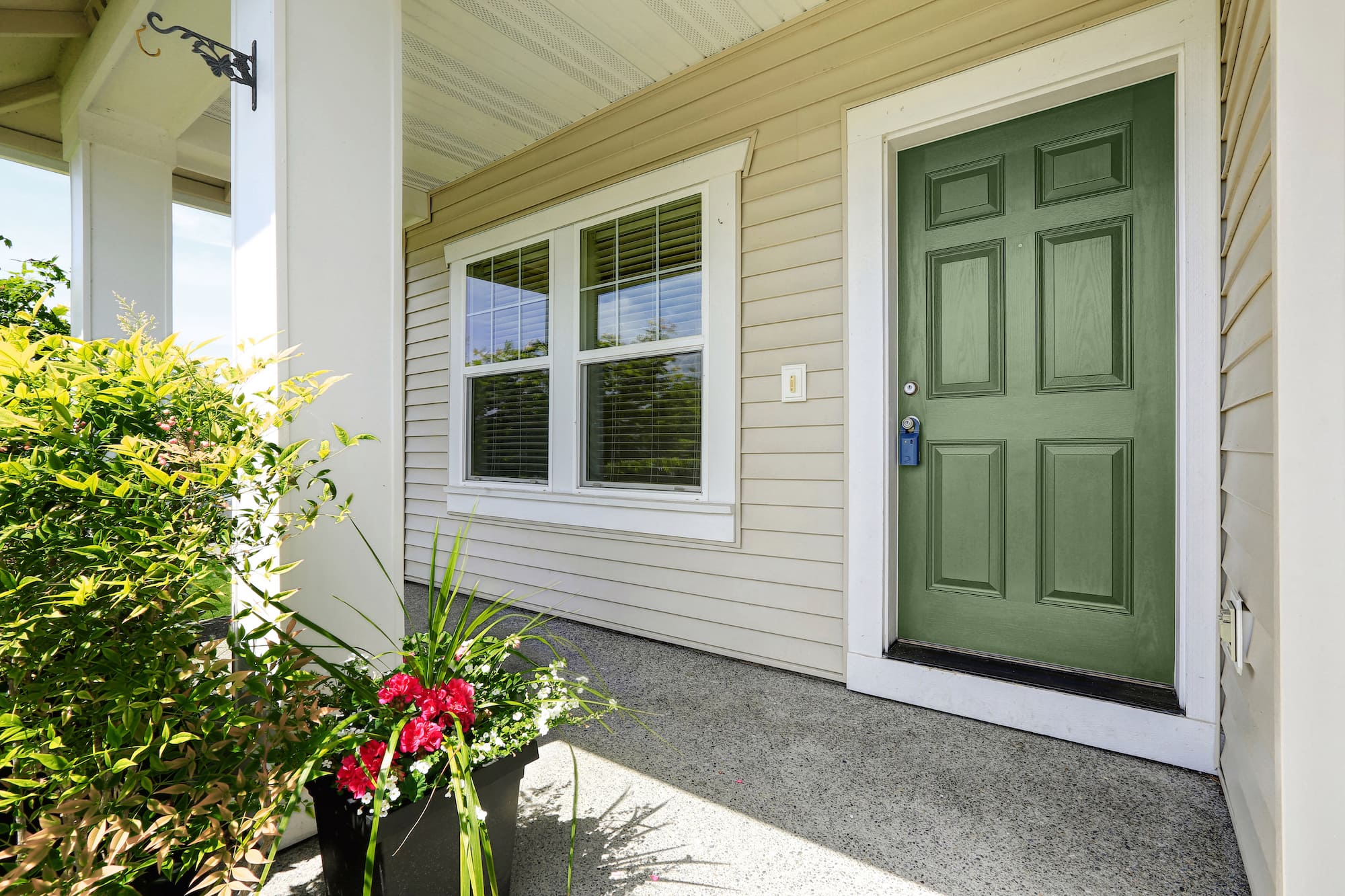 Calke Green is a less vivid shade of green that goes well with beige. More of a lighter olive tone than a dark hunter shade, this green feels like the color of nature.
When used for the front door on a beige house, this darker, duller shade can inspire feelings of healing, compassion, and traditional values.
Incarnadine by Farrow & Ball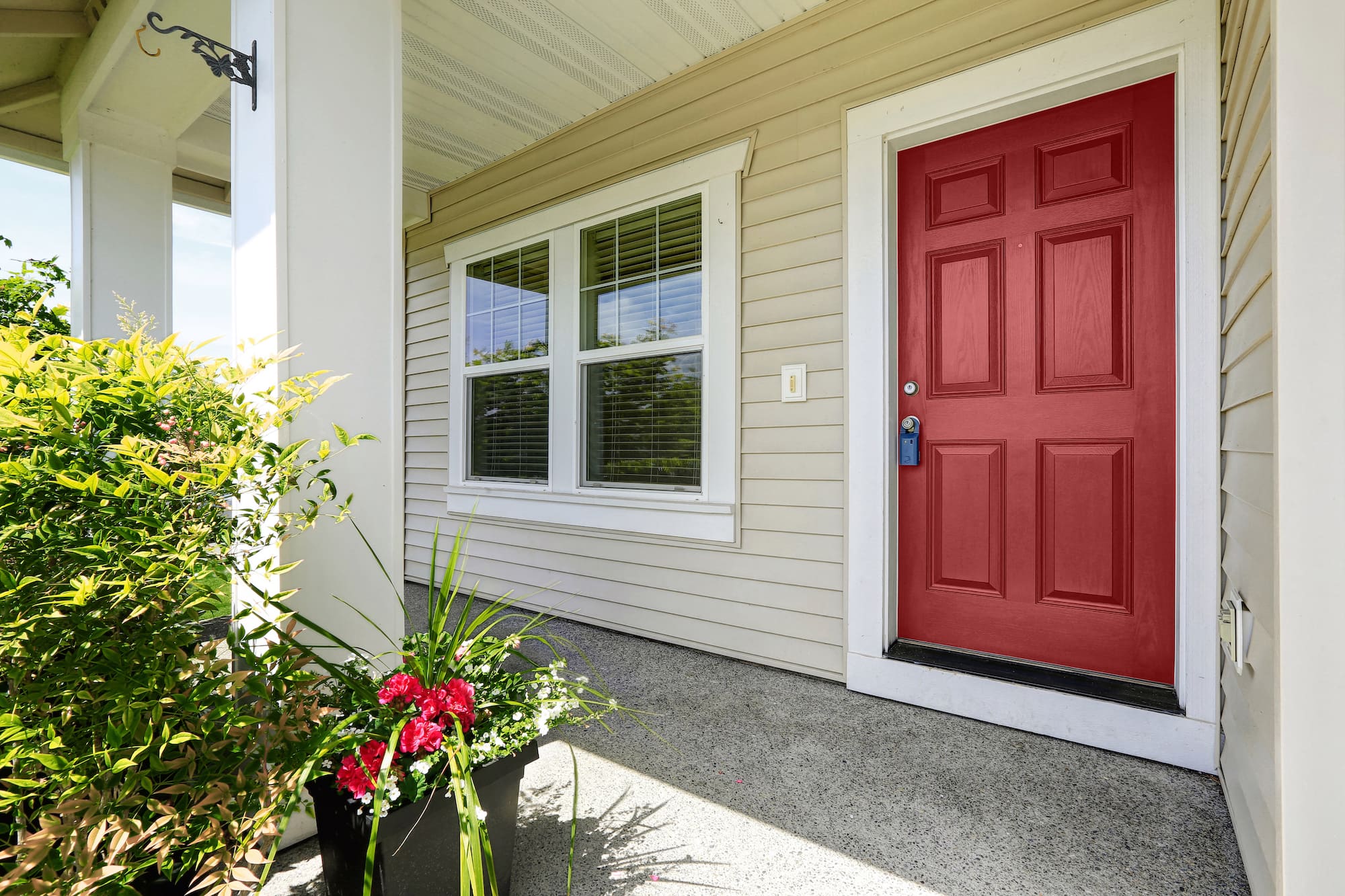 The earthy tan neutrality of beige can benefit from a bold color choice like red. Farrow & Ball's Incarnadine is a rich saturation of burnt red.
This warm shade has dark undertones of orange that give the red less of a fire truck vibe and more of a rustic old red brick.
Beige is a Beautiful Base for Colored Doors
Beige is a great neutral color used for exteriors of multiple architectural styles. And it can go splendidly with front doors of many different colors. You can choose a bold color like red, blue, green, or neutral like black, white, or gray.
Which front door colors for a beige house is your favorite idea? Drop us a line in the comments.