Decorated Life is reader-supported. When you buy through links on our site, we may earn an affiliate commission. Learn More
13 Front Door Window Covering Ideas
Does the window on your front door cause privacy issues?
If so, shut out some light and create privacy with a window covering. There are many good options depending on the style you like and the design of your door.
Here are 13 of the best front door window covering ideas to try out.
Cover Your Sidelights in a Simple Curtain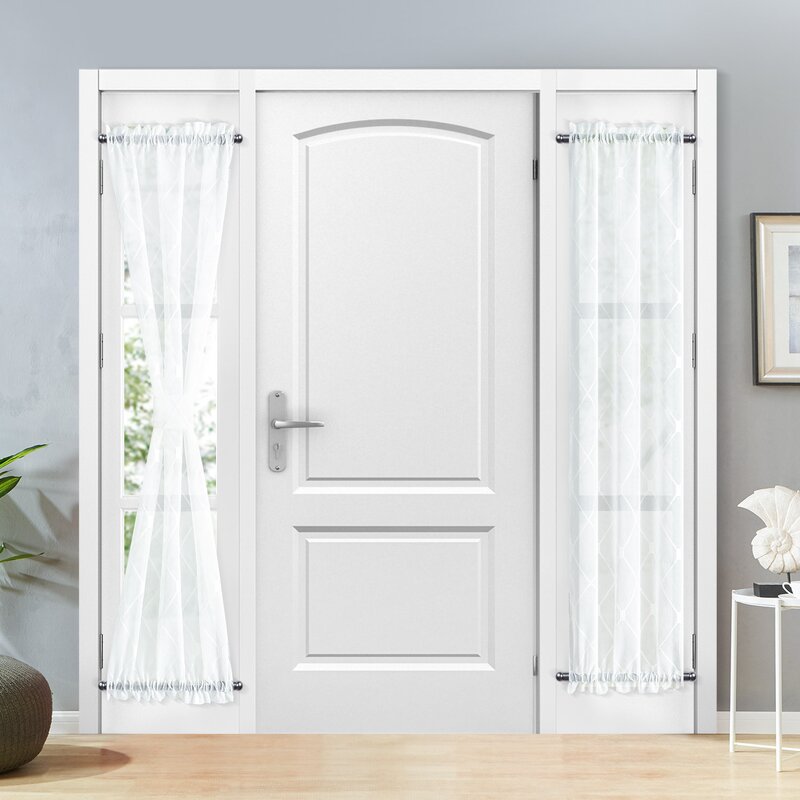 If the sidelights on your front door are your main issue, consider a simple option like this. This sheer white curtain from Wayfair provides privacy while still letting a little light come through.
This curtain comes in five color options and four sizes. So whether your sidelights are large or small, you can get one of these to fit.
Try Woven Wood Drapery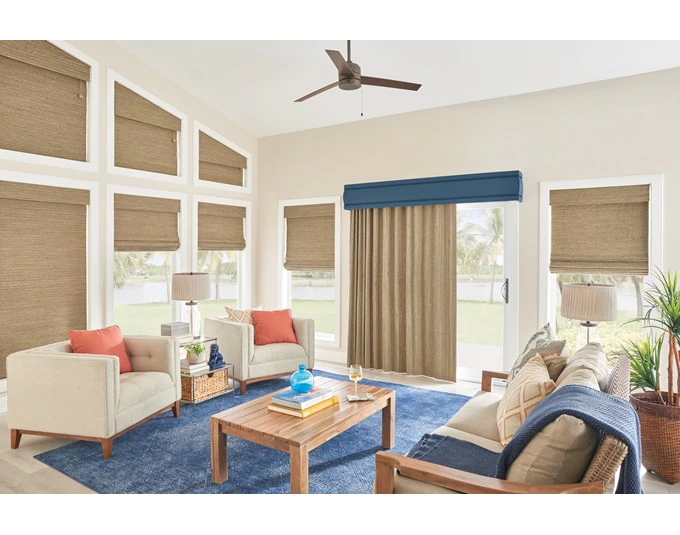 Woven wood drapery sets are the perfect modern front door window coverings. These drapes consist of woven bamboo, jute, grasses, and wood.
You can find these drapes in custom sizes, so no matter the dimension of your front door's window, there will be an option. While these come in many colors, natural is best for bringing warmth and texture to your entryway.
Use a Window Valance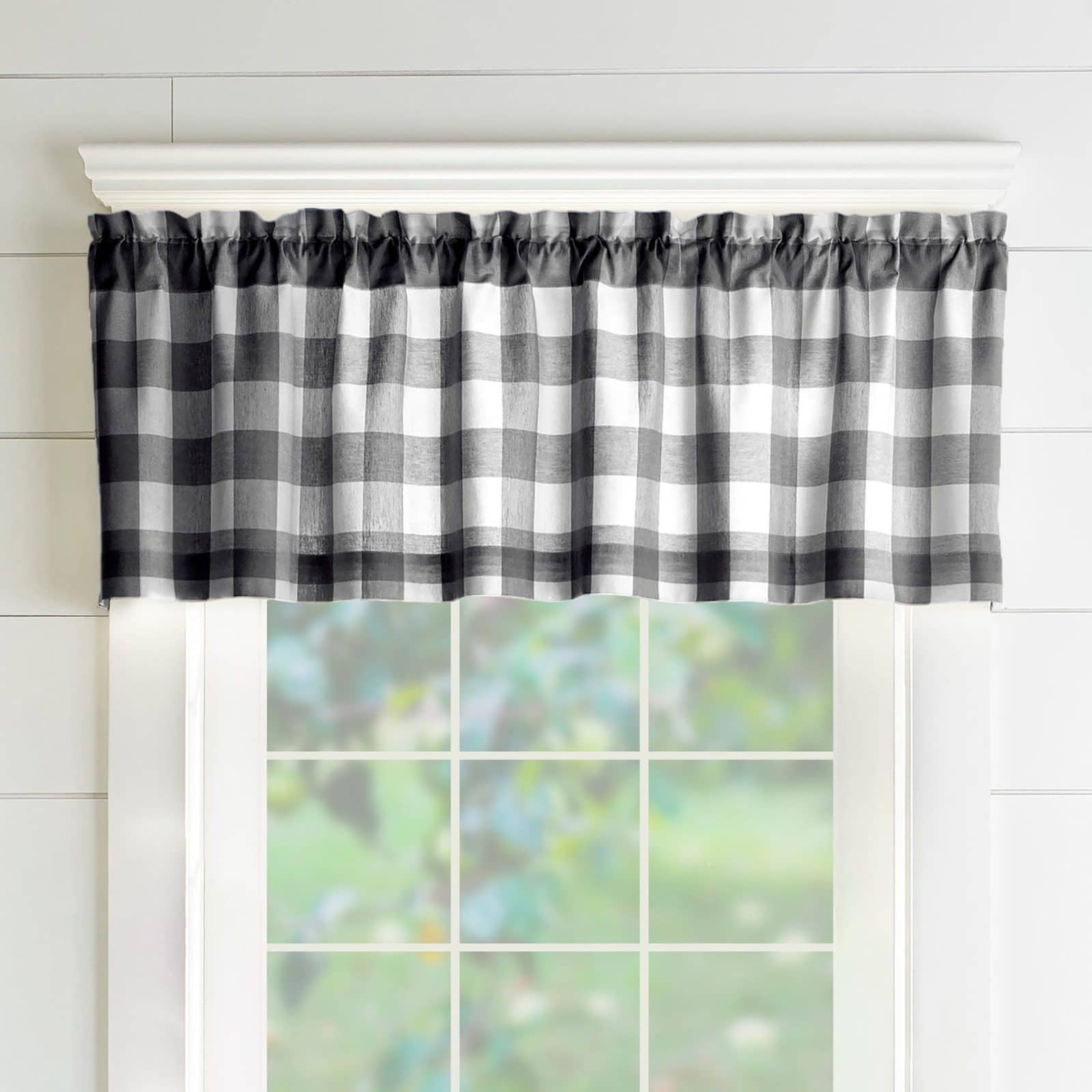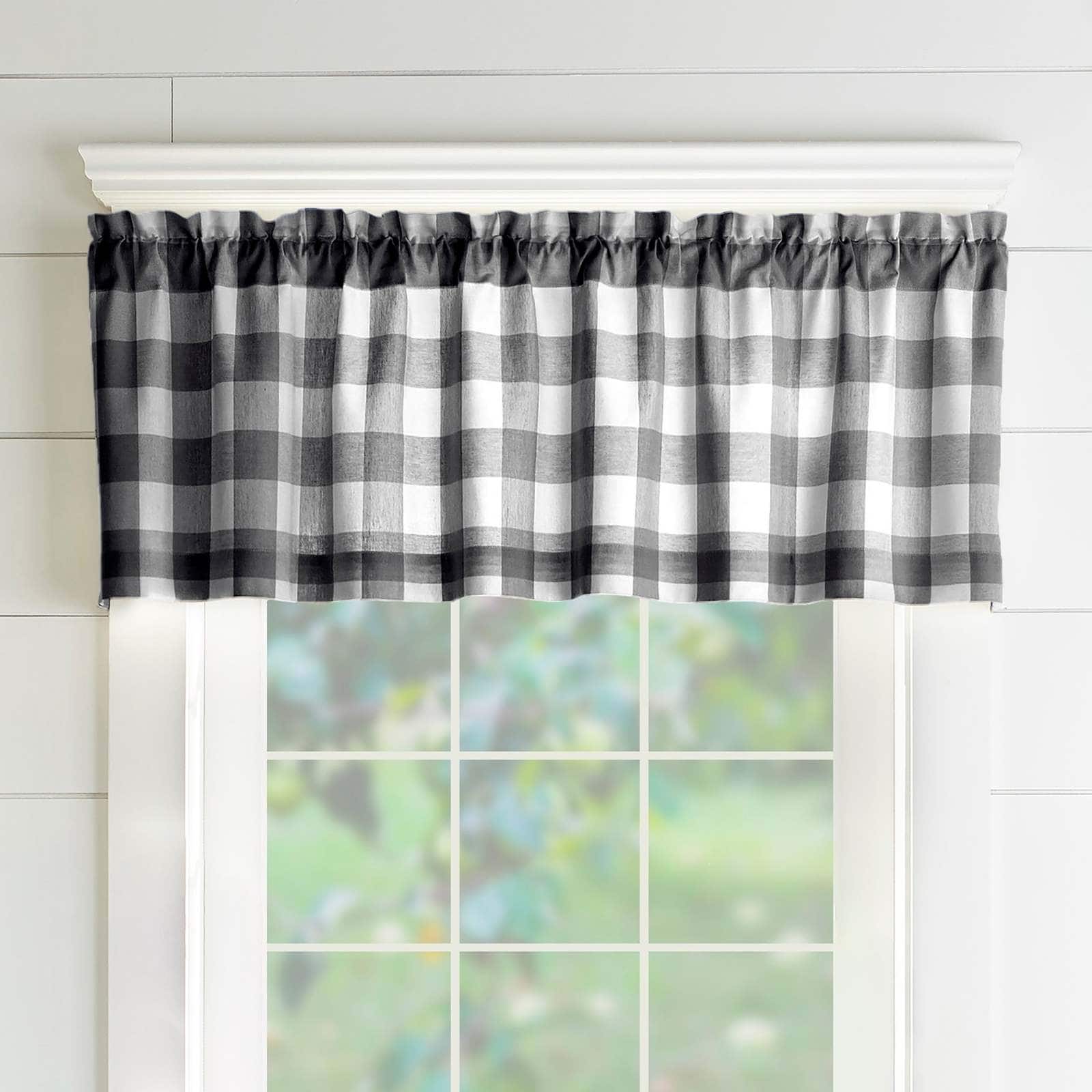 If you're trying to block partial light or have a small window, use a valance. You might think of valances as being old school or out of style, but that's not necessarily true.
You can find a valance that matches your style and looks modern – you just need to pick the right pattern. For instance, this buffalo check valance is perfect if you like the farmhouse look.
Hang a Beaded Curtain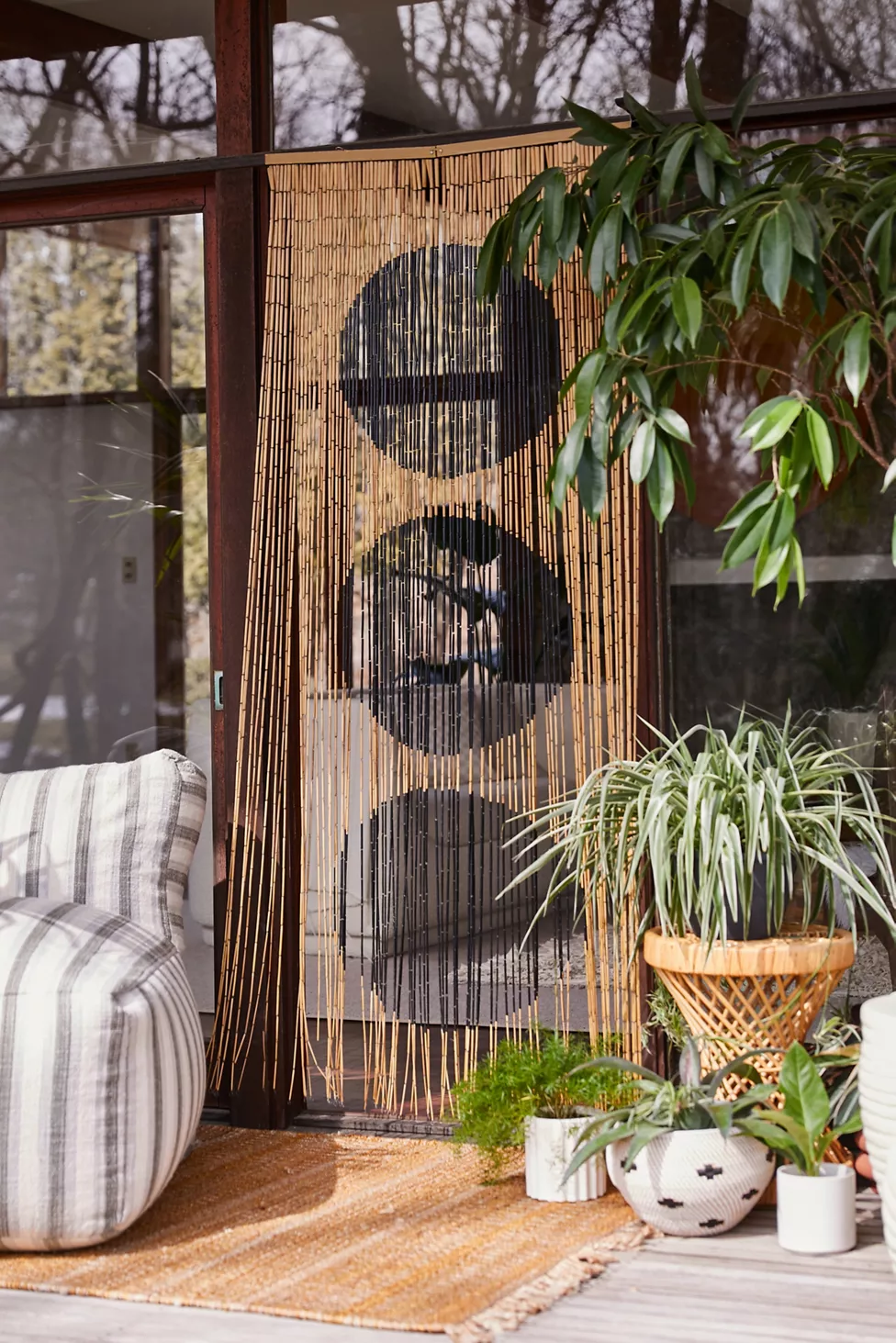 Let's state the obvious – this idea is not for everyone. However, if you love the boho look, consider hanging a beaded curtain over your front door.
Doing this will block light, allow for privacy, and add to your style. Just be warned, not every guest will be cool with walking through the beads. Still, it's a fun idea for the right person.
Install a Roman Shade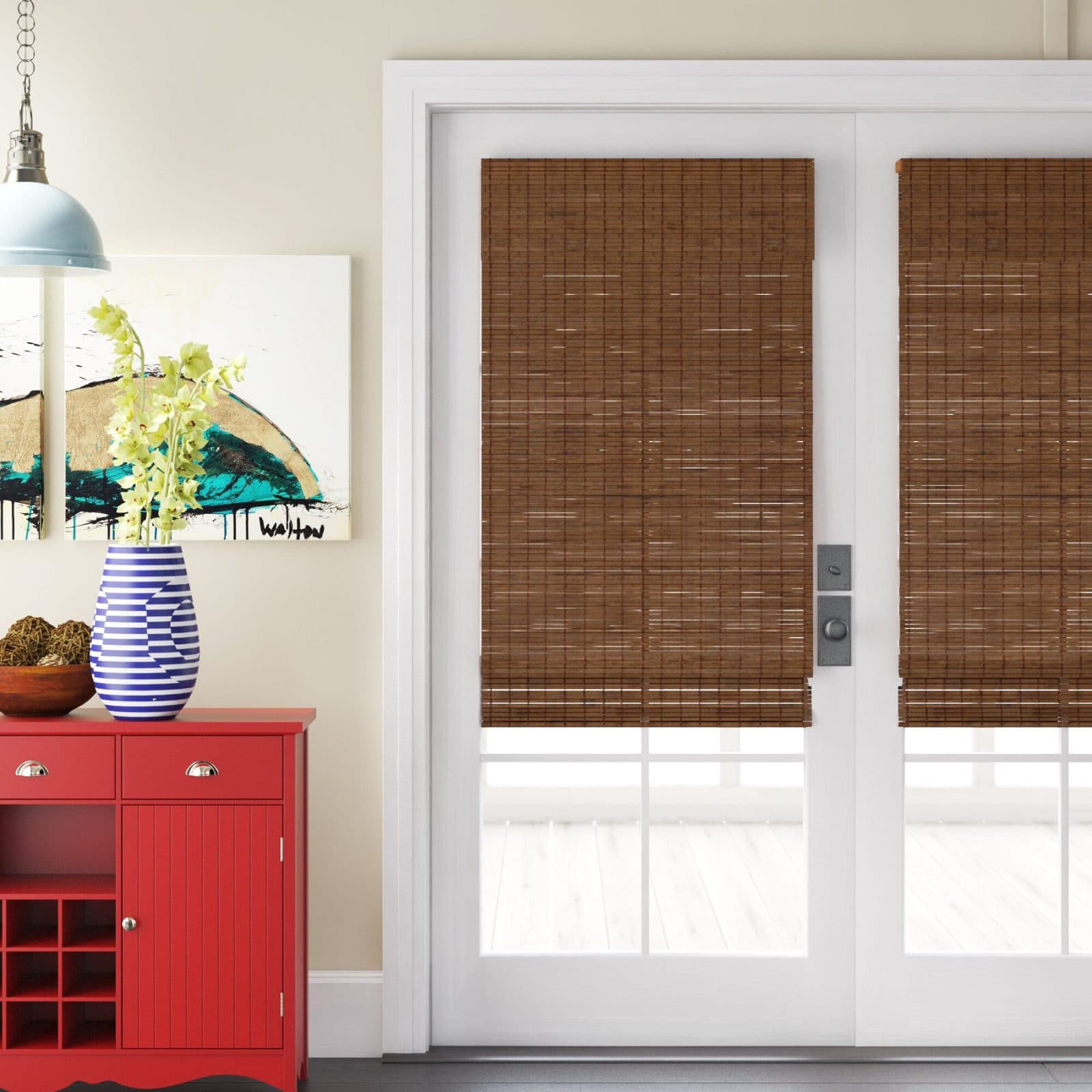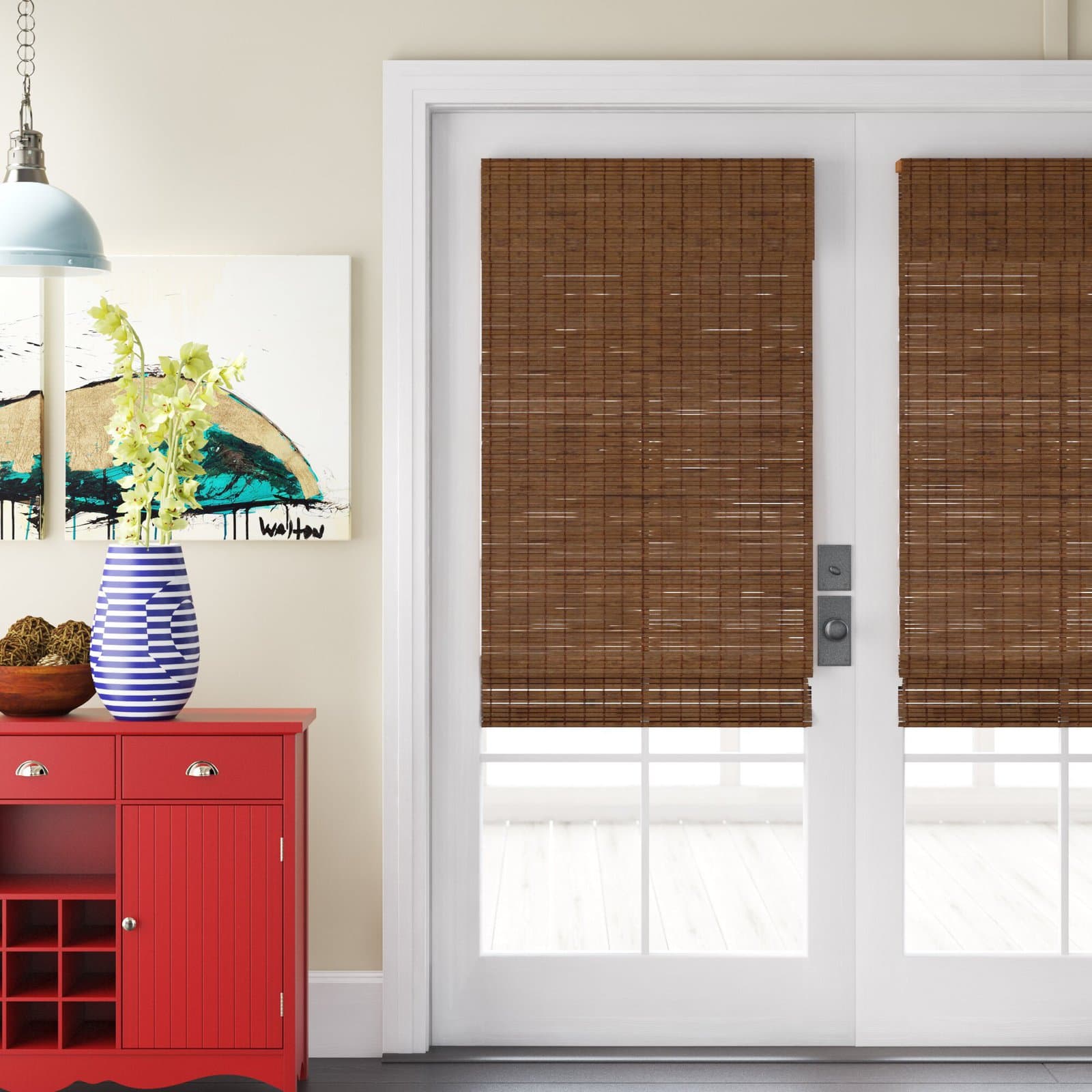 Roman shades are excellent choices for the front door. You can find them in almost any size, they're easy to install and look stylish.
This set from Wayfair comes in 11 sizes and is semi-sheer. So they'll let some light through while still offering plenty of privacy. These front door window shades have a natural look that matches any decor style.
For a Large Door Try Vertical Blinds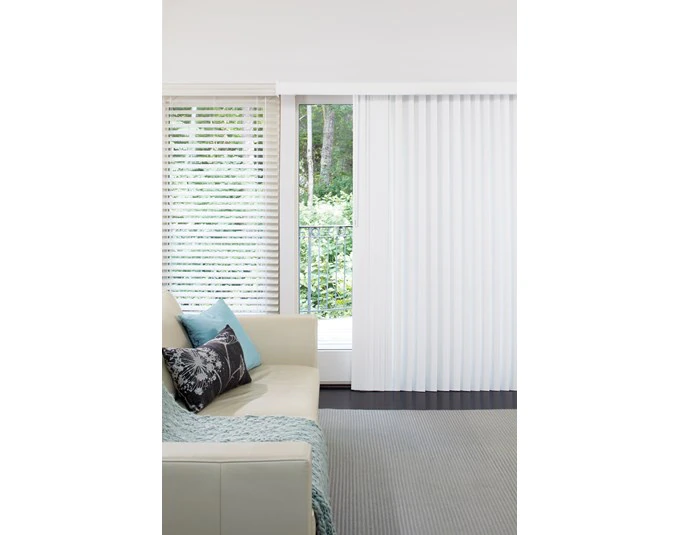 If you have a large door or one full of windows, an easy front door window covering is vertical blinds. If you haven't tried these because you're worried about them looking outdated, don't.
You can find options like these from Blinds.com that mimic the look of drapery for an updated, modern feel. These come in several different colors and sizes.
Create Privacy with a Door Curtain Panel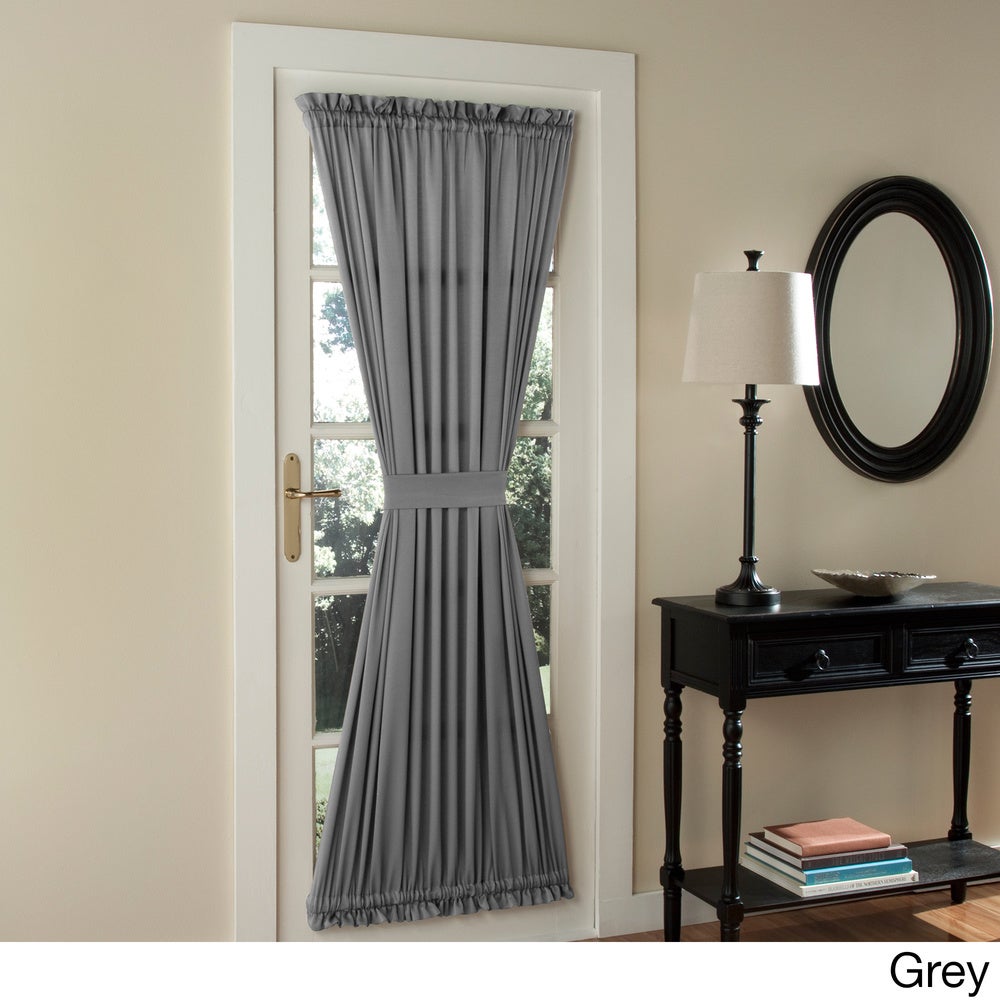 Curtains are great options for creating privacy. You can find them in any color and size, making them an ideal choice for doors.
If your front door is mainly glass, your best bet is to invest in a door curtain panel. These panels cover almost the entire door, allowing for privacy in your home. You can find this one from Overstock in nine different colors.
Keep it Minimal with Privacy Window Film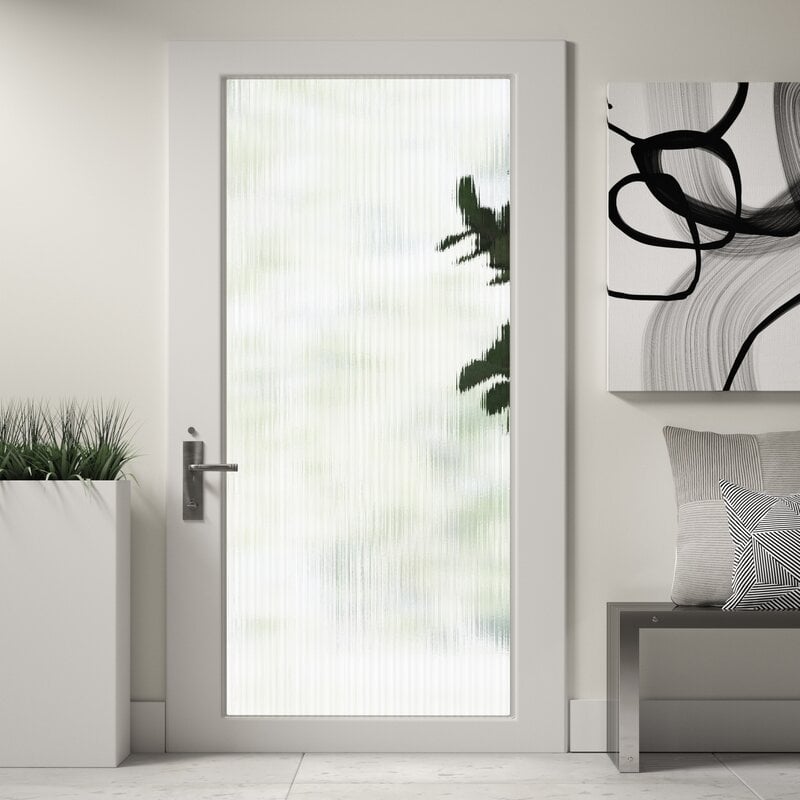 If you're into minimal style but crave privacy, create some with window film. This privacy window film from Wayfair mimics the look of etched glass.
This film is self-adhesive and repositions without damaging your door or losing its sticking power. So, when you no longer want to use this film, you can simply take it down.
Darken the Room with a Blackout Shade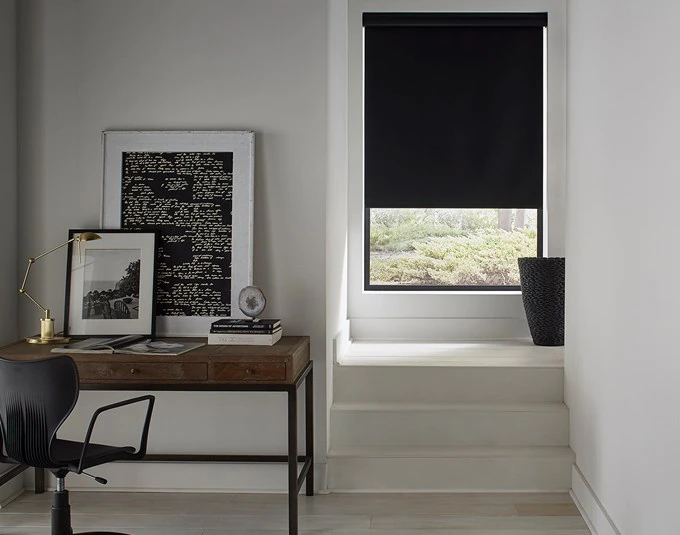 If you frequently work third shifts or just like your home to be ultra dark, cover your front door with a black-out shade.
You can order one of these blackout shades in a custom size to fit your door's window. Installing one is super easy, and they come in many different colors. So, if you want to blackout ALL the light, give one of these a try.
Use a Tie-Up Door Panel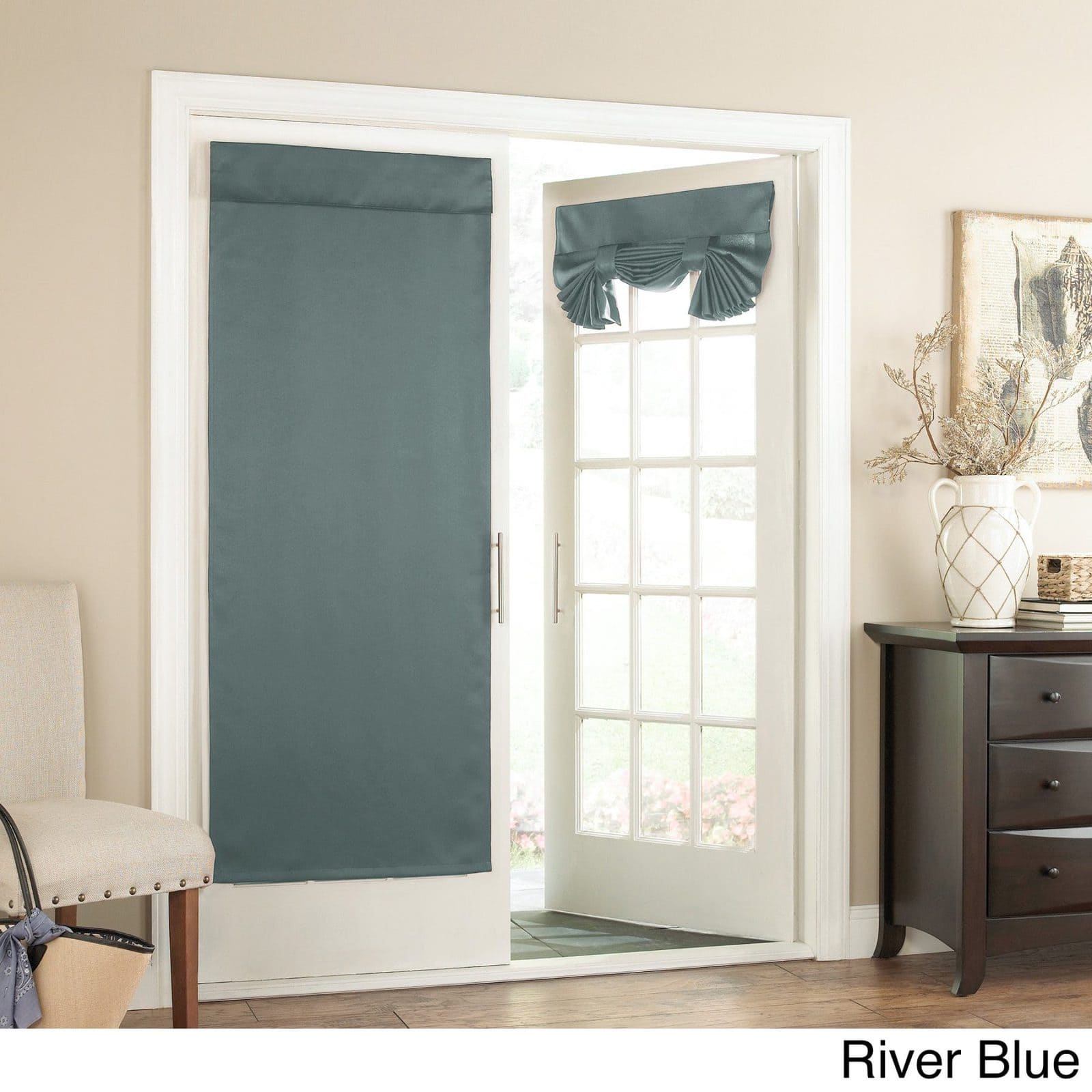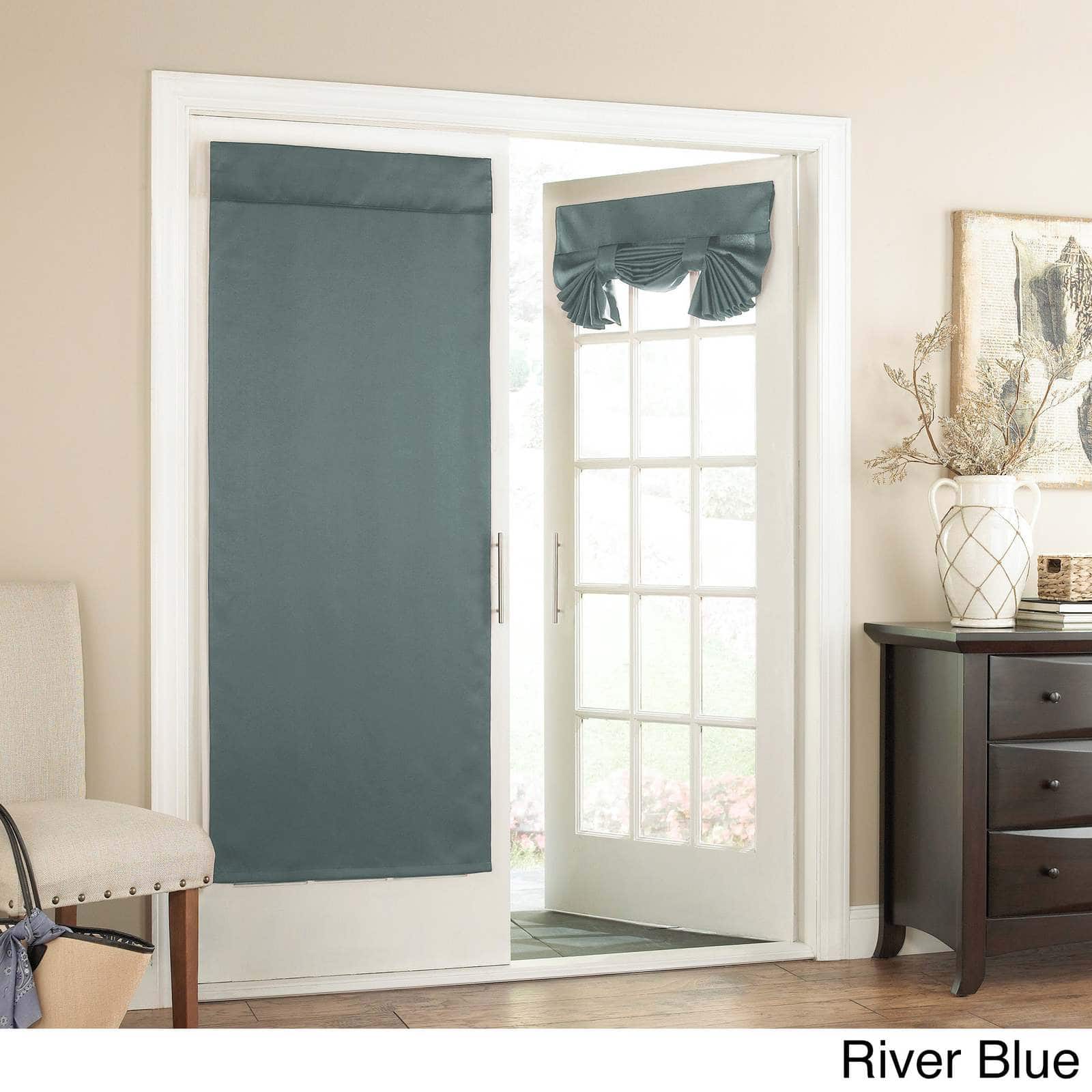 Whether you have french doors or a front door full of windows, a tie-up door panel can be a great solution. These door panels are easy to install and can be left covering the window for privacy or tied up to let the light in.
This panel from Overstock comes in two colors: Sangria and River Blue.
Go With Classic Mini Blinds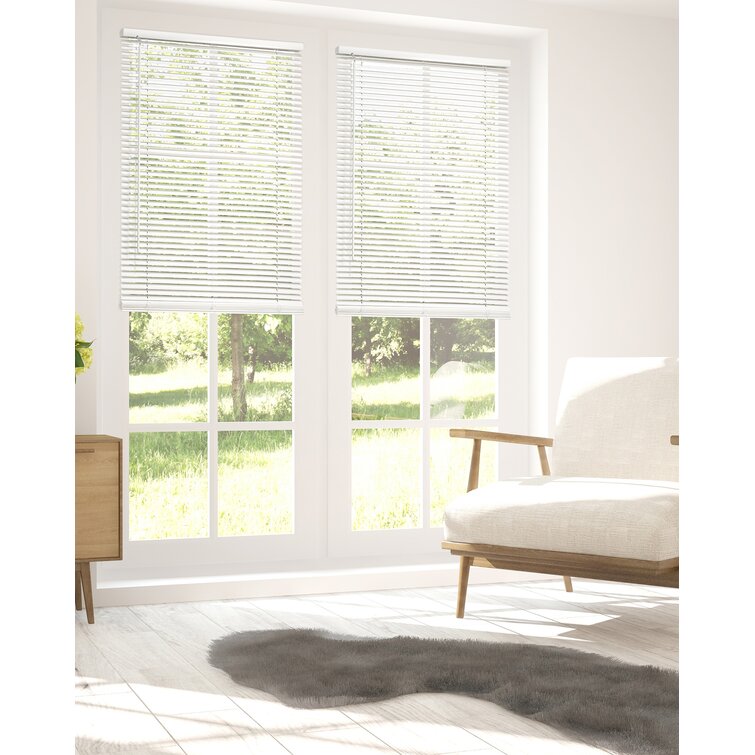 If you haven't already considered mini blinds, why not? Mini blinds come in various sizes, are easy to install, and offer a classic look.
Mini blinds are a safe bet if you're simply trying to create privacy and don't care about frills. And no, they aren't outdated. It's highly unlikely that mini blinds will ever go out of style.
Try a Smaller Curtain Panel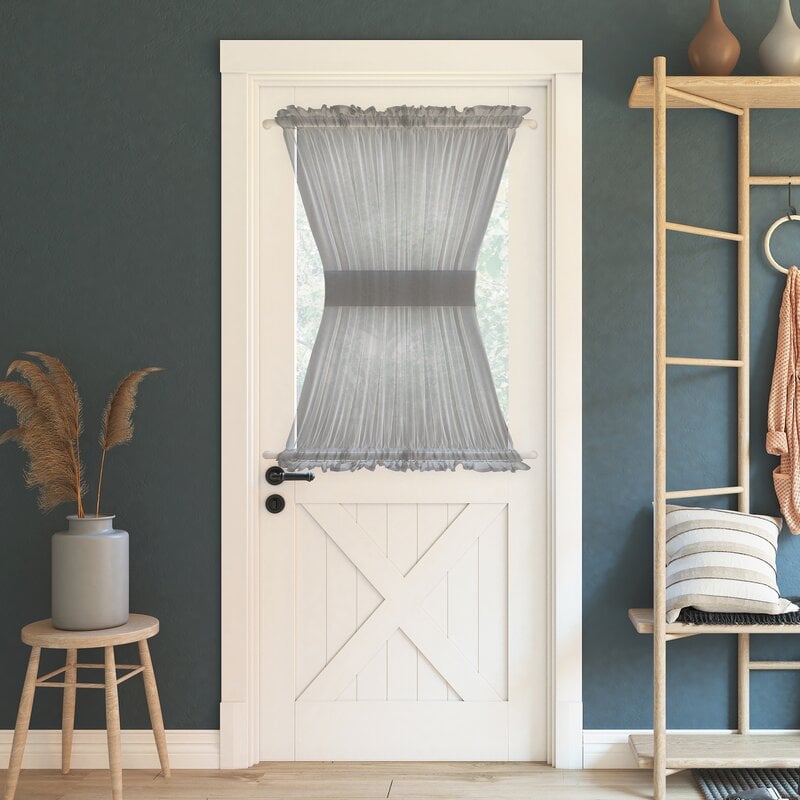 Many window curtain options are for doors with a lot of window space. But as far as front doors go, I'd say it's more common to see a smaller window space.
If that's the case for you and you don't like blinds or shades, try a curtain panel like this. This panel is meant for door windows and comes in a couple of different sizes and colors.
Cover Your Sidelights with Privacy Film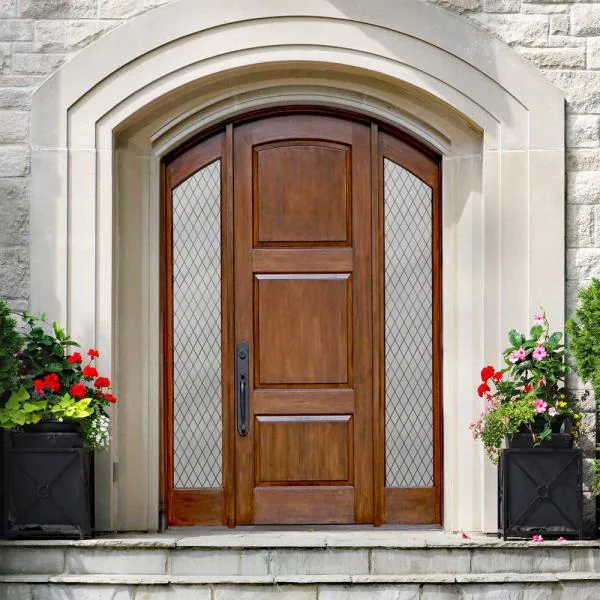 If the sidelights on your front door are letting too much light in, consider privacy film meant specifically for them.
This lattice privacy film from the Home Depot is specifically for small front entry doors. It doesn't require any glue or adhesive. Instead, it clings to any surface and can be moved around without causing damage.
Final Thoughts
If you need to cover your front door windows, there are a lot of ideas you can try. The most simple ideas are to hang mini blinds, pull down shades, or curtains.
If you're looking for a more minimal look, you can add a privacy film to your windows. Or, if you like a more decorative look, find patterned curtains to match your style.