Decorated Life is reader-supported. When you buy through links on our site, we may earn an affiliate commission. Learn More
17 Gorgeous and Functional Entryway Table Ideas
An entryway table is an underrated addition to any home and it can actually make a big difference in channeling the decor style of your choice.
An entrance table is a functional surface to put keys or sunglasses, as well as decor items like a plant or picture frame.
If you think you don't have enough space near your front door for an entryway table, think again! An end table or ultra-thin style of table are excellent options in smaller spaces.
Look for a Weathered Table for a Farmhouse Style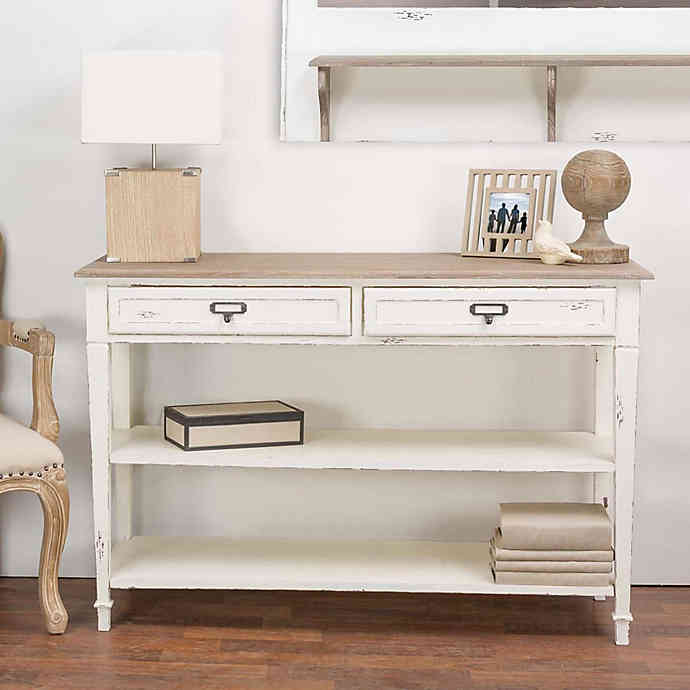 The farmhouse style is all the rage these days. If you're a fan of this decor style, you may want to look for a farmhouse table like this one that immediately promotes the farmhouse vibe as soon as you're in the door.
There's some chipped, weathered white paint which makes the table look vintage and worn. Two small drawers add some necessary storage while the double shelves are excellent for books, plants or even clean shoes.
Get a Natural, Rough-Hewn Table for Rustic Chic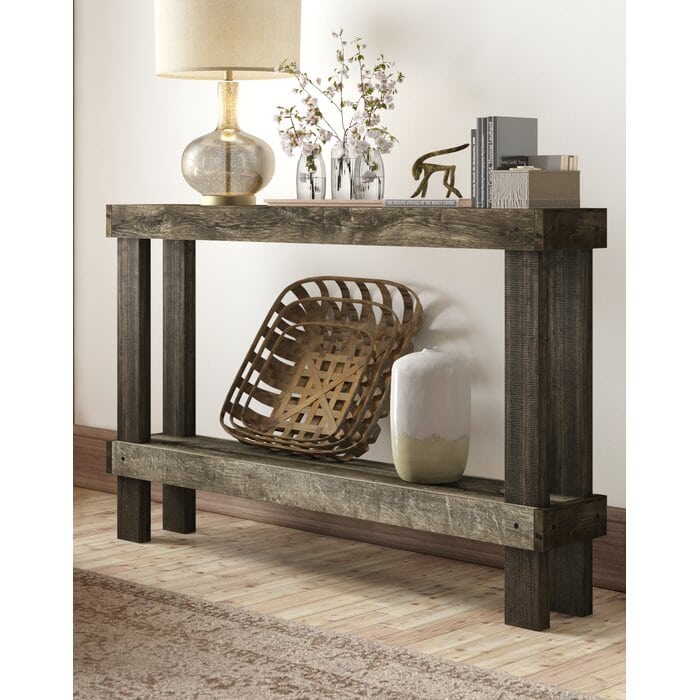 The rustic look is a bit different than the farmhouse style, but there's a lot of overlap and this table can fit in both styles. It's a tall, thin table made from natural, unvarnished wood in a dark shade.
The dark grain of the wood contrasts with the white walls and the look is softened thanks to the delicate flowers on the unit. These are great examples of entry table decoration ideas.
Buy a Tall Table With Lots of Storage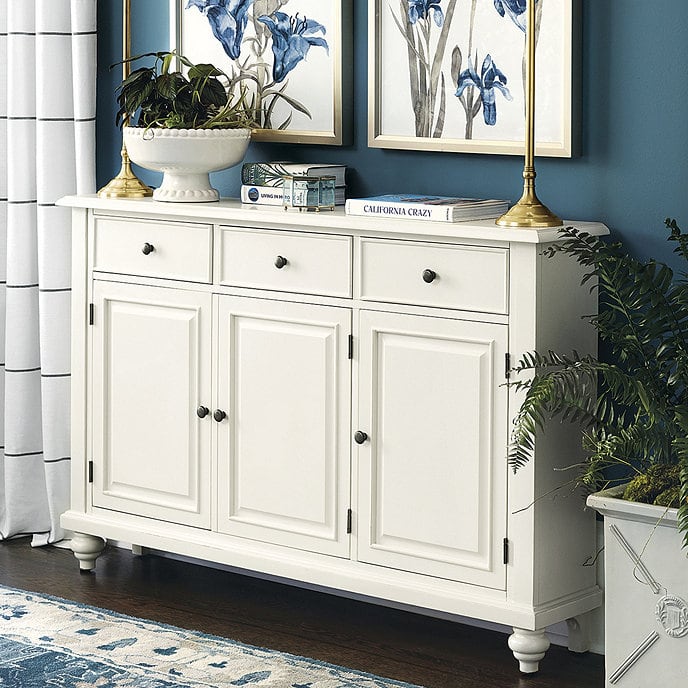 Some people prefer to have a closed-off unit instead of open shelves, and this white entrance table is the perfect solution. It's got three large cabinet doors and three drawers for a lot of storage possibilities, but it still doesn't look bulky or make the hallway look cluttered.
That's in large part thanks to its tall, thin profile and smooth white color, paired with the ultra-sleek lamps as entry table decor pieces.
Add Wire Shelving to Double as a Shoe Rack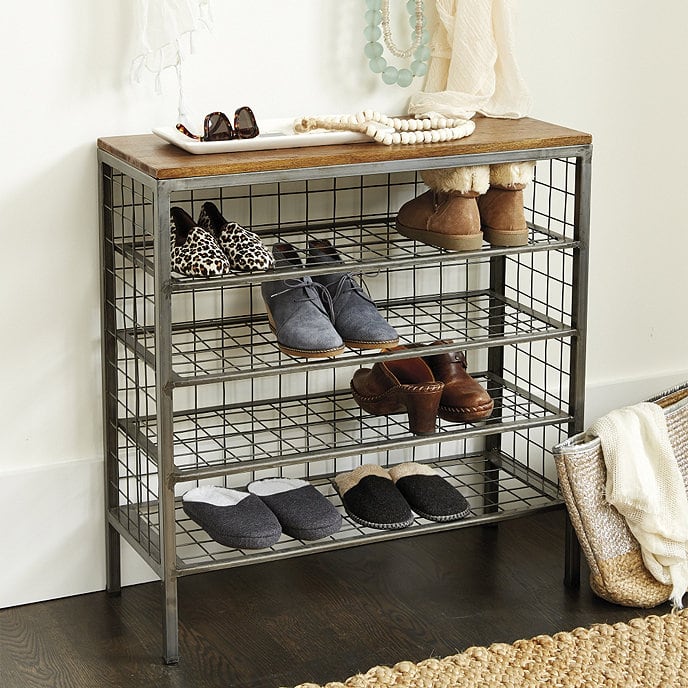 A shoe rack can double as an entryway table if you get a lovely one like this. It's tall enough to serve as a table and place a tray, thanks to the wood tabletop. The wire shelving makes for some interesting mixed materials, something you can use in a modern or farmhouse entryway.
It adds a lot of space for shoe storage and makes it a great foyer table decor idea, especially if you like functional pieces.
Get a Symmetrical Dark Wooden Console Table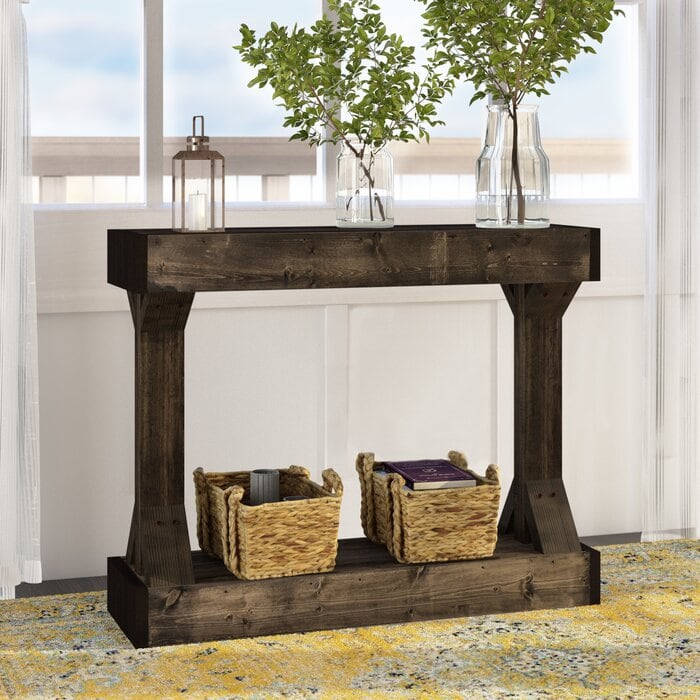 This console table is another dark model, with a symmetrical top and base connected by two sturdy pillars. The dark color of the wood stands out against a white backdrop and the large plants add some color to the piece.
Look for some wicker or woven baskets for the base for storage and as great entryway table decoration pieces.
Make a Statement With a Gorgeous, Artistic Piece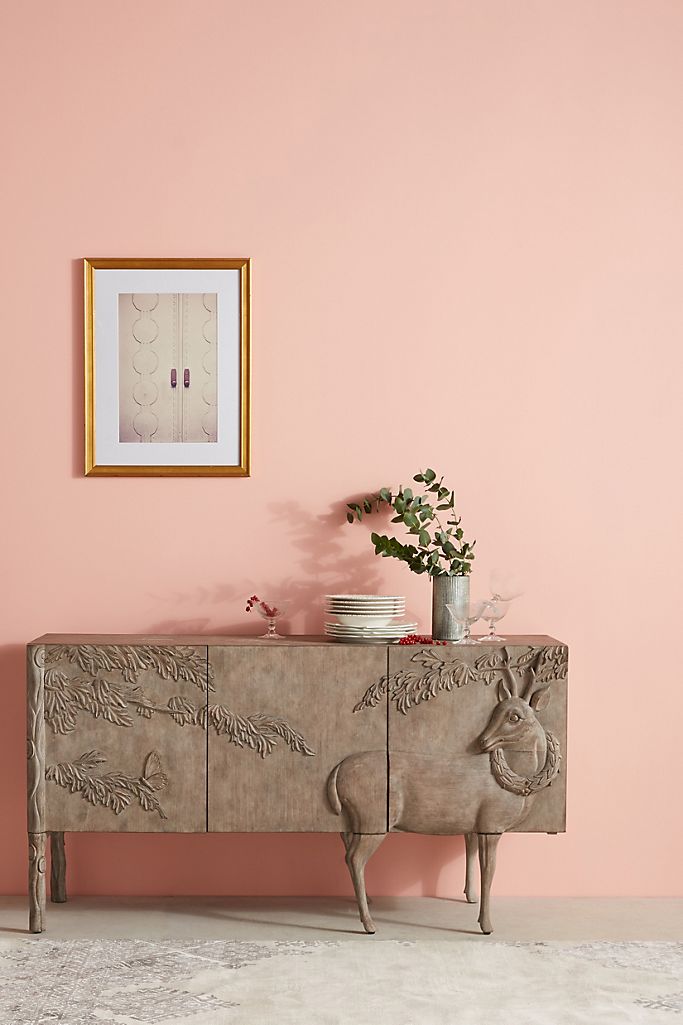 This stunning Anthropologie piece will ensure you have an entrance table like no other. Why not use your entryway table as a focal point to the room to add some artistic flair?
The table has been delicately hand-carved and shows a peaceful landscape with two legs made from knotted tree trunks and the others from hooves. The detail is exquisite and immediately draws the eye. There are also three hidden cabinet doors for extra storage.
Look for a Long, Slender Table With a Modern Curve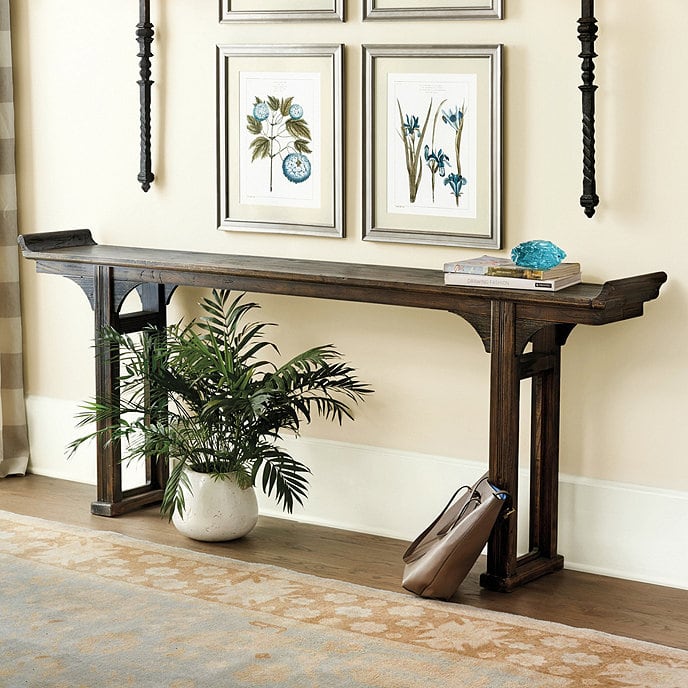 A long, thin table is a great choice for a narrow or smaller entryway. The dark wood of this table and the two ends curving upwards are sleek and modern. But the use of the wood and its visible lines is more of a rustic style.
If you love both modern and rustic decor styles, why not combine both? It's surprisingly easy to do, just have a look at this guide to find out more.
Paint It White for a Country Chic Style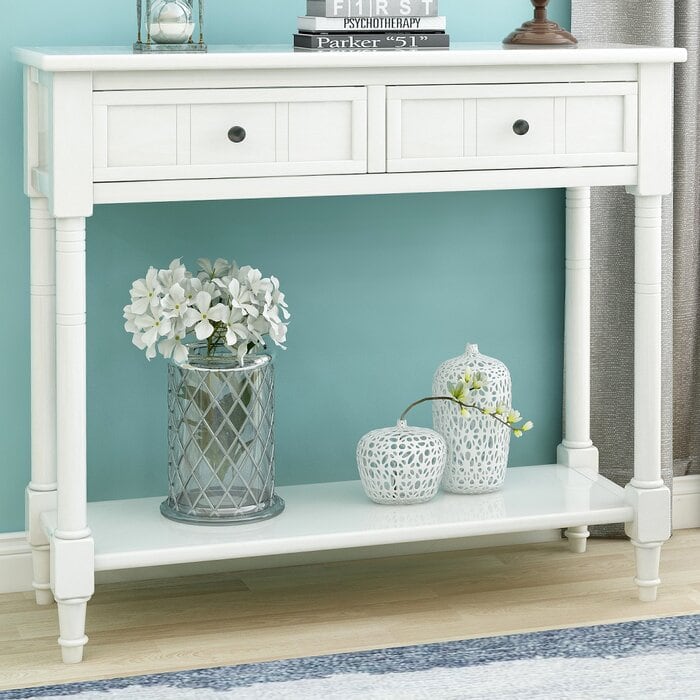 A lot of the foyer table decor ideas so far have been made from wood of different styles and shades. However, a plain white entrance table can go a long way to combine style and practicality.
This simple white table has everything you need: drawers, shelf, and thin profile. The pure white color is excellent for the country or coastal style.
Buy an Ornate Table With Minute Detailing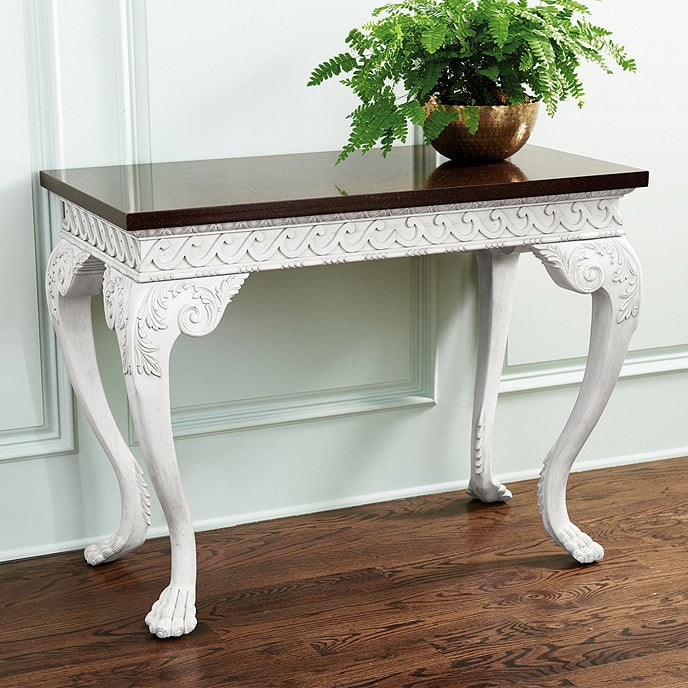 An entryway table doesn't need to be minimal or simple. It's possible to get a more ornate table like this one, which makes more of a statement as soon as people walk into your home.
The dark marble top paired with curved legs and carved flourishes and details channels a more luxurious and old-fashioned decor style. It's a great choice for these white walls with molding, and the bronze plant pot is a lovely accent.
A Rounded Table Is Great for Smaller Spaces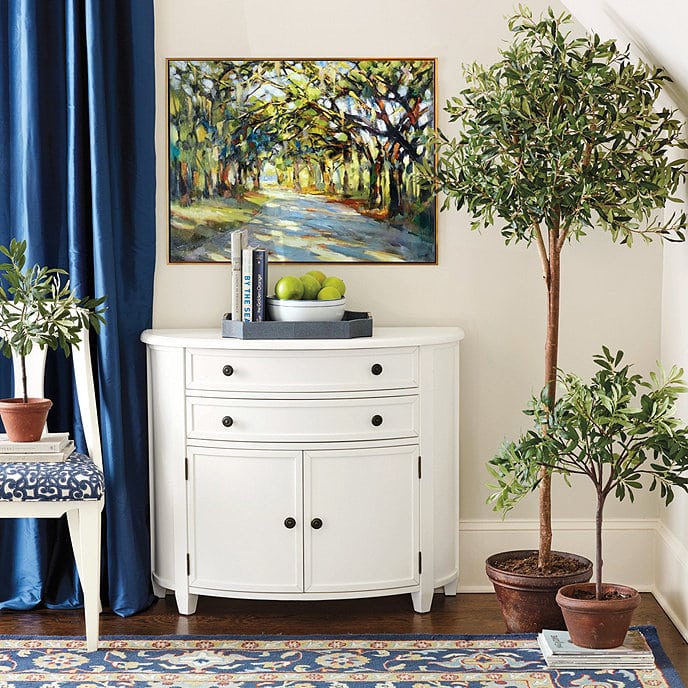 If you don't have as much space in your hallway or you're trying to break up the straight, severe lines of most entryways, look for a small entryway table like this one. It still has great storage with cabinet doors and drawers, as well as a sizeable table top surface.
The white color and curved design makes this table excellent for many different styles and it can easily tuck into your entryway.
Spice Up Your Hallway With an Intricate Cabinet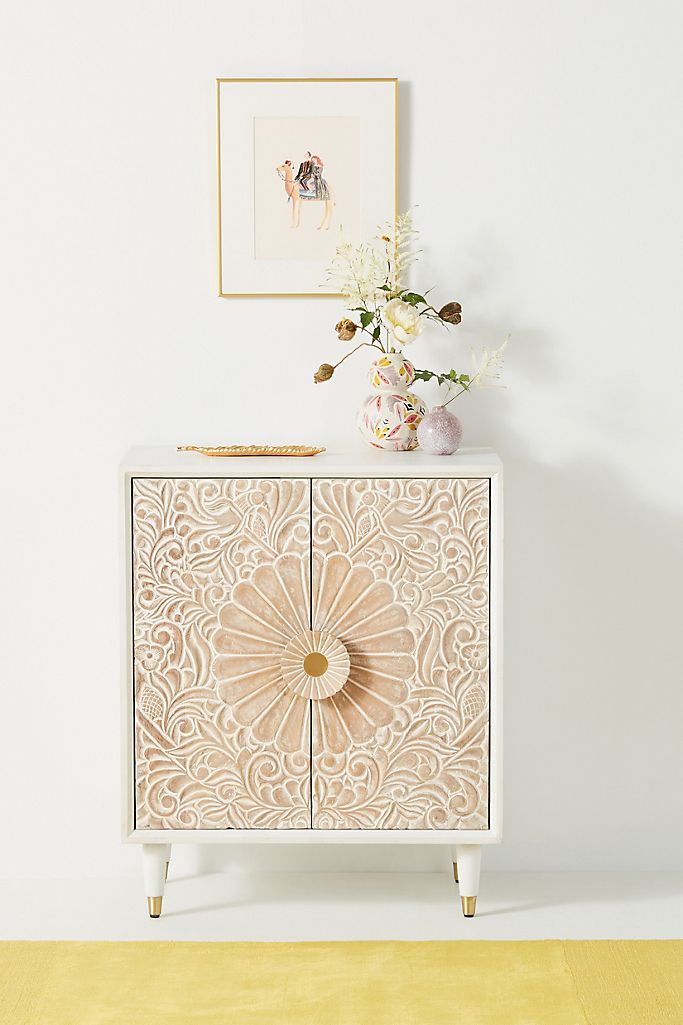 This stunning hallway cabinet is square instead of long and rectangular for a smaller profile, and the complex carvings covering the cabinet doors adds some style and flair.
It's a gorgeous piece, with gold capped tapered legs, a smooth white finish, and pale wood cabinet front. Your entry table decoration idea can be focused around the table itself instead of decor pieces on it.
Look for Entryway Tables With Mixed Materials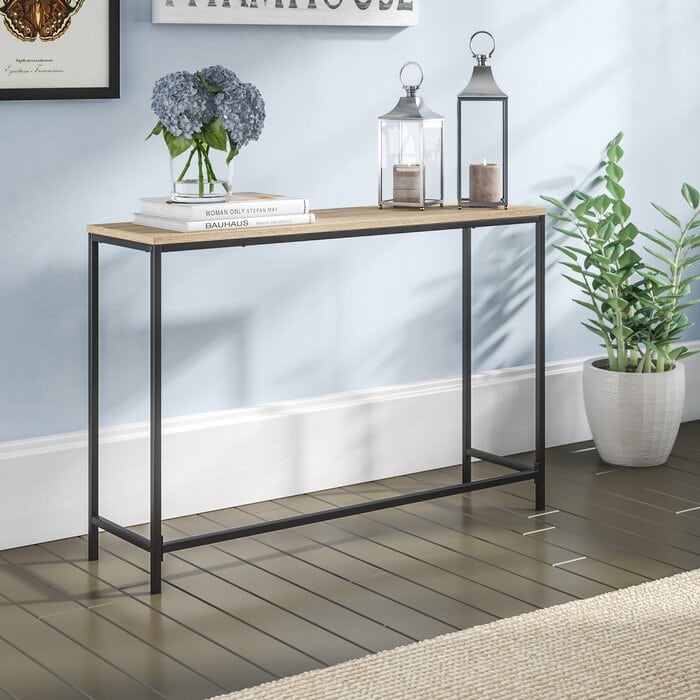 Using mixed materials is a great way to channel a lot of different styles, from rustic or farmhouse to industrial or modern. This small entrance table has very thin legs and a very minimal profile, which means it won't make your foyer appear smaller or more cluttered.
The pale wood of the table top contrasts well with the black metal legs of the unit, and it's a great space to place some books, flowers, or a tray.
Go Modern With a Sleek Black and Gold Option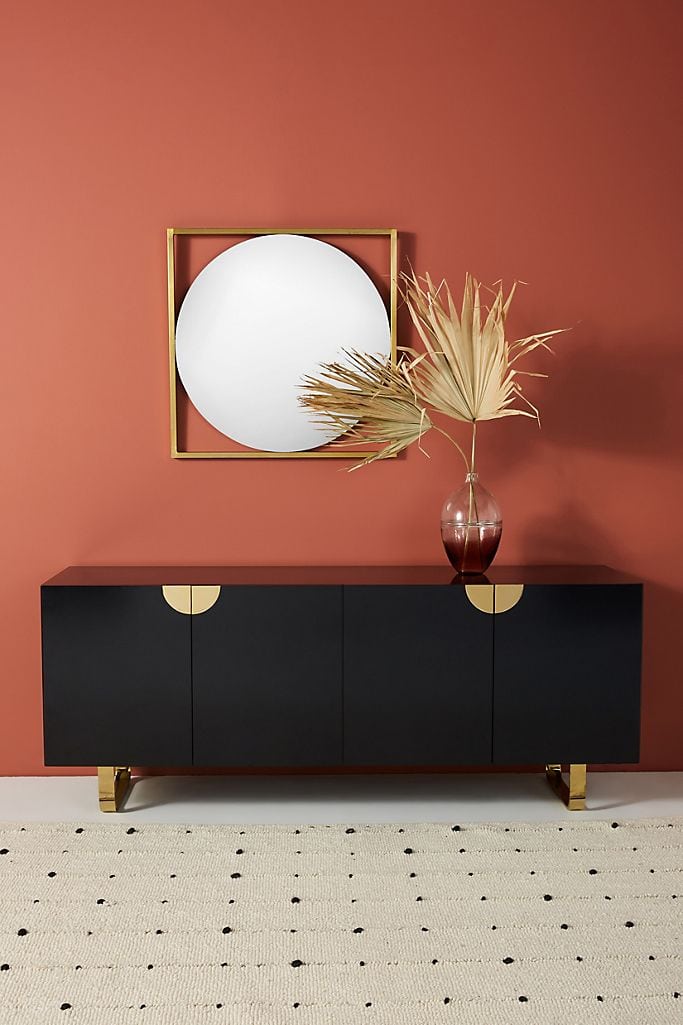 The black and gold combination isn't frequently seen in foyer table decor ideas, but it's a stunning and glamorous combination. The double gold curved legs and half circle accents complement the gold accents in the rest of the room.
The smooth black polished table is a bold statement piece and a great option for a larger entryway, especially a modern style of home.
Channel a Natural Look With a Tree Branch Table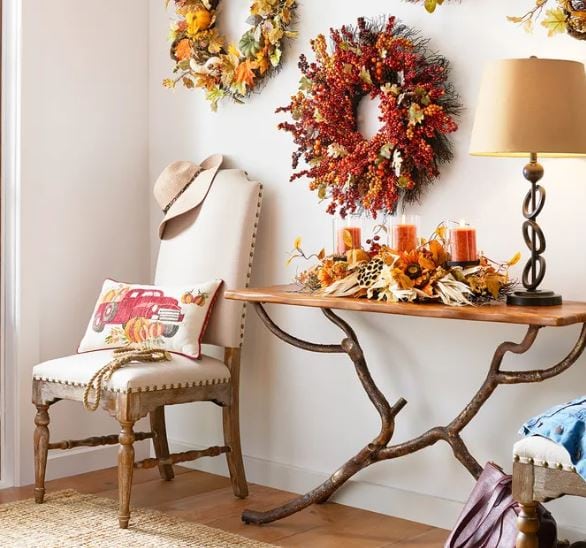 This is another unique entrance table option that relies on reclaimed and repurposed pieces. The table stand is fashioned from a large polished tree branch and the table top is made from one wooden slab. It looks great in a farmhouse home, which is all about using natural materials.
If you're not sure how to best spice up or decorate your entryway table, check out this great guide for the best entry table decoration ideas.
Tables With Drawers Add Storage Options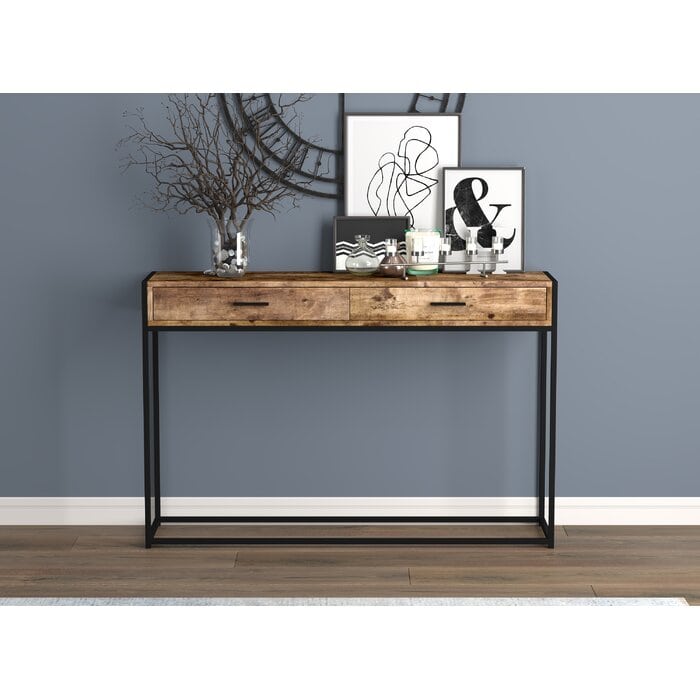 When looking for the right entryway table, it's important that you think about what is a must-have for your hallway. Are you looking for some private storage in the form of drawers or cabinets? Do you have a lot of space to work with? What kind of vibe do you want to channel?
All of these questions will help you narrow down the style of table that's best for you so you're not overwhelmed by the options.
Use a Bench as a Short Entryway Table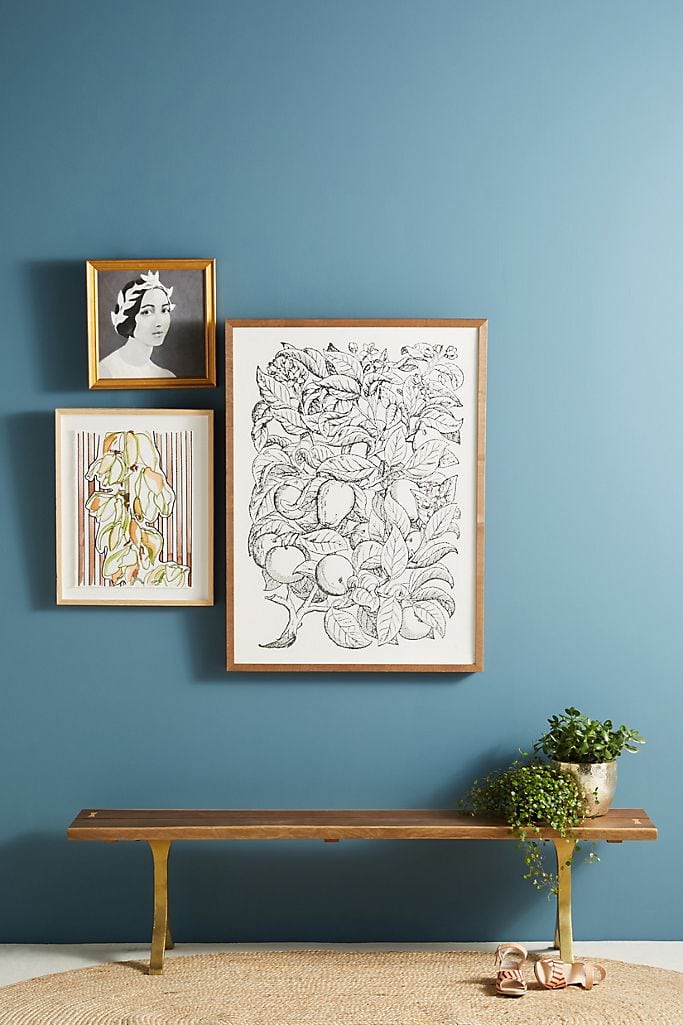 Who says an entrance table can't actually be a bench? This bench has the same use as the table, by providing a surface for plants, or even a tray for keys. It also helps center the paintings on the wall behind it.
The bench also doubles as a useful place to sit and put on shoes, so some people may prefer this option over a more traditional entryway table.
Look for an End Table for a Smaller Space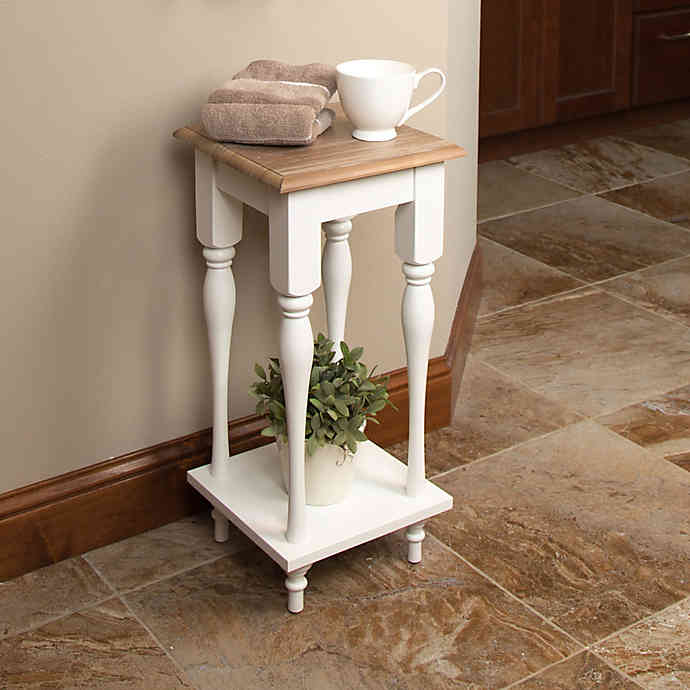 This is another great example of using a different type of table or piece of furniture as an entryway table. An end table or bedside table can be an excellent small entryway table for tighter spaces.
As you can see with this one, it has enough surface space for what you need: a small shelf to hold a plant and the top surface for a tray or keys or even another plant.
Final Thoughts
Whether you go for something more sleek and modern or a rustic chic farmhouse-style option, you can't go wrong with an entrance table. There are so many options, all of different styles, shapes, and sizes so you can find the perfect table for your own space and decor preference.
Entry table decor can be functional and provide a necessary surface and sometimes storage near the front door, but it can also create a good decor piece to make a stunning first impression for your guests.
Once you get the perfect table for your hallway, you won't believe you went so long without one!