Decorated Life is reader-supported. When you buy through links on our site, we may earn an affiliate commission. Learn More
32 Gorgeous Suggestions for Edging Your Garden
Creating a boundary for your garden is a great way to enhance your garden's appearance and show off your creativity. You can get a lot of materials from your local gardening store, but there are also a lot of unique and exciting ways that you can use repurposed materials.
I've put together the best ideas that other ingenious gardeners have used for their garden edges so you can get inspired for your own project. Let's dig in!
Stay Traditional with Simple Stone Edging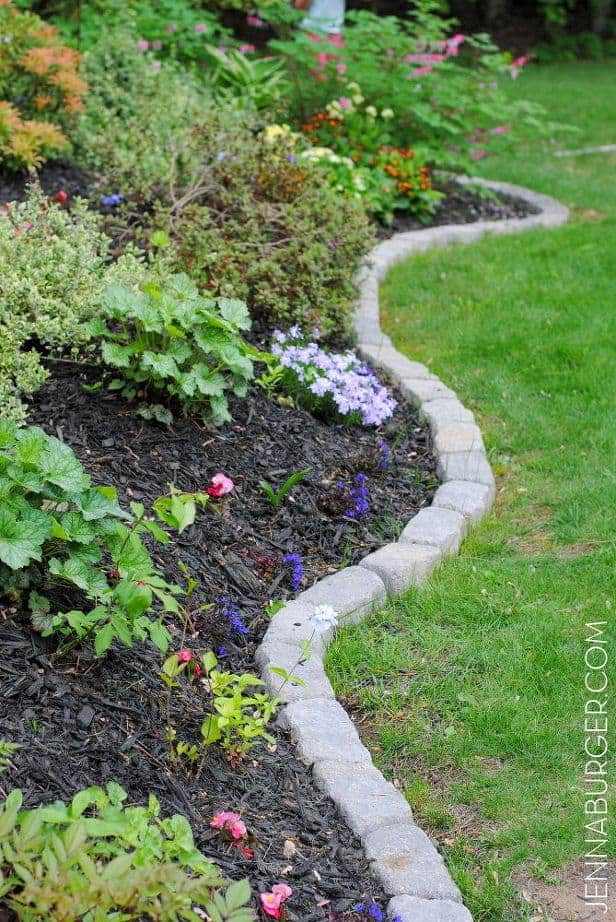 One of the most classic garden edging techniques is to use a simple line of cut stone bricks. It gives you the flexibility to border your garden in a straight line, or in a pleasing curve like in the garden pictured here.
You should try to avoid planting anything too close to it, though. If you do, it can easily get covered by overgrowth, and then you might as well not even have a border.
Repurpose Clay Roof Tiles for Garden Edging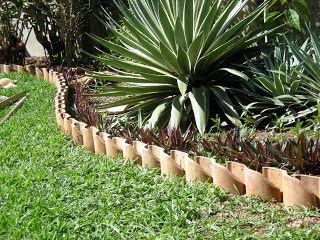 It's hard to tell at first glance what material has been used here as a border. They're actually teja, clay roof tiles, placed overlapping each other to create a flowing appearance around the garden. They've also been buried half of their width, so the border is quite sturdy.
You'll want to make sure that when it rains, the water is still draining through the border, or you may have to drill some holes through it.
Low, Mounding Plants Make Perfect Borders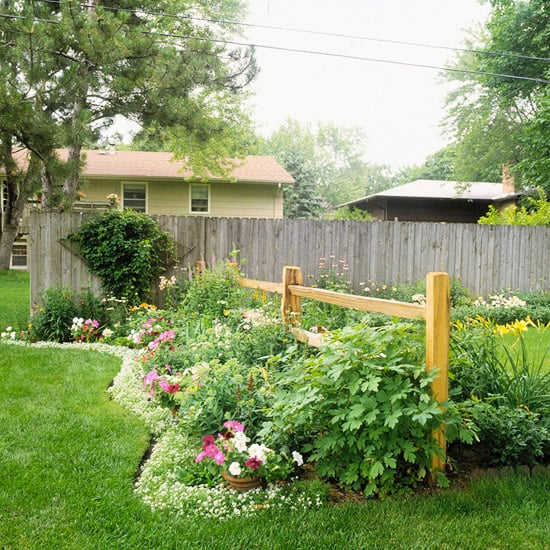 You can also go completely natural with your garden border and simply make it using other plants. This works really well for fuller gardens that are completely covered in plants.
Simply find a low plant or mounding flower that doesn't grow in height, and plant it at regular intervals along your garden edge. This homeowner has gone with white, but you can choose any color or type of flower that works in your climate.
Install Steel Edging for Raised Beds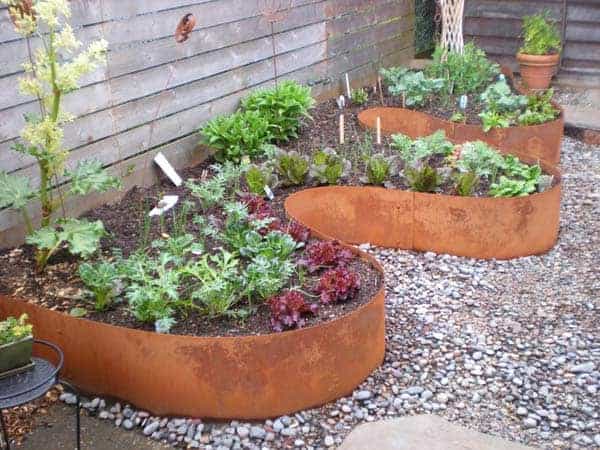 Steel edging is used quite frequently, but you get a really different appearance based on the choice of color you use. In this example, it looks like the steel is kept unpainted and has been weathered down to the rust color we see here.
Steel is a great option because it's easy to find, and if you get a thinner sheet it's quite inexpensive. You should be aware that it will rust and break down eventually.
Get Brick Edging for a Neat and Timeless Appeal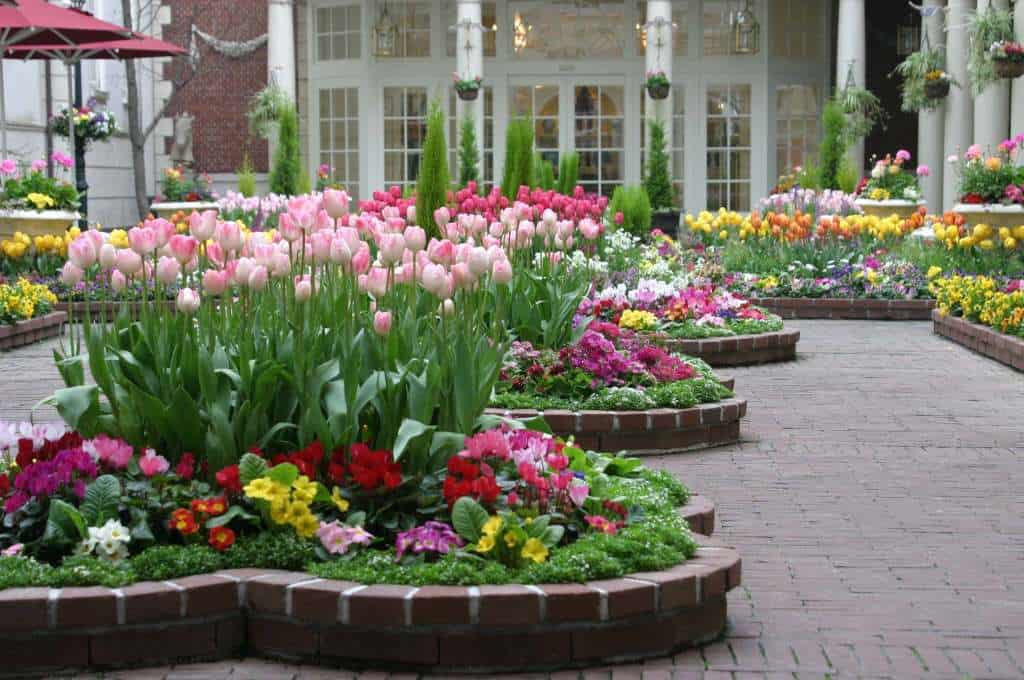 If you prefer having a garden that has neat edges and is perfectly contained in separate beds and islands, consider edging with short brick walls, like in this example.
This homeowner went a step further and extended the brick all over the walkway as well. The result is a very neat and tidy garden. It's durable, and you can feel confident it won't go out of style anytime soon.
Go Classic with Black Brick Edging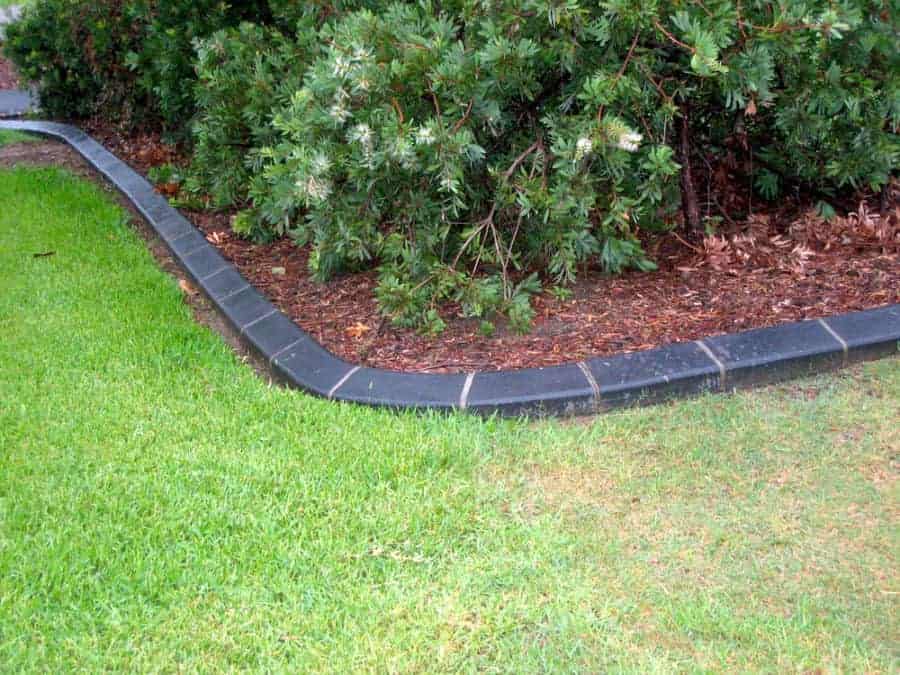 This variation of the brick edging is classic and modern. It's a bit more unexpected than most options, and the black makes a nice statement in any garden. It looks particularly nice as a contrast with the bold green of the larger shrubs and plants in the garden surrounded by mulch.
The fact that each brick is connected to the next for an uninterrupted border makes it a lot smoother and more upscale.
Stand Out with a Vertical Wood Log Border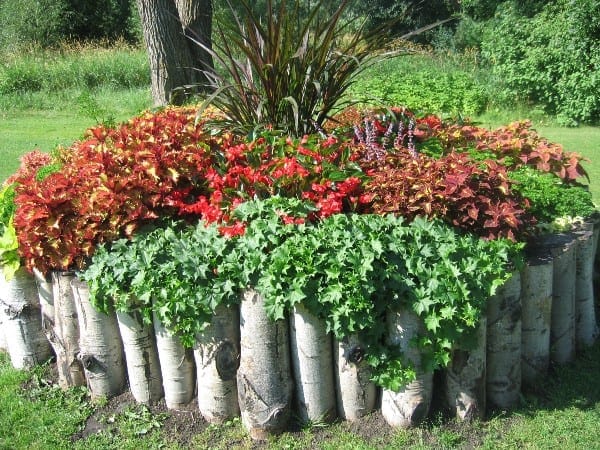 Many of the wooden border and log borders we see in gardens involve horizontal logs creating a short fence for the garden. Why not change it up and make your border of a bunch of vertical logs?
You can make it as high or as low as you want, and keep the top of the border even or jagged with different heights. It looks gorgeous, especially this white birch paired with green and red plants and ivy.
Line Up Recycled Hubcaps with Bigger Plants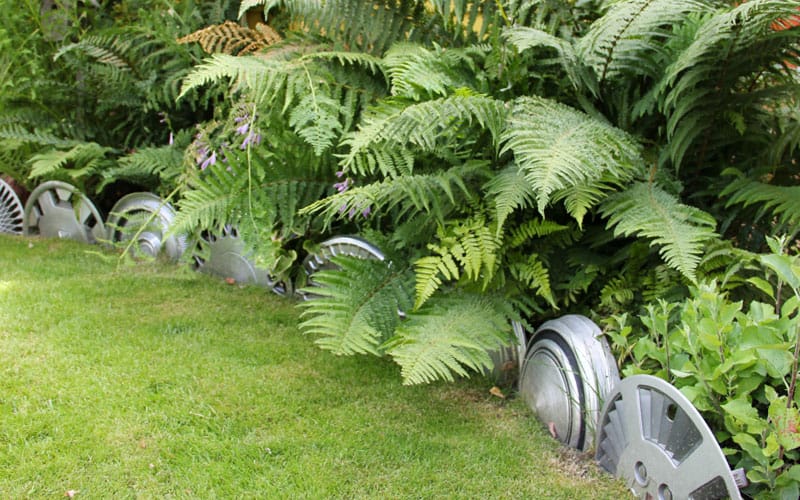 Do you like standing out from the norm? Making a statement with your garden? If so, then this idea is for you! Line your garden edge with an assortment of recycled hubcaps for a unique border and conversation starter.
The height of the hubcap border works best with taller plants like ferns. Simply head to the nearest scrap yard or flea market to try to find the right hubcaps for your garden border!
Build a Wall with Painted Wood Pallets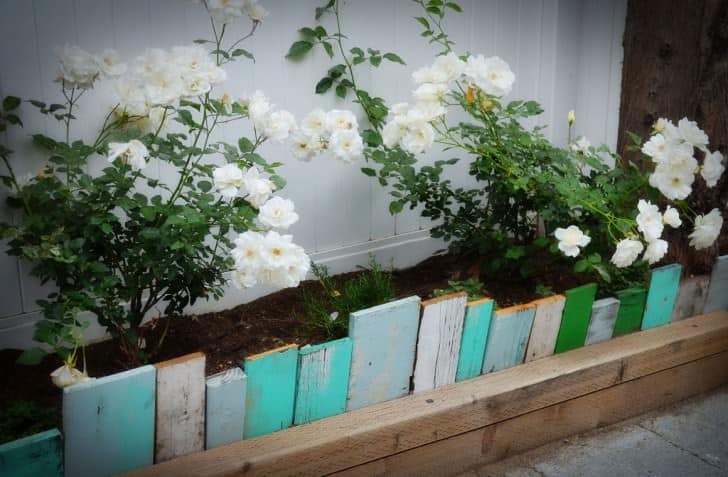 I absolutely love this uneven, mismatched border of old painted wood pallets in shades of blue and green. The pallets are all worn and weathered, and of varying heights and widths. It looks especially nice in this narrow garden alongside the house.
You can get this look yourself with a lot of materials that you already have lying around. Here's a handy tutorial that you can refer to if you want to try this look.
Create a Border of Stacked Terracotta Pots
If you have way too many terracotta pots, or you have some that are cracked and broken, you can use them instead to make your garden border. As you can see, it's as simple as stacking them into each other on their sides for an interesting garden edge.
It looks particularly good if you're already using terracotta pots in your garden because they will match and create a consistent appearance for your whole garden.
Use Sea Shells for a Coastal Vibe
This is a unique and gorgeous choice for a garden. Sea shells bring to mind the ocean and the coast, creating a beautiful contrast with the greens and earthiness of the garden.
In this example, larger clam shells (known as quahog) are used to make a full garden wall. Another option is to use smaller, crushed sea shells for a flatter border with the same white coastal style.
Install Curved Concrete Borders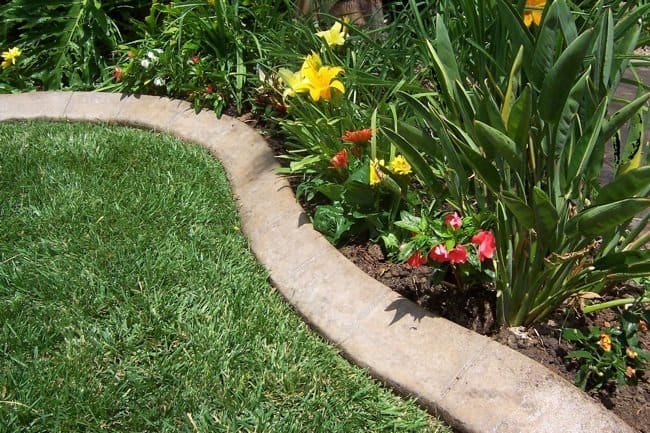 You can create one continuous, smooth curved border by using concrete as your edging material. It's quite a simple process to do on your own as a DIY project, especially if you have some knowledge of working with concrete to create the smooth top and edges.
What's important with this project is creating the curved trench for the concrete filling in just the right place for your garden, keeping in mind any future expansions.
Recycled Bottles are Eco-Friendly and Unique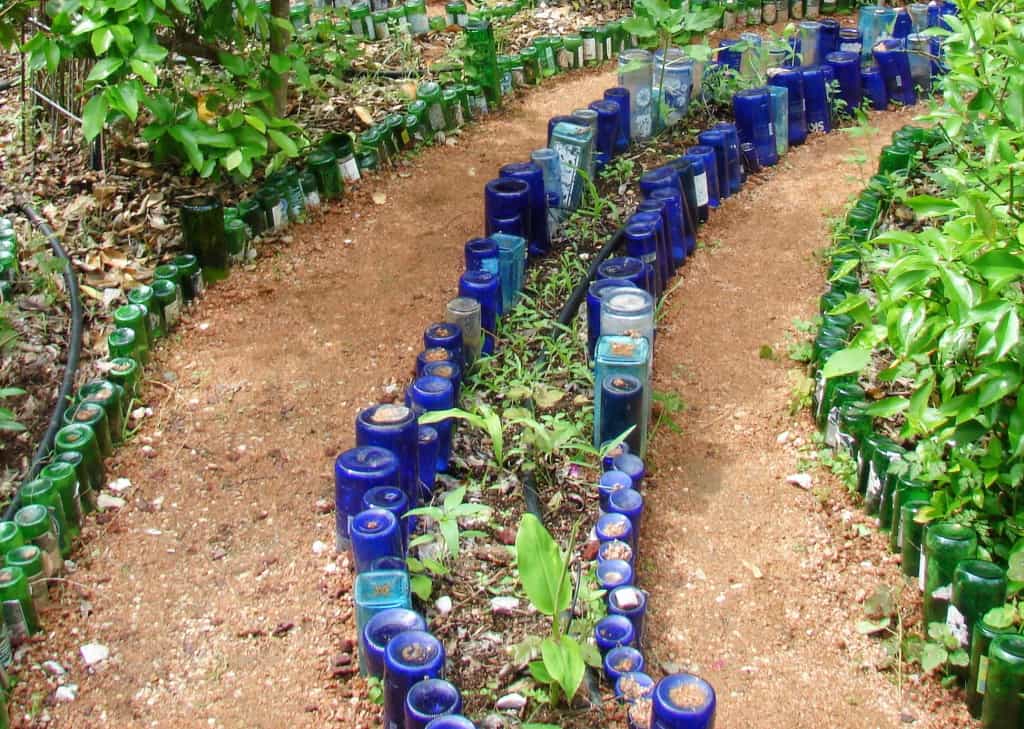 You can line your garden or your walkway with recycled bottles to create a one-of-a-kind border. In this example, the homeowner has color-coordinated the bottles for a matching pathway and garden edge.
Although this is an environmentally friendly approach, you do need to keep in mind that there is a risk that your bottles break, putting glass in the soil. Because of this, you need to be very careful if you try this garden edging.
Create Levels of Rough Stone Bricks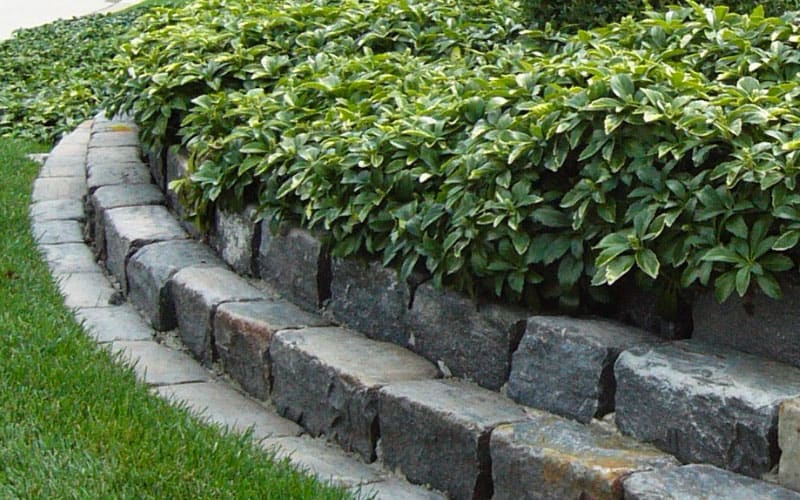 We've already seen that a simple line of stone bricks makes for a classic garden border, but what about adding some complexity and levels to your border? You can actually create tiers of stone bricks, like in this example, for a raised portion of your garden.
What I really like about this approach is that the stone bricks are roughly cut and flawed, so it looks a bit more relaxed, especially with the spreading plants.
Use Cinder Blocks as Planters for Your Edging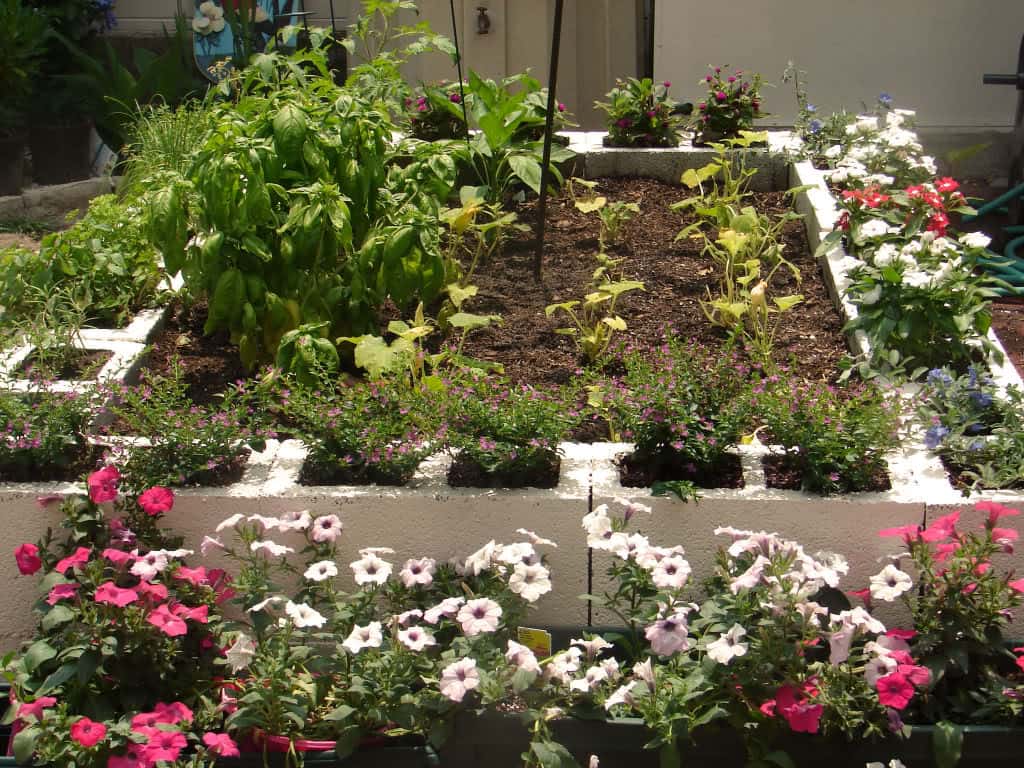 Cinder blocks are an excellent option to edge a raised bed or garden, because they serve a dual purpose. Not only are they a great border option, but they also can be used as planters so you can have a garden border that is a mix of plants and materials.
It's a good idea, especially for smaller gardens like this one, because you can use the extra space in the cinder blocks for more planting.
Stack Thin, Horizontal Logs for a Woodsy Look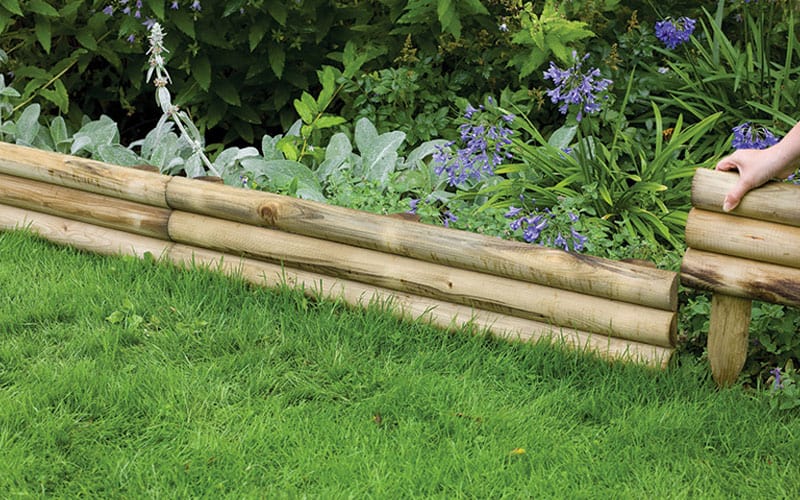 In the traditional take on the log border, these thin, long logs are stacked horizontally to create more of a short garden wall than an edge. As you can see, they are stacked on to some stakes in the ground for more sturdiness.
The result is a woodsy look that works well with taller plants and grasses. Bear in mind that wooden garden edging options will deteriorate more quickly in the elements than other options.
Find Old Bicycle Wheels for a Special Border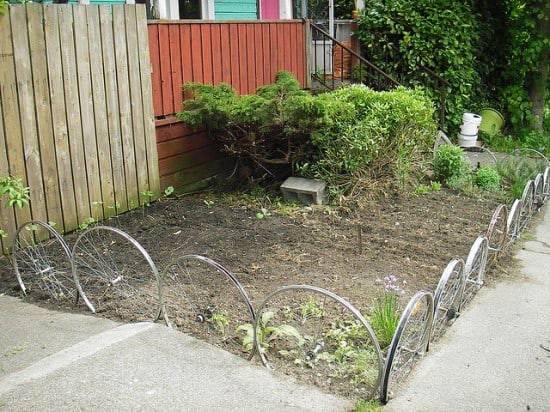 If you're a fan of using repurposed or recycled items, you'll like this upcycled garden border. It's made from old steel bicycle wheels, with the rubber tire removed.
It's similar to the hubcap idea explored previously, but this version looks a lot more delicate due to the thin profile of the wheels. It also creates less of a wall if you have smaller plants, because you can see through the spokes.
Build a Two-Tier Brick Garden Edge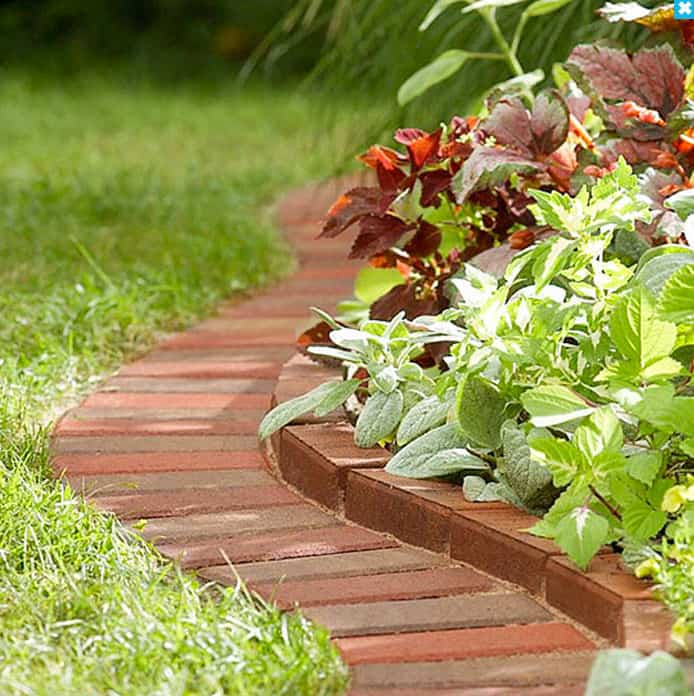 Bricks make a really pretty garden border because their rusty red color often looks quite good with the green grass and plants.
This option is a bit of a wider border due to the double tier created by laying bricks lengthwise in the ground towards the lawn and stacking another row on the side of the garden. It helps make the border stand out even if some plants cover the top tier of the wall.
Install a Gabion Garden Border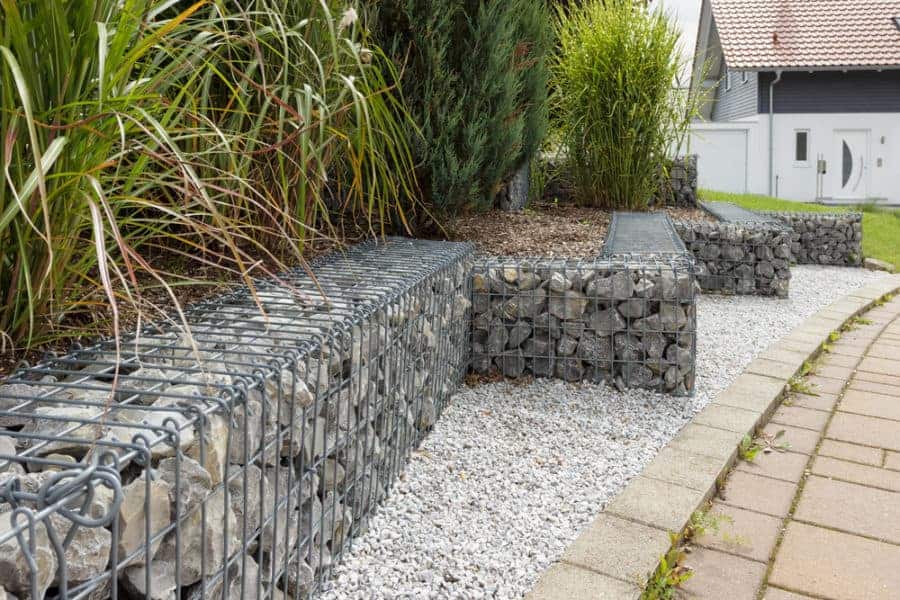 Perhaps you've seen this type of border before but you didn't know what it was called. The answer is gabion! Gabion is a cage filled with either rocks, concrete, or even soil to create a retaining wall that holds plants and soil in place.
You can install a gabion garden border for a more structured and sturdy edge. It gives off a modern look while still blending in with the rest of the yard.
Tree Trunks Make a Natural Garden Boundary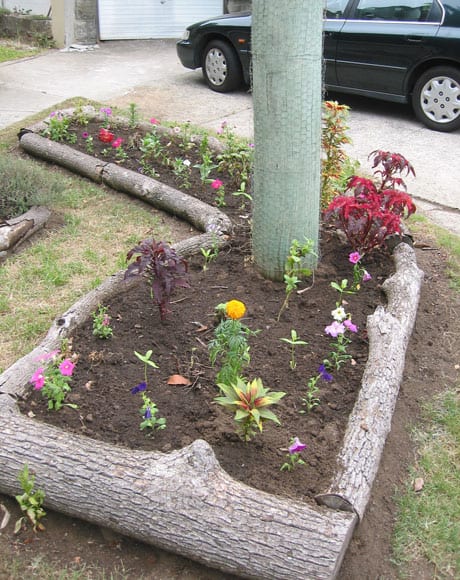 Instead of building a polished log fence, why not just use a natural tree trunk for your garden border? This is a perfect example of a fallen tree being used for a good purpose by surrounding the garden.
It's obviously only possible for straight lined garden edges, but the natural result is worth it. As an added bonus, it's quite easy and inexpensive to do as well.
Use Terracotta Pipes for a Border of Planters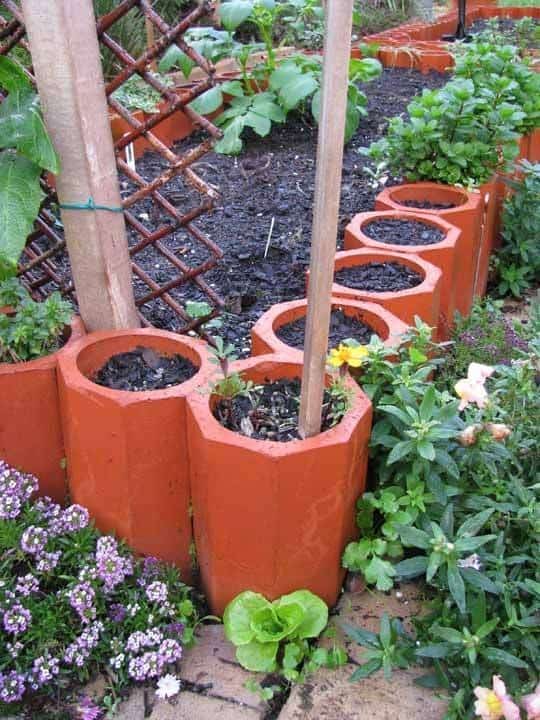 These terracotta pipes work similarly to concrete blocks by creating a garden edge that allows you to plant flowers within the border. In this example, the wall created is quite high, but you can always cut them in half for a lower wall.
You'll have to make sure that you keep an eye on what you plant in the pipes, because as their roots grow, they might need to be replanted where there's more space.
Build a High Wattle Border Fence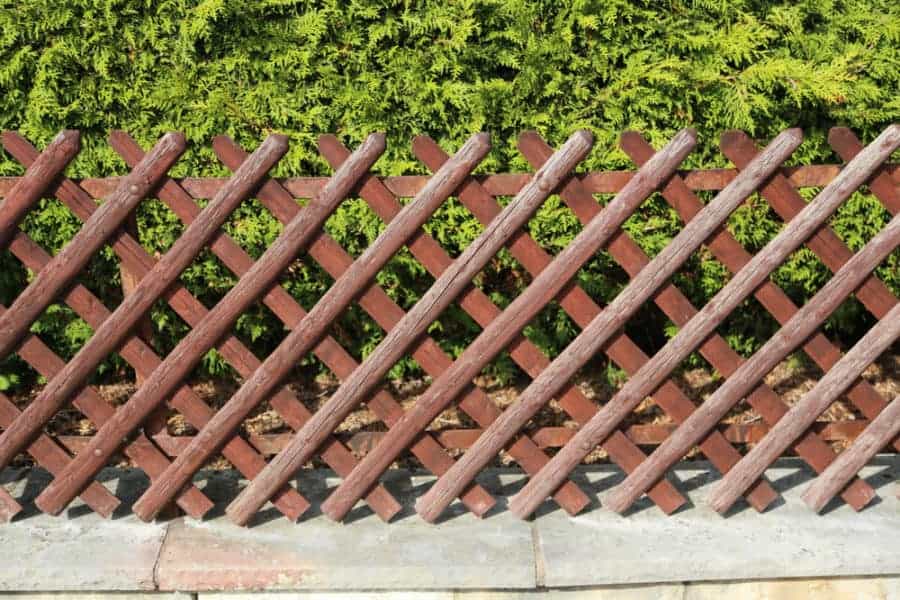 Most of the ideas we've seen so far have been for low garden walls and edges, but you can also line your garden with a high fence, like this wattle fence. This is an option that works well alongside a hedge that is already quite high.
The good news with a wattle fence is that it's quite an easy project to do yourself if you're a fan of DIY gardening and building projects.
Find Large, Asymmetrical Stones for a Garden Path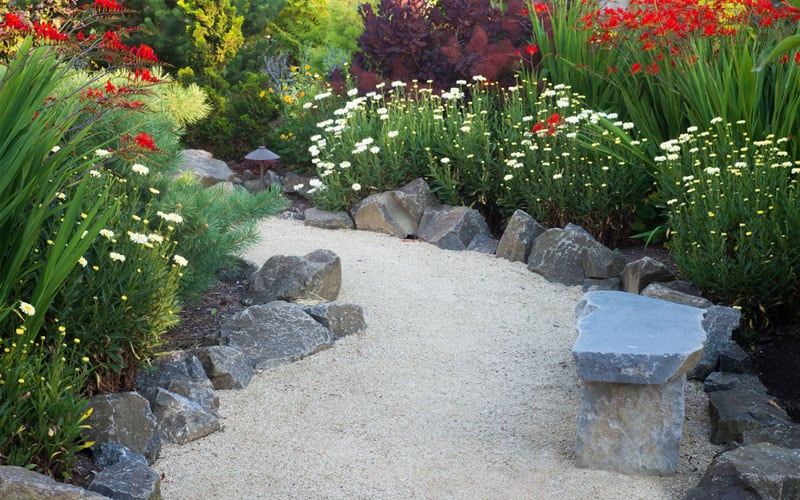 You can create a lovely barrier between your garden path and your garden by finding big stones to line the walkway.
Because the pathway is made from tiny pebbles, the massive, asymmetrical stones make a nice visual contrast that looks idyllic, especially if your path is winding and curved. As an extra touch, you can even make a matching bench from three large stones, like in this picturesque garden.
Use Crushed Rock for a Border Filling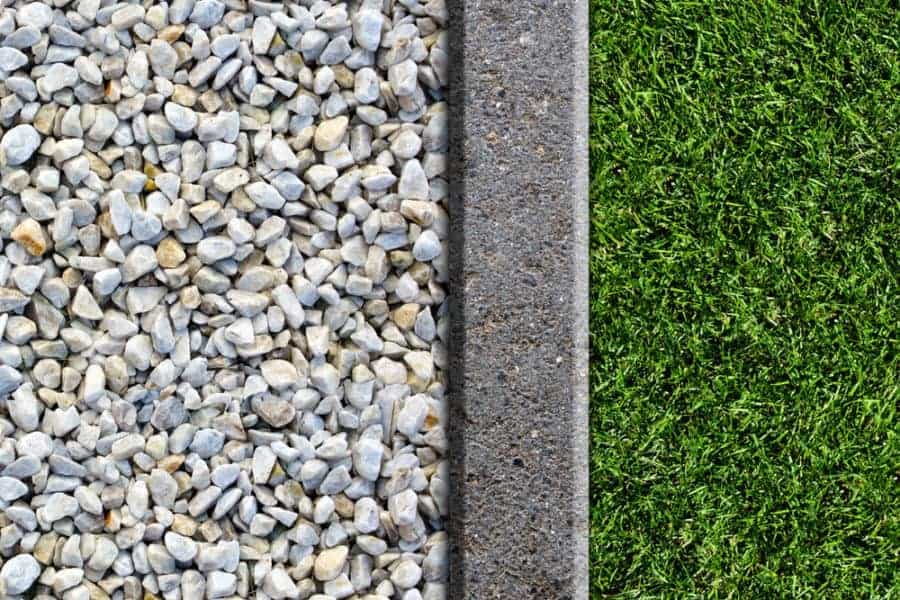 Crushed rock is the perfect border filling because it contrasts with the brick and the green grass. The border isn't high at all, but because there is such a sudden change of color and texture it makes a clear boundary for the garden or lawn.
It's a modern look that's all about straight lines and crisp edges, and it would look great in any kind of manicured garden.
Go Natural with a Simple Stone Edge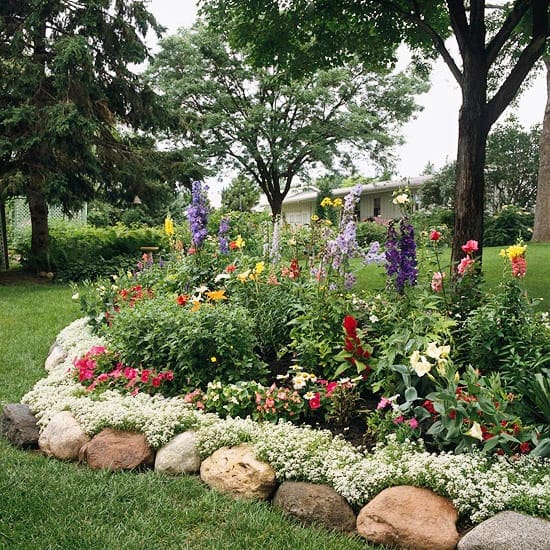 This look is similar in some ways to the asymmetrical path we saw earlier, but it's even more natural because the stones are rounder and mismatched colors. It looks as though the homeowner found them in the forest or by a riverbed.
It's a good idea if you're looking to avoid any digging or heavy landscaping. Another positive with this idea is that if you expand your garden, it's easy to move the border around.
Plant Hedges for Tall Borders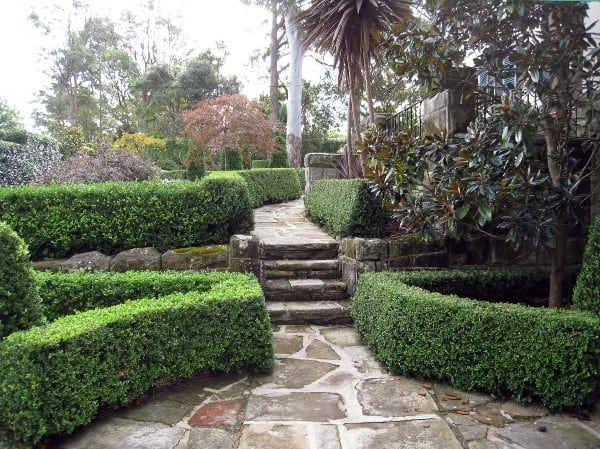 If you want ultimate glamor in a large garden, consider planting hedges for garden borders. On a larger scale, like the winding hedges in this image that seem to go on forever, it brings to mind a royal garden or hedge maze.
The key here is making sure you trim the hedges regularly or they will end up looking unruly and messy.
Smaller Stones Are Great for Wider Borders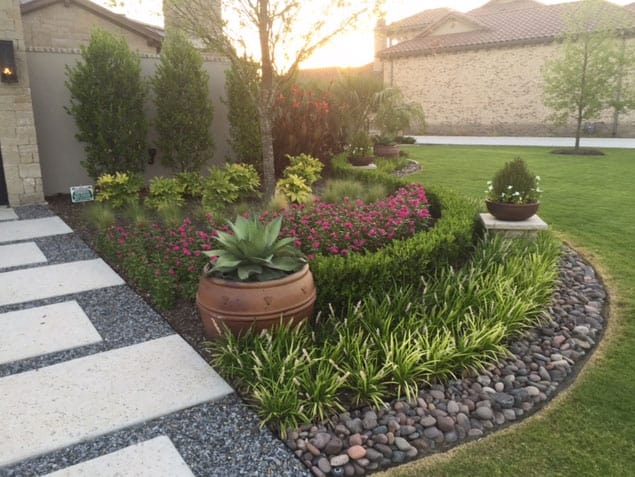 These small, smooth pebbles make a nice wide border to differentiate between your garden and lawn. It looks neat, like an empty riverbed, and prevents any plants from spilling over the border onto the lawn.
You can easily create this look yourself for free if you have a good place near your home to find stones like these.
Use Pallets for a Cheap and Simple Fence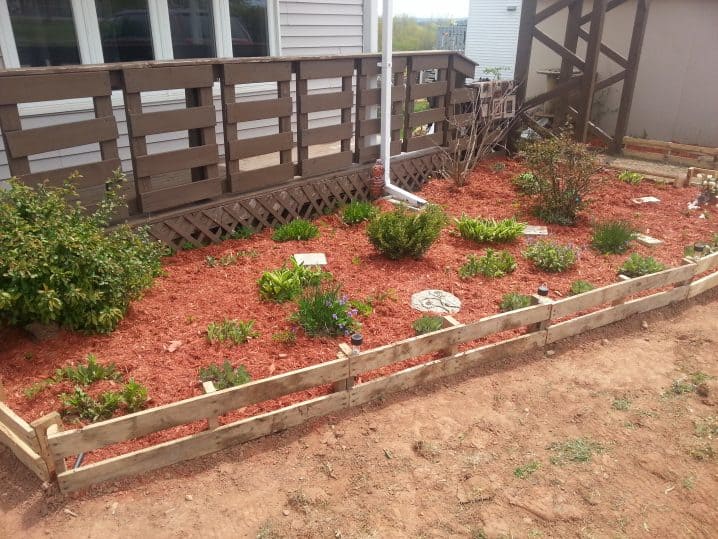 Wooden pallets are a great way to put up a short fence around the garden without having to build every step of the fence. Ask friends and family if they have any unused pallets around, or stores nearby may be willing to give you some older ones that they don't use.
You can keep the pallets unpainted and natural, like in this example, or paint them for a splash of color in your front garden.
Install Sawtooth Brick Edging for Height Variation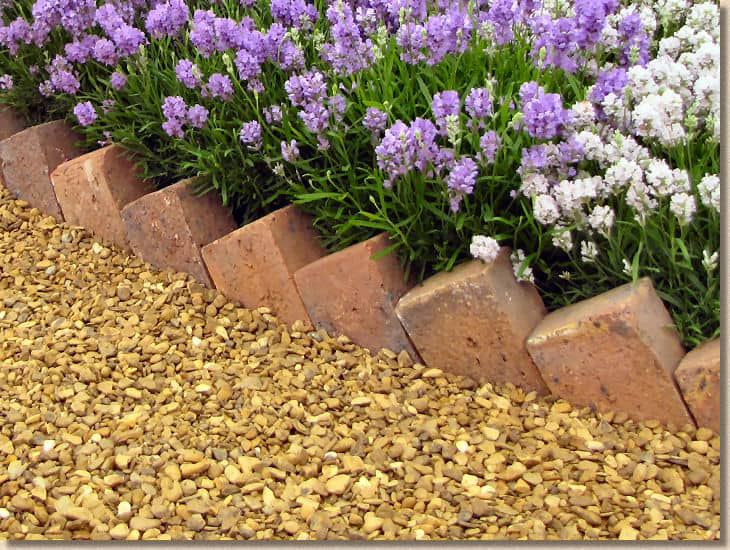 This brick border edge has a lot of character because of its sawtooth edging. The height variation makes the border look less severe and formal, and the depth of the bricks in the ground help keep the wall sturdy.
It's quite easy to build yourself, so if you want more information about how this works to help you create your own sawtooth border, check out this handy guide.
Build a Natural Stone Retaining Wall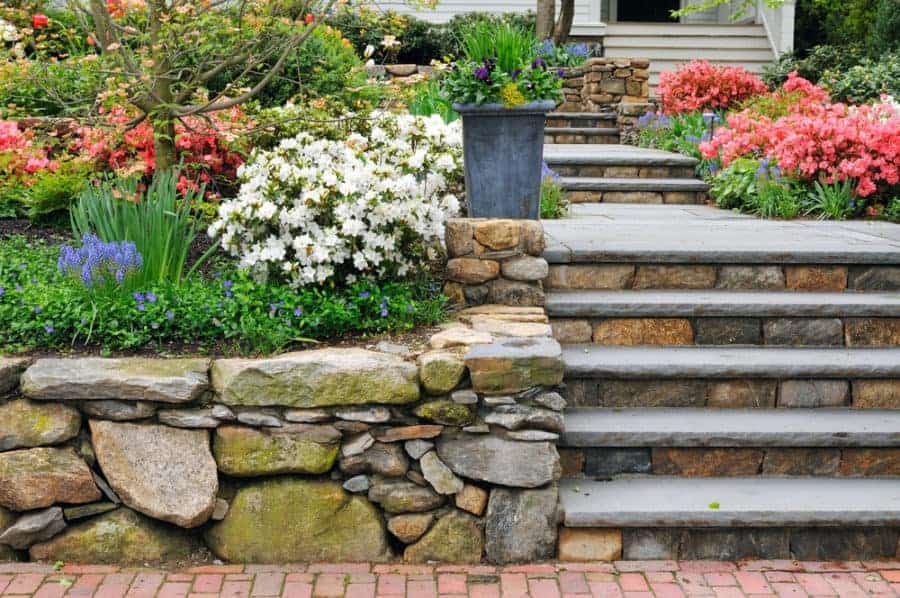 This is one of my favorite options on this list, because I've always loved old stone walls in the countryside.
The good news is you can build this yourself as a retaining wall in your garden, especially if you have a sloping lawn and you want to create large tiers of gardens up to the front door. It looks gorgeous, with plants spilling over the edge and a hint of moss growing on the stones.
Mix and Match Materials for a Unique Approach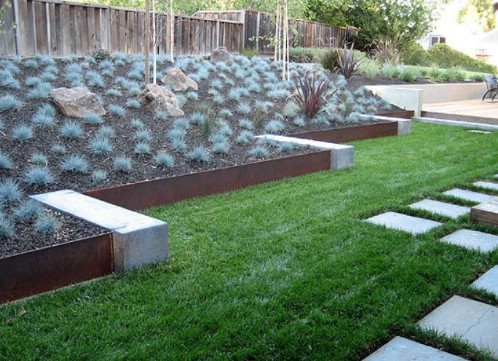 All of the ideas on this list involve using one material or another for your garden edge, but if you can't pick your favorite, why not mix and match materials?
The homeowner for this garden used this approach and the result is a unique garden edge combining unpainted steel and cinder blocks. What's great about this is you can use whatever materials you have lying around; it's a great opportunity to show your creativity!
Use Mulch to Separate Your Lawn and Garden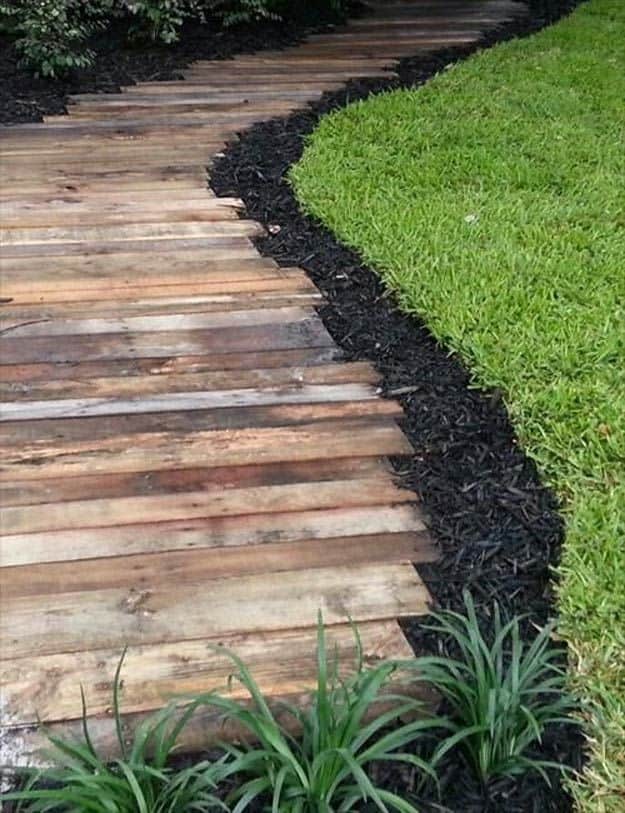 You can use mulch or wood shavings to create a border for your garden, which is a less permanent solution. The darkness of the mulch really shows off the bold change between your lawn and walkway or garden.
It's a cheap solution that's also very easy to replace if you want to expand the border or decide to install a more permanent garden edge in the future.
Wrapping Up
There are so many different ways to edge your garden and add style and beauty to your outdoors. You can go the manicured, landscaped route, opt for something more natural and wild, or go completely out-of-the-box.
Think about whether you want to use materials like brick, stone, and concrete, or if you prefer to create a natural fence of plants or shrubs, or even some wooden logs.
Each option creates a completely different vibe in your garden, and at the end of the day it's all about what you prefer—so what will you choose for your garden borders?