How Do You Hang Curtains Behind A Bed?
If you ever look around your bedroom and feel like it's missing something, then you may want to consider adding curtains behind your bed. But where do you even start? Luckily, there's a wide variety of ways that you can use curtains behind your bed to create a beautiful and colorful room design.
Read on to find out for yourself how you can transform your bedroom with a little imagination and some basic DIY know-how!
Add a Pop of Color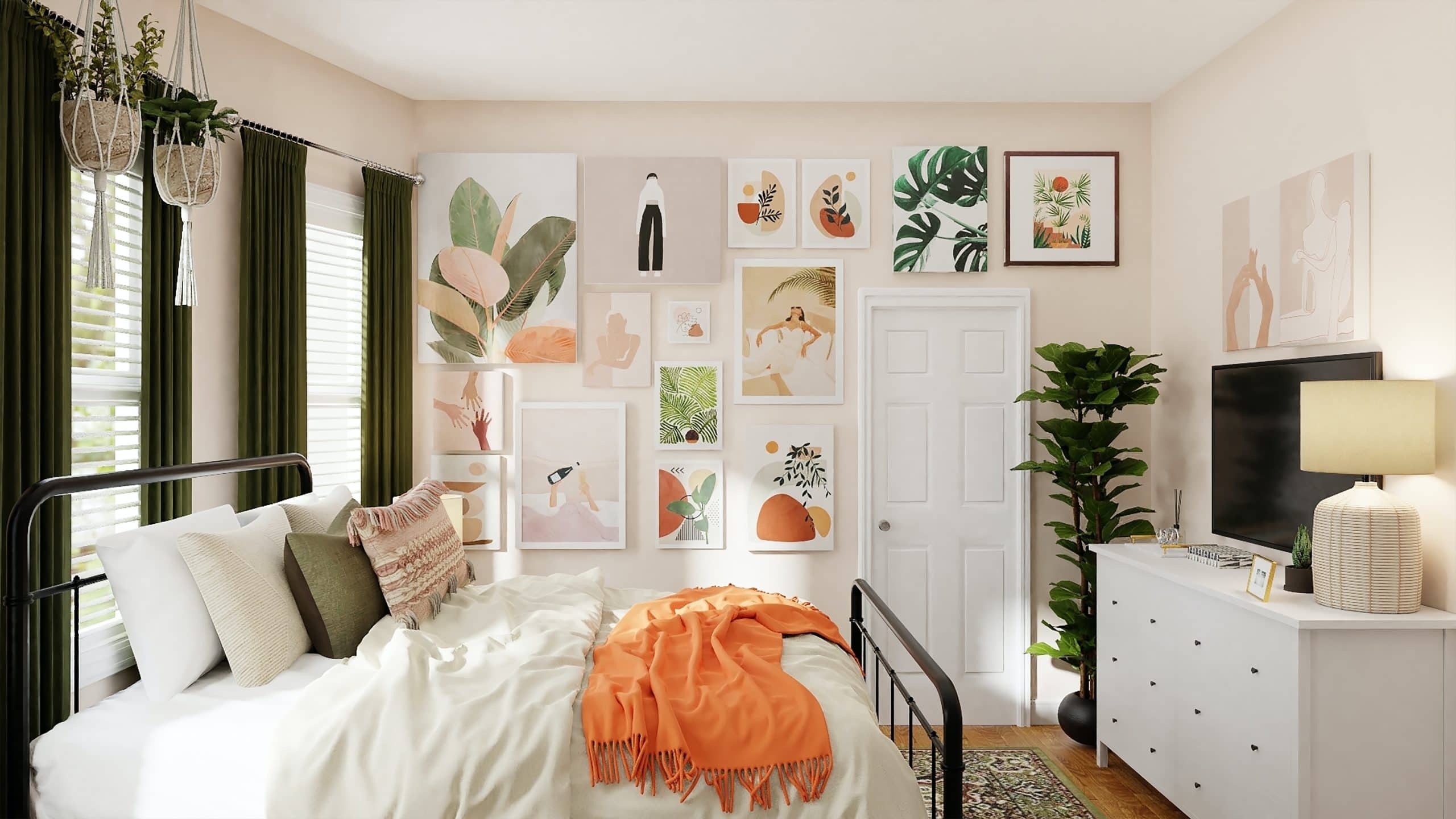 Is your bedroom feeling a little bland? Whether you're in a rental home and can't paint your walls, or you're looking for a cheap and easy way to add some color to your bedroom, the first thing to try is curtains. They're an easy and inexpensive way to make a big impact in any space.
You can buy curtains in all sorts of colors, so it's easy to find something that will match your décor. Plus, they're relatively inexpensive, so you can quickly change them out if you get tired of the color.
If you have white or light-colored bedroom walls, then consider adding curtains in a bright jewel tone like emerald green or ruby red for a stunning contrast. Or, if you want something more subtle, consider desaturated pastels like dusty rose or stormy blue.
Create a Canopy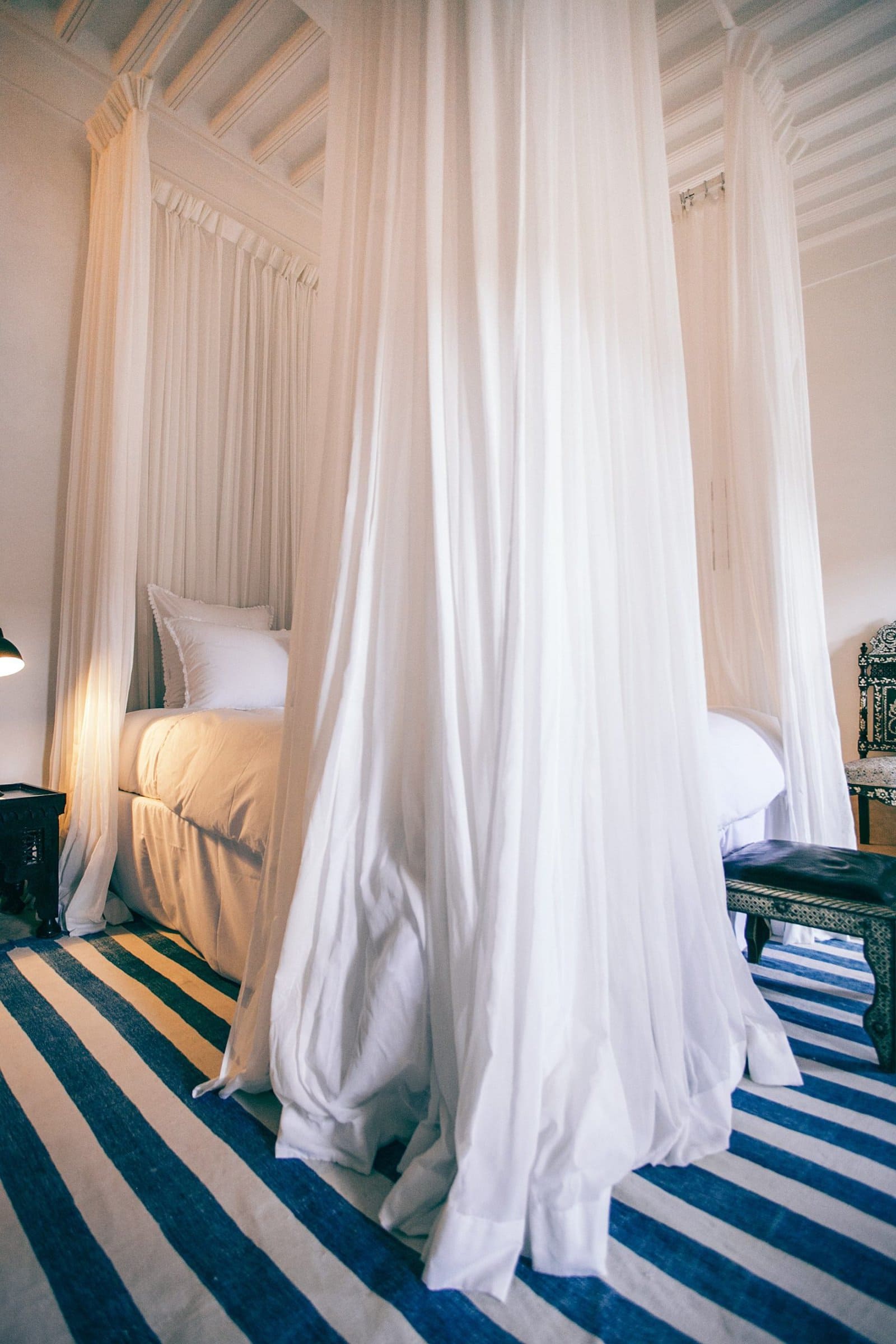 Looking to add a touch of romance to your bedroom? Or maybe you just want to make it feel a little more like a luxury hotel suite. Either way, one simple trick is to create a canopy bed using curtains. It's a simple DIY project that any homeowner can use to add a bit of drama to their
There are a few ways you can recreate this look for your own bedroom. You could install sliding tracks on the ceiling and hang the curtains around the bed. Or, if you have a four-poster bed, you could hang the curtains directly from the bedframe.
Either way, be sure to choose light, transparent curtains to give your bedroom an open and airy feel, and avoid curtains that are too dark and heavy.
Use Curtains to Create a Headboard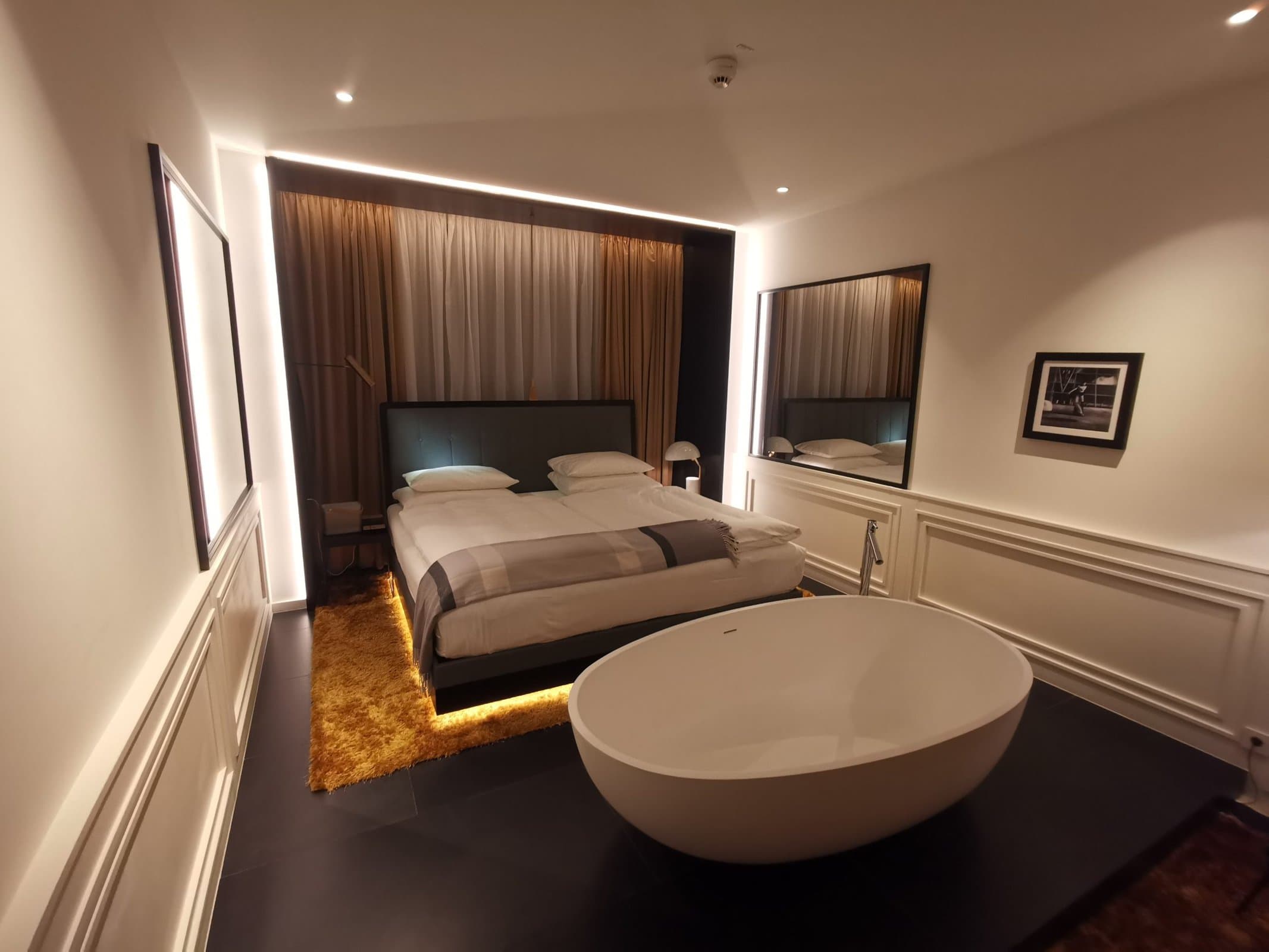 Large and ornate headboards are a wonderful way to create a focal point in a bedroom, but they can be either expensive or difficult to install. Instead, consider hanging curtains behind your bed to add some color and visual interest without breaking the bank.
You can choose any color curtain for your faux headboard, so pick one that contrasts nicely against your wall color, but still looks great with your bedding.
Once you've got your curtains installed, complete the look with dual nightstands and matching lamps on either side of the bed to
Frame Your Bed with a Valance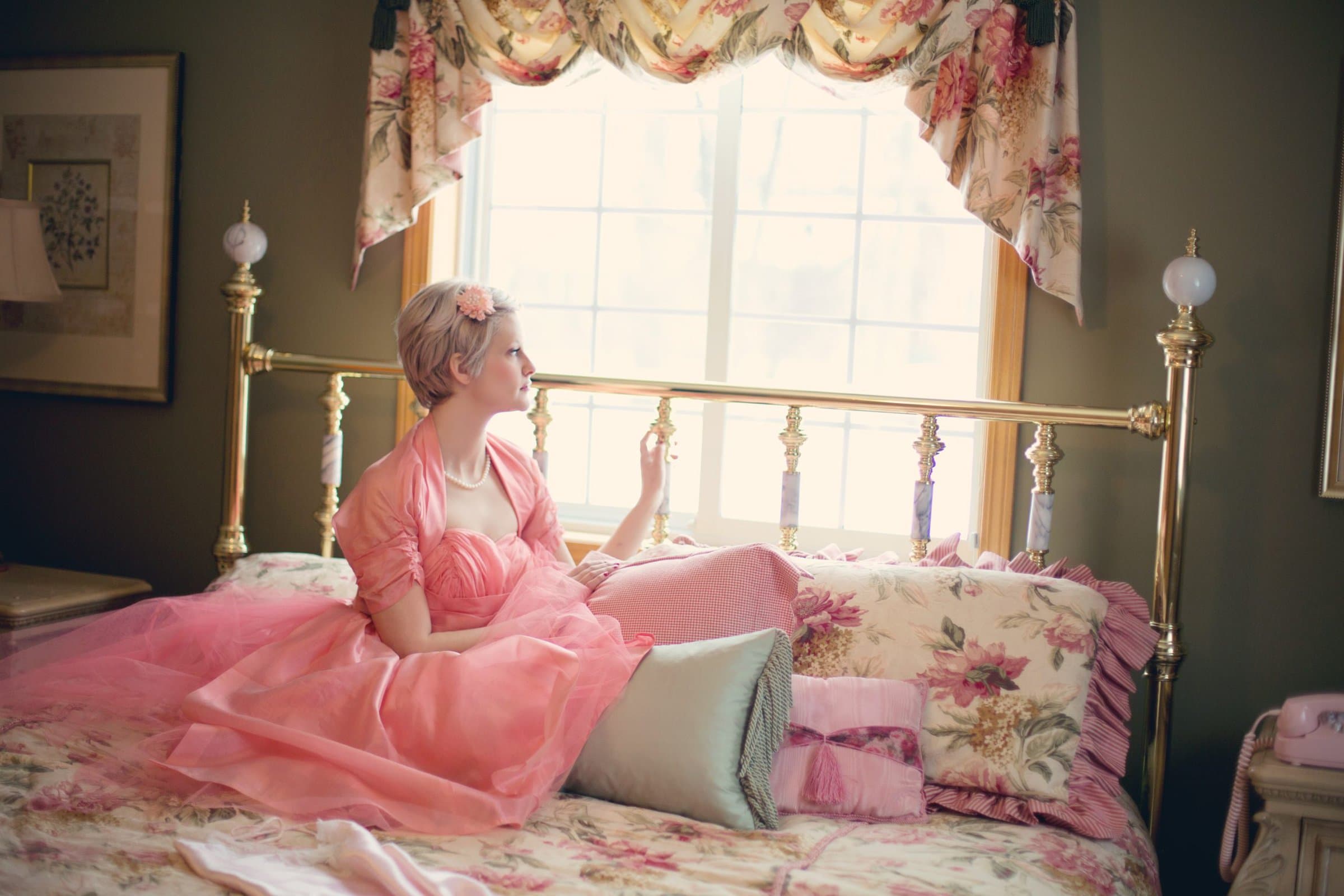 Sometimes subtlety is the best option. If you don't want to go all-out with a large curtain wall, consider adding a small valance instead.
Valances are a kind of short curtain that only covers the top of the window. They're great for adding a pop of color and a little bit of shade, but they're mainly decorative. But they make an excellent frame for your bed when placed directly above it.
You can choose to match your valance to your wall color or bedding, or you could decide to choose something different to contrast. It all depends on where you want the eye to go when you walk into the room—do you want to notice the bed first, or the curtains? It's up to you!
Soften Up a White Bedroom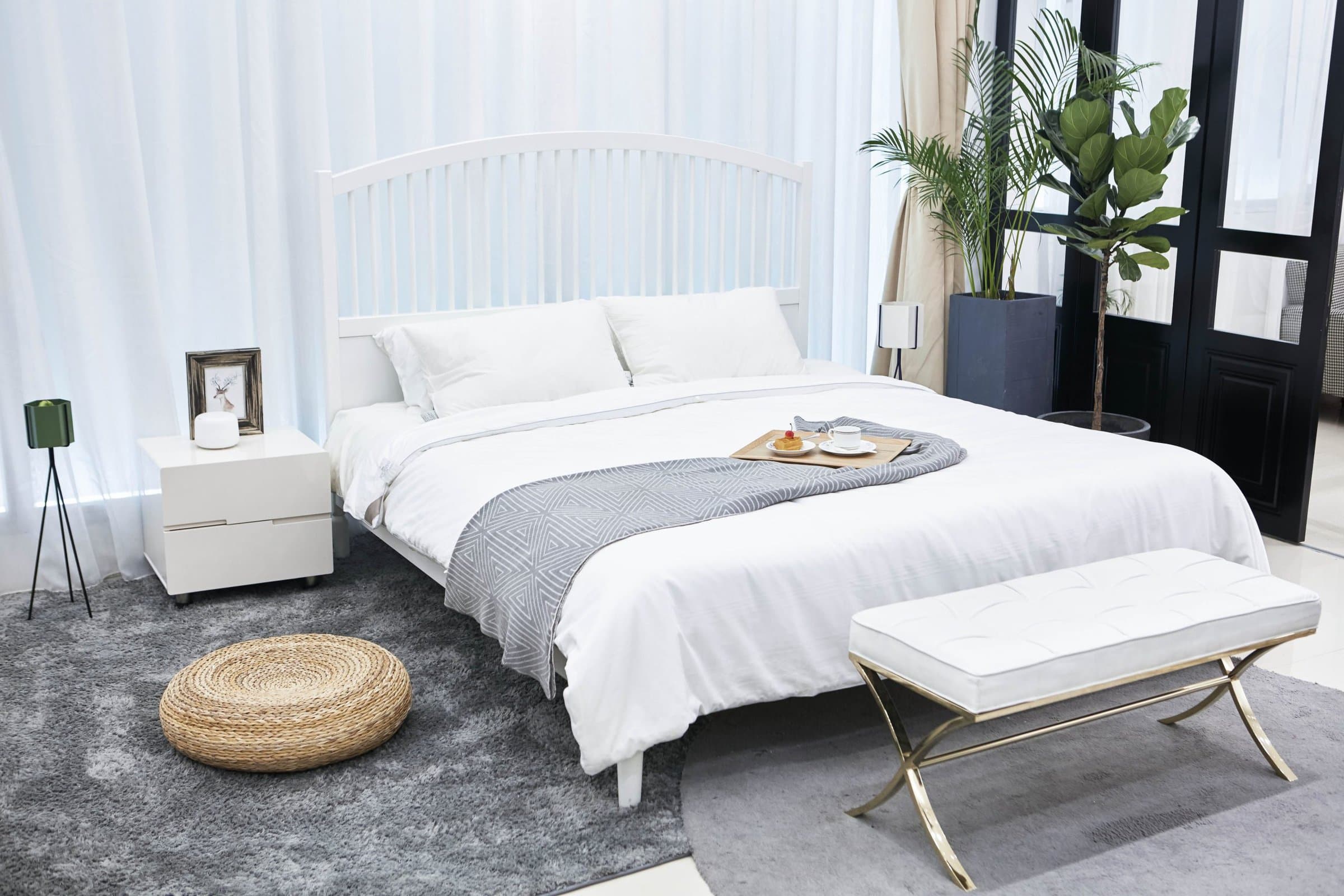 I love a white bedroom—it's clean, bright, open, and timeless. But what bedrooms have their own set of challenges. For one, if everything in the room is white, then the whole room design starts to blend together.
White bedrooms can also seem a bit too harsh, so you should try to soften your own white bedroom by combining textures. You can do that with blankets, rugs, cushions, and yes, even with your curtains.
Try running a large white curtain from the floor to the ceiling across the entire length of the wall. It will break up the white walls and give your room some movement. You may even want to consider white curtains that have a bit of shimmer or a subtle pattern for an even better effect!
Contrast Colors for a Patterned Backdrop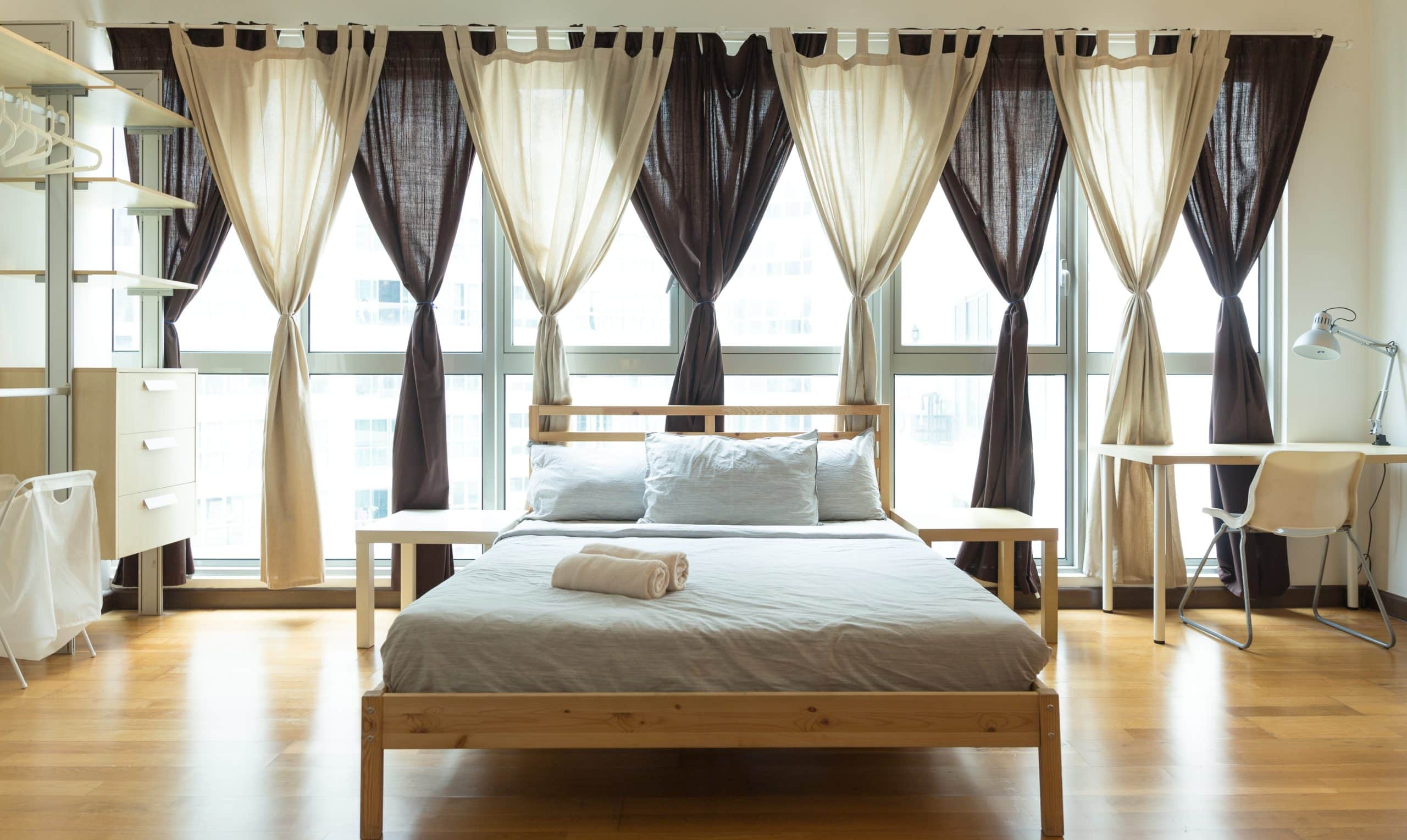 Your bedroom curtains don't have to be just one wall of solid color. Who says you can't mix it up a little? Instead of a single or multiple panels of the same color, try incorporating contrasting curtain colors.
You can do this in a few different ways. You could try alternating color curtains in a unique pattern, or you could install curtain panels in a gradient across the wall for a more subtle look.
You might also want to consider choosing one solid color curtain and another in a matching pattern. That will instantly give the room some visual interest and create a fun, easygoing vibe, without going overboard.
Use the Curtain as a Room Divider
Whether you've got an overly large bedroom or you're splitting up space in a studio bedroom, installing your curtain as a room divider is a quick and easy way to give your bedroom area some dimension and separate it out from the rest of the room.

But how do you install a room divider curtain? You'll likely want to go with a sliding track along the ceiling, so you can easily move the curtain out of the way when needed.
Simply draw a line on the ceiling where you want your track to go, then use either a drill or a screwdriver to attach the track. Then, you can use the fasteners that will have come with the track and attach the curtain. It's a quick project that should only take an hour or two, but look at the results!
Conclusion
There you have it! There are so many unique and effective ways that you can employ curtains in your bedroom design. The one you choose will likely depend on the design style you're going for, the size and colors of your room, and whether you're allowed to make permanent changes, in the case of rentals.
From quick and simple to elaborate and over the top, hopefully you've found a bedroom curtain idea that will completely transform your room. Try one of these ideas out for yourself—or even better, experiment with a couple of them. The sky's the limit!