How to Style a Round Entry Table
When we think of the design for a hallway, we might imagine placing furniture along the walls to maximize space. But in fact, using a round entry table for the focal point can make your lobby look expensive and stylish.
Picture those old black and white movies set in grand houses with a glamorous femme fatale. A round entry table makes the most of the space and is a wonderful way to stage a welcoming display to greet guests at your home.
Round entry table styling is truly exciting. Such a flexible surface that can be changed year-round to suit both the seasons and your mood!
Beautiful Styling for Your Round Entry Table
Tall Arrangements
If you want to create a big impression, then choose height in your table arrangement. These extra large vases create variety and interest. The branches are tall without being imposing and have a pretty, airy quality.
You could choose a bushier plant but you may lose the view of the rest of the entryway interior. Big, rubbery foliage can work well in a large foyer. Shape is key in any of your entry table designs so step back frequently to check proportions.
Plants for Your Entry Table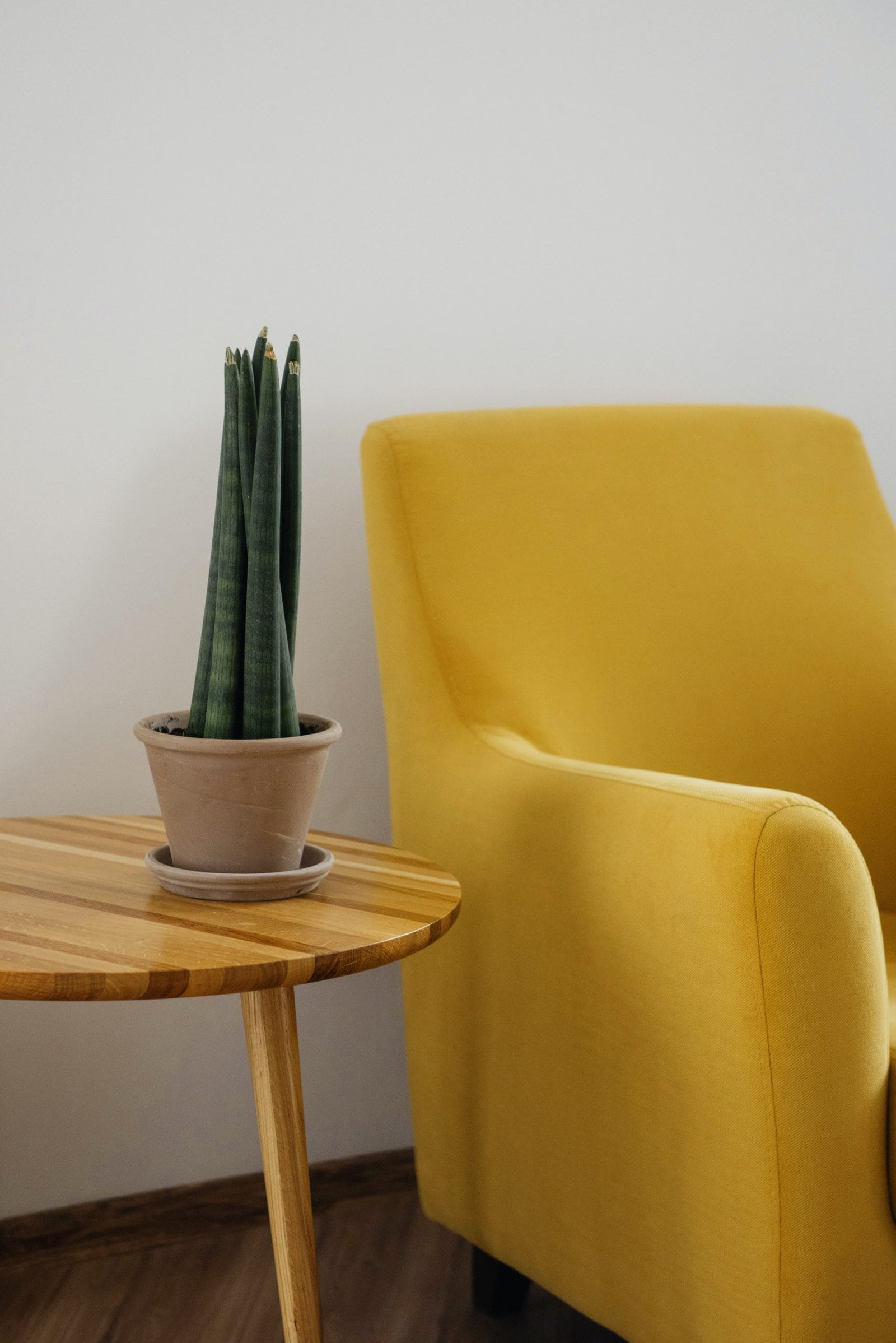 Plants in bloom or foliage with lots of small, pretty leaves will work well for a traditional entry hall scheme. Make sure you buy a plant to suit the lighting conditions of your lobby.
The most modern trend is the jungle-style plants like monstera and yucca, or groups of little succulents.
This modern look in the picture works well in a small space. The dark green of the simple cactus looks great with the yellow contemporary chair for a sleek look.
Current Trends
It's the simple nature of this arrangement that keeps it on trend. The table is modern with just enough detail to make it an enviable stylish addition. The pieces on the table echo the architectural design of the turning staircase.
The choice of vase and bowl in a monochrome and sleek but natural scheme keeps the look fully up to the minute. It's flexible to replace those items when you want a refresh.
Added Panache
This round entry table has it all, the highly polished table, a sculpture, a large foliage arrangement, practical lighting, and some, oh so just casually placed books, to show off the homeowners' intellect!
For a truly expensive look, all bases are covered. Sometimes bling can look expensive in the right context. But for true traditional taste, these elements send all the right signals.
Add Clever Storage to Your Entryway
The thing to love about this is not only the tactile nature of the arrangement but the fact that this comes with storage!
By throwing a tablecloth over your entryway table you create storage underneath. So if you have things you use occasionally, this is a great way to hide them away.
Texture and Touch
The objects you place on your entry table can add a variety of textures, from smooth sculptures, to rough foliage. You can add a table runner or cloth for color and to fit with your theme.
Think also about what your table stands on. This modern rug adds warmth and style, as well as layering the textures to complete the ensemble.
Floral Arrangements
The great thing about flowers is that you can keep changing them up. This simple floral arrangement speaks of a French country garden. But you could add a whole load of color with some large, bright blooms. Perfect for parties or for injecting some fun into your hallway.
Huge, professional floral displays are the utmost in decadence. Expensive hotels have theirs ordered weekly. Consider what your budget will allow, but go super big, particularly when there's a special occasion.You can add luxury to even the smallest of tables.
The time of year will also influence the effect you want to create in the entrance to your home. Whether you're feeling more cheerful or perhaps want something more calm and somber, this can be reflected in your entryway style.
Seasonal Styling for Your Entry Table
Go bold with your seasonal displays like this characterful Christmas table. For the holidays, think decor in metallic or traditional reds and greens. You can add plants or gold sprays. Why not hang baubles from the foliage?
If your table is low down, you may like to place your Christmas tree there. Or your entry table may be a good place at Hannukah for the menorah. You can use your creativity to create a welcoming display for your home.
In springtime you can introduce pretty flowers and natural objects. In the summer, you could think of cooling tones, stone sculptures and fresh, green planting. For fall, oranges, rich tones and pumpkins come to mind, but you can use your imagination to best represent you and your home.
In Conclusion
To complement and enhance the decor of the entryway you can add interest with varying heights, shapes, and textures.
You can inject the modern into a traditional hallway with a simple monochrome scheme . Or you can add the traditional to a more architectural space. It's up to you how bold or reserved you want to go. Your styling can be temporary so have fun exploring your round entry table options.
The great thing about an entry table is the way you change it up throughout the year. You can choose ornaments to fit in with your decor or the seasons. Plants give a natural, stylish quality. Flowers can give impact and add expense to your lobby.