Decorated Life is reader-supported. When you buy through links on our site, we may earn an affiliate commission. Learn More
Ice Cube by Sherwin Williams Paint Color Review
Looking for a Goldilocks neutral that's cool without being too cold? Ice Cube is a light, multifunctional gray that offers just a touch of blue.
This highly versatile color is well-suited to a variety of decor styles and lighting situations. It's hard to go wrong using Ice Cube!
Let's pour ourselves some nice cool drinks and find out what Ice Cube is all about.
What Color is Ice Cube?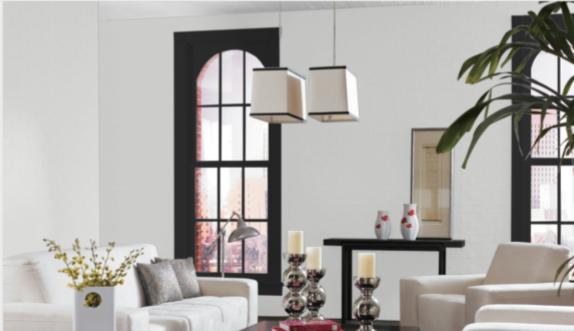 Ice Cube is a pale gray that fulfills the needs of a couple different color categories. You can think of it as a light neutral, or even a pastel gray color. Ice Cube is also light enough to work as an off-white.
LRV of 77
Ice Cube has a light reflectance value, or LRV, of 77. Light reflectance value is a scale designed to measure how bright a color is, and ranges from absolute black at 0 to sheer white at 100. The higher the number, the lighter the color.
Off-white colors typically range from about 73 to 82, with numbers above 82 being true whites. Ice Cube's LRV of 77 places it firmly in the off-white range, meaning that this color is bright enough to function as an off-white.
What Undertones Does Ice Cube Have?
Ice Cube has blue undertones, which especially come through under low lighting.
Is Ice Cube a Warm Color or a Cool Color?
Ice Cube is a cool gray, as you might expect from the name! Its blue undertones help take the color in a cool direction.
Where Can You Use Ice Cube?
As a pastel and an off-white, Ice Cube is light enough to be used anywhere in the home. You might want to keep an eye on it in spaces that feel chilly, though, because Ice Cube will make a room seem cooler.
Ice Cube's blue undertones make it popular for spaces where we want to feel clean and refreshed, such as the bathroom. This cool gray is a natural companion for silver appliances and metalwork. That fits for spaces like kitchens, laundry rooms, and home offices.
Light, cool colors are great for restful bedrooms that help us to get a good night's sleep. Ice Cube is a great choice for your bedroom walls.
Let's take a look at Ice Cube in action, and get inspired for our home refresh projects!
Kitchen
Ice Cube walls lend a subtle, shimmering contrast to a clean white trim in this coastal-inspired kitchen.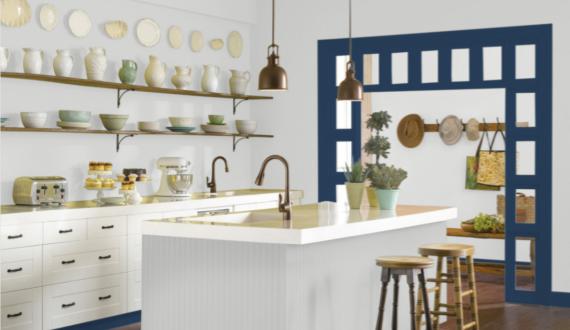 The blue undertones of Ice Cube complement Dress Blues trim in this country kitchen.
Living Room
Ice Cube walls with Lazy Gray board and batten provide the backdrop for this colorful, playful mod living room.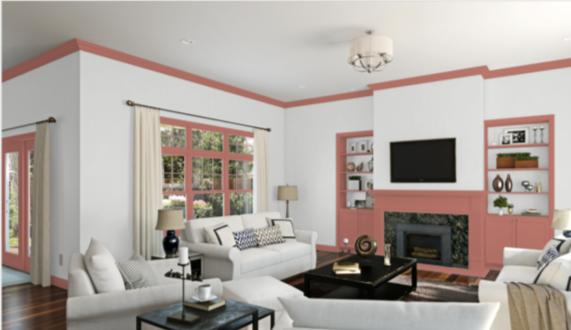 Pink and gray are a classic fun combination, and here they're all grown up with Coral Clay and Ice Cube.
Bathroom
This monochrome bathroom keeps things light and simple with Ice Cube walls.
A white vanity and gold metal accents add bright, glamorous contrast to Ice Cube walls in this bathroom.
Bedroom
This bedroom dresses up Ice Cube walls with some fun polka dot decals.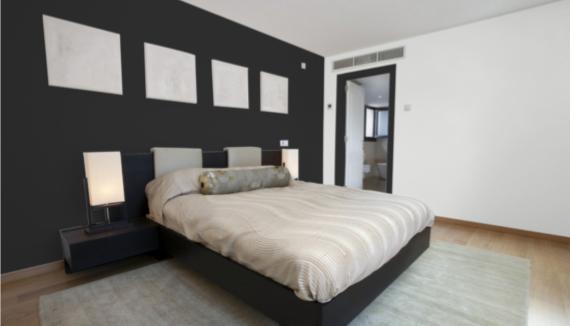 A Tricorn Black accent wall makes a bold statement against Ice Cube walls in this minimalist bedroom.
Entryway
Black, white, and Ice Cube add timeless sophistication to this entryway.
Exterior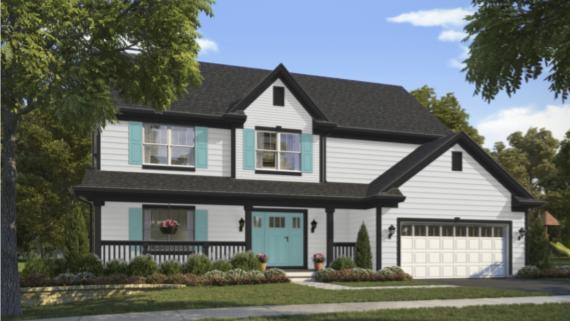 Blithe Blue accents pop against this Ice Cube exterior.
Coordinating Colors for Ice Cube
Ice Cube has tons of fun options for coordinating colors! Let's start by talking about some of the typical places we can look for companions to grays.
Blues are some of the most beautiful coordinating colors for grays, especially cool grays with blue undertones like Ice Cube. You'll find that each brings out that appealing pop of color in the other.
Since Ice Cube is such a light color, almost anything you choose will be darker, which means you can go a lot of places for contrast. Lighter blues like Rain or Woodlawn Blue will be just as effective as dark blues such as Naval.
The neutral family, especially fellow grays, is another go-to for gray coordinating colors. The strong contrast between deep charcoals and Ice Cube is especially crisp and satisfying. You could pick a mid-tone gray to make a handsome trio as well.
Just as dark grays work really well with a pale gray like Ice Cube, so too do your favorite black paints. You could use the two together, or add a white for contrast. If you are going to use a white with Ice Cube, it needs to be a very bright, clean white, or you won't get enough contrast to see the difference.
Pinks are super-fun to use with grays. You could use a bubblegum pink for a more youthful look, a rose for something romantic, or a coral for a more subdued twist on the concept.
Here are some coordinating color ideas for Ice Cube to help inspire you:
How Does Ice Cube Compare with Other Colors?
Ice Cube vs Rock Candy by Sherwin Williams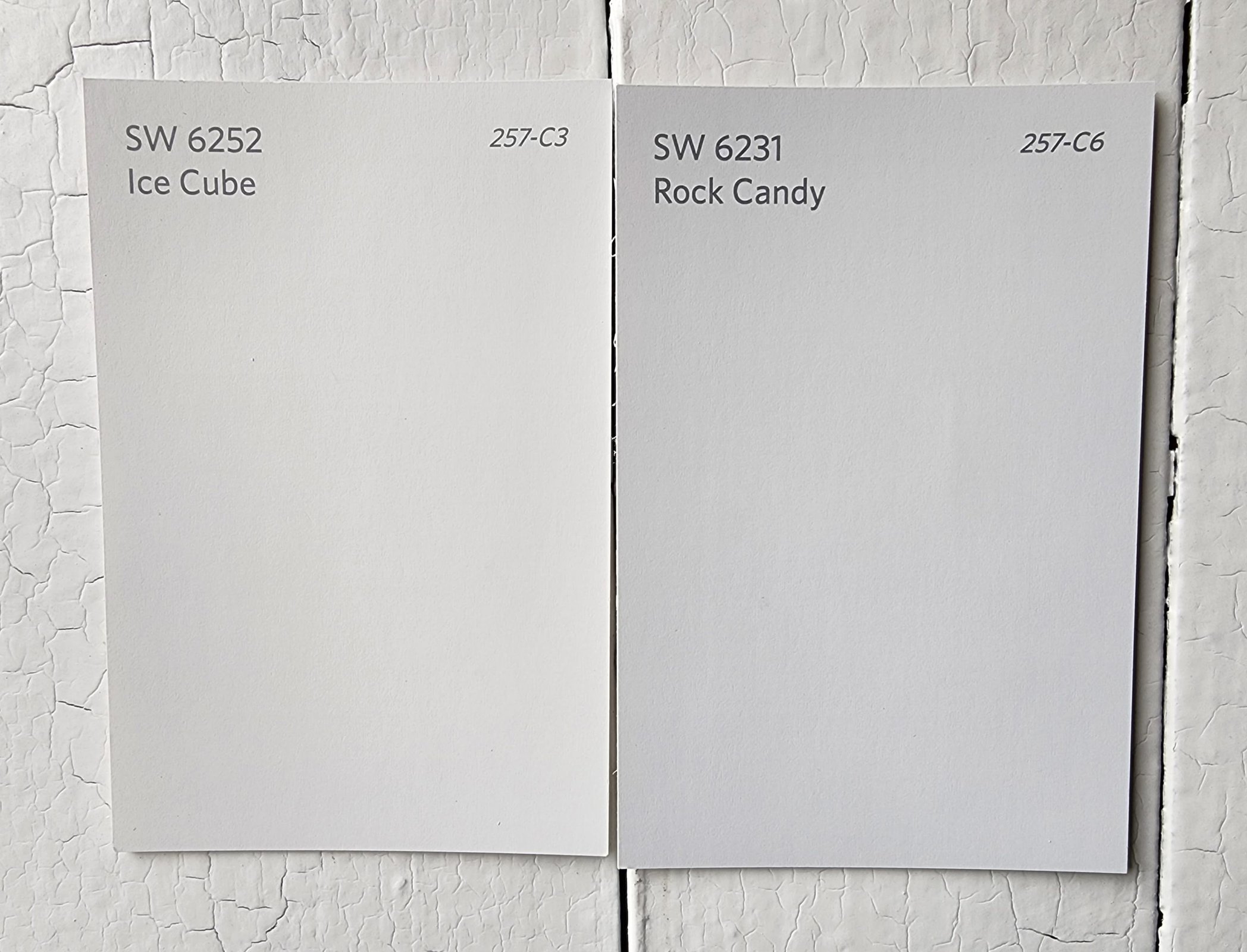 Rock Candy is a light gray color that's very similar to Ice Cube. It's a little cooler, and when they're side-by-side, it looks a touch bluer. Rock Candy is slightly darker than Ice Cube, with a LRV of 75.
Ice Cube vs Crushed Ice by Sherwin Williams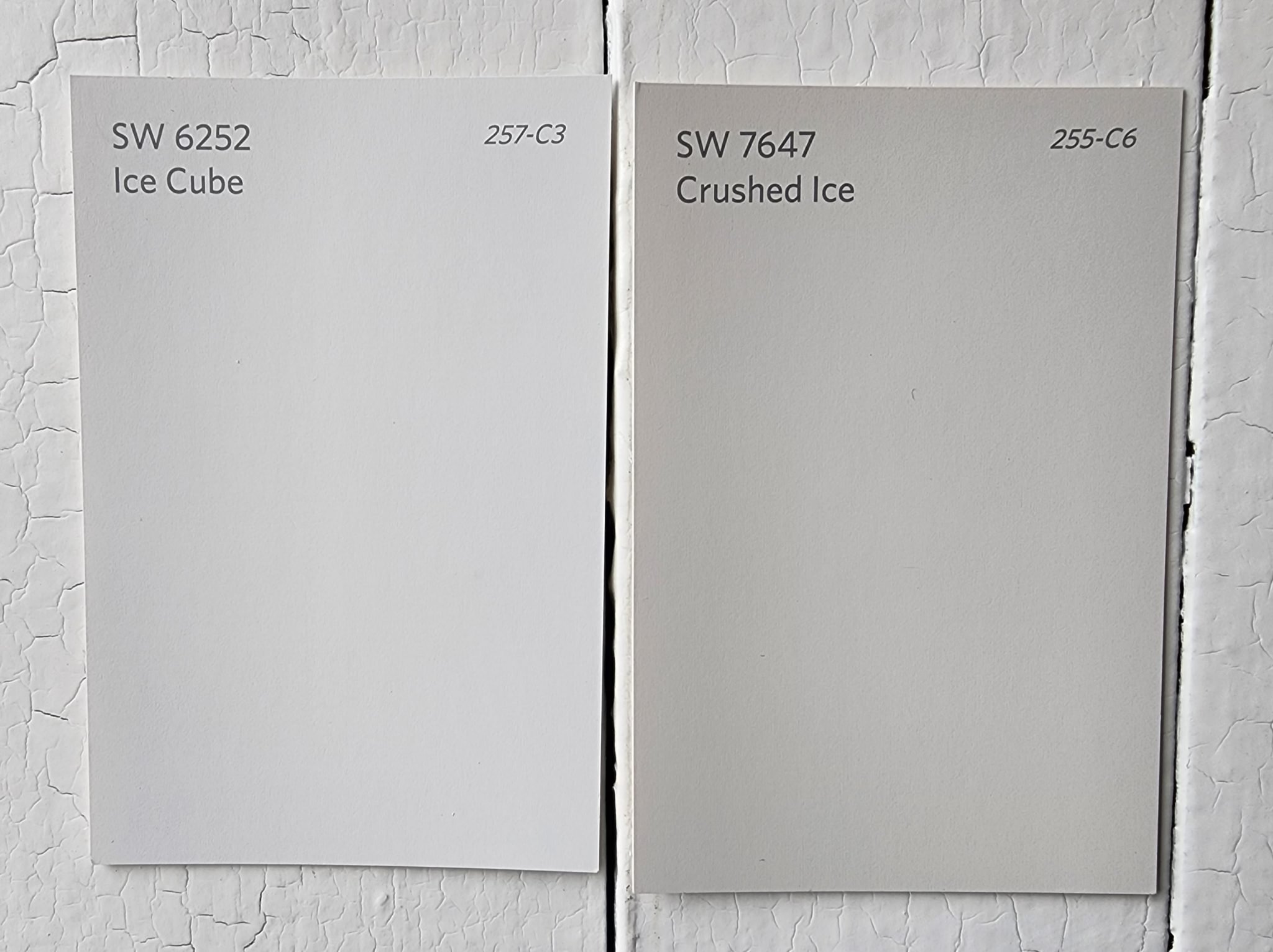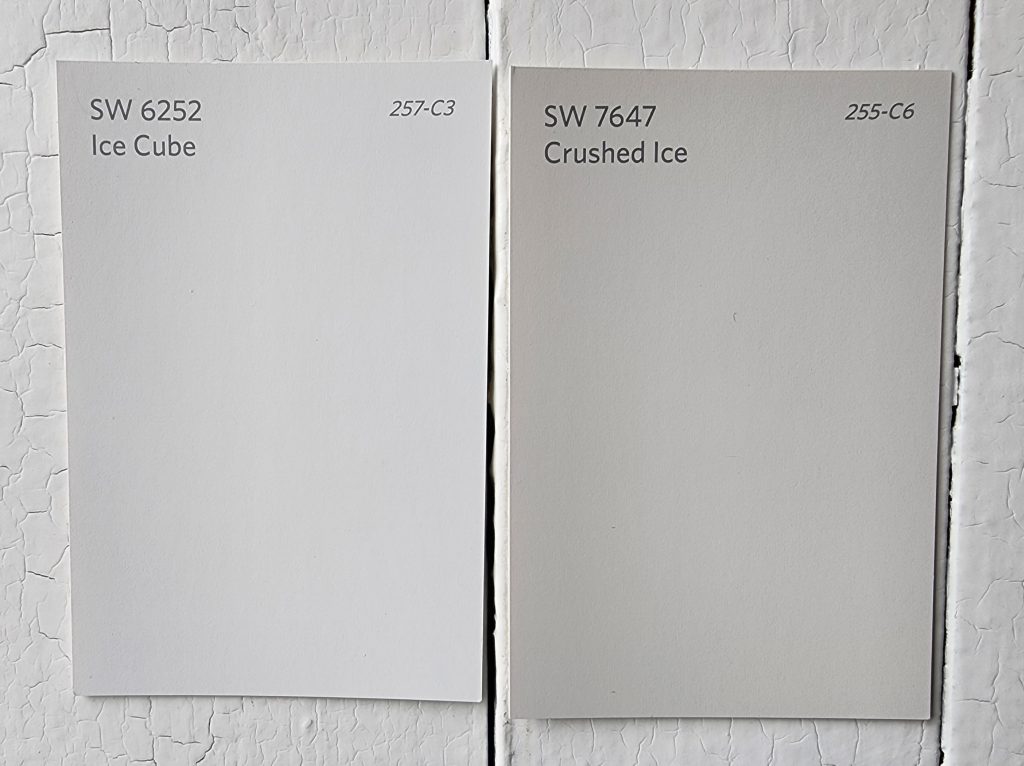 Crushed Ice is a nice, neutral gray-to-greige color with a subtle warm side. Against Ice Cube, it looks more beige. Crushed Ice is noticeably darker than Ice Cube, with a LRV of 66.
Ice Cube vs Rhinestone by Sherwin Williams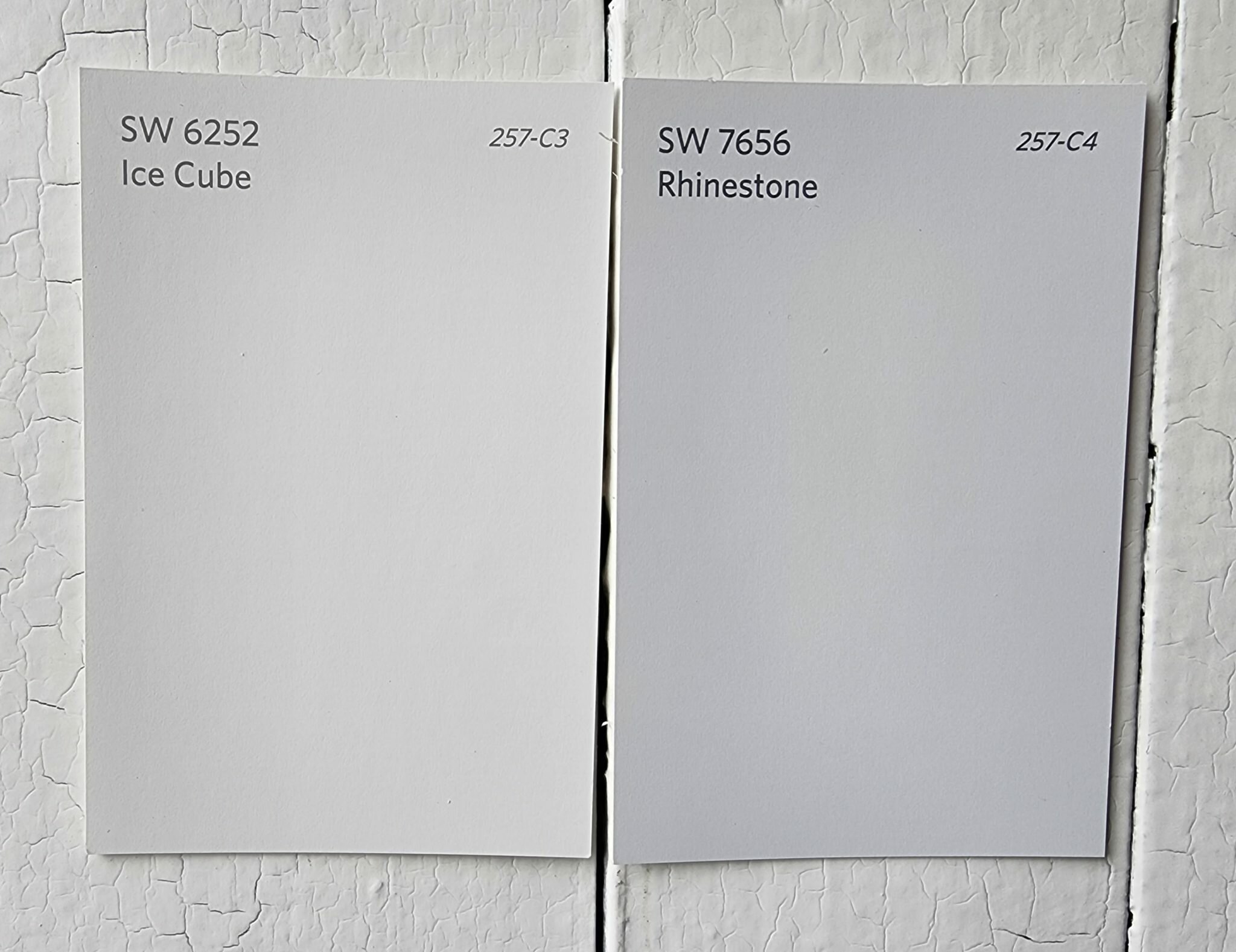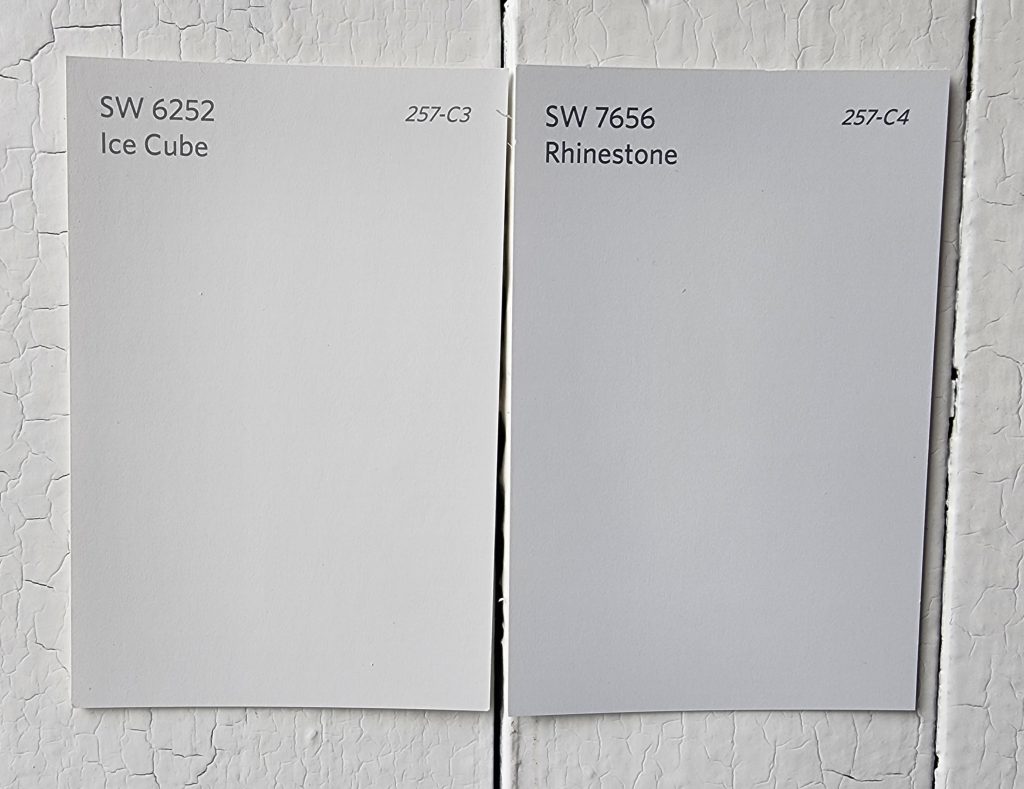 Rhinestone is a well-balanced light gray that comes out looking cooler than Ice Cube. Ice Cube is slightly brighter than Rhinestone, with a LRV of 77 to Rhinestone's 74, which emerges as a bit of depth and shading in Rhinestone.
Final Thoughts
Ice Cube is one of those prized light neutrals that's super-easy to use in your home. While you want to keep an eye on its chill factor, this color is so delicate that you really can't go wrong in placing it. This popular color is just the thing for a range of decor styles, so you can change up your vibe without repainting everything. Will you be chilling with Ice Cube during your next home makeover?