Inexpensive Stepping Stone Walkway Ideas
Stepping stones do so much more than just provide a space to walk in your garden or outdoor space— they add color, visual interest, and texture to your yard design, and they help divide your garden into designated areas or zones.
But stepping stones can be expensive, so you might want to look for cheaper alternatives for your own garden. Take a look at some of our favorite inexpensive stepping-stone walkway ideas for some inspiration!
Create a Special Keepsake with Handprints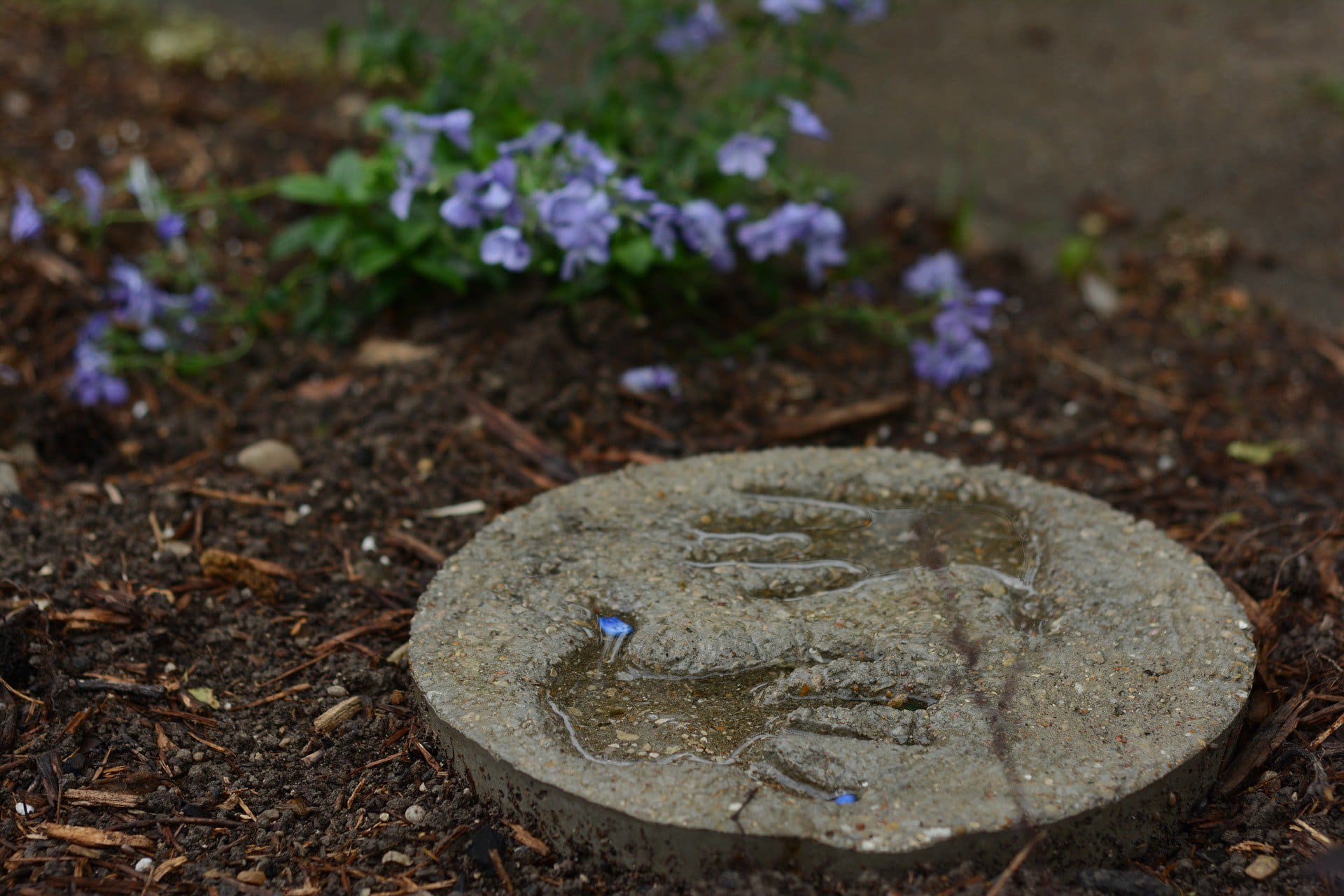 Stepping stones are usually an overlooked part of a garden design, but by creating your own keepsake stones with handprints of friends and/or family, they're sure to be one of your favorite parts of your garden. Creating handprint stepping stones is a straightforward process, but it's not the best project for absolute beginners.
First, pour the wet cement into a round mold at least a foot in diameter. Once the cement is poured and before it's dried, place your hands (or those of your loved ones) gently onto the surface. Don't completely submerge your hand— just apply enough pressure to leave a print on the top of the stone.
You can now gently write the name of the person whose handprints you used with a pencil or small paint brush handle. Finally, allow the stepping stones to cure fully before moving them or attempting to place them outside. This might take a few days, depending on the thickness of the stones.
Try Ceramic or Stone Tiles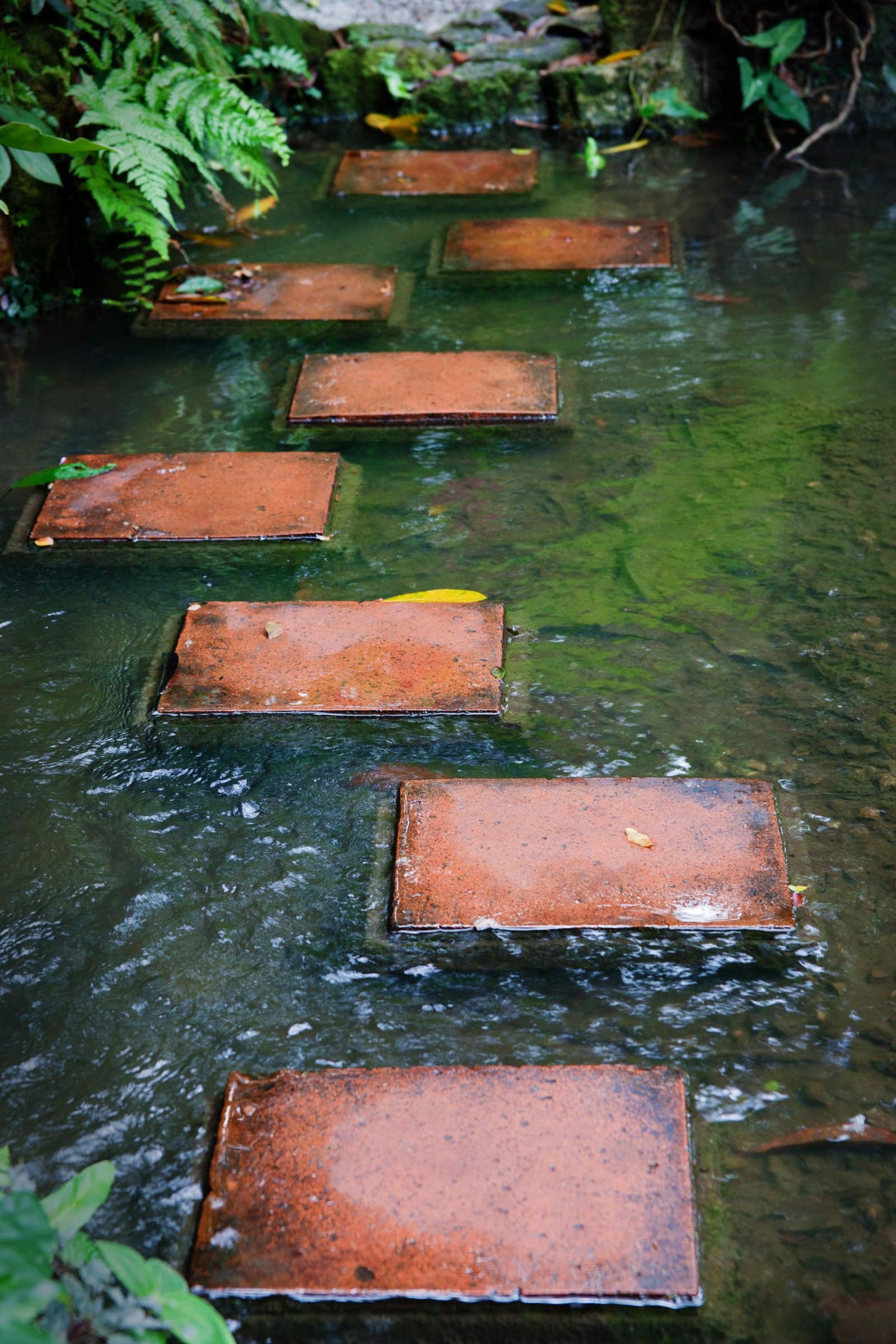 It's always best to make do with what you have, especially if you're on a budget. If you have access to old tiles and stones, then you can create a rugged stepping stone pathway in your own garden. Reclaiming materials like tiles is a much cheaper method than buying steppings stones brand new.
The kind of tile you should look for depends on how they will be used. For heavy-traffic areas of your garden, look for large tiles in a thick, sturdy ceramic or stone material. Glass tiles are also a good choice if you're going for a more modern look. You can also use broken tiles if you're interested in a more rustic feel.
Where do you get tiles if you don't have them lying around? One great place to get them is through local online sites like Facebook Marketplace. People who have recently completed a home renovation project may be looking to get rid of their tiles for cheap, or even for free.
Mix and Match Materials
Stepping stones don't need to look formal or elegant, especially if that's not your preferred style. Instead, you can use a collection of different materials, like broken tiles, glass marbles, pebbles, bricks, stones, and more to create an eclectic pathway full of color and interesting shapes.
The best part about this method is that it's incredibly inexpensive— in fact, you should be able to get all the materials needed to make a pathway like this one for free, or nearly free.you can either collect the materials yourself from your own home, or source them from sites like Craigslist or Facebook Marketplace.
Once you have a good collection of materials, arrange them how you'd like over the walkway you plan to build. Then, dig a shallow channel where you can lay the bricks, stones, and more, so that all of the pieces are level. Have fun with it and play around with the shape and color of the materials to create something special.
Create Your Own Pebble Stepping Stones
Heavy stone or cement stepping stones can get very pricey, but there are other ways to create the look of a stone garden path without investing in large stone pieces. Instead, get yourself a large number of pebbles and small stones, which can create a beautiful and colorful alternative.
To make your own pebble stepping stones, you want to start with a base that is not only heavy but durable and water-resistant. Round rubber or mesh discs are a good base for your pebbles. You want to make sure that the base plates that you use under the pebbles will not only hold up to the elements, but it's also important that it can hold the weight of people walking on them.
After you've got your base, simply use hot glue to attach pebbles and small rocks to the base. Make sure there aren't very many gaps between your stones, not only for aesthetic reasons but also to keep too much water from getting down to the base plate.
Make Use of a Felled Tree
Here's another example of using what you have available to you. If you're planning on felling a tree in your yard, then you'll likely have a large piece of wood left over. Rather than having to dispose of the entire tree trunk, use part of it to create your own stepping stones, instead.
Simply have the felled tree trunk (and any large branches) cut into disks. The size of the disks is up to you— but they should generally be at least a foot wide to accommodate an average-sized foot. But you can make your stepping stones as large as you like to fit into the size of your yard or garden.
While it's not necessary, you could decide to treat your wooden stepping stones with a varnish or sealant to protect them from the elements. This will help them last longer than untreated disks, which will eventually wear away from exposure to the weather.
Use a Leaf to Make Cement Stones
If you're not afraid of a DIY project and you want your stepping stones to look completely unique, then consider making your own leaf-shaped stones using concrete and real leaves. This is an intermediate-to-advanced project and is best for those who have a little bit of DIY experience.
To get the leaf-shaped look you see in this example, you need a pile of large leaves, about a foot in diameter. Then, you pour wet cement onto the backs of the leaves and spread it to the edges with a brush. Allow the concrete to dry over a few days, and finally, peel the leaves off the top.
What's left is a beautiful leaf-shaped stepping stone that will fit right in with any natural garden bed. And the best part is that these stepping stones are concrete, so they're made to stand the test of time!
Add Reclaimed Wood Planks
If you're looking to save money on your stepping stones, then one of the best things you can do is use reclaimed materials that you already have available. In this case, reclaimed wood planks make an excellent stepping stone walkway over sand or gravel— and you can get it for a very affordable price.
But where do you get reclaimed planks? If you're looking online, try second hand sites like Craigslist or eBay, or local marketplace sites like Facebook Marketplace. Look for listings that read "reclaimed wood" or "wood pallets". You can also try checking with home improvement stores and see if they carry any reclaimed planks or pallets.
After you've sourced your planks, you may want to consider sanding them down and finishing them with paint, varnish, or sealant, to protect them from the elements and help them last longer. This step is completely optional and if you prefer a more weathered look, feel free to skip it.
Paint Your Stepping Stones
If you're looking for a way to spruce up your existing stepping stones, or you simply want to stretch your artistic muscles, then consider painting your stepping stones. This option is a cheap and simple way to add color and fun to any yard or garden, especially flower or vegetable gardens.
But what should you paint onto your stepping stones? Flowers are a popular option, especially in gardens. Insects, like butterflies, ladybugs, or bumblebees are also popular choices. Or, you could stick to simple natural images like leaves of local trees or clouds.
If you do decide to paint stepping stones, then you need to make sure you use the right paint, so that the image will stay bright and fresh for a long period of time. Outdoor acrylic paint is the best choice for stones since it will hold up better to changes in weather and temperature.
Conclusion
As you can tell, there's clearly more than one way to create your own stepping stones. Using materials like stone and wood is one option, but the best way to stay on budget is to use reclaimed materials from your own home in a new way.
Hopefully, this list of inexpensive stepping-stone ideas has inspired you for your own garden design. With just a little bit of creativity and elbow grease, you can create beautiful, unique, and cheap stepping stones for your own yard or garden. Don't be afraid to experiment with different methods and get creative with what you have!